It's laughable how much effort we go through to take a photo of the three of us. I love photography; I study it, I edit it, I enjoy shooting photos. You'd think it would come easy to take great family photos, but you'd be surprised how many things can go wrong, especially when we set out on a mission to take a Christmas Card Photo.
Christmas Card Photo was challenging from the start. We had one wardrobe change (Alexa), one case of bad hair day (me) and one person with a history of impatience during photoshoots (H).
Add to this: RAIN.
We rolled up to our original location, and it was pouring. No dice. So we drove around to the other side of the Hill, where there was a brief clearing in the clouds. We stopped the car a few times. H and I hopped out quickly, me with the camera and the tripod, him with his best model stare. Ugh, the backgrounds were terrible.
On to the park I suggested. Hmm, it's not raining here. That's good. But where can we pose that there won't be a crazy dogwalker or homeless person meandering in the background? (I swear, it sometimes seems like zombies roam every park in L.A.)
And then:
But, closer up, it didn't look quite like magic. What could we do with this random picnic table? Sure, we found a great spot for a lunch overlooking the ocean, but for a Christmas Card Photo? Not so much.
But wait. What if I put the tripod on top of the table? Yes, this just might work. A few thousand test shots later, and I was pretty sure it would work, even if the ocean was barely visible because of the gray skies and fog and you know, rain.
Still. I was a few moments away from settling on standing in front of a wall. So, celebration!
Several shots later, and we have yet to beat the timer at its own game. Alexa would look at the camera until a split second before the shutter clicked, at which point she would snap her neck like a wind-up doll and look the opposite direction.
I actually love a lot of the outtakes. Imperfections are the best. Just not so great for the Christmas Card Photo. We kept resetting the timer until …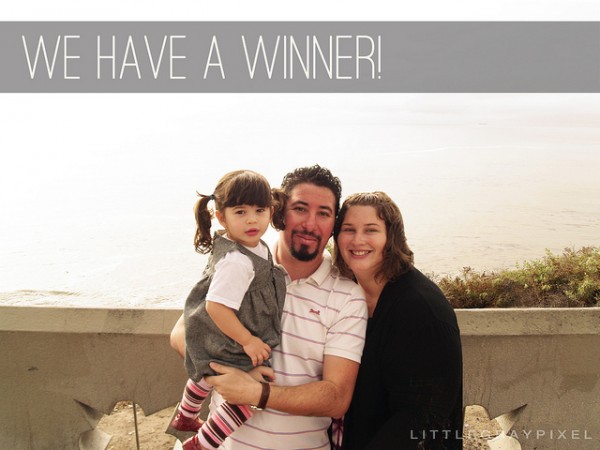 Everyone is making eye contact with the camera? Check.
Everyone has semi-jolly looks on their faces? Check.
Everyone is relieved to finally get a shot so let's not dare try for a better one? Check.
To save time and effort, I decided to pick out a card design on a printing website last night. The joke is on me, though, because it took me exactly three hours to decide on one. I could've designed my own again in less time. But the real irony of the day is that, after all the searching for a perfect backdrop, we determined that we liked the look of our photo cropped in close. So you can't even see the indecipherable ocean background.
I will share our finished card with you soon, but I am not sure it could ever beat last year's. For some strange reason Alexa is not willing to be held in hilarious poses anymore.