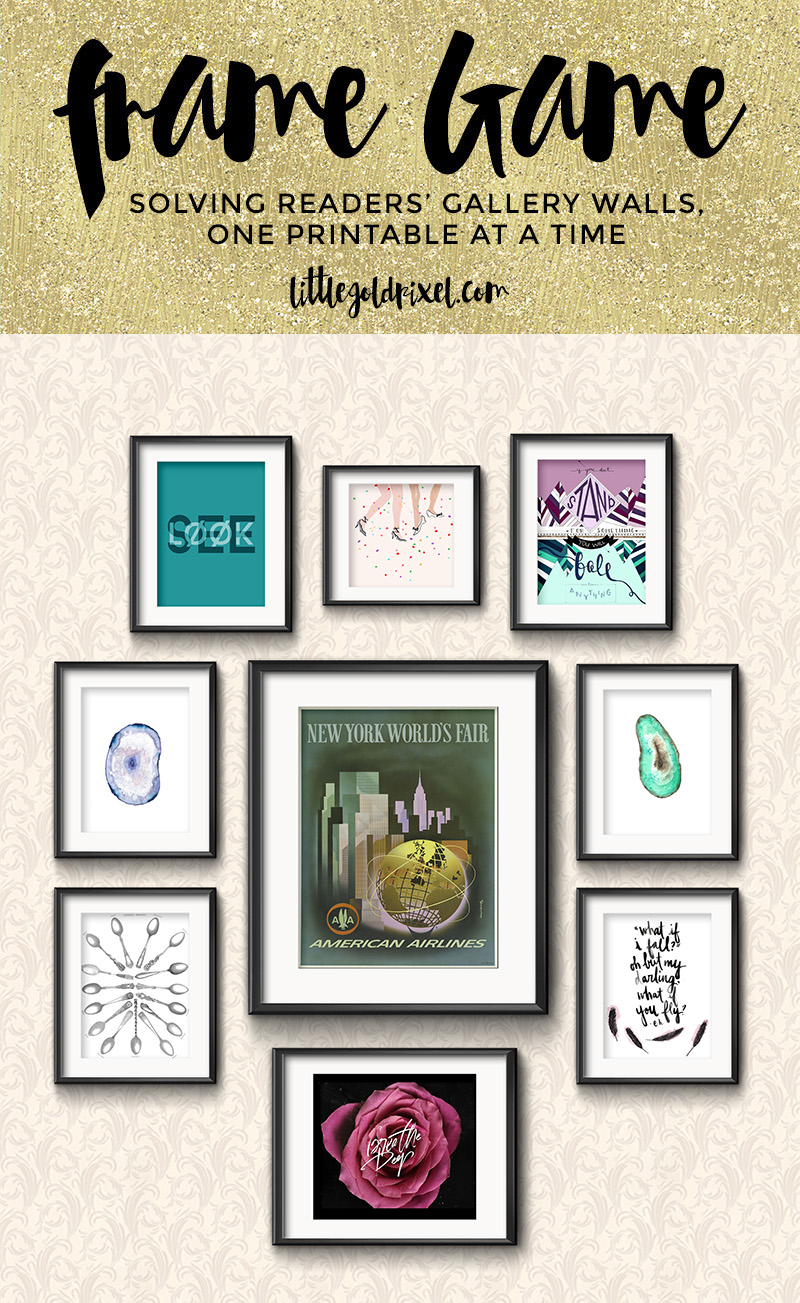 Frame Game is an occasional series in which I take readers' gallery wall requests and find art that fits their personalities. Click here to see past Frame Games.
Today's wall was inspired by Katie, who is decorating for her bedroom.
In Katie's words:
I love quotes, cool colors (current color scheme is teal, dark purple, and dark grey with white walls), coffee shops, food adventures, exploration and the outdoors. I live in NYC so prints that reflect NYC without being too obvious (I have a love/hate relationship with the city) are great as well.
I made it my mission to find a New York centerpiece for Katie that wasn't just your standard B&W print of major landmarks. Not that these aren't cool, but it sounds like Katie wanted something off the beaten path. So I went back, wayyyyy back, to a vintage architectural airline poster that incorporates shades from her color scheme of dark purple and teal.
After that, the other pieces sort of found themselves. Katie mentioned being a fan of the Hilary Duff film "A Cinderella Story," so I thought it would be fun to blow up and crop a free wallpaper of dancing feet. Free wallpapers are a good source for personal printouts if the print quality is good. Experiment with print size to make sure it doesn't look too pixelated large.
I love the quote in the bottom right corner: "What if I fell? Oh but my darling, what if you fly?" And the coffee spoons are a fun, sophisticated nod to Katie's love of coffee shops.
My absolute favorite finds are the geode watercolor pieces. Click through to the main download page to find even MORE colors.
To download these printables, click on the links below to go to the original download pages.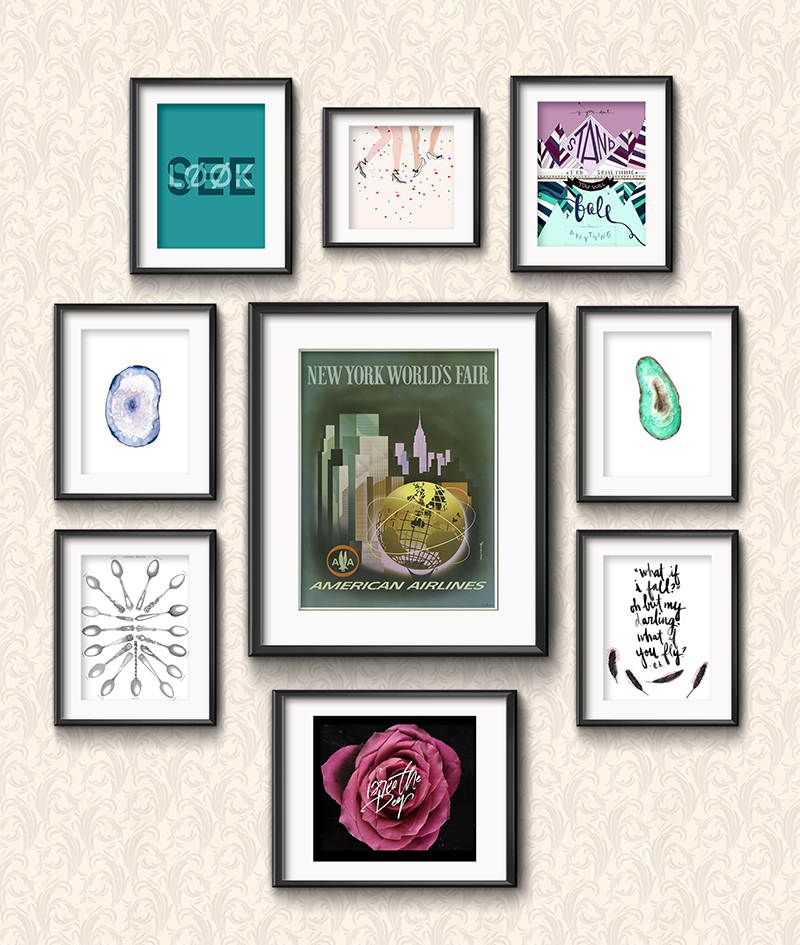 Look/See • Dancing Feet • Stand/Fall •
Agate Purple • New York World's Fair • Agate Teal •
Coffee Spoons • What If I Fell? • Breathe Deep
---
Interested in being featured on the Frame Game?
Since I've started rounding up free printables (the first time, the second time, the third time, the kids time, the kitchen time), I've received a lot of emails seeking help with various dilemmas you have in your homes.
Use this form in the comments below (or email me) to indicate what mood you're trying to set, and look out for future installments on the blog.
Name (first name only is fine):
Website (if you have one):
Which room in your house do you want to decorate?
Tell me a little about the person this room belongs to (likes, dislikes, special requests):
Tell me this person's favorite movies, books, music:
Any additional info:
---
P.S. The frames featured in this post are mockups. Check the individual download pages for details on ideal image size. Want to print something huge but the highest it goes is 8×10? Consider a larger frame with a mat. (Example here.)