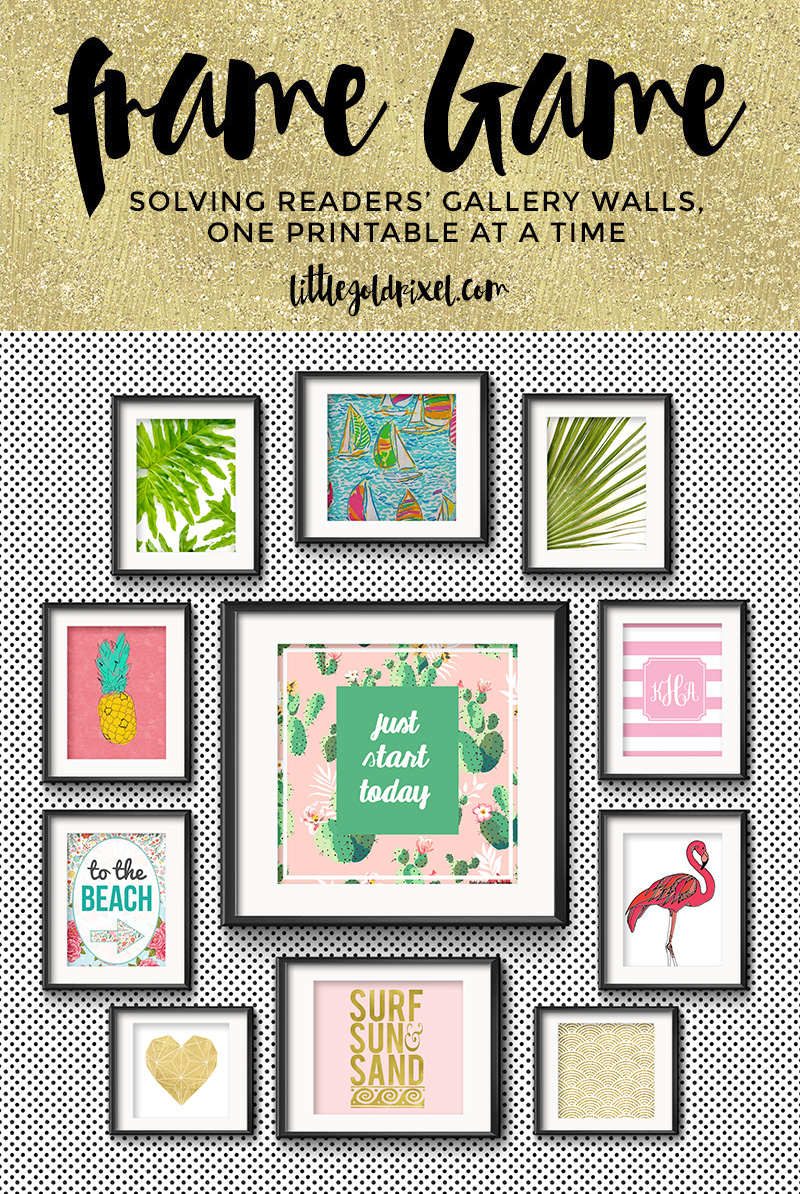 Frame Game is an occasional series in which I take readers' gallery wall requests and find art that fits their personalities. Click here to see past Frame Games.
Today's wall was inspired by Alexandra, who is decorating her dorm room.
In Alexandra's words:
Pink, glitter, monograms, preppy, Lily Pulitzer, Kate Spade, bright colors, sunshine, beach, anything sparkly, University of Wisconsin
I tried to walk that fine line of tactful and tacky because this could so easily go the way of a plastic flamingo farm (no offense to Don Featherstone, who may be the most interesting man who ever lived).
The key word to bring this back to reality was "preppy," so I definitely kept that in mind while whittling down options. The customizable striped monogram and Lily Pulitzer-inspired sailboat print were my inspirations.
Other favorite finds include the palm frond prints and Surf Sun & Sand print in gold and pink — just the right mix of sparkly and feminine and beachy. And, of course, no beach-loving wall would be complete without a pineapple and/or flamingo (or both?).
Green and gold secondary tones helped prep up the pink vibe of the gallery wall. If Alexandra has a way to add wallpaper or similar styling to her wall, I highly recommend something preppy, graphic and B&W, like the polka dots in the mockup.
To download these printables, click on the links below to go to the original download pages.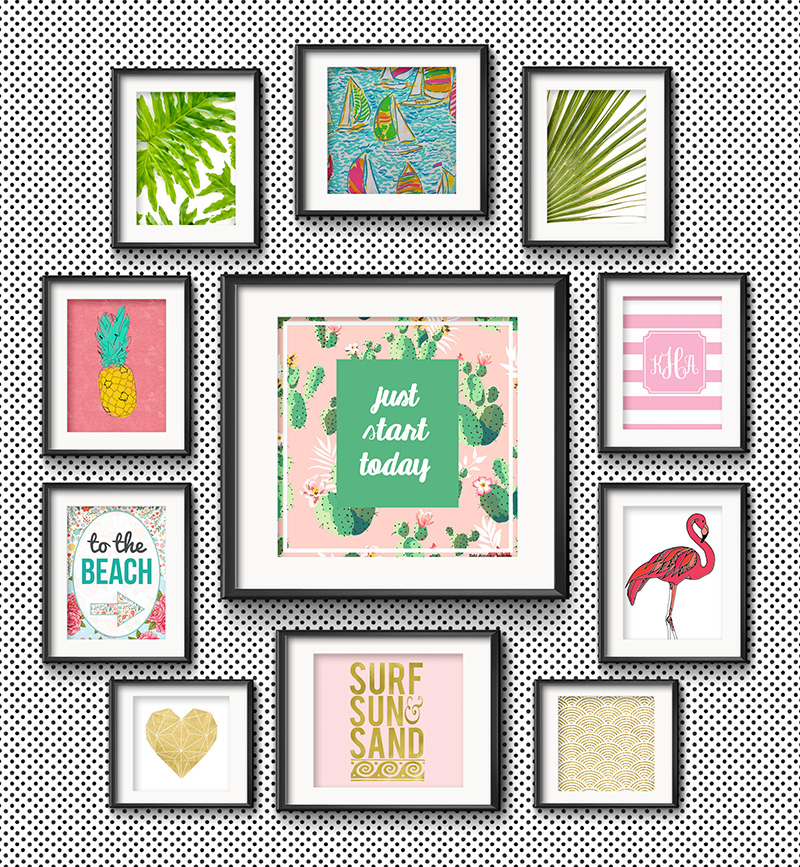 Palm Fronds #1 • Lily Pulitzer print • Palm Fronds #2
Neon Pineapple • Just Start Today • Monogram • To the Beach • Flamingo
Gold Heart • Surf Sun & Sand • Gold Pattern
Quick Tip
Alexandra mentioned the University of Wisconsin in her faves list, and although I love the idea of decorating with your school emblem, I couldn't make the University of Wisconsin logo fit in with the other items on the wall.
No problem — I recommend simply framing it individually on a desk, or on a separate wall, like so: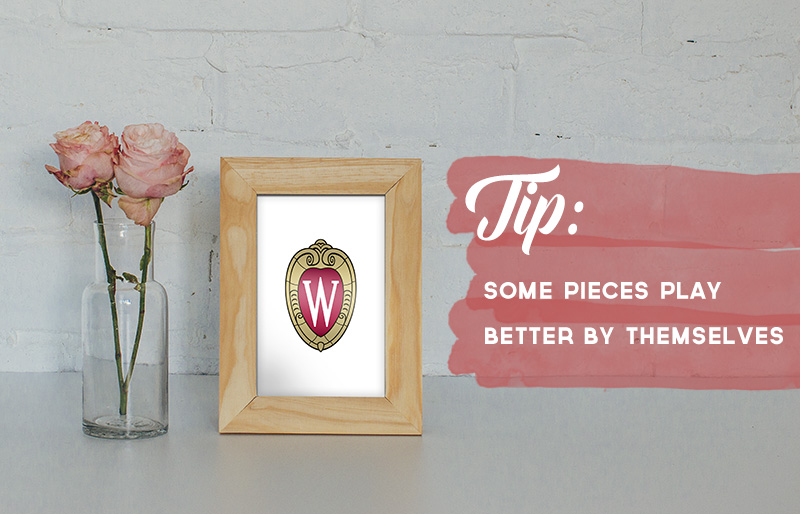 Psst, a quick aside — Did you find this post via Pinterest? If so, nice to meet you, and thanks for stopping by! I hope you have a few minutes to click around so we can get to know each other better. A few good places to start: There is a
freebies page
I think you would like, as well as my
About page
and a roundup of my
Favorite Posts
. Looking for help planning your gallery wall? Book one of my
gallery wall consultations
. I sell my best printables on
Etsy
, and my best designs are on
Society6
.
---
Interested in being featured on the Frame Game?
Since I've started rounding up free printables (the first time, the second time, the third time, the kids time, the kitchen time), I've received a lot of emails seeking help with various dilemmas you have in your homes.
Contact me by copying + pasting this form to indicate what mood you're trying to set, and look out for future installments on the blog.
Name (first name only is fine):
Website (if you have one):
Which room in your house do you want to decorate?
Tell me a little about the person this room belongs to (likes, dislikes, special requests):
Tell me this person's favorite movies, books, music:
Any additional info:
Please keep in mind that the wait list is quite long for this feature. If you're interested in a timely gallery wall consultation, you can get suggestions within a week. Book one today!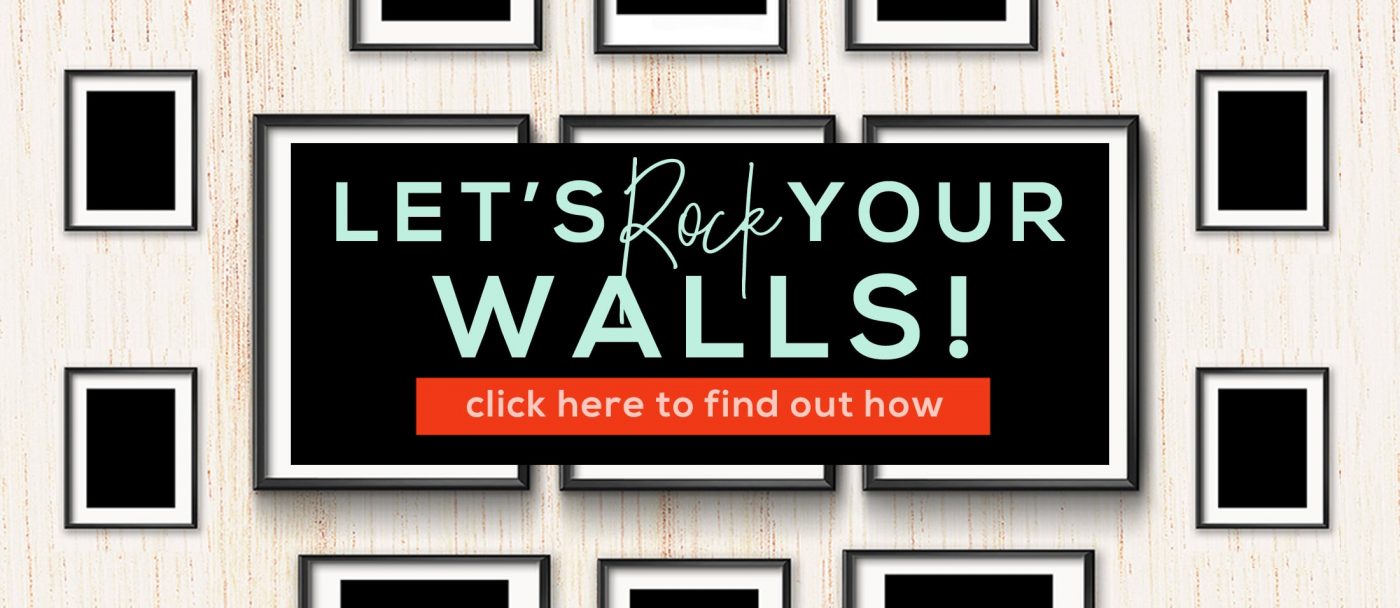 ---
P.S. The frames featured in this post are mockups. Check the individual download pages for details on ideal image size. Want to print something huge but the highest it goes is 8×10? Consider a larger frame with a mat. (Example here.)