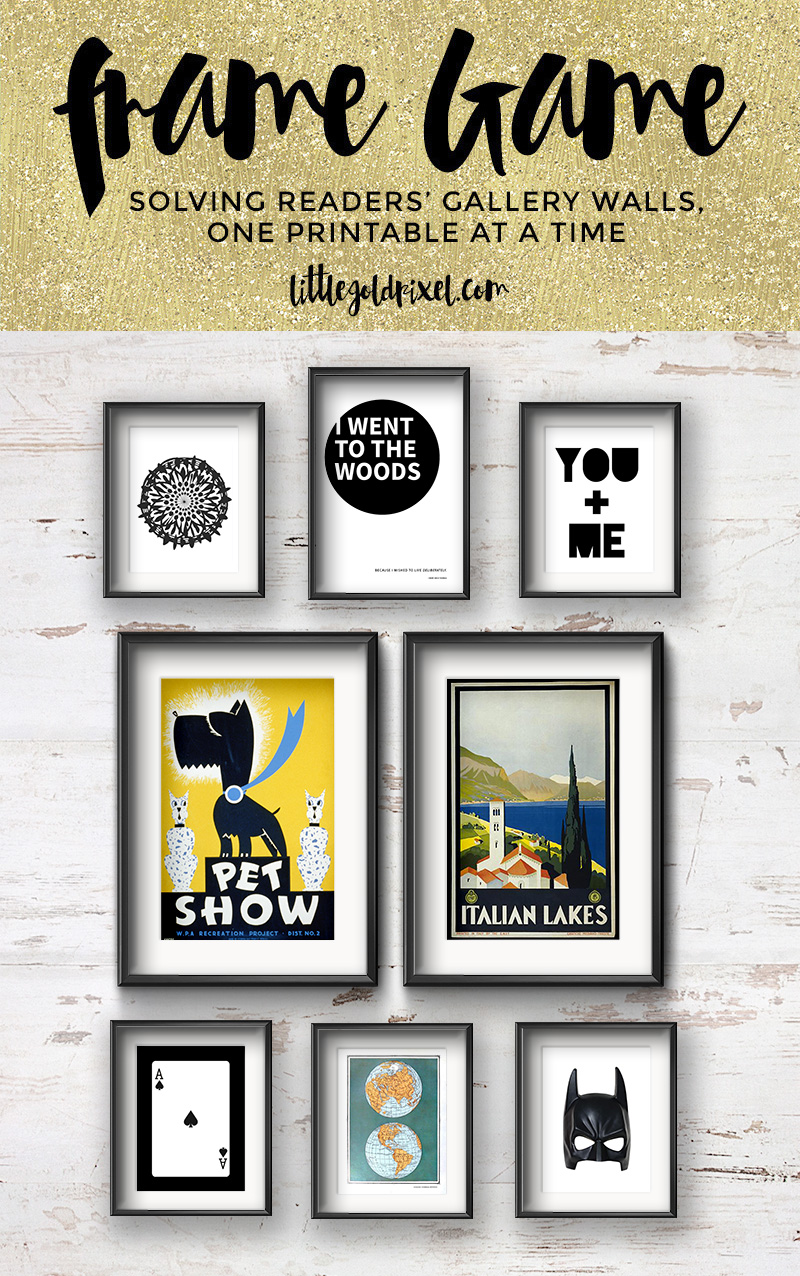 Frame Game is an occasional series in which I take readers' gallery wall requests and find art that fits their personalities. Click here to see past Frame Games.
Today's wall was inspired by Andrea and Adrian, a fun-loving couple who want their small apartment to reflect their varied interests.
In Andrea's words:
"The wall belongs to me and my boyfriend; I would love to mix harmoniously our likes … which are kind of different. We live in a small apartment, prefer clean lines and white backgrounds, not a fan of cluttered spaces."
Andrea's interests include yoga, traveling, animals, Buddha, nature and dogs. Adrian's interests include Batman, poker, superheroes, Italian stuff and dogs.
Let's go!
Fun & Fresh Gallery Wall for a Diverse Couple
My biggest goal when it came to Andrea and Adrian was to make sure their focal pieces were of the interests they have in common. In this case: DOGS.
This isn't the first time I've turned to vintage posters to anchor a wall. What can I say? They're great in a pinch and match a plethora of styles. In this case, the clean, graphic lines Andrea is looking for.
The dog poster really jumped out at me. In addition to meeting the criteria, I thought it also had a superhero quality to it — with the dog's ribbon flying like a cape. The Italian lakes poster combined two different interests: nature (for Andrea) and Italian stuff (for Adrian).
With the secondary pieces, I tried to mix and match. Mandalas and woods and maps for Andrea's hobbies; Batman mask and the Ace of spades for Adrian's hobbies. Lastly, a You + Me piece to tie the entire wall together.
To download these printables, click on the links below to go to the original download pages.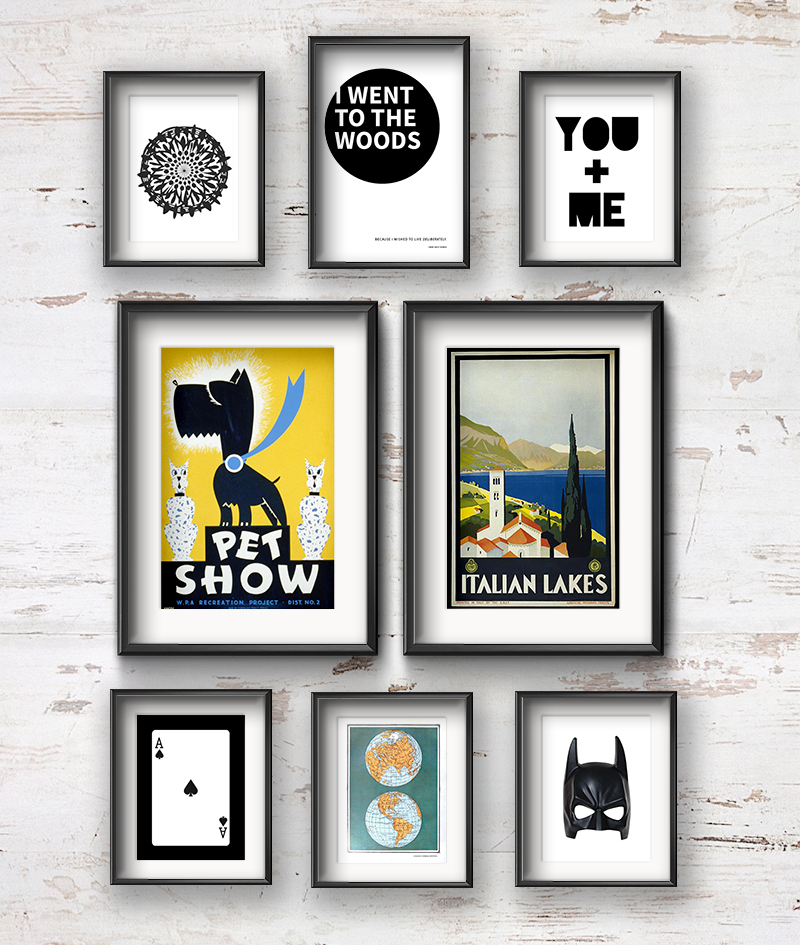 Mandalas (three other options!) • I Went to the Woods • You + Me
Ace of Spades • Vintage Map • Batman (look here for more Batman/superhero freebies!)
---
If You Wanna Splurge
Sometimes, no matter how long you search for the perfect free printable (hey, it might still be out there!), there comes a time in every curator's life when you simply must pay for good, quality art. Please do. I believe in supporting artists!
This is what I'd buy for Andrea and Adrian. A Diagram of Dogs poster from Pop Chart Lab. This poster is graphic and fun — it would make a great centerpiece item. At $29 for a whopping 24″Wx18″H, this poster is also a great value.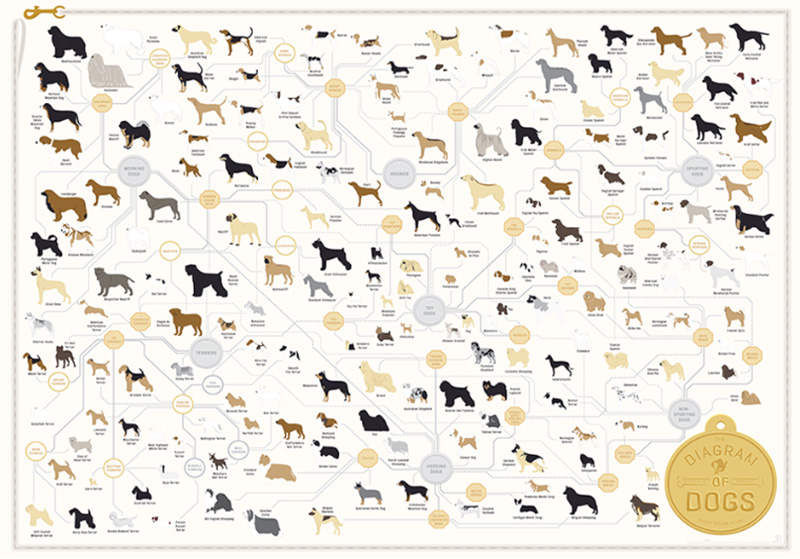 ---
Interested in being featured on the Frame Game?
Since I've started rounding up free printables (the first time, the second time, the third time, the kids time, the kitchen time), I've received a lot of emails seeking help with various dilemmas you have in your homes.
Use this form in the comments below (or email me) to indicate what mood you're trying to set, and look out for future installments on the blog.
Name (first name only is fine):
Website (if you have one):
Which room in your house do you want to decorate?
Tell me a little about the person this room belongs to (likes, dislikes, special requests):
Tell me this person's favorite movies, books, music:
Any additional info:
---
P.S. The frames featured in this post are mockups. Check the individual download pages for details on ideal image size. Want to print something huge but the highest it goes is 8×10? Consider a larger frame with a mat. (Example here.)