This is the second of three holiday gift guides for 2013. See: the $10 gift guide and the $20 gift guide. These are things I've bookmarked throughout the year as items that seem like great gifts for people I know and love. They are from a combination of retailers and Etsy sellers, and I am not being paid to link to anyone.
I have a bone to pick about gender branding. Why is "Jake and the Neverland Pirates" merchandise hanging out in the boys' section? What? Girls can't like pirates? For that matter, we can get into why there are boys/girls sections in the first place and whether it's brainwashing our children. You could even point fingers at this very gift guide and say, "But you broke this down into guys/girls/children, you hypocrite."
It's true, I did. But I would be the first to admit that I'd like anything on ANY of these lists. (My favorite item is actually the Lebowski magnets I put in the Guys section.)
Maybe it's better to say that there are masculine/feminine/childlike qualities inside us all, and it's up to us to interpret and feed those qualities.
So I'm gonna go ahead and buy my daughter a pirate ship for Christmas. And maybe a beer glass for myself. And an elephant-print scarf for my husband. Er …
Back to your regularly scheduled gift guide…
$15 Holiday Gift Guide
FOR GUYS & GIRLS

GUYS // 1 // Beer glass // 2 // Bottle opener // 3 // Tablet stand // 4 // Liquor candle 
// 5 // Coffee mug // 6 // Dry rub set // 7 // Soap set // 8 // Lebowski magnets

GIRLS // 1 // Wooden tea set // 2 // Paul Rudd coloring book // 3 // Octopus statue // 4 // Skeleton key necklace 
// 5 // Mercury glass candle // 6 // Pencil socks // 7 // Knit tablet case // 8 // Elephant scarf
FOR KIDS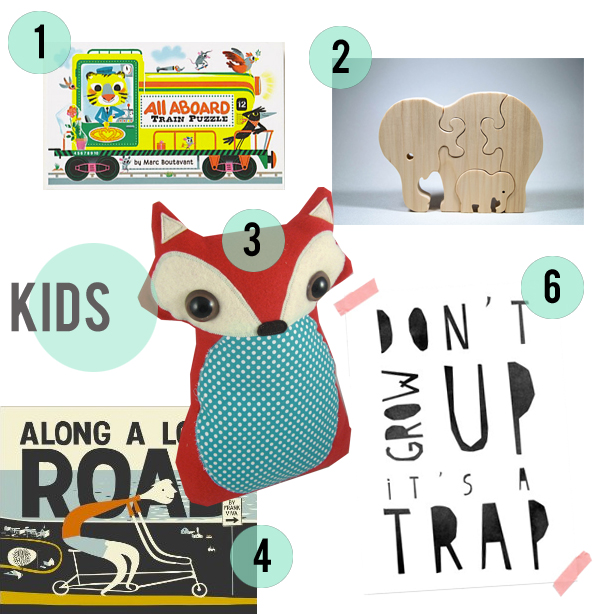 KIDS // 1 // Train puzzle // 2 // Elephant puzzle // 3 // Fox plush // 4 // Along a Long Road // 5 // Don't Grow Up print