Psst, a quick aside — Did you find this post via Pinterest? If so, nice to meet you, and thanks for stopping by! I hope you have a few minutes to click around so we can get to know each other better. A few good places to start: There is a
freebies page
I think you would like. Looking for help planning your gallery wall? Check out my
gallery wall consultations
. Looking for art for your gallery wall or home decor? I sell my best printables in the
Little Gold Pixel Shop
,
Etsy
and
Society6
.
Join the

Little Gold Pixel club
with an email that drops every Thursday (always with an exclusive free printable!) & I'm on social media everywhere as @littlegoldpixel. Say hi! I can't wait to meet you!
After we moved into this house, it took me a good long time to put together my gallery walls. You might get a good idea of how long from this post and this post. These posts also happen to be two years old, as is all the art hanging in our frames.
Of course I do and will always cherish the photos and prints that made the gallery cut in 2012, but every now and then a girl's gotta change her perspective, and maybe just maybe put up a recent photo of her child. Just a thought.
While I take another two years to narrow down our family photos, enter free art printables. At first I started collecting these links with the thought that at the very least they would be good placeholders in a pinch.
At the very most they are beautiful all on their own. I took the liberty of creating a few gallery walls so you can envision it for yourself.
26 Free Printables For Gallery Walls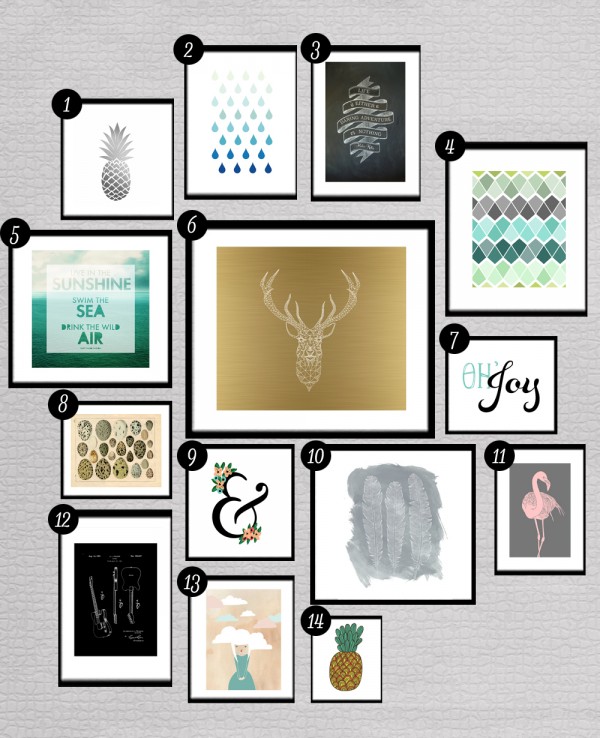 If for any reason you get an error when clicking on a link to one of the printables, try right clicking and opening in a new tab/window.
(1) Black pineapple (2) Raindrops (3) Braver print (4) Geometric (5) Wanderlust print (6) Deer print (7) Oh Joy print (8) Eggs (9) Ampersand (10) Feathers (11) Flamingo (12) Guitar patent (13) Girl art print (14) Color pineapple
I might be running the risk of hipster overload here, what with the trendiness of the pineapples, ampersands and flamingoes. I don't care, though, because it's all so cohesive and fun.
Hey, at least I didn't put a bird on it. At least … not a typical bird. Flamingoes are the giraffes of the bird world.
A few things to note: The gold deer print is actually a wallpaper design for computers. Wallpaper freebies are good sources for free prints because they're typically pretty large and creative cropping makes for pretty pictures.
Also, prints that come vertically can also look cool horizontally. I rotated the vintage egg print in this example. The feathers could've been horizontal, too.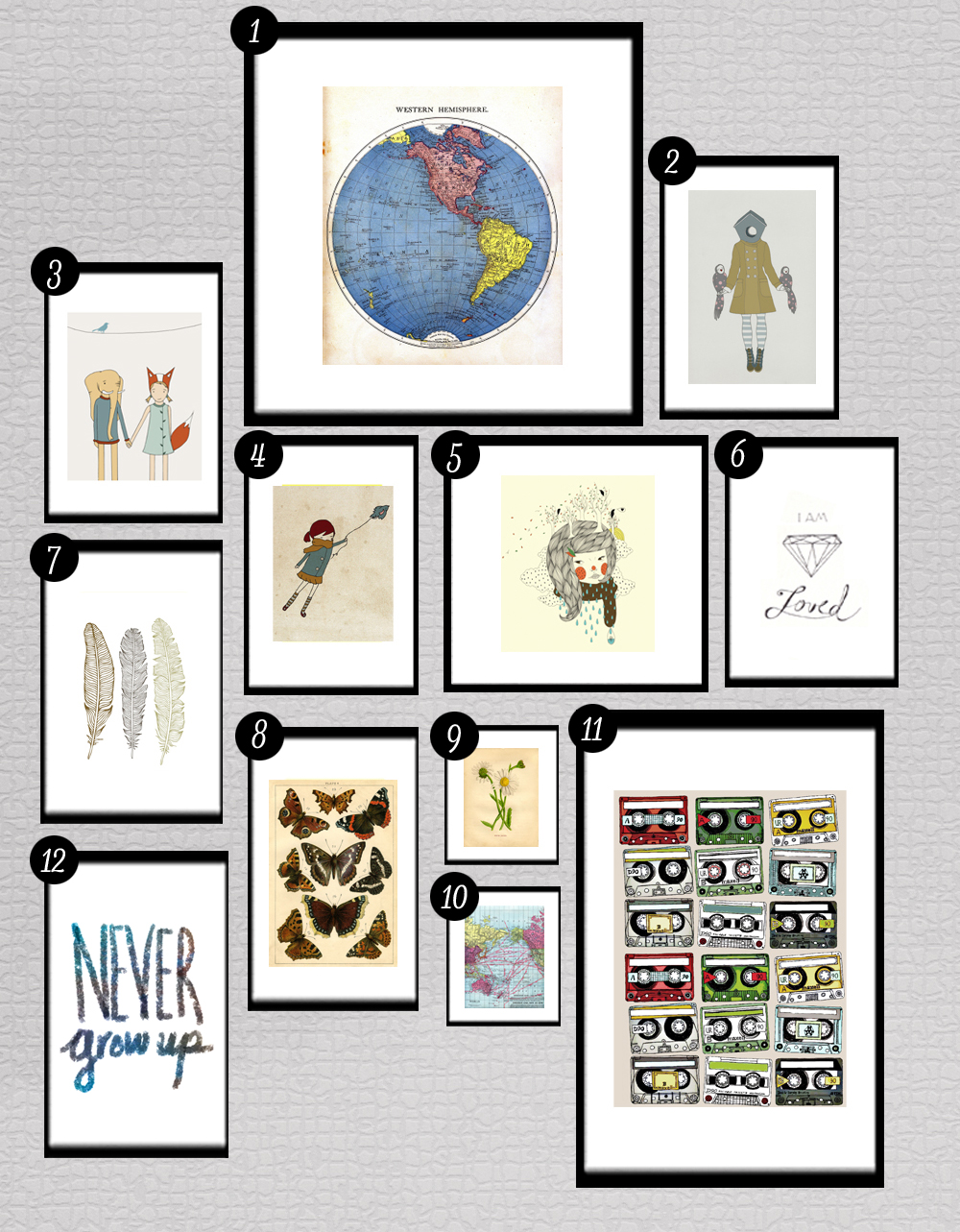 If for any reason you get an error when clicking on a link to one of the free printables, try right clicking and opening in a new tab/window.
(1) Western Hemisphere (2) Bird Lady (3) Friends (4) Fly away (5) Girl (6) I Am Loved (7) Feathers (8) Butterflies (9) Flowers (10) Map (11) Cassettes (12) Never Grow Up
Here's another quick tip: When creating a gallery wall, it's nice to break up illustrations with words/quotes/text prints for visual interest.
Resources for free printables
But wait, there's more!
Get Your Free Design Whiz Kit
My TOP 10 tools to boost your design creativity & confidence!
---
What about you — what do you hang on your walls? Do you have a favorite artist? Any other resources for free printables that I should add to the list? Let me know if you have any free printables on your blog. I love to hear from you — contact me here.
P.S. Update! Click over to Vol. 2 and Vol. 3 for more gallery wall inspiration!