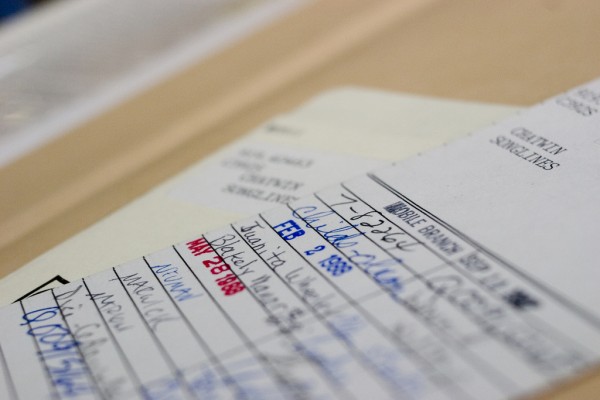 Going to the library has become a mama-daughter weekend tradition.
I want our local library branch to be more like the cozy neighborhood one of my youth, which among other perks boasted a reading nook for kids and a cat named Libby. Unfortunately this big-city library is teeming with vagabonds, most of which are innocuous, although there was that one time we arrived to find a police officer chastising a man for indecent exposure.
Thankfully we were not privy to the shenanigans, and instead breezed inside, where Alexa immediately went about her business of climbing every climbable surface and helping pick out books. Our nightly reading routine is important to me, and it makes me beam with pride to see the buds of a writer/reader in my daughter. She can spell and write her name, and she grows distraught if she's been so naughty that she loses bedtime story privileges. Sometimes she will ask for stories in the middle of the night if she is having trouble sleeping.
And when I tell her we're going to the library, and she lights up, I can see that she does not care about the lack of ambiance as much as I do. She cares about the books, and what treasures will we bring home this time?
10 Books Preschoolers Love
---
1. Kitty Cat, Kitty Cat, Are You Going to School?
Why? Kitty Cat does various activities at preschool that Alexa could relate to. Lots of rhyming. It's easy to pause at the end of a thought and let your preschooler fill in the blanks or point out various objects in the illustrations. I would also use this book as a jumping-off point to ask Alexa to talk about her day at school.
---
2. The Pigeon Finds a Hot Dog!
Why? Don't all preschoolers love hot dogs and being selfish? Of course it's relatable, and a good opportunity to emphasize the virtues of sharing. Plus, it's an easy book to create voices and really get some giggles out of your child. "It just tastes like a hot dog, okay!?!"
---
3. The Gruffalo
Why? Repetition and rhyming. Alexa had this book memorized and asked me to check it out three times in a row. We had great fun with the voices of the various creatures in the deep, dark wood. I would pause at various intervals so Alexa could say the next "line." She was particularly happy to note the "purple prickles" on the Gruffalo's back. The message (outsmarting the bigger animals) is good, too.
---
4. Oh!
Why? Guessing games are fun! And there isn't much to "read" if you're tired, mama. It's a foldout illustration book, and kids will enjoy the tactile experience.
---
5. I Want My Hat Back
Why? The illustrations are wonderful, and the story is short, succinct and hit the point home without underestimating your child's intelligence. It's a bad idea to lie and steal, especially from a bear.
---
6. Leonardo the Terrible Monster
Why? The simple illustrations (large pages that make good use of "white" space) draw in a child's eyes. The anti-bullying story is compelling, and it's a good excuse for a nice, big hug at the end.
---
7. Where's Walrus?
Why? About a walrus who leaves the zoo after outgrowing his tiny pool. There are no words, so you can make up your own story. I usually prompted Alexa by saying over and over again: "Where's the walrus now?" And she could tell me what he was doing. The bright, cheerful art is a big plus.
---
8. Puss in Boots
Why? This quirky tale of a cat trying to get in the good graces of his master for some reason delighted Alexa to no end. Perhaps it was my French accent? I highly recommend reading the entire thing in an accent.
---
9. Chopsticks
Why? A pair of chopsticks has never been separated until one of them breaks his leg. The other suddenly is thrust into the world alone, and learns to be independent. Witty, cute and full of fun puns, adults will enjoy this one as much as kids.
---
10. Miss Lina's Ballerinas
Why? Eight ballerinas have to adjust to dancing in a different formation when a new girl joins their ranks. Learning adaptability and how to play well with others, it goes down easily with repetition and rhyme. Alexa especially wanted to read this after starting dance lessons. Plié, relevé, pirouette and jetté!
---
P.S. Maryam and her daughter Margaux of Hi + Hello are even more prolific library-goers than we are, and I absolutely adore her series We Love Books. Check it out for additional preschool reading recommendations.
---
Click on the book covers for more info and/or to purchase. These are affiliate links. Thanks for supporting Little Gold Pixel! Photo credit: Chris Blakeley