Did you know my No. 1 all-time post is this one?
Seriously, three years later and it still clocks more than 100 hits per day. Either there are a lot of people looking for Marilyn Monroe in a swimsuit (most likely) or 1950s swimsuits are more popular than ever (also pretty likely).
When I first wrote that post there were very few stores selling retro suits like that. Now there are options a-plenty. So it's definitely time I did an update, complete with cool retro pics and current swimsuits picks.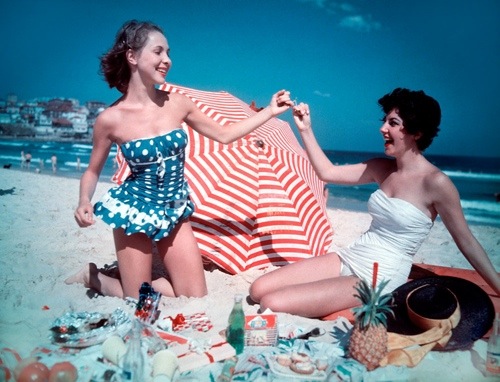 Blue polka dots and red-striped umbrella, hello! Also, drinking straight from a pineapple. I can get behind that.
I think the swimsuits above might be the coolest ones I've ever seen. Ever.
Let's see if we can find some comparable swimwear in the modern world, shall we?
Sources: Top two images from the National Archives of Australia via; second two images from Life magazine