In my yearly attempt to try a different style of swimsuit (damn you two-piece swim dress for being so comfortable!), I've been looking to the past for inspiration. I declare 1950s swimsuits to be the most astonishing.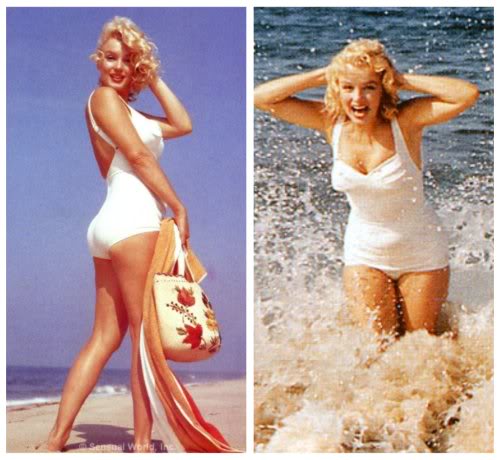 I wouldn't touch a white swimsuit with someone else's body, but Marilyn knows how to rock it out. Look, she's going into the water, and she's not even afraid of STSS (see-through swimsuit syndrome).

The flattering ruching is out of this world. Some like it hot, indeed.
Yet more ruching! I am such a sucker for a good ruche. Three different body types, yet virtually the same, universally flattering suit shape.
More hip-hugging fun. I'd pay good money for replications of the three suits on the left. The one on the right, though, may be too, er, "hip" for me. Get it? Hip! OK …
I can't even bring myself to comment on these waists, or the lack thereof. Why don't I just make yet another comment on the optical illusion of ruching and how it makes things appear smaller than they are. Um, yeah, that explains the Barbie proportions, alright.
Quick! Can someone make me either of the above swimsuits stat? Love them, love them.
Are you craving your very own retro suit yet? If so, take a gander at these indie designer frocks that embrace the vintage aesthetic:
---
EDIT: Due to the overwhelming popularity of this post, I have revisited this topic. Click here to see even more retro swimsuits.