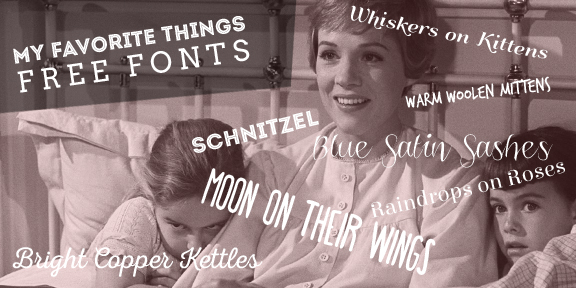 When I started working on this post, I was at a loss for what to call it. Free Fonts for ____? So I shelved the title and kept working on picking the fonts … all of my very favorite fonts.
Suddenly I heard Julie Andrews' voice in my head, singing "Raindrops on roses and whiskers on kittens," and it was clear to me: My Favorite Things!
Who says life isn't a musical? Who says it isn't normal to hear voices in your head, especially voices that belong to the one and only Julie Andrews?
The point being, these fonts have nothing in common except that they are exceptionally awesome AND FREE, and they're my favorite.
Psst, a quick aside — Did you find this post via Pinterest? If so, nice to meet you, and thanks for stopping by! I hope you have a few minutes to click around so we can get to know each other better. A few good places to start: There is a
freebies page
I think you would like, as well as my
About page
and a roundup of my
Favorite Posts
. Looking for help planning your gallery wall? Book one of my
gallery wall consultations
. I sell my best printables on
Etsy
, and my best designs are on
Society6
.
Free fonts for everyday design
I keep going back to these fonts. They are versatile. I tried to compile a list here that you could draw from for any personal project, and you won't be disappointed.
The fancy ones are sturdy and not over-the-top.
The handwritten fonts are not too cheesy and well-spaced.
Elephant and Elsie are beautiful heavyweight serifs that make a bold statement.
Montserrat, Arvo and Le Havre perfectly complement the script fonts, making combos effortless.
What about you? What are your go-to fonts? Tell me in the comments below!
P.S. My font board on Pinterest.