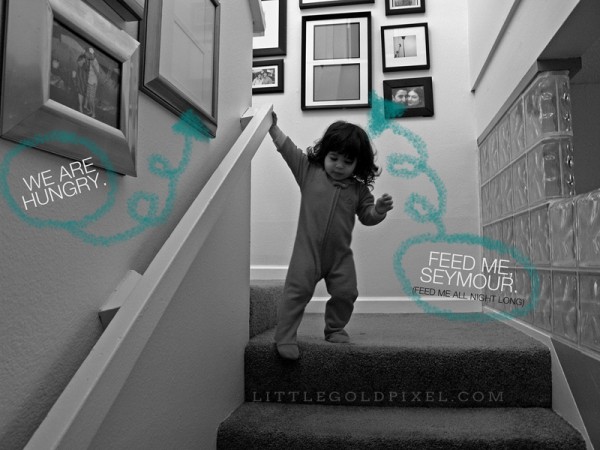 It's been three months since I finished hanging my gallery wall in the stair landing. Thanks to Pinterest, this is something I was convinced was going to take a lot of time, a lot of precision, and the death of a lot of wax paper.
It didn't take me that long because I have a toddler. There is no time to be precious about perfect walls when there are nails, a hammer and a kid eager to climb the stairs and get in the way of said nails and hammer.
So how did I get the hang of gallery walls? I just picked up a nail, hammered it in and hung a frame. Repeated approximately 20 times. I did not trace any outlines, I did not arrange the frames artfully on my living room floor, I did not pass go.*
Crazily enough, it took me longer to finish ordering the prints to go in the frames than it did to plan the wall itself (and that includes a month's worth of finding frames at thrift stores). Three months, and I finally did it! I placed the order, and the remaining prints are on their way … finally!
It was hard as hell to whittle down the possibilities. At first I thought I would showcase some of my landscape photography, but the longer we lived here the more I grew enamored with the idea of having a family photo wall.
Oh, but to pick out the photos from the millions we have. It was a process. The empty frames seemed to mock my indecision on a daily basis. We're still empty, they said, taunting me. The jerks.
When Alexa and I walk down the stairs each morning, we pause on the landing to point out family members. I framed a photo of my mom as a toddler, and she points at it eagerly, saying, "Baby!" I like that she is getting to know her grandma even though grandma isn't with us. Same with her paternal grandpa (who looks so much like H in his framed photo that a few times Alexa has mistakingly called him "Daddy"). Of course, she knows Baba (my dad) and Mima (my mother-in-law). And Mommy and Daddy. Soon there will be a picture of Uncle Chad and Aunt Kelly and cousin Lola.
Today I pointed to a big photo of Alexa. "Who's that?" I asked. She grinned really wide. "It's you!" I said. "It's Baby Alexa."
"Baby 'Lexa," she said decisively.
UPDATE: Photos in all the frames!
*I am a designer by trade, so it doesn't hurt that I have a good spatial sense. (Plus, perfection is overrated.)