It's a good thing I have a sense of humor. I mean, here I am, two fans pointed directly at me, sweat threatening to break skin if I type too fast. I'm periodically holding cold water bottles against my neck and cursing the fact that it's hot so hot for Los Angeles.
We in the land of no air conditioning. We in the land of moderate temperatures — we're in the middle of a ridiculous heatwave.
And yet here I am thinking about the perfect fall day.
It's only natural, I suppose, to want a giant blanket and hot apple cider on a day I took a cold shower out of necessity. The same as craving ice cream in a blizzard. Oh, but ice cream sounds great, too.
Will you join me in planning the perfect fall day? Let's daydream. Depending on where you live, you might have to stretch your imagination A LOT.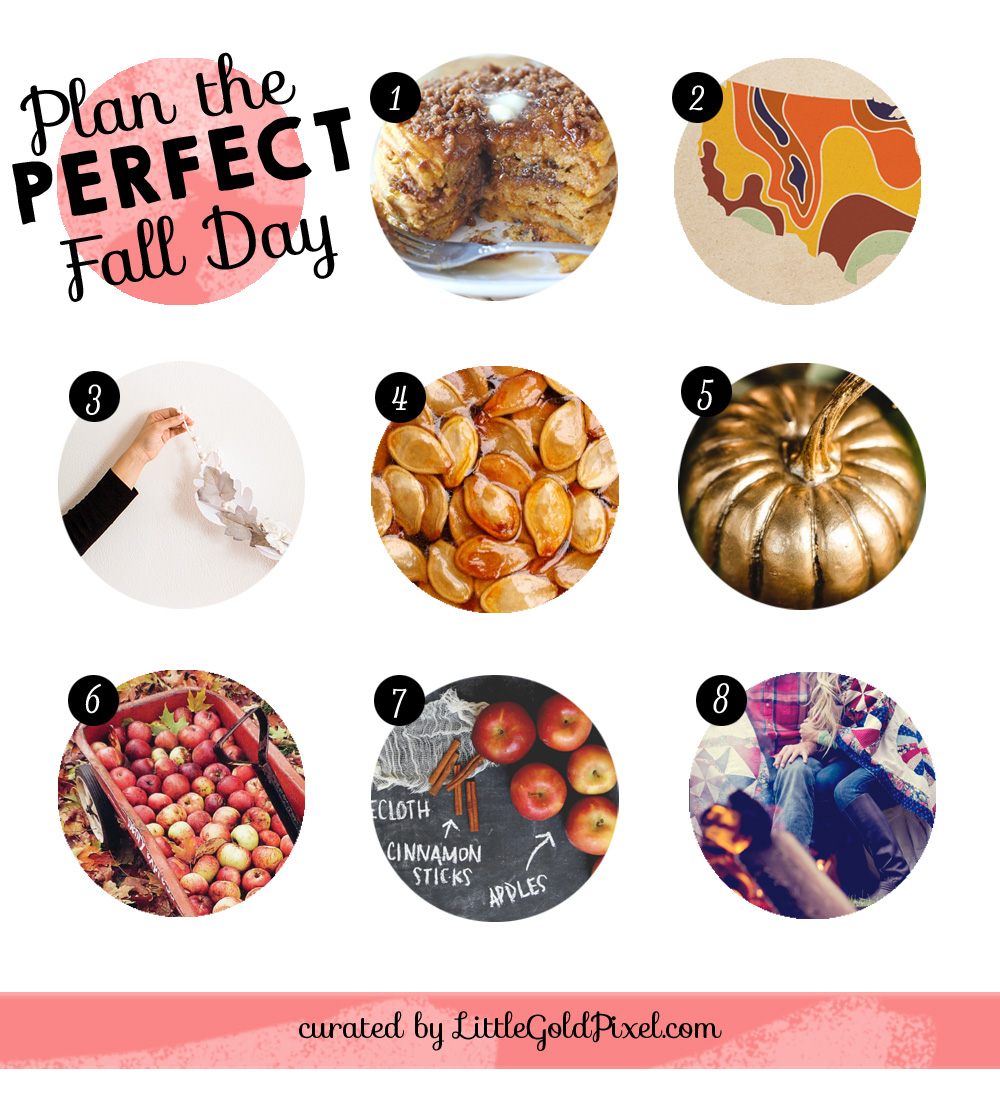 Plan the Perfect Fall Day
Pumpkin pancakes — Let's start the day off right.
Go for a drive/hike — Check out the fall foliage in all its glory. Make it a contest to see who can find the most interesting leaf during your hike.
Make fall decorations — If you live in a place with no real foliage, making this fall garland might put you in a fall mood. If you happen to have real leaves leftover from your excursion, they would look lovely intertwined.
Cook pumpkin seeds — Drunken pumpkin seeds with whiskey, bacon and brown sugar. I KNOW.
Paint some decorative gourds — Go for golds or neutrals, and they'll look at home all the way up to Christmas.
Go apple picking — Google "apple picking (your city)" to find the nearest orchard. Substitute for pumpkin patch if orchard is too far. Make sure you bring your camera for fun photo opportunities. If there's a hayride, climb aboard. It's a quintessential fall experience.
Drink hot cider — Even a simple recipe is delicious.
Tell spooky stories by the campfire — Anything from Scary Stories to Tell in the Dark will do.
Bonus round
---
What is your favorite fall activity? Anything you'd add for your perfect fall day? Tell me in the comments!