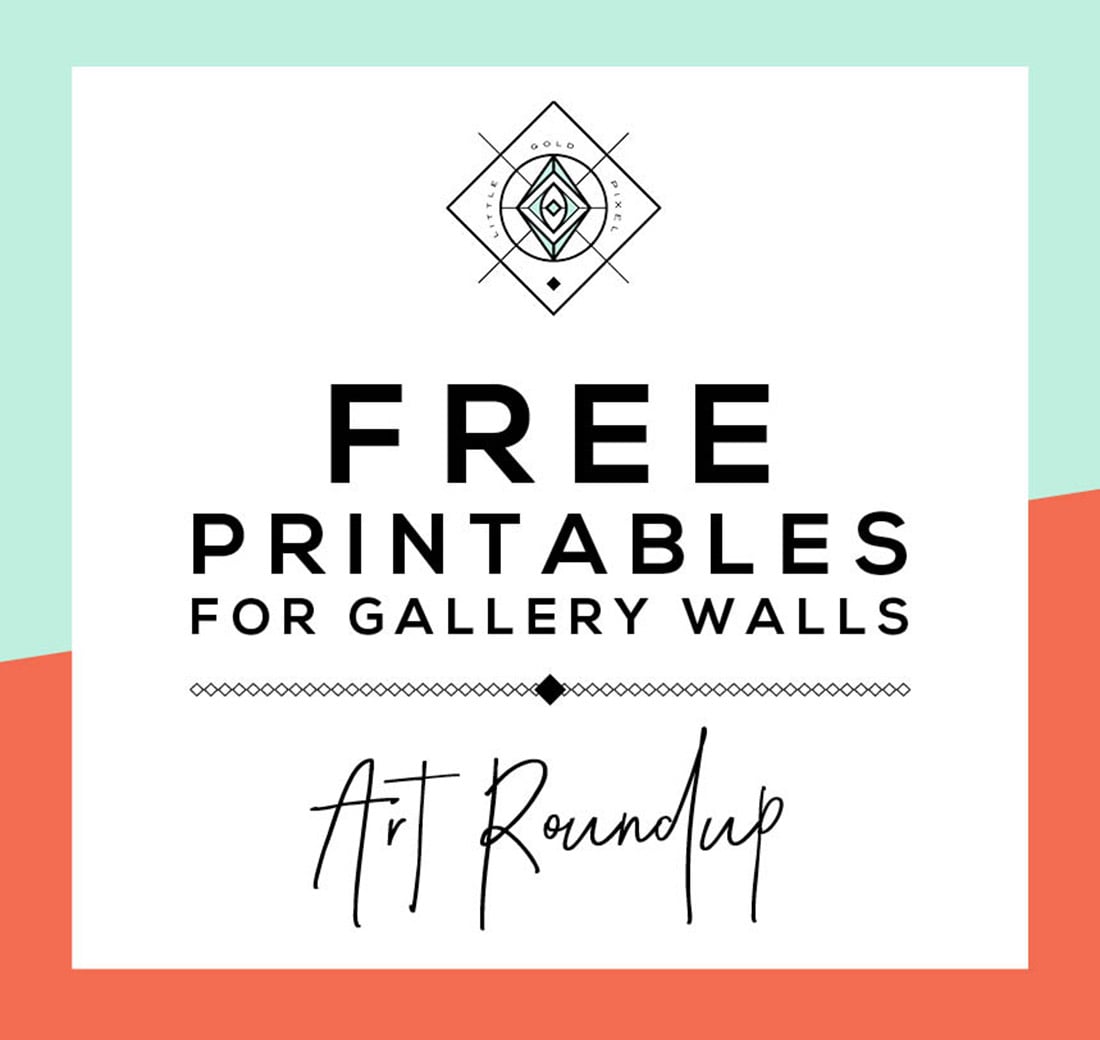 When I first wrote this Free Printables for Gallery Walls post a few years ago, I had no idea it would take on a life of its own.
We had recently moved into a town home, I was a new mom and I was taking forever to get my act together when it came to decorating our new space.
I knew I wanted to hang a gallery wall (or three), so I spent some time gathering frames at thrift stores. When I had enough, I hammered them into the wall with very little regard for perfection. Done is always better than perfect, I say!
But then again, I wasn't done.
I was stuck.
A family photo wall seemed like the ticket, but there was the matter of indecision and sifting through a million digital photos PLUS the arsenal of vintage family photos I had yet to unbox. Did I mention I was taking forever to get my act together?
It was around this time that I started to bookmark free printables from around the Internet. These would work as placeholders in a pinch, I bargained with myself.
The list of bookmarks grew crazy long. One day, on a total whim, I started playing around with a few configurations of free printables for gallery walls in my home.
I shared my list and mockups with some friends just for fun, and the feedback was overwhelming: "You should post this on your blog."
I laughed at first because at the time, this blog was a general lifestyle/mommy blog that only about 50 people knew about. It was a glorified diary of my family life, which at the time felt important, like a time capsule in the making for my daughter.
But, dare I say, it was boring.
The gallery walls were interesting.
They appealed to me as a designer and as an artist who was lacking creative challenge in her career. And I knew there were busy women out there living the same life as me. Commuting and working all day, barely any of their "own" time to be creative.
If I could provide this resource (and soon many more!) to help them maximize their minimal free time, it could make all the difference.
And so Little Gold Pixel — gallery wall consultant and art printable goddess — was born.
---
---
If you're reading this today, it's been almost a year since I left my graphic design career to pursue full-time entrepreneurship, helping women explore their creative potential via design and decor. It's my passion to inspire others and create beautiful things, and to think: It all started by trying to inspire myself.
It's funny how a passion can emerge out of something as simple as bookmarking a few links.
If this is your first visit, welcome. Make yourself at home. Click around a while. And don't forget to scroll down to the end of the post for even more gallery wall goodies.
26 Free Printables For Gallery Walls: Wall #1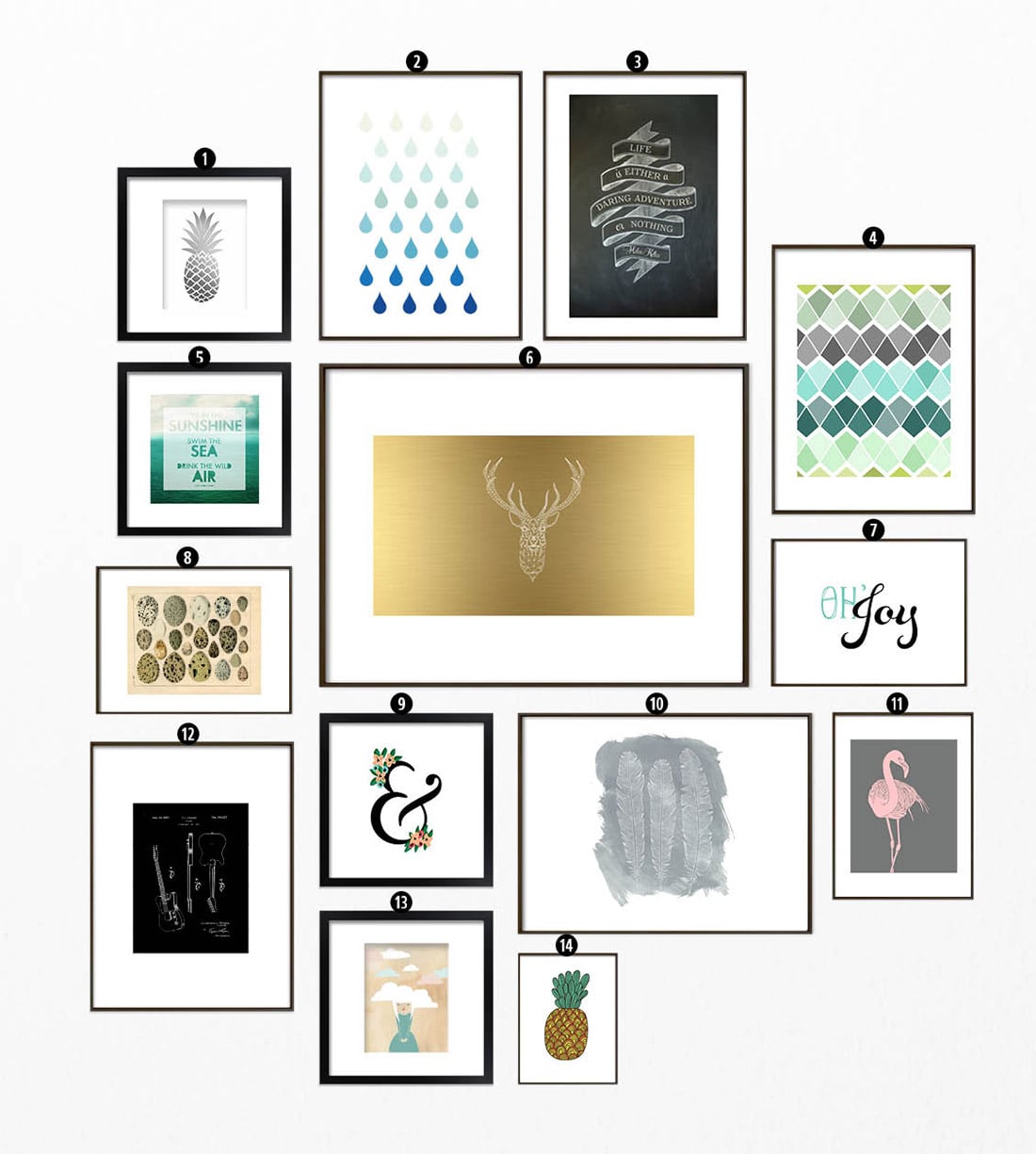 I might be running the risk of hipster overload here, what with the trendiness of the pineapples, ampersands and flamingoes. I don't care, though, because it's all so cohesive and fun.
Hey, at least I didn't put a bird on it. At least … not a typical bird. Flamingoes are the giraffes of the bird world.
A few things to note: The gold deer print is actually a wallpaper design for computers. Wallpaper freebies are good sources for free prints because they're typically pretty large and creative cropping makes for pretty pictures.
Also, prints that come vertically can also look cool horizontally. I rotated the vintage egg print in this example. The feathers could've been horizontal, too.
26 Free Printables For Gallery Walls: Wall #2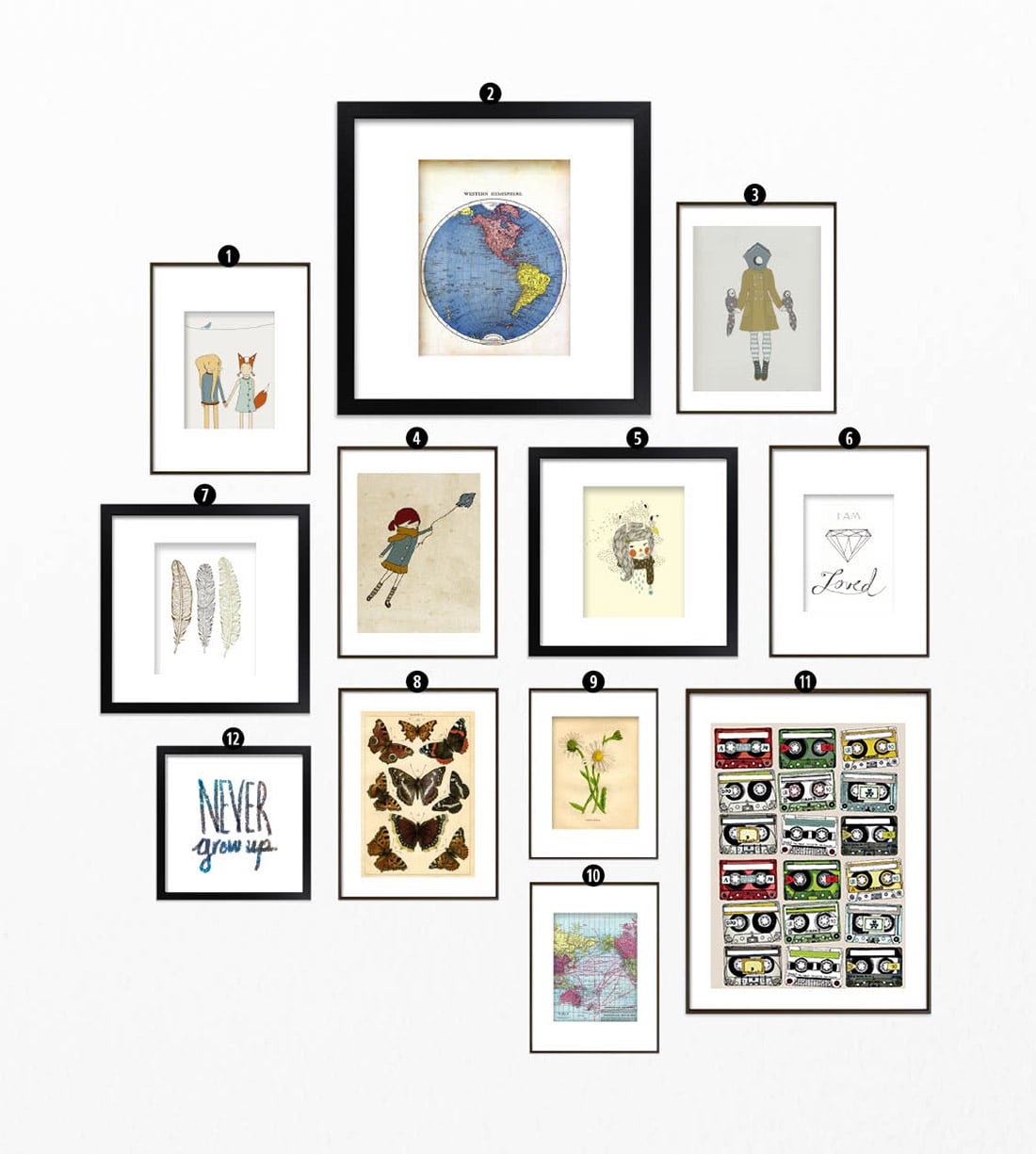 Here's another quick tip: When creating a gallery wall, it's nice to break up illustrations with words/quotes/text prints for visual interest.
Get the goods on Little Gold Pixel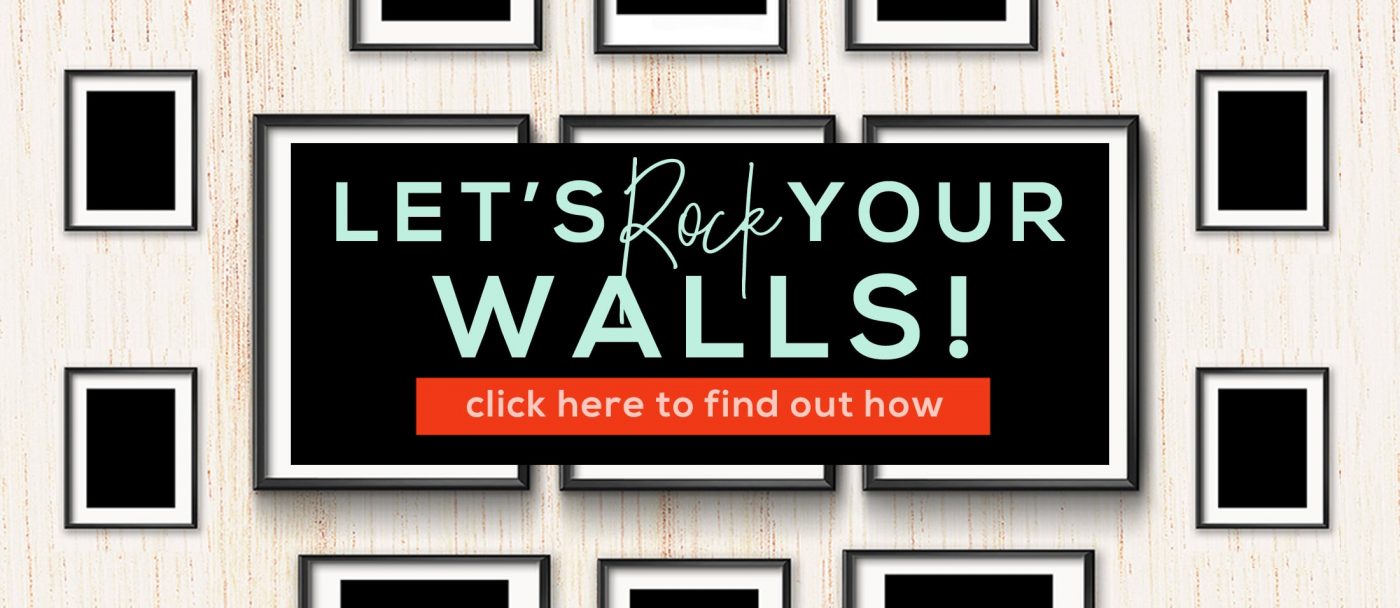 Bookmark for later: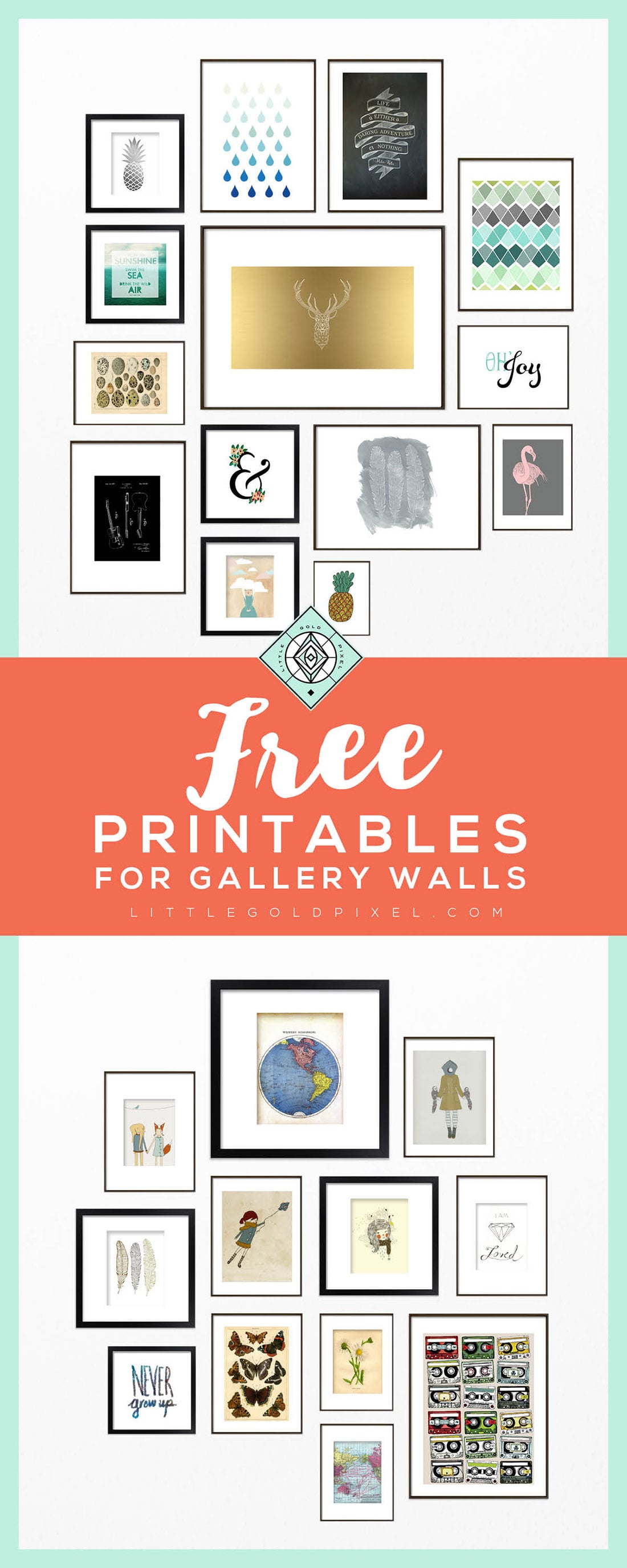 P.S. Click over to Vol. 2 and Vol. 3 for more gallery wall inspiration!