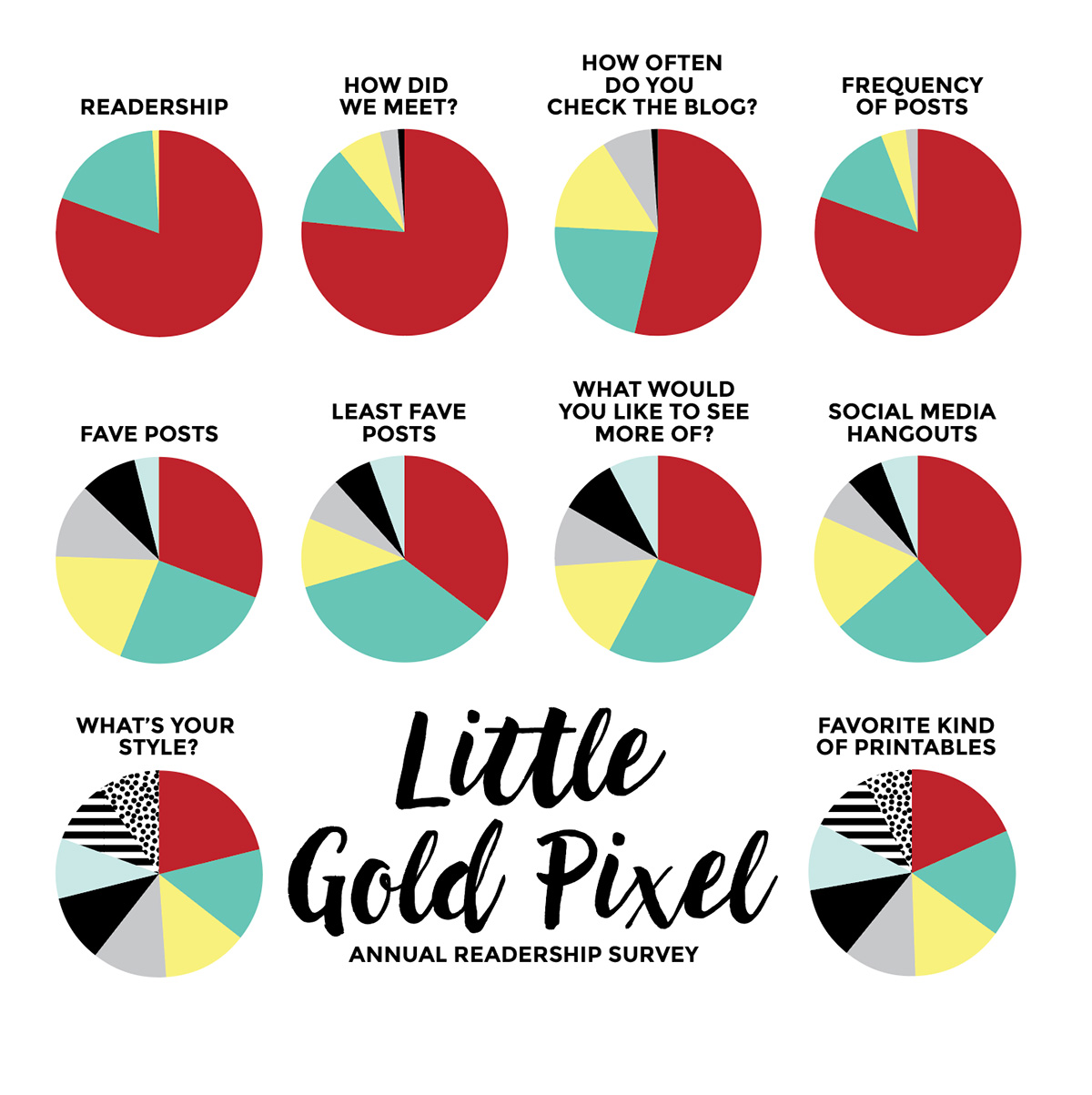 I've been writing this blog for nearly 8 years. I'm guessing most of you haven't been here that long.
It started as a place to publicize my Etsy photography shop. After my daughter was born, it enjoyed a rebirth (ha!) as a family blog. And, over the past few years, it's been morphing into something even more personal: my creative outlet.
According to the recent State of the Blog survey I sent to my newsletter subscribers, this is how you know me.
Freebies. Design. Creativity. Tips & Tricks.
And thank goodness! It's been an awful long ride of Internet identity to get here, to the point where I feel like I've finally found my niche and, in turn, my people (that's you).
Before I hit this stride, I would send out periodic readership questionnaires, and I'd get a smattering of responses. I thought I hit the big time a few years ago when I got more than 50!
Imagine my surprise when I got hundreds of responses last week. Woah. And I only posted about it in two places: Facebook and my newsletter. I didn't write a blog post about it (say whaaaat). I'm awestruck, seriously. Thanks for the feedback — I'm listening. And thanks for the support.
If you've been here since the beginning — ahem, Aunt Kristi — I'm so happy you're still around.
If this is the first post you are seeing, welcome. Check out the freebies, stay for the fun.
If you missed out on the survey, I'd still love to get your responses. It only takes a few minutes here.
---
Little Gold Pixel's State of the Blog Report
Here are some of the stats from the survey, using pie charts and word clouds (I know, so 2010)!
I asked readers to describe Little Gold Pixel in three words, and these are the words that came up most often: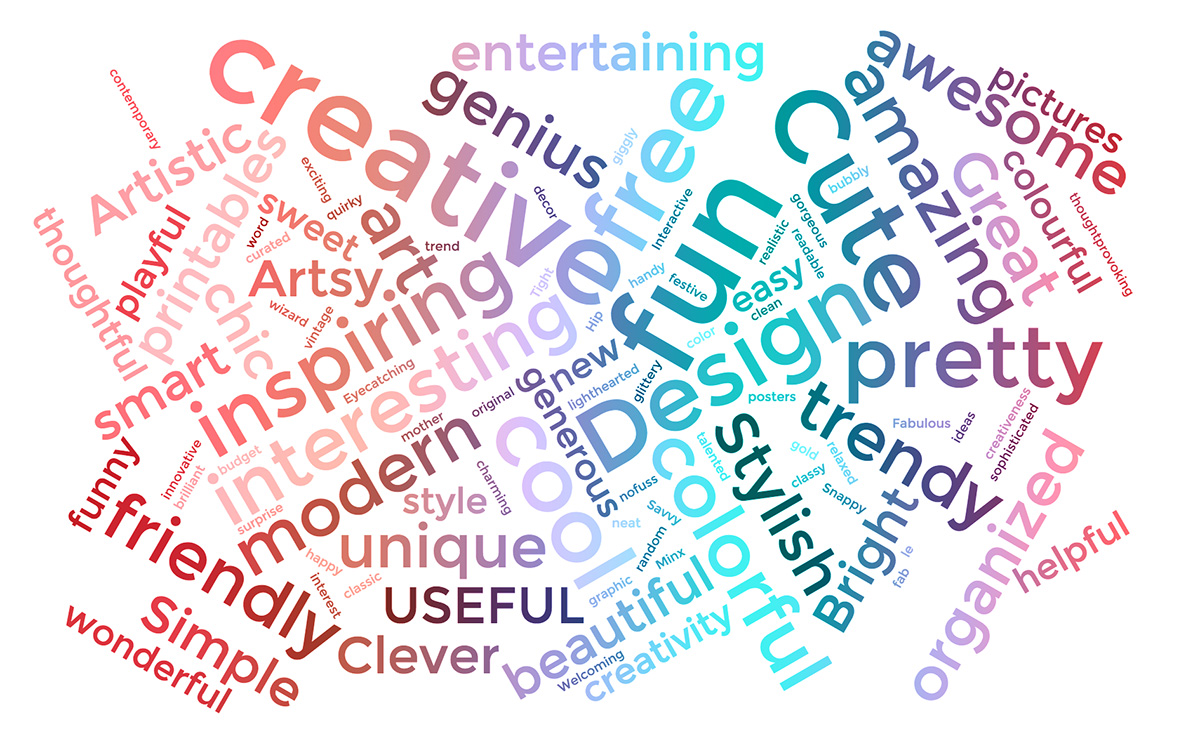 ---
Readership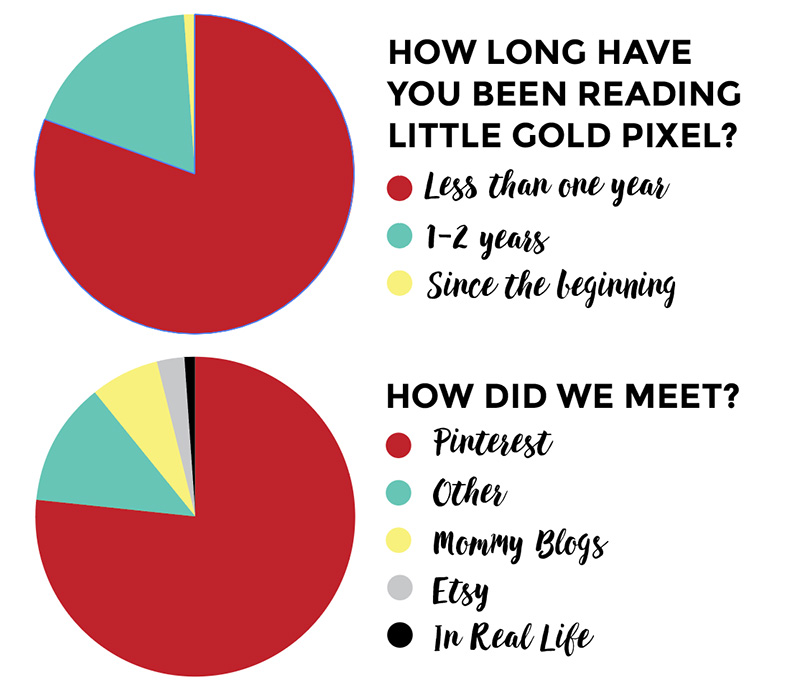 I was really shocked to find out that everyone is either super new around here, or they've been reading forever. I must've alienated all my mom blog friends! Well, maybe not all. There are still a few! Hi! And some Etsy friends, too. Pinterest remains a big source of new traffic for me, largely thanks to the popularity of my first free printable roundup. That one has longevity. "Other" is largely Google searches and people web surfing from one link to another.
---
Blog reading

I learned a few things from this information:
I need to be better about sending a newsletter every two weeks. For those of you who do not know, it's every other Sunday. I slacked off a lot last year and sometimes would let a month lapse between newsletters. You probably had forgotten about me by that point. Every two weeks it is, from here on out.
I need to post on a schedule. Even the readers who responded "just right" also wrote in that it would be nice to know WHEN I would be posting.
I've already started implementing a more logical posting schedule: Monday, Wednesday, Friday. Monday and Wednesday will be rotating topics. Friday is, of course, Freebie Fridays.
---
Features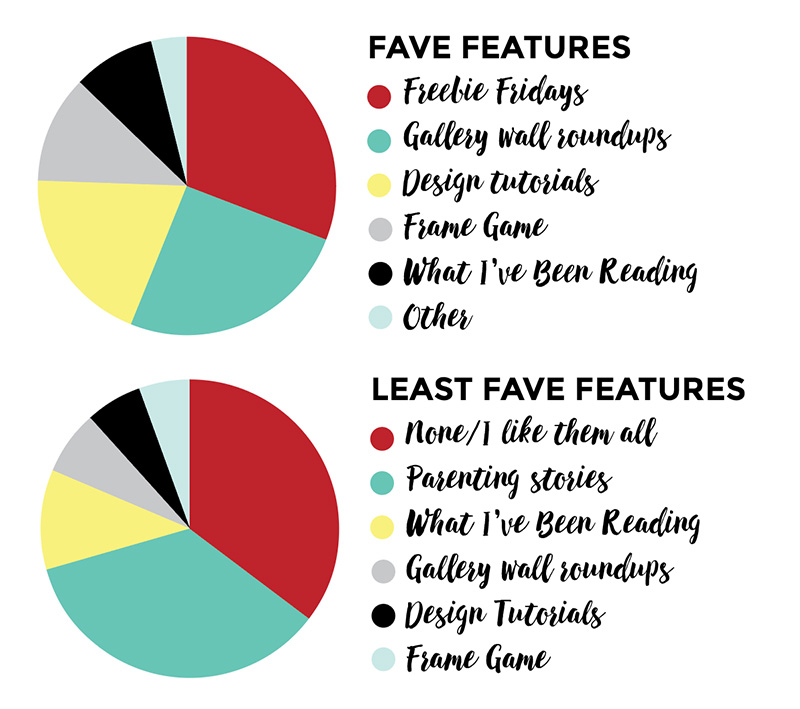 I've slowly been transitioning away from parenting stories now that Alexa is getting older, but now I'll make it official: This is no longer a parenting/family blog. That doesn't mean I won't tell stories within the context of my posts. I just won't be dedicating entire posts to them. For a few years this blog served as a time capsule for my family, and that was nice while it lasted, but I feel the need to building a higher privacy fence. It seems we're all in alignment on this one. Besides, Google Analytics tells me 60 percent of you aren't even parents!
---
Requests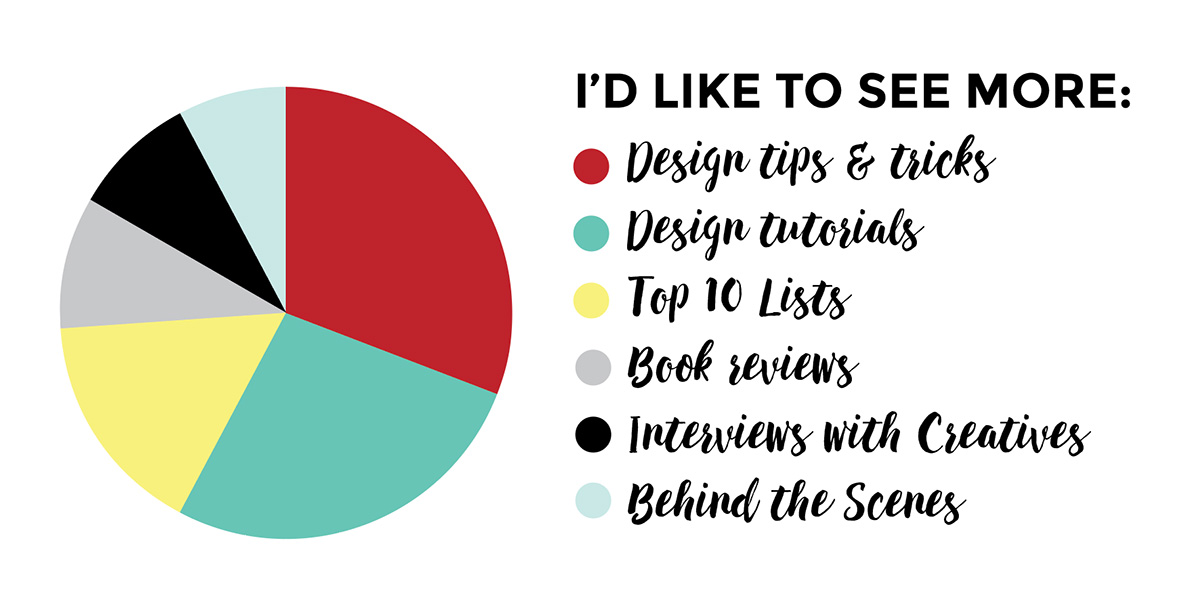 I'm really excited to see the interest in more design tips and tutorials, because I'd like to branch out more in this direction. I have a few irons in the fire for some content that will be premium, either by yearly membership or as a one-time investment. I also have a few more resource pages in the works. As always, let me know if there's anything in particular you'd like to learn. Photoshop, Illustrator, shortcuts in free programs? Let me know!
---
Requests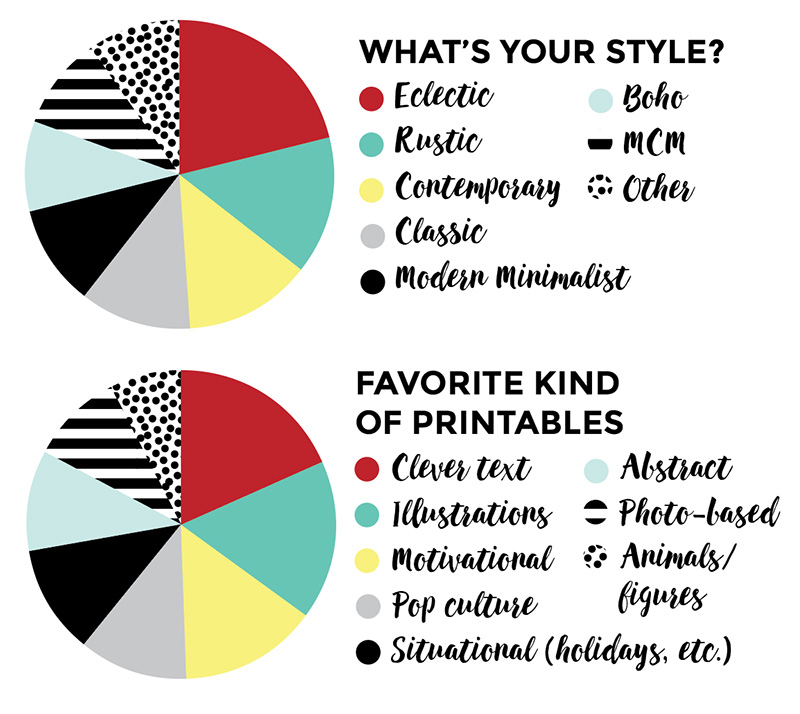 First of all, these pie charts crack me up because everything is so close to being evenly split. So much so that while I was compiling these charts I ordered pizza for dinner because … what else?
You want more text-based printables. Sayings, quotes, clever stuff. Gotcha, friends.
I'm completely flabbergasted by the amount of you who love rustic home decor. Like, I'm at the other end of the spectrum. Modern minimalist/MCM. It's good to know, though, so I can make things that fit your aesthetic, and share things with you on social media that you're interested in!
---
Social Media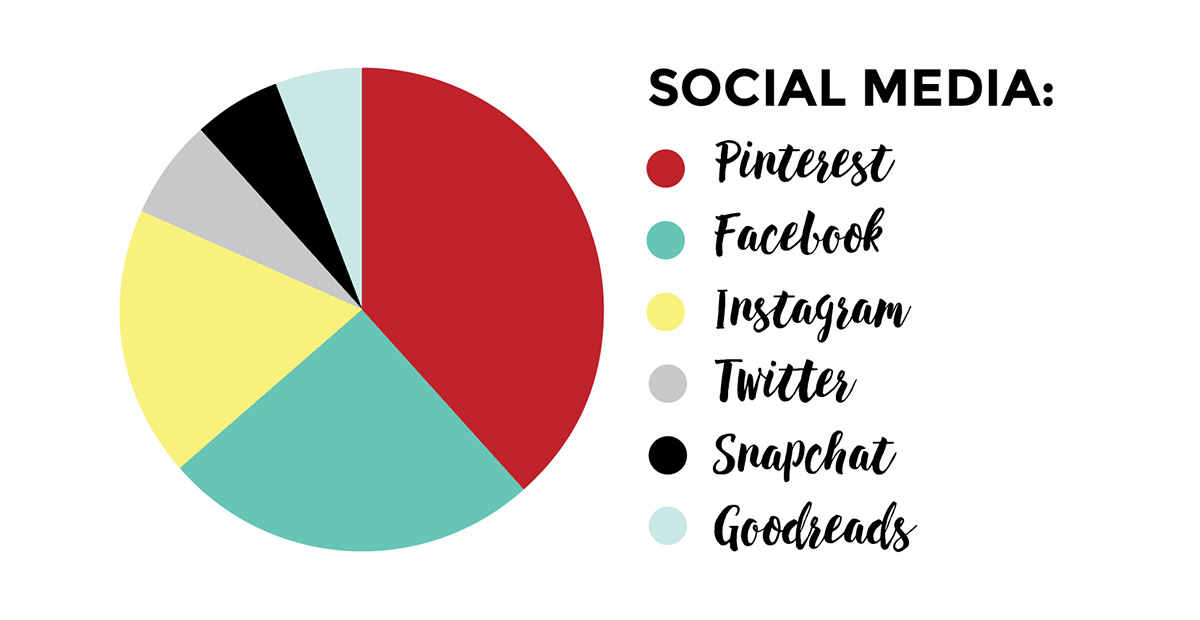 Last but not least: social media. This looks like a breakdown of where I spend my time, with the exception of Snapchat. Sorry, I just can't bring myself to add yet another account. Everywhere else, I'm @littlegoldpixel. I try to share something at least once a day on my Facebook and Instagram accounts. If you share a photo of any of my printables in action, I'd love to see. Please tag me and use this hashtag: #goforgoldpixel
---
Any thoughts/ideas on how to improve the blog? Share in the comments. And don't forget to join the newsletter below. One of the survey respondents from my newsletter won a $25 Amazon gift card. This the kind of action you could be in on, too!