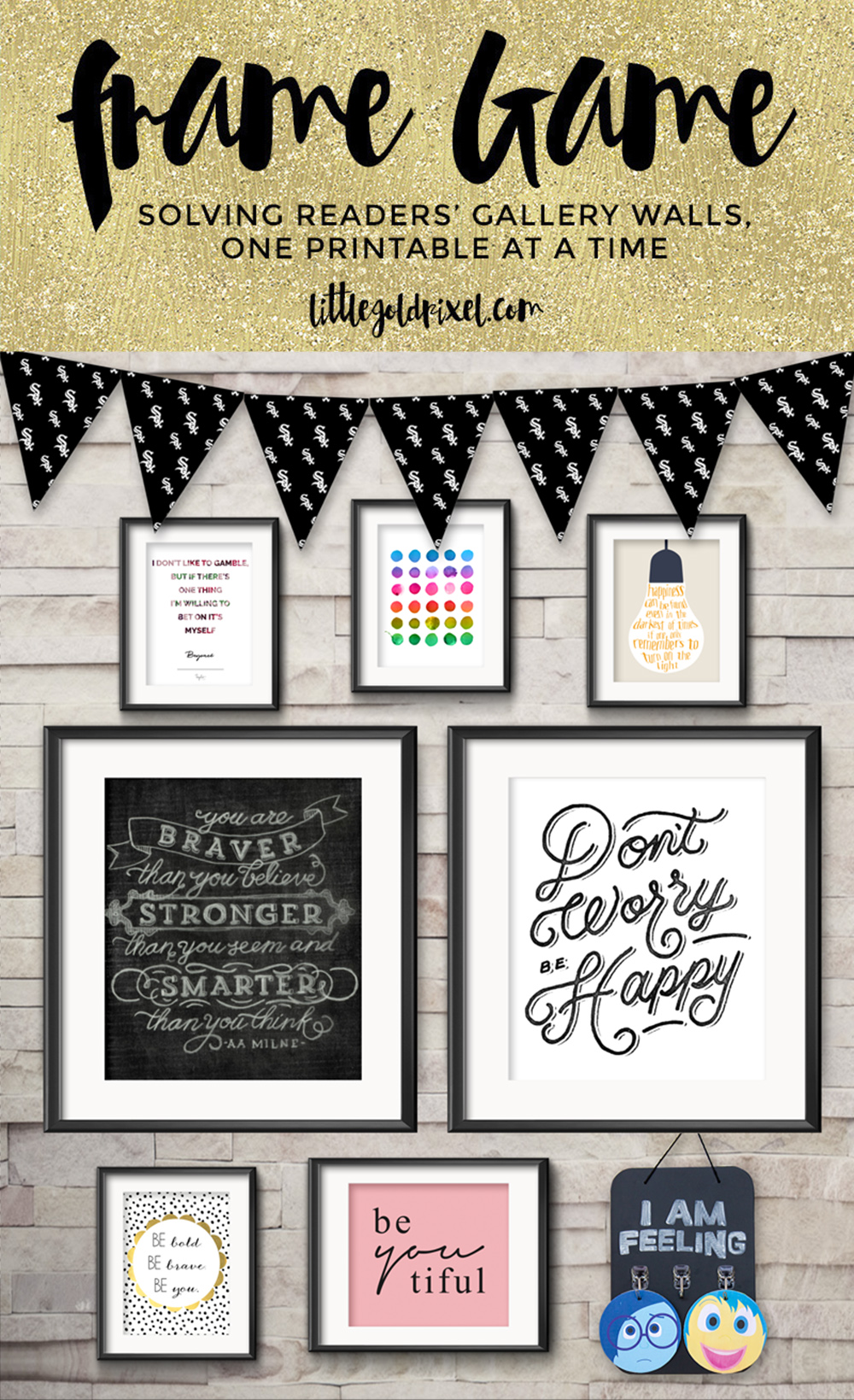 Frame Game is an occasional series in which I take readers' gallery wall requests and find art that fits their personalities. Click here to see past Frame Games.
Today's wall was inspired by Kelsey, who is looking for ideas for her office at a nonprofit serving Chicago's homeless youth.
In her own words:
"We provide community outreach, counseling, case management, and transitional housing for youth 17-24 y/o. My office right now could really use some decorative prints — I just started working here about a month ago, and my walls are pretty bare and boring atm.
I'd love to create a therapeutic space that promotes healing, safety, kindness, and positive potential.
"My goal is to create a space where youth feel safe, accepted, and motivated."
Many of the youth I work with love Beyonce (although I guess this goes without saying because who doesn't love Beyonce?), the Chicago White Sox, the Chicago Bulls, and the Pixar movie Inside Out.
Many of our clients identify as LGBT, and so I'd like to incorporate themes of acceptance and gender/sexual identity affirmation. My goal is to create a space where youth feel safe, accepted, and motivated."
Inspirational Gallery Wall for Kids
I broke a lot of my own rules for this gallery wall.
I almost didn't want it to feel like an office at all. Wouldn't it be great for these homeless young people to walk in Kelsey's office and feel like they're at home?
The very first thing I did was give the wall a sense of place — Chicago — in this case the Chicago White Sox pennant. I found a great free pattern. All you have to do is print it out several times, glue each page to construction paper, cut out the banners and string them up along the wall.
You'll notice I went all out with the inspirational sayings. I think words can be more powerful than images for our target audience. I went for self-affirmation, a Beyonce quote, a Harry Potter theme and a little helpful Inside Out game. All Kelsey would need to do is hang up a chalkboard, hooks and print out the character faces to have a pretty easy conversation starter with her teens.
Still, I felt like something was missing. In the great big world of free printables, there aren't a lot of subtle and beautiful LGBT options. So … I had to make one myself. Enter the watercolor rainbow (which I'm sure would hold up at poster size if anyone were so inclined to do so).
To download these printables, click on the links below the roundup to go to the original download pages.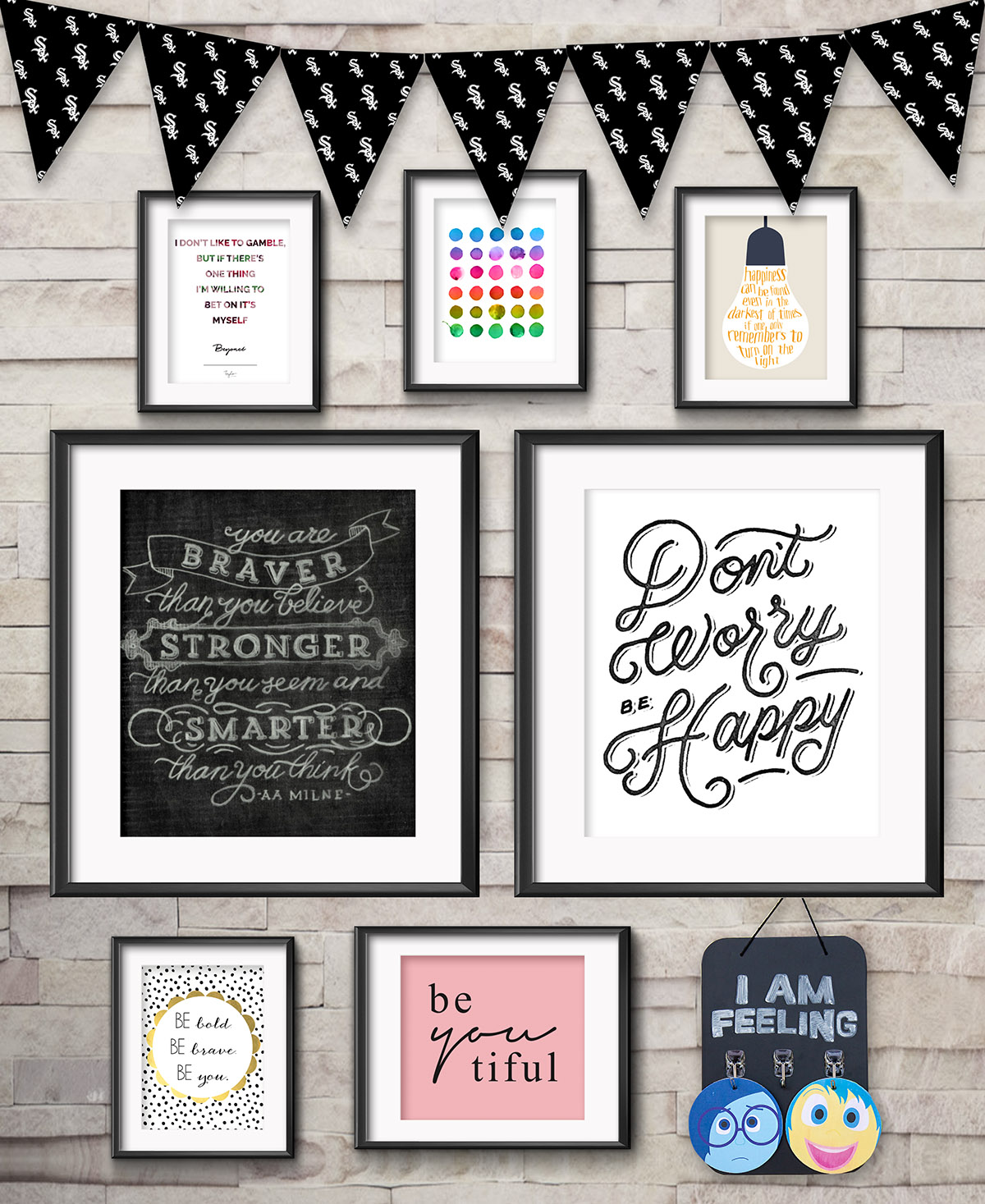 White Sox pennant • Beyonce quote • Rainbow Printable • Harry Potter quote • Braver, Stronger Smarter quote • Don't Worry, Be Happy • Be Bold Be Brave Be You • BeYOUtiful • Inside Out printables
A few others not pictured, in case Kelsey wants to switch out a few to freshen things up:
If You Wanna Splurge
Sometimes, no matter how long you search for the perfect free printable (hey, it might still be out there!), there comes a time in every curator's life when you simply must pay for good, quality art. Please do. I believe in supporting artists!
This is what I'd buy for Kelsey. A gorgeous, fun Beyonce print from Draw Me a Song. It's hard to imagine anyone seeing this artwork and not getting a big kick out of it (as well as some vicious dance moves).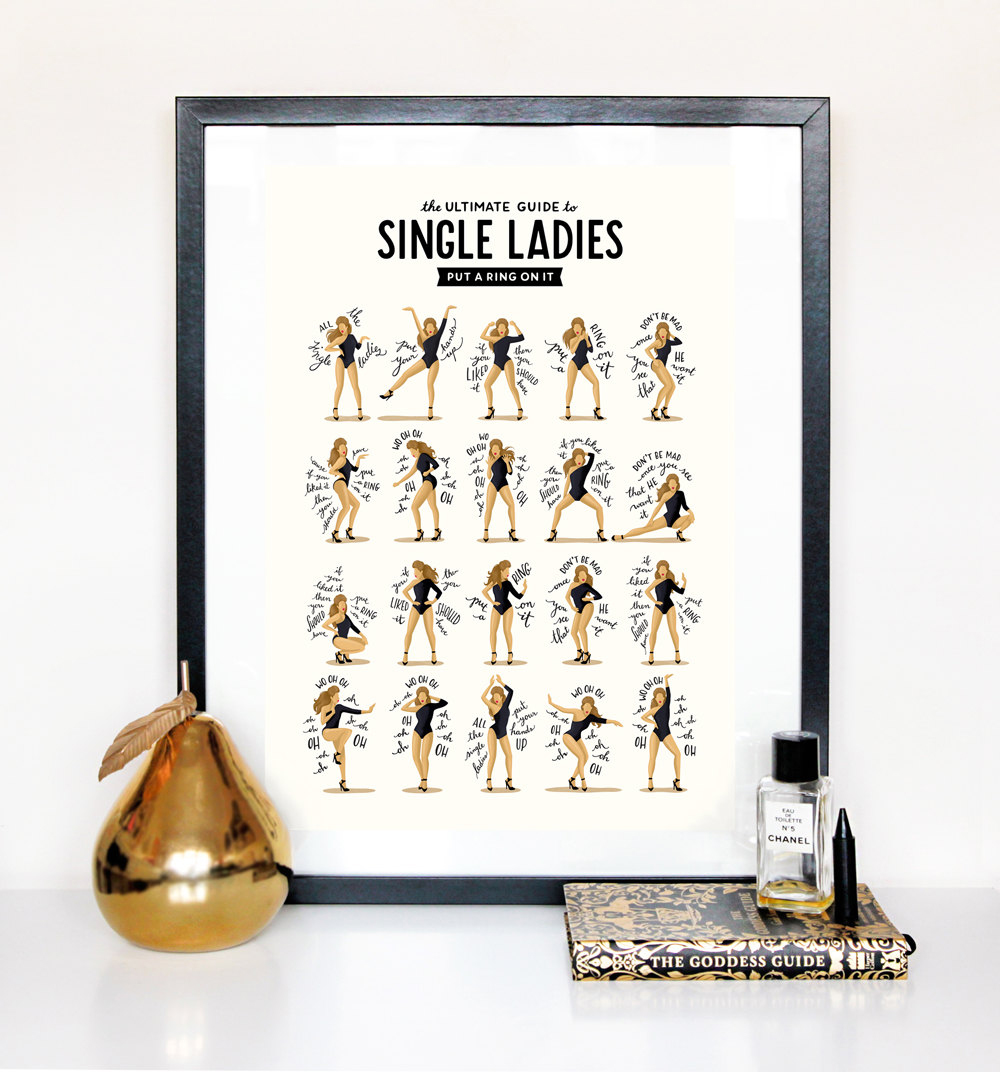 Interested in being featured on the Frame Game?
Sorry, the wait list for the Frame Game is so long that I'm no longer accepting submissions for free gallery walls.
Find out about my gallery wall consultation packages. They're similar to Frame Game but go waaaaay above and beyond, measuring down to the inch and giving you a solid plan for executing your very own, personalized gallery wall.
Check out my packages:
Feel free to contact me for any custom needs.
---
P.S. The frames featured in this post are mockups. Check the individual download pages for details on ideal image size. Want to print something huge but it's sized at 8x10? Consider a larger frame with a mat. (Example here.)
---