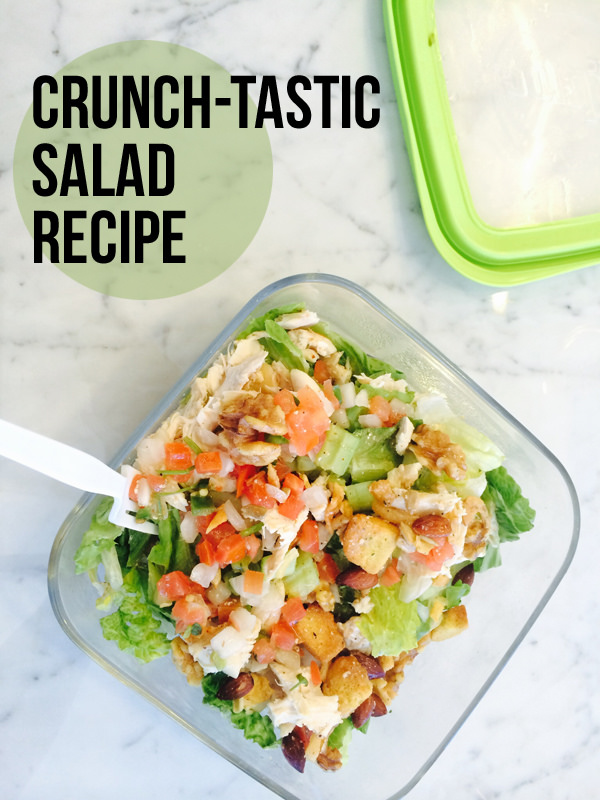 If you follow me on Instagram, you will know I've finally perfected my go-to easy salad recipe. It has been years in the making, friends. I am a tough customer. I was always one of those people who loved the idea of salad, and if I were in a restaurant, I would be over the moon for salad.
But …
The salad I would make in my own kitchen always fell flat in comparison.
Over the years there were bright spots, sure. Like the eight salads I made and liked or this Summer Salad Recipe (still so good, by the way).
But it wasn't until recently that I discovered a way to make an easy salad recipe that would work for lunch every single day, and in a way I would never get tired of.
Crunch.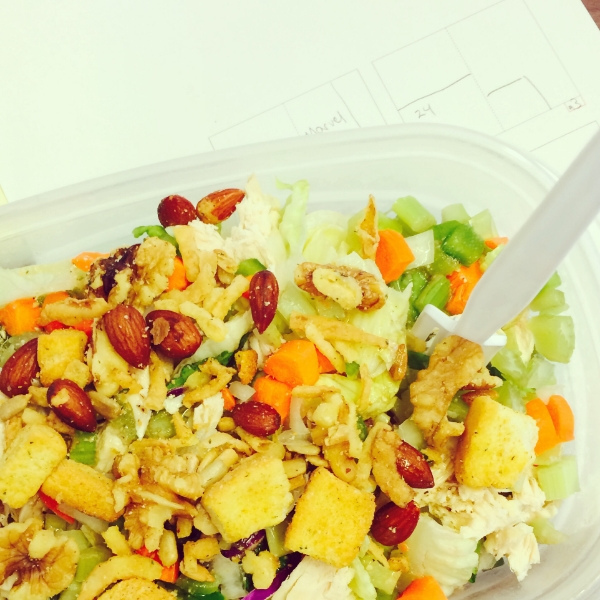 Crunch.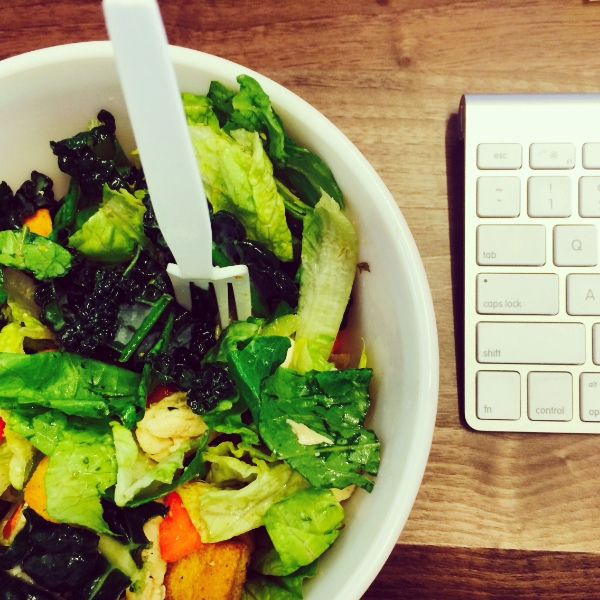 Crunch-tastic.
The best thing about salad is something crunchy, in my opinion. That's why chopped salad is so good. Little nibbles, little crunch in every bite. It's so satisfying. You can trick yourself into thinking you're eating something more substantial than lettuce and vegetables, which to me is paramount. I want to feel like my lunch is lasagna … without the calories. (Not that I'm saying that salad tastes like lasagna. That would be a feat that could win me some kind of miracle-maker award.)
Let's start with Sunday prep (to make assembly a cinch all week).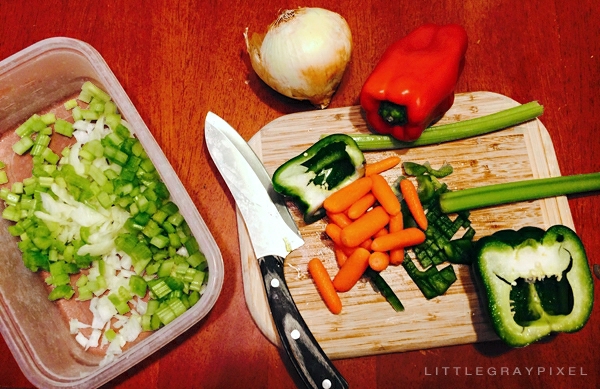 First you grab the crunchiest veggies you have. Then chop into tiny tiny pieces. That's all. It seems to take a little while, especially if you have a small child who insists on putting vegetables into the bowl of rinsing water that is strategically placed just outside the photo frame.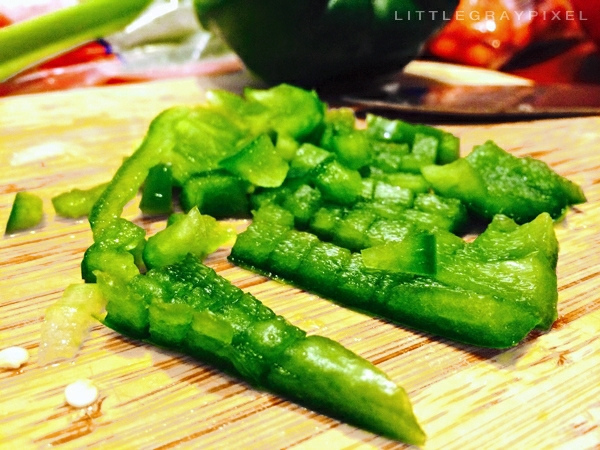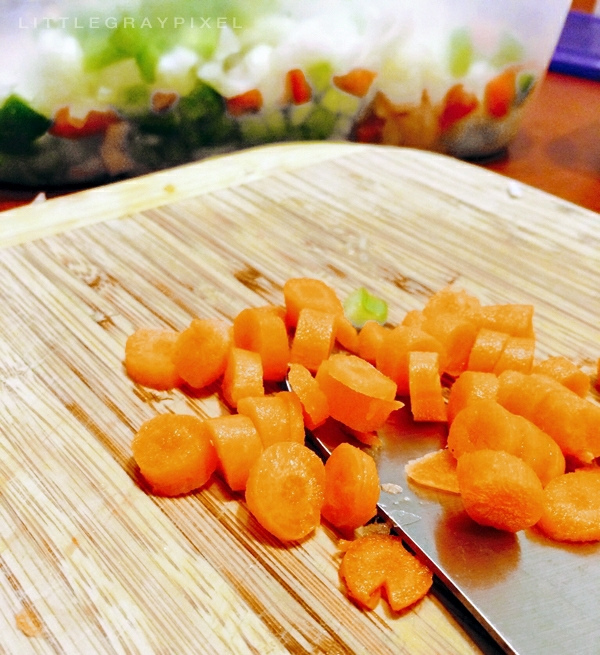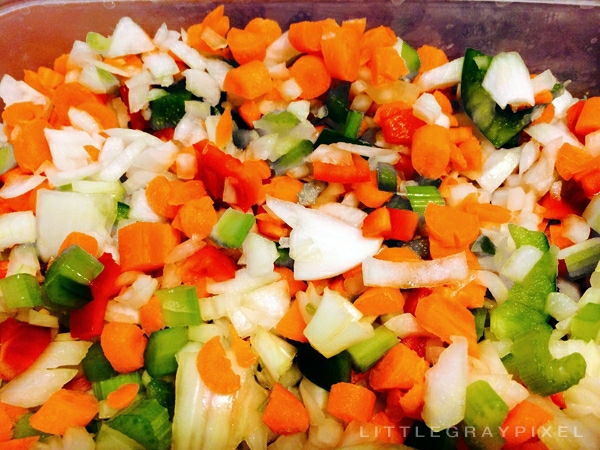 My suggestions: bell peppers, onions, celery, cucumbers, carrots
Next, I grab a Ziploc bag and fill with walnuts, almonds, sunflower seeds, croutons and shake it up. Then I sprinkling just a little bit of this mixture atop my salad each day. The bag lasts weeks, I tell you. It is that extra layer of crunch that takes this salad to the next level.
Lastly, add your greens, a protein source and a dressing of your choice. You have yourself one Crunch-tastic Salad.
I'm not getting specific with the greens/protein/dressing because I have tried a lot of different varieties, and I can vouch for them all. This salad is highly customizable, especially if you're not a picky eater. I've used a bed of spinach one day, kale another and romaine yet another. I've tried chicken and turkey meatballs and tuna. I've tried creamy dressings and vinaigrettes. My preference is for a romaine/kale mix (crunch, hello!), chicken and caesar vinaigrette, for what it's worth, but it's all been good.
Crunch-tastic Easy Salad Recipe
Ingredients:
3 handfuls salad greens/lettuce
1.5-2 cups chopped vegetable mix
1/8 cup nut/crouton mix
1 serving protein (1 chicken breast, chopped small)
1-2 tablespoons dressing (your call)
Assembly:
Greens + veggies + protein can live in the same container. Add nut/crouton mix and dressing immediately before salad-eating time. Ta-da! Easy salad recipe!
Calories will vary depending on your ingredients. Mine is usually in the range of 400-550 calories.