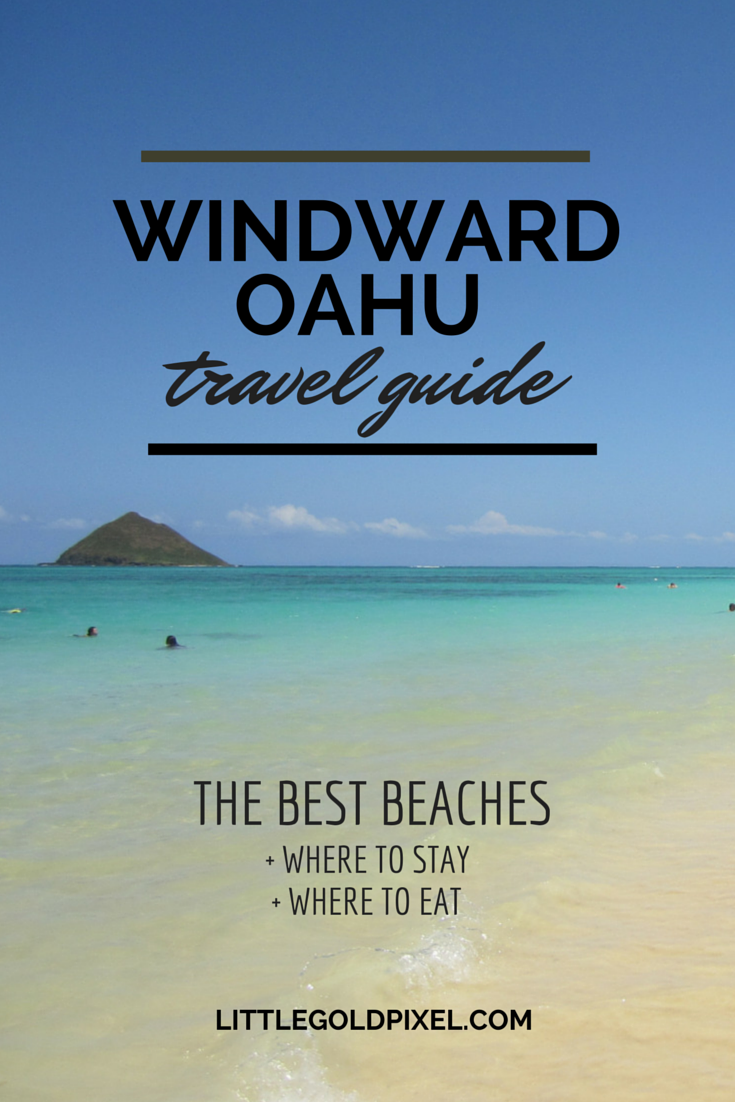 We aren't the kind of family that goes to a tropical island and breaks out the tour guide or hiking boots.
We are the type of family who goes to a tropical island, puts on our swimsuits and only takes them off to shake the sand off and rinse them out for the next day.
We are complete and utter beach bums.
If this sounds like you, I recommend a trip to Windward Oahu, where we completely relaxed over our Christmas break last month.
Why Windward Oahu?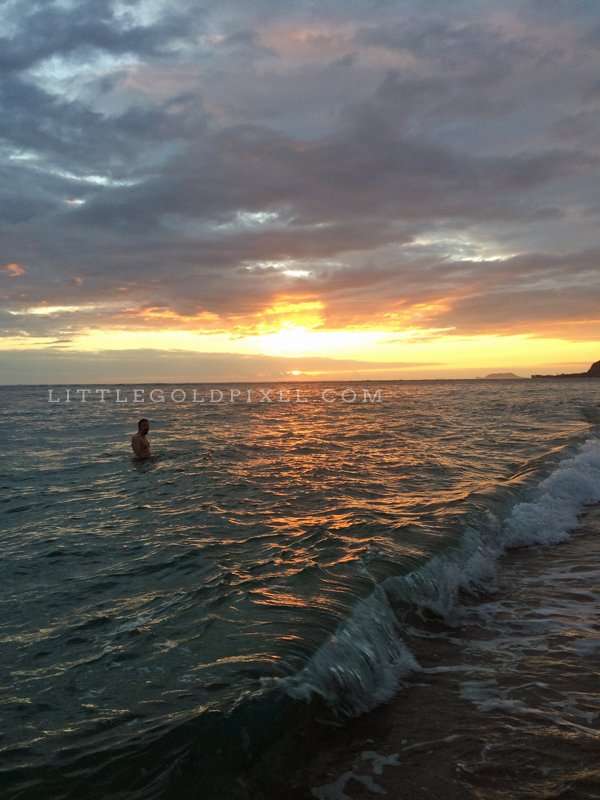 The first few times we visited Oahu, we stayed in Honolulu. We absolutely had a blast, but we always loved exploring the island and never felt like we had enough time.
We kept going back to a certain spot, aka "our spot," along Kamehameha Highway. It is one of those little stretches of sand that is so close to the road it practically trips your tires, beckoning you to park your car right then and there to jump in the crystal clear water for a bit.
"What if we stay over by Our Spot this time?" H suggested while we were planning our trip last summer, six months out (and highly recommended if you are going to stay over the holidays because properties fill up fast).
The windward side of the island is so lush, so serene, so gorgeous, so laid back — quite the change of pace from the tourist-heavy and high-energy Waikiki Beach (which we love, too). But we are constantly commuting and living a fast-paced lifestyle in Los Angeles, so a relatively isolated and quiet vacation seemed just what the doctor ordered.
I am so glad we decided to hang loose — wayyyy loose — this time around. It ended up being the best vacation we ever took.
A few notes: The Windward side is generally wetter and cooler (and of course windier) than the Leeward side. Rain typically passes through quickly, although we endured a storm that lasted a few days while we visited (winter is wetter, summer is more dry). The rain never stopped us from enjoying the beaches and exploring the island. Why care if you get wet? You're wearing a swimsuit, anyway!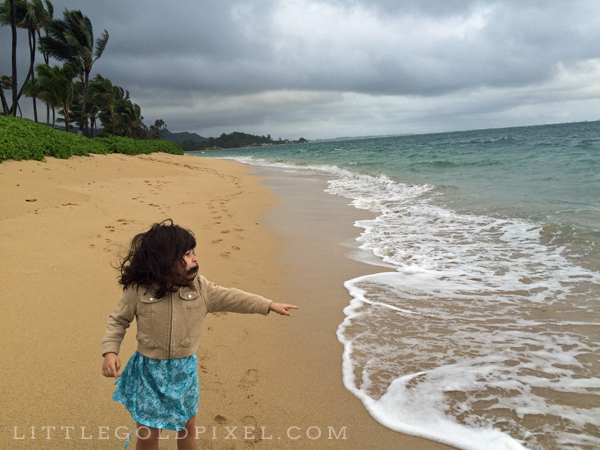 On the plus side, more rainbows!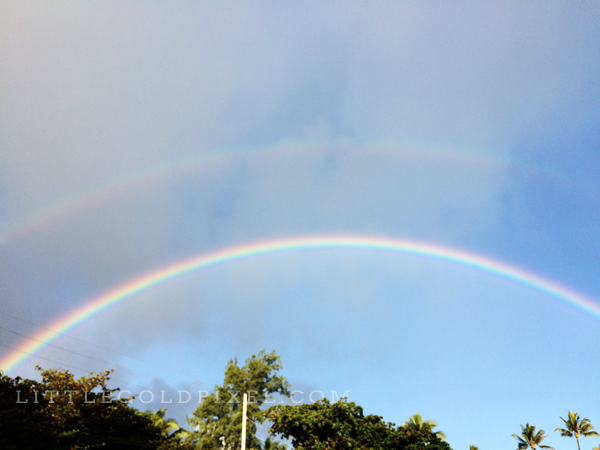 Where to Stay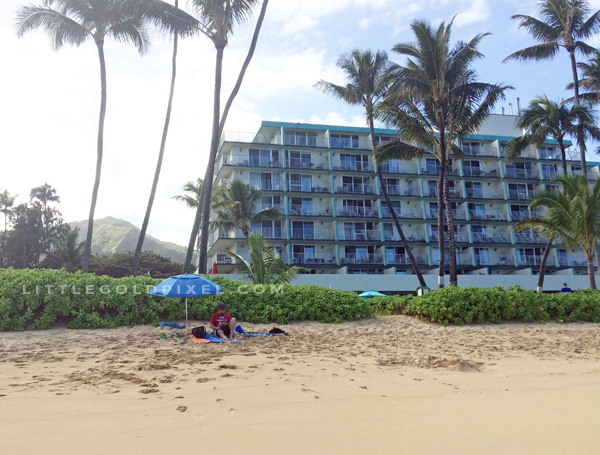 We rented a condo in Punaluu via HomeAway. We wanted that home-away-from-home experience, and we couldn't have been happier with the couple we rented from. They went out of their way to leave no detail unturned. We had everything we could possibly need for 10 days at the beach, and then some (email me if you're interested in staying in one of their properties and I'll give you their info).
Midway through our trip Alexa came down with an ear infection. We drove her to Kailua to urgent care. When the staff saw that we put "Punaluu" as our island address on the forms, they exclaimed, "You're staying in 'the country'!" It cracked me up because, being from the Midwest, I could think of a million different adjectives to describe Punaluu, and country isn't one of them. Paradise comes to mind.
The short story: If you want an experience as far removed from reality as possible … stay in "the country."
Our favorite Windward spots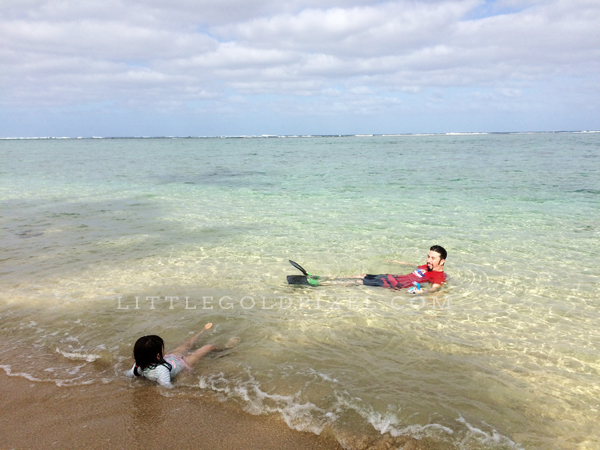 Punaluu*
The area we referred to as "our island home" is pretty secluded. The beach was roughly 50 feet away from the condo building, across a lush lawn that we traversed barefoot, and there were rarely more than a handful of people at any given time. A reef keeps the breakers out far from shore, leaving the tiniest of waves to lap at your feet. Alexa loved running in and out. When the water was calmest, she would wade in ever deeper. Little sand crabs skittered around on the sand, and one day we saw a giant sea turtle. It's a good place to snorkel, although we didn't see too many fish on our excursions. Oh, and gorgeous sunrises. Restrooms: In your condo/rental.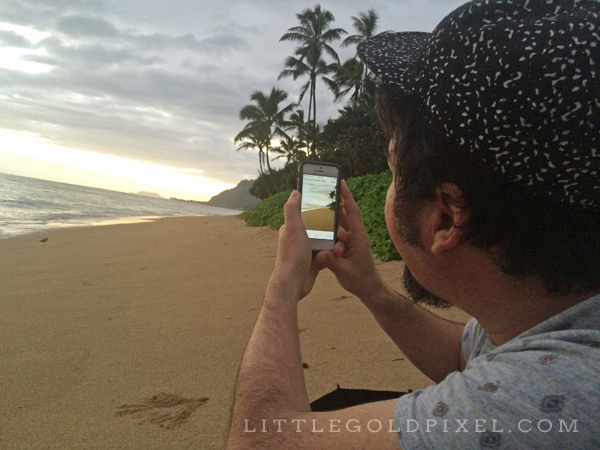 *Punaluu Beach Park (public) is south of the condo. We didn't spend much time there, but it appeared to be similar to the beach we played at a few miles north.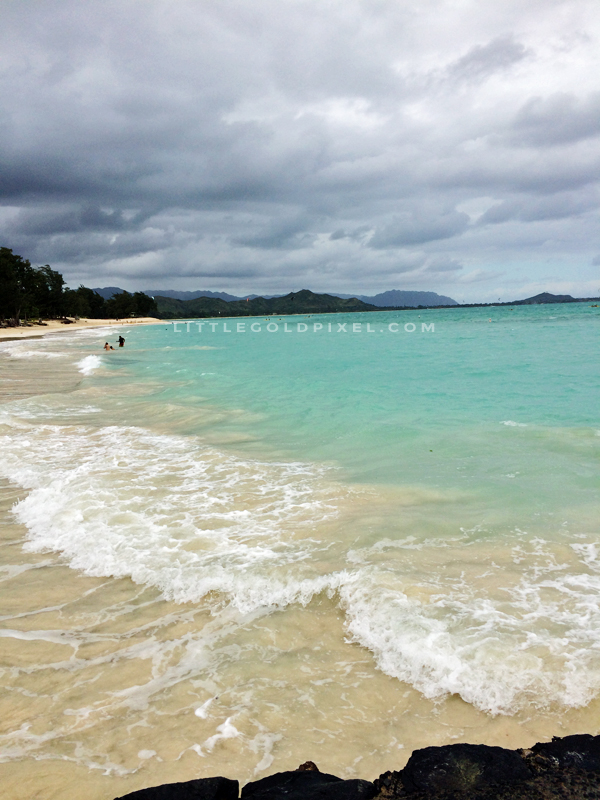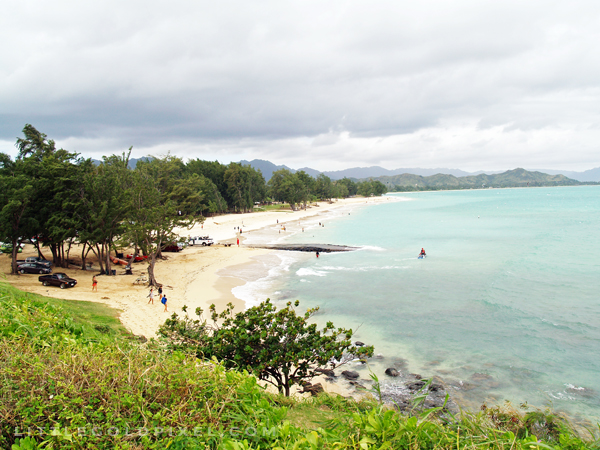 Kailua Beach
The white sand makes the water an unreal shade of turquoise. Frequently ranked in the top beaches in the world, it gets busy. Reallllly busy. Arrive early to find a parking spot within walking distance. Walk up the road adjacent to the beach to take some sweeping vista photos. Lots of windsurfing and canoeing here. Advice: Get here early. Restrooms: Yes, in park.

Lanikai Beach
Follow the road around Kailua Beach and into a residential area. If you can find a spot to park in, and you find a public beach access, you will enter into a fantasy world that is so gorgeous you will want to pinch yourself. The white sand is even more powdery here, the turquoise is more turquoise, the waves nonexistent.Everything is amplified beauty at this beach. We saw a magical sunset after the storm here (we were practically alone!). We spent Christmas Day here with the rest of the island (it was packed). Advice: Get here early. Restrooms: No. Good luck.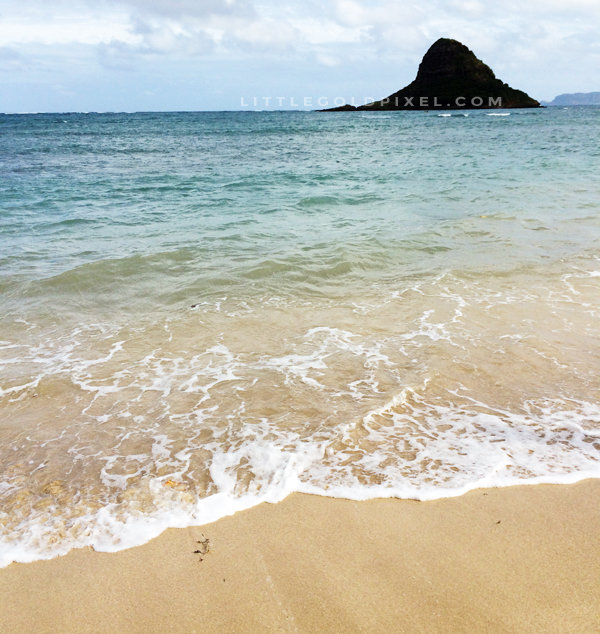 Kualoa Regional Park
A huge park, with picnic tables and a gorgeous view of Mokoli'i, a hat-shaped island off the coast. The beach itself is narrow, a tiny hop down off the grass ledge. The currents are a little stronger here, waves a little rougher. Not much of a swimming beach but it sure is beautiful. Look for rocks, shells, coral and bring a picnic lunch for the best afternoon. Advice: Bring lunch. Plenty of parking. Restrooms: Yes, several.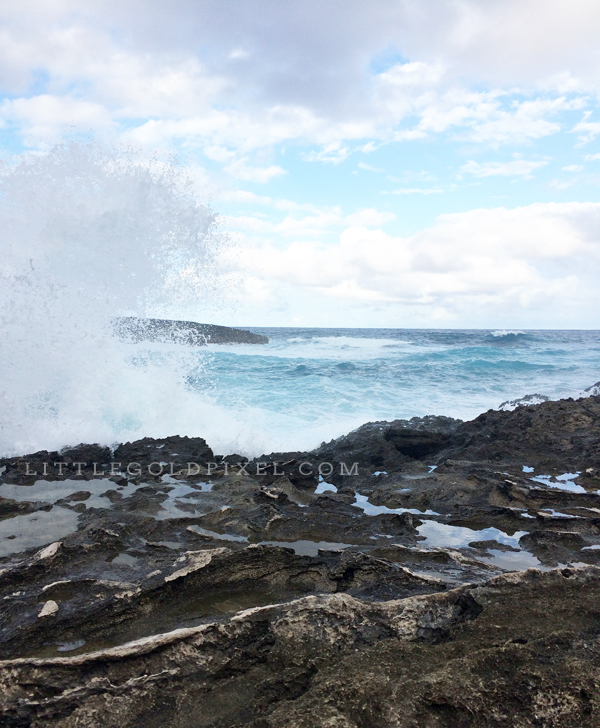 Laie Point
Do you want to see some majestic views? Walk out on these rocks jutting over the North Shore. We went during a break in the storm, and we saw some of the most breathtaking waves. Turn the other way, and you'll see a view of the mountains that will knock the wind right out of you. Apparently in the summer the point is calmer, and people do crazy backflips off the cliff.
Where to Eat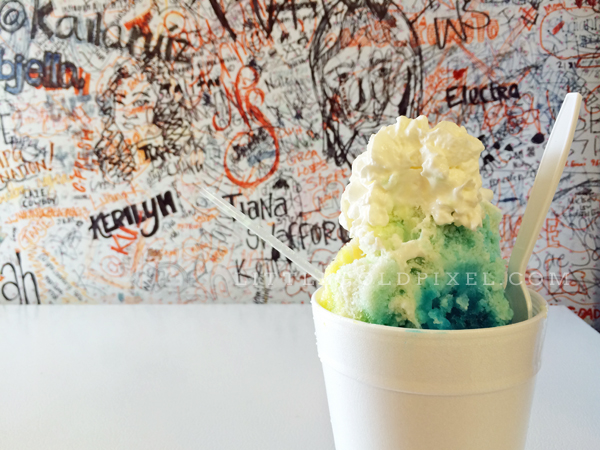 Angel's Ice Cream — Laie — A place to get absolutely gigantic shave ice creations. I can vouch for the Halo, which includes a few different flavors of ice, plus condensed milk and ice cream. Michelle Obama had dropped in the day before we did. It's a very chill place, sit outside so you can watch the random roosters and chickens walking around the shopping center.
Seven Brothers — Laie — Best burger I ever had. Ambiance is relaxed, surfer/beach vibe with wooden picnic tables and the lights turned low.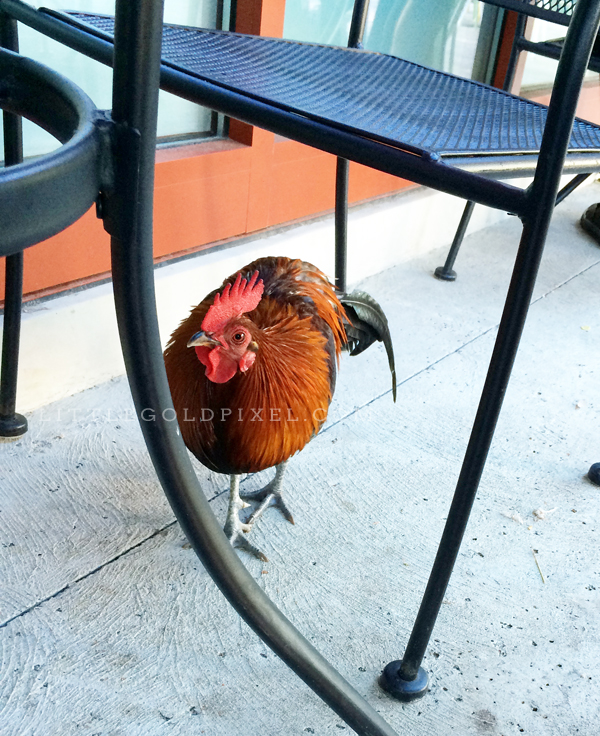 Crepes No Ka Oi — Kailua — Exactly what the name implies, giant crepes. Very delicious. Sidewalk seating on a beautiful morning, you really can't go wrong. A little on the pricey side for a crepe breakfast, but hey. You're in Hawaii. Another good spot for random chicken sitings.
Teddy's Bigger Burgers — Kaneohe — I can't believe I'm recommending two burger places. I don't even usually care for burgers, but I was impressed with the quality. The ambiance is typical 1950s style burger joint. This one has locations on the Mainland, too, so see if there's one near you. Try the Kailua and Bleu Wave burgers.
North Shore Tacos — Hauula — Honestly the Mexican food is just OK. But I have to tell you how delicious the fresh pineapple juice is. Stop in just for that, and grab some lilikoi mousse for later.
Punalu'u Bake Shop sweet bread — If you go to the grocery store, look for this brand of Hawaiian bread. I recommend the guava flavor.
It's killing me now, but I can't find the name of the random store we stopped at along Kamehameha Highway. We stopped there because I wanted to buy a huge piece of coral (my one tourist item!). It also happened to be the place where I ate the best random Hawaiian food of our trip. It was simple fried egg over rice, but oh my goodness was it amazing. If you're out there and you know what I'm talking about, please remind me of the name of this place.
Have you ever been to Windward Oahu? What are your favorite places?
P.S. The first time we went to Hawaii. And the second time. That Hawaii smell, and a Hawaii mood board.
P.P.S. My Hawaii board on Pinterest.
Aloha, friends!