The other night I decided to crack open a can of coconut milk and make some magic happen. What magic, I didn't know. It was just an idea. Another idea was to bring some broccoli and cauliflower to a boil on the stovetop. Thirty minutes later, and I had a beautiful dish that looked a little something like this:
I know it's more exciting to roast or steam broccoli and cauliflower, but I've decided that this method is my favorite. Not sure if I mentioned this before, but during my pregnancy I became extremely averse to the smell of broccoli, to the point that I forbade H to cook it in my presence. It was my only true aversion, and it stuck with me long after Alexa was born. To this day the scent is overwhelming. Alexa is also not a fan, but she will eat it in this dish.
Why?
Butter. After the veggies are nice and mushy, mix some butter in and let it soak in its juices for a few minutes.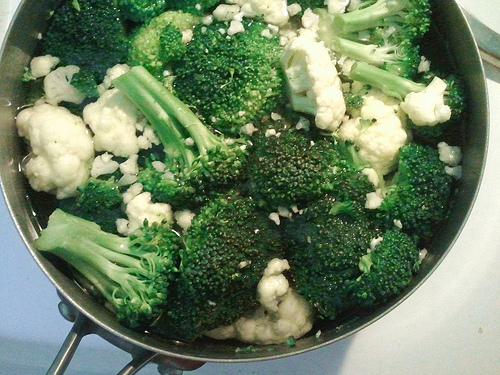 While you're doing that, now is a good time to warm up some rice (we cook a huge vat at the beginning of the week) and get your coconut curry sauce on the stovetop.
I'd like to present the most fantastic recipe I've found online thus far, via Can You Stay for Dinner?
Full disclosure: I didn't have any sesame oil or Sriracha sauce on hand, and the curry sauce was STILL AMAZING. Like, my-favorite-Thai-place amazing.
Somehow I forgot to snap a shot of this, but it's a pretty standard brown sauce that thickens up quickly, so be sure to keep an eye on it. If it does thicken up too fast, cut it with a bit of water. Mwah. So good it jumps out and kisses you.
Toss your rice, veggies and sauce together. Fully enjoyable vegan meal (if you use Earth Balance instead of butter for the veggies). BUT. We added a can of albacore tuna, and it was freaking fantastic. If it weren't a weeknight we might've made fresh tuna, which I'm sure would be even more amazing. Still, for a busy day of the week, 30 minutes for a dinner of this caliber is a win, know what I mean?
I was so excited about this meal that I started correcting my photos immediately to write this post. In the middle of editing a photo of rice, my trusty yet elderly 2006 Macbook petered out for good. I'm writing this post from my new Macbook Pro. There have been issues getting up to speed, issues that have made me want to pull my hair out (hello, Photoshop Elements, why can't I install you, huh?). I decided to download Pixelmator in place of PSE for the moment. In the middle of editing my rice photo, the entire computer froze up for about 5 minutes. I nearly lost it, friends. Thankfully I was able to force quit and delete that corrupt photo from my life before it caused more disaster.
This is all to say that I went through a lot to share this recipe (and mediocre cellphone photos in low light) with you. So that means it's worth it. Try it; you'll like it.