Welcome to my How to Decorate With Color series, starting with a red theme gallery wall. This series will explore the fun of decorating your gallery walls with different color themes. Shoot me an email or tweet me with suggestions on what color scheme you'd like to see next!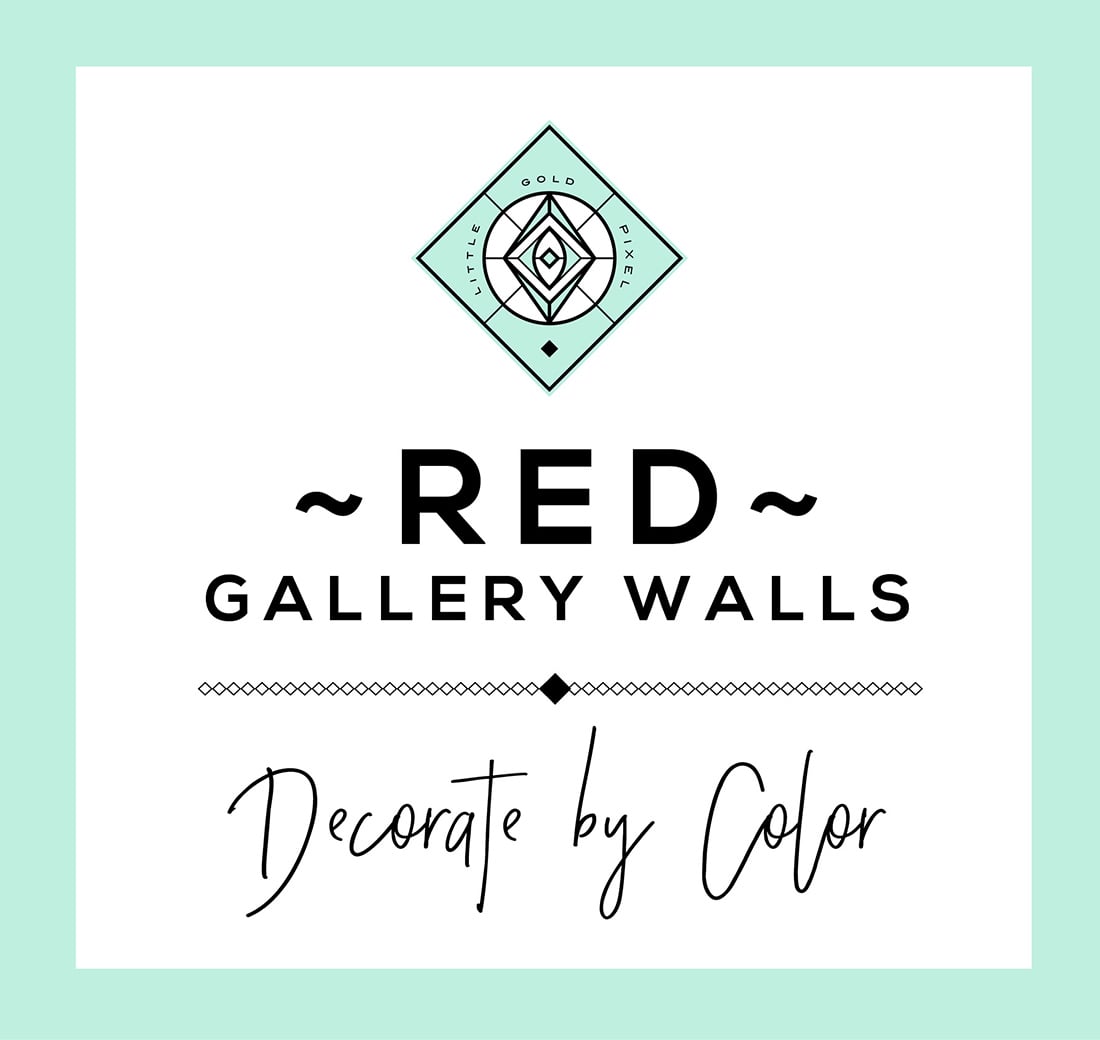 Back when I lived in Myrtle Beach, we decorated our town home in all white. I'm not joking. White rugs, white slip covers on our couches, black and white photos on our walls.
I look back on this time fondly now, remembering the soft sweep of that white mohair rug. I loved that rug so much I used to lovingly roll it up when I did yoga in the living room. You know, so not a single drop of sweat would land upon it. Yes, it was a special relationship the rug and I had. It really pulled the room together.
Anyway, I think about this decor every time I get an email asking me how to decorate by color. I tend to gravitate toward eclectic, bright colors now, but there is something very appealing about a monochromatic space.
Today I'd like to explore the color red with three different red theme gallery walls, and give you a few tips for how to make the color theme feel organic and unforced.
Per usual, I rounded up several freebie options (denoted with a *). Something new, though. In the interest of providing more diverse artwork, I've branched out to premium printables (typically in the $5-$10 range) and even some finer art (prices vary, but I'm not a billionaire so I am not going to show you a Picasso or anything).
I hope you enjoy seeing what could be accomplished with a mixture of price points.
Red Theme Gallery Wall #1: A Pop of Pink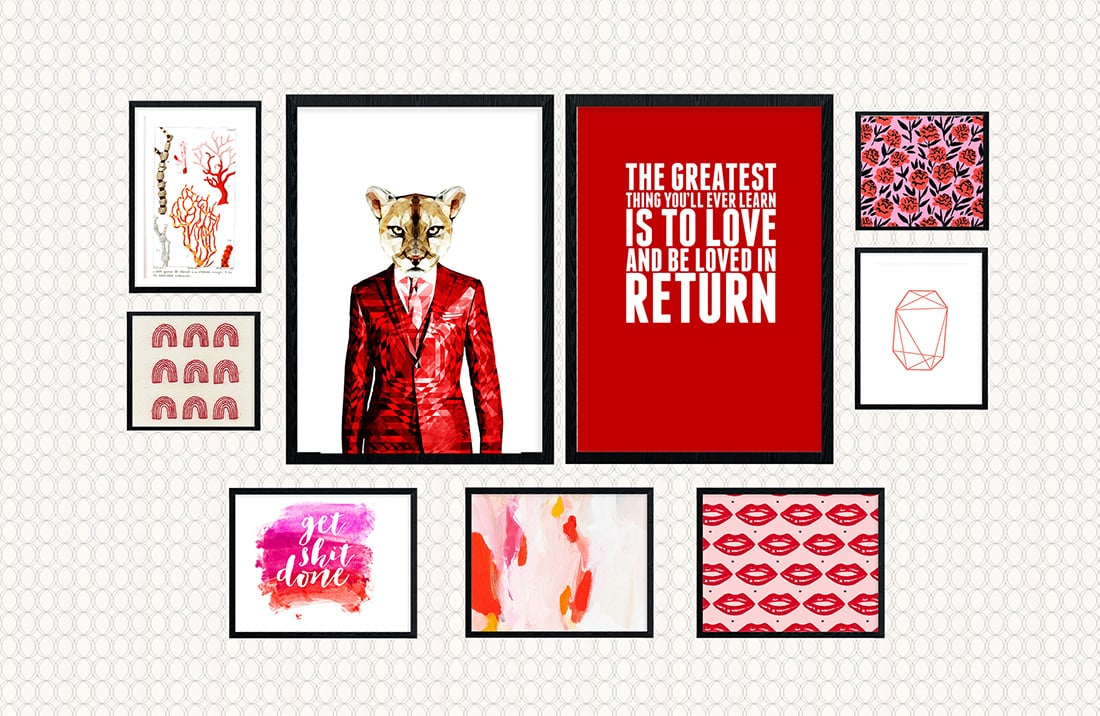 *Coral illustration • Threaded rainbows Untitled 63 • *Get Shit Done • Puma Illustration • *Abstract • *The Greatest Thing You'll Ever Learn • *Kisses • Geometric Line Art • Red peonies
Tip #1: One way to make a monochromatic wall seem more organic is to subtly insert an undercurrent tone. In this case, several of the pieces above have a pink undercurrent. So even though the overall effect is "RED," it doesn't feel forced or in your face.
Red Theme Gallery Wall #2: Bold and Graphic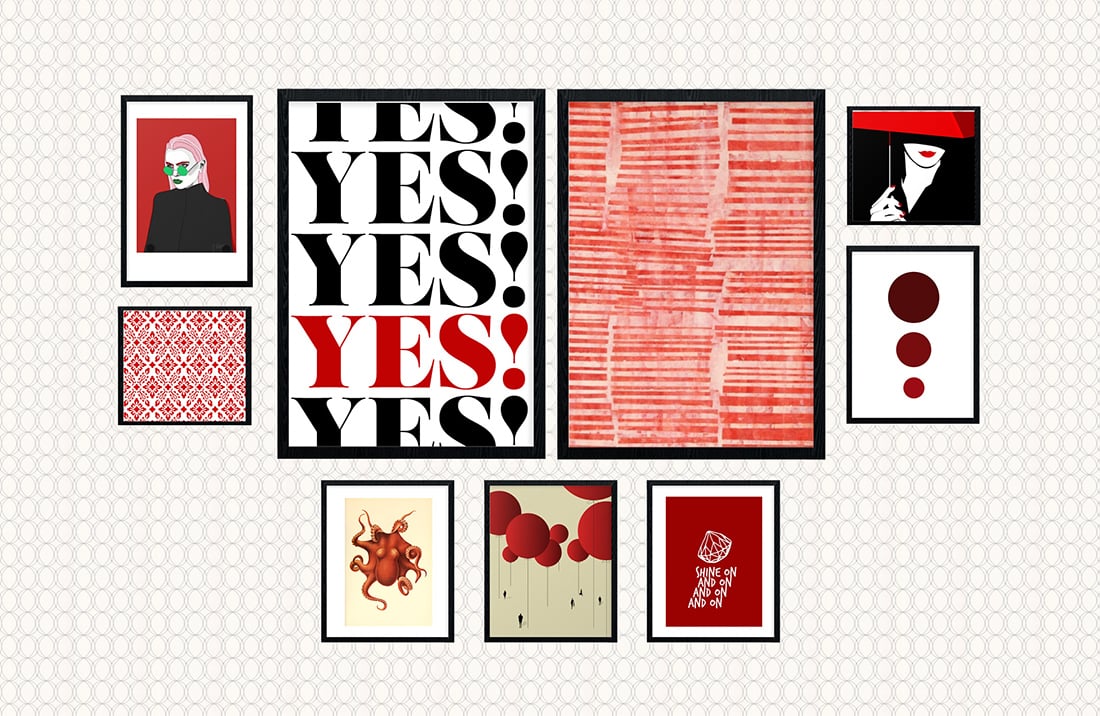 Girl with Green Glasses • *Damask pattern • Yes Yes Yes • *Red octopus • Red Balloons • Shine On • Red 20 Abstract • Three Circles • Woman with Umbrella
Tip #2: Your reds do not have to match! What? Isn't that blasphemy? Well, no. You can create a bit of interest with mixing and matching different tones.
Red Theme Gallery Wall #3: Soft and Softer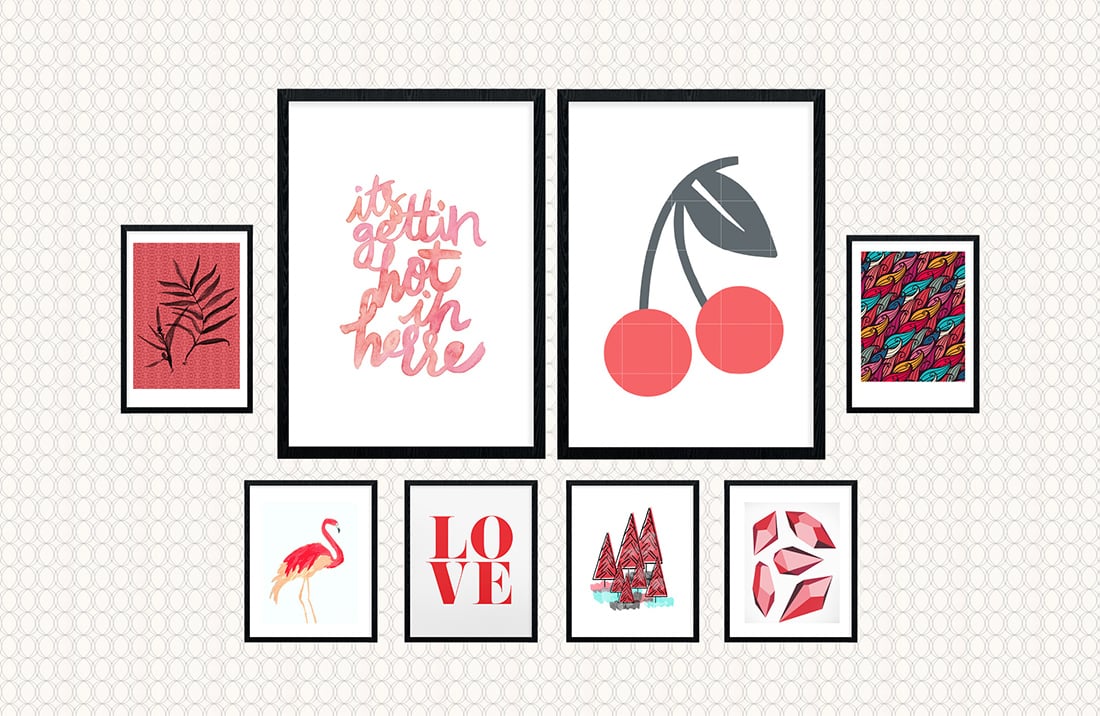 Tropical Leaves • *It's Gettin Hot in Herre • *Flamingo • Love • *Red Trees • *Cherries • Gems • *Abstract Pattern
Tip #3: Love red but don't want to overpower your room? Try finding some muted red pieces that have a light background. I like how the white background on the six center pieces make the gallery wall feel bright and airy, and the two saturated pieces on the outside anchor the whole thing so it doesn't float away.
There you go! You're well on your way to having a sweet-ass-sweet red theme gallery wall now. Tell me, which one is your favorite?
Bookmark Red Theme Gallery Wall for Later: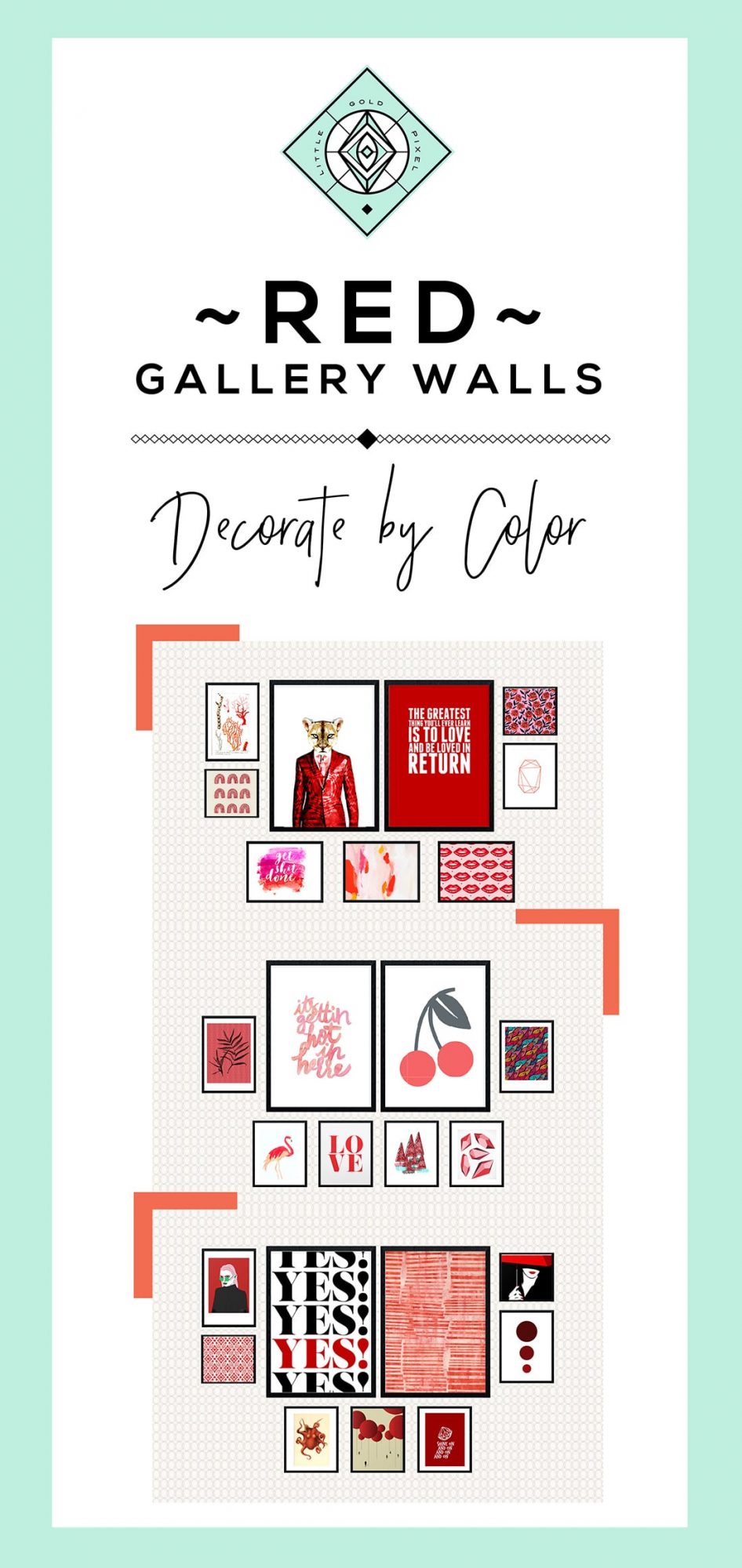 ---
This post may contain affiliate links. I only link to things I love or want to buy for myself. Thanks for supporting Little Gold Pixel.