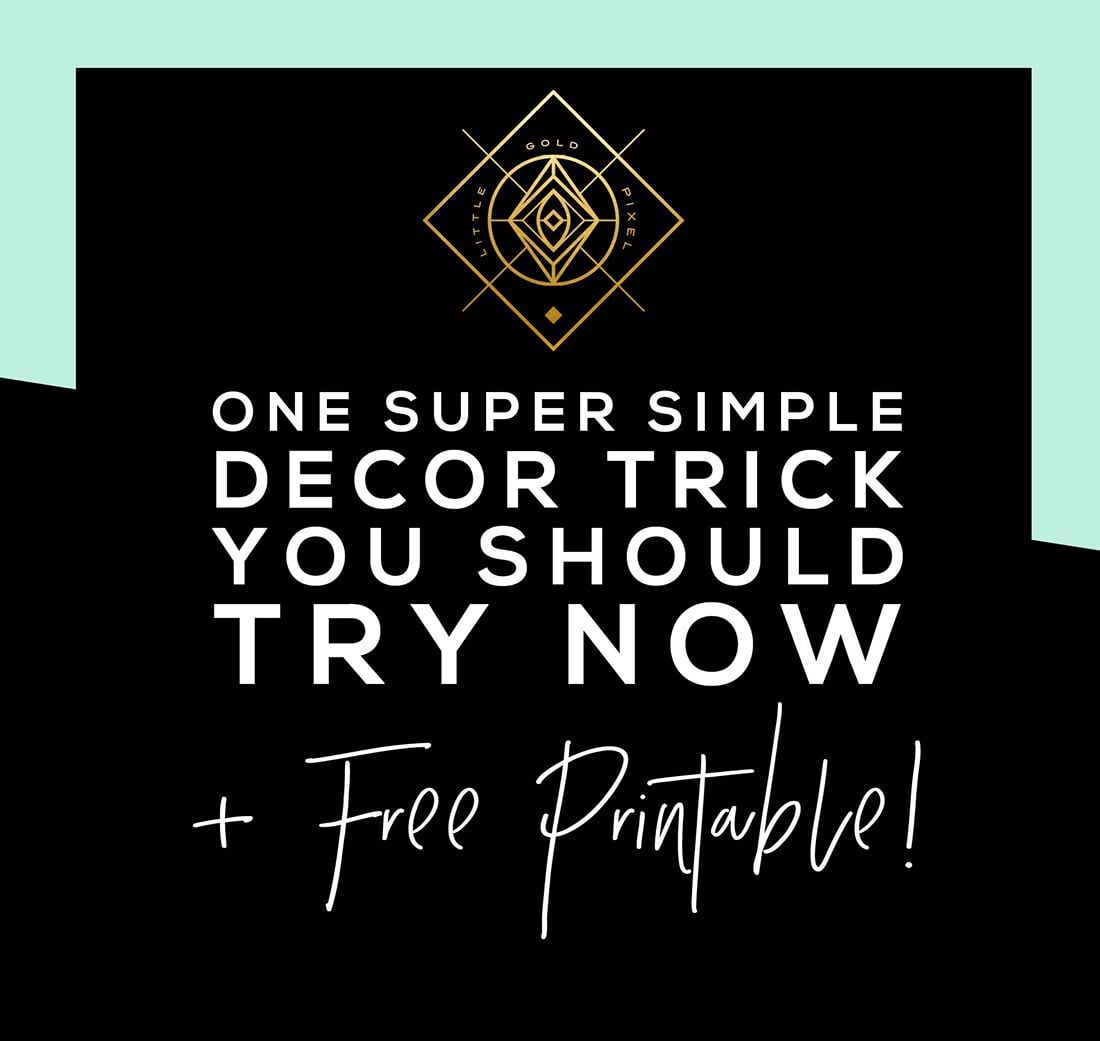 This post was created in partnership with Chesapeake Bay
Every time someone writes about how to change your space for the season, it always includes a list of furniture that costs thousands of dollars a pop. This isn't that kind of post.
Today I want to talk about something that is so insanely simple, so easy, that you probably forget it's even something to consider. This decor trick has helped me transition through seasons and creative funks, and has made guests feel cozy on the spot.
What's the one thing that can improve your space right now, and it's not a giant piece of furniture?
A pretty candle that smells great.
Seriously.
When we first moved into our house last November, I didn't have all the boxes unpacked, but one of the first things I did was find the box with my pumpkin spice candle, and boom! Instant home, instant autumn.
Now that spring/summer is here, it's time to switch out my candles for something that evokes a seasonal calmness, like the Chesapeake Bay Mind & Body collection. I want my home to feel and smell like a spa this summer, a quiet, cool reprieve from the hustle and bustle of sweaty outdoor activity on the horizon.
Plus, on the design side, they're in gorgeous frosted glass jars that complement your decor.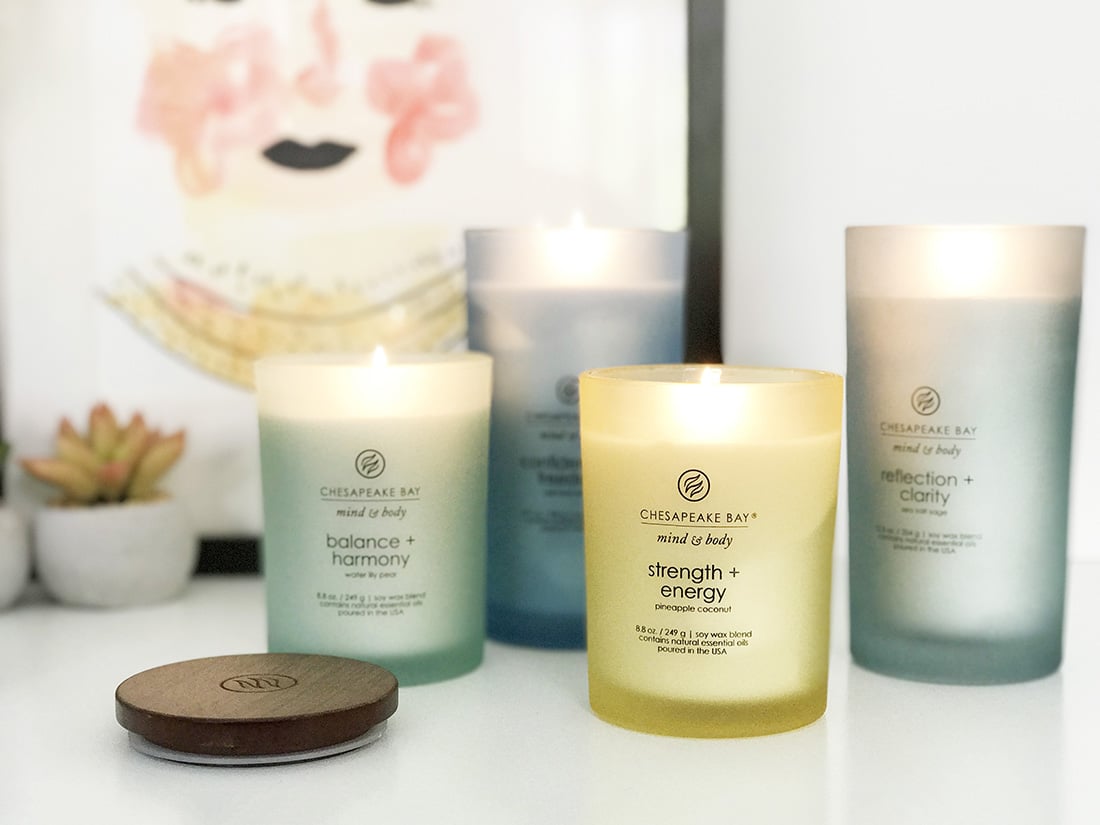 The Mind & Body collection was inspired by aromatherapy and the ever-evolving wellness lifestyle to encourage us to take a break from our super organized lives and find some time for ourselves.
At the risk of sounding super zen, the scents were designed to ground you so you can then be rejuvenated and energized to be around others.
As an entrepreneur who works from home, I need this.
You probably need this, too.
Simple decor trick: 4 ways candles can improve your space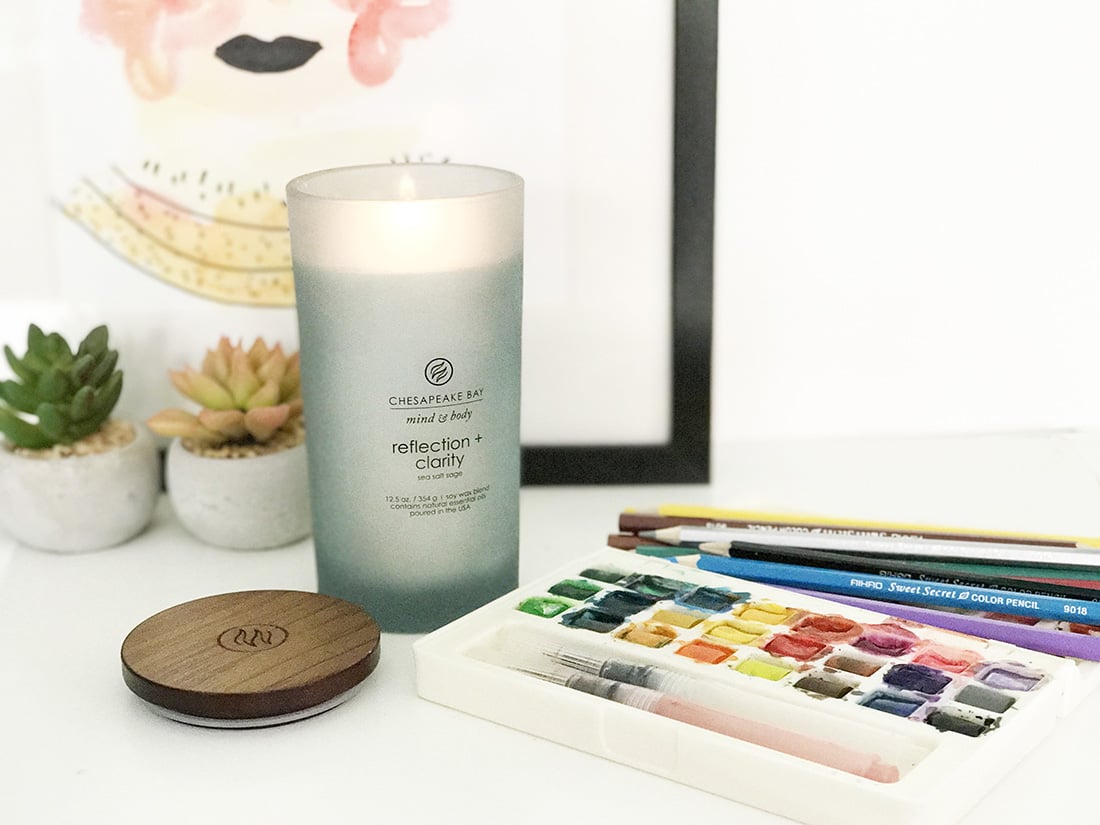 I'm in the middle of doing The 100 Day Project on Instagram. I chose to draw and paint something for 100 days. Some days this comes easy. Some days it's more difficult. It's always easier if I set a mood for myself.
A little music, a little candle.
The Reflection + Clarity (Sea Salt Sage) candle is awesome for sparking that creative fire. The fragrance reminds me of sitting near the sea, which is most definitely my happy spot.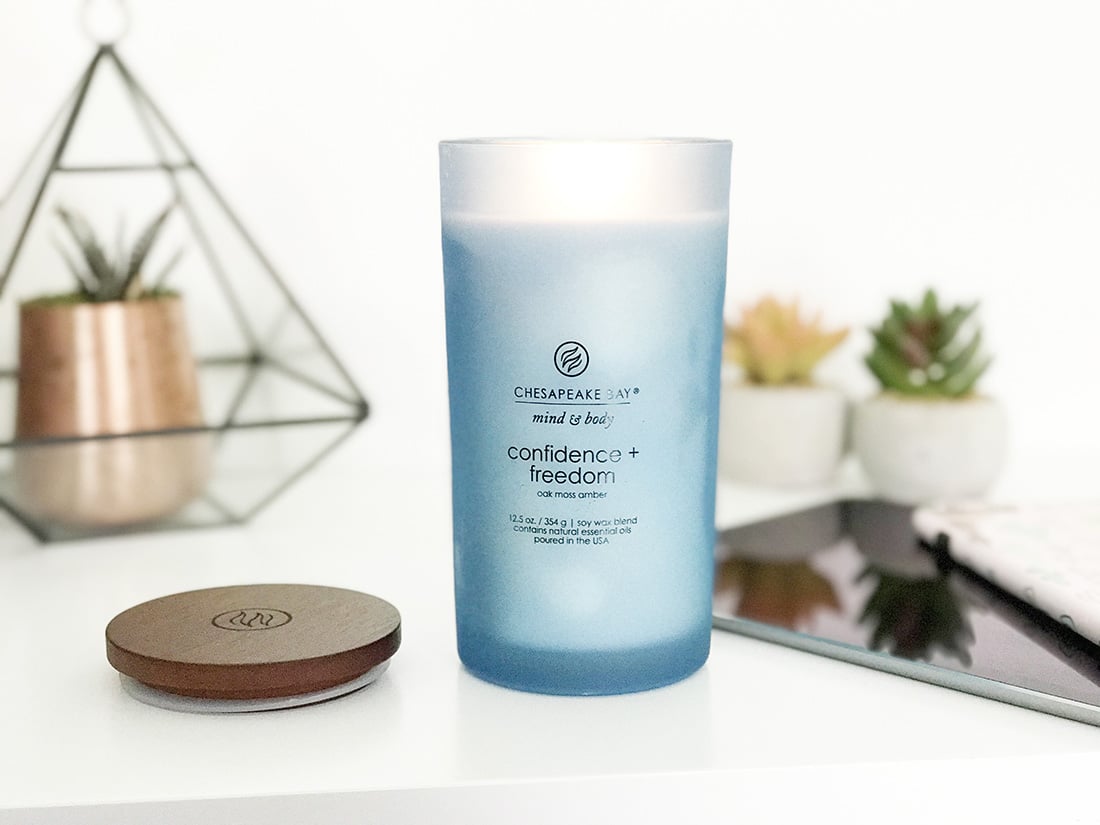 Switching gears slightly, when it's time for me to research and write and work on Little Gold Pixel products, I light Confidence + Freedom (Oak Moss Amber), which reminds me of going sailing. The invigoration keeps me pumped and focused on my computer tasks.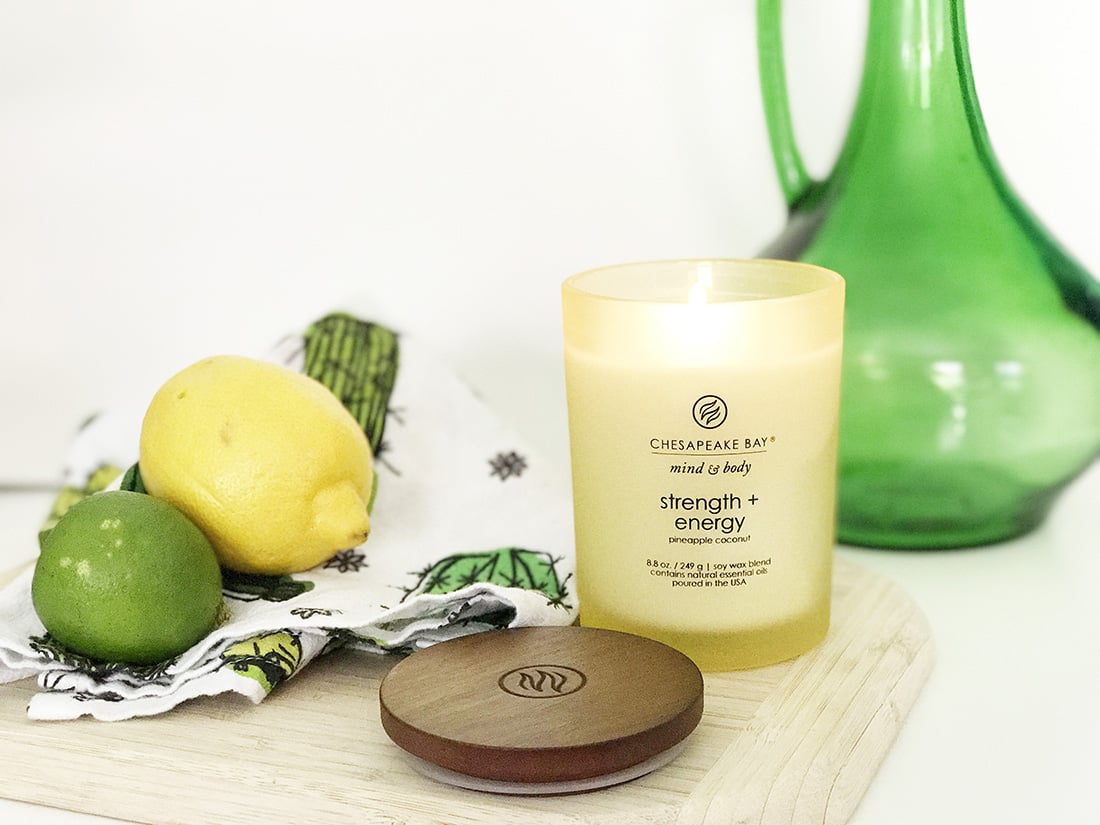 I keep the Strength + Energy (Pineapple Coconut) candle in the kitchen to pump me up mid-afternoon when it's time to prepare dinner for the family. Is it happy hour yet? Because this tropical scent reminds me of drinking mai tais in Hawaii.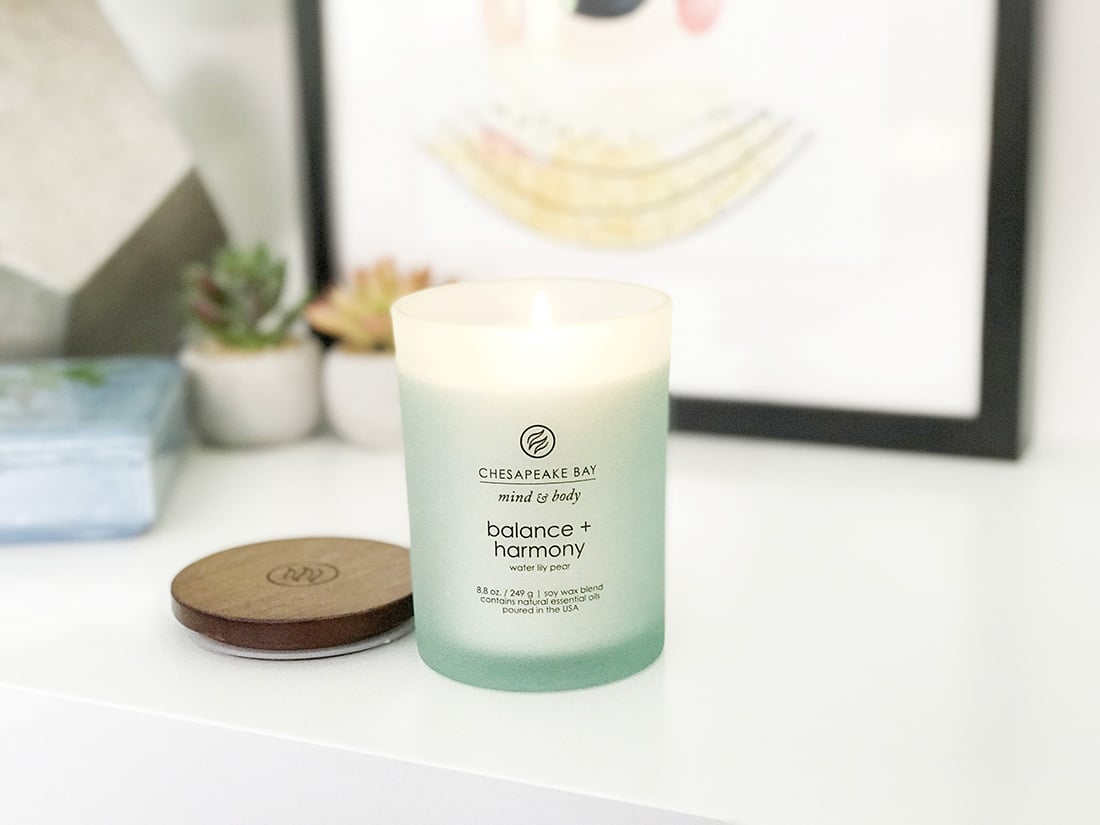 Last, but not least, the Balance + Harmony (Water Lily Pear) candle is perfect for a long bath at the end of the day. I know, it's cliche. But hey, this is my spa summer, and mama needs to get her soak on sometime, mmkay.
Oh, there's one other thing that can immediately change your home. Care to guess?
Art printables!
I have one for you. Print it out, frame it & light your candles.
Simple decor trick: Come On Baby Light My Fire Free Art Printable
Printable is a high-resolution letter-sized PDF. For personal use only.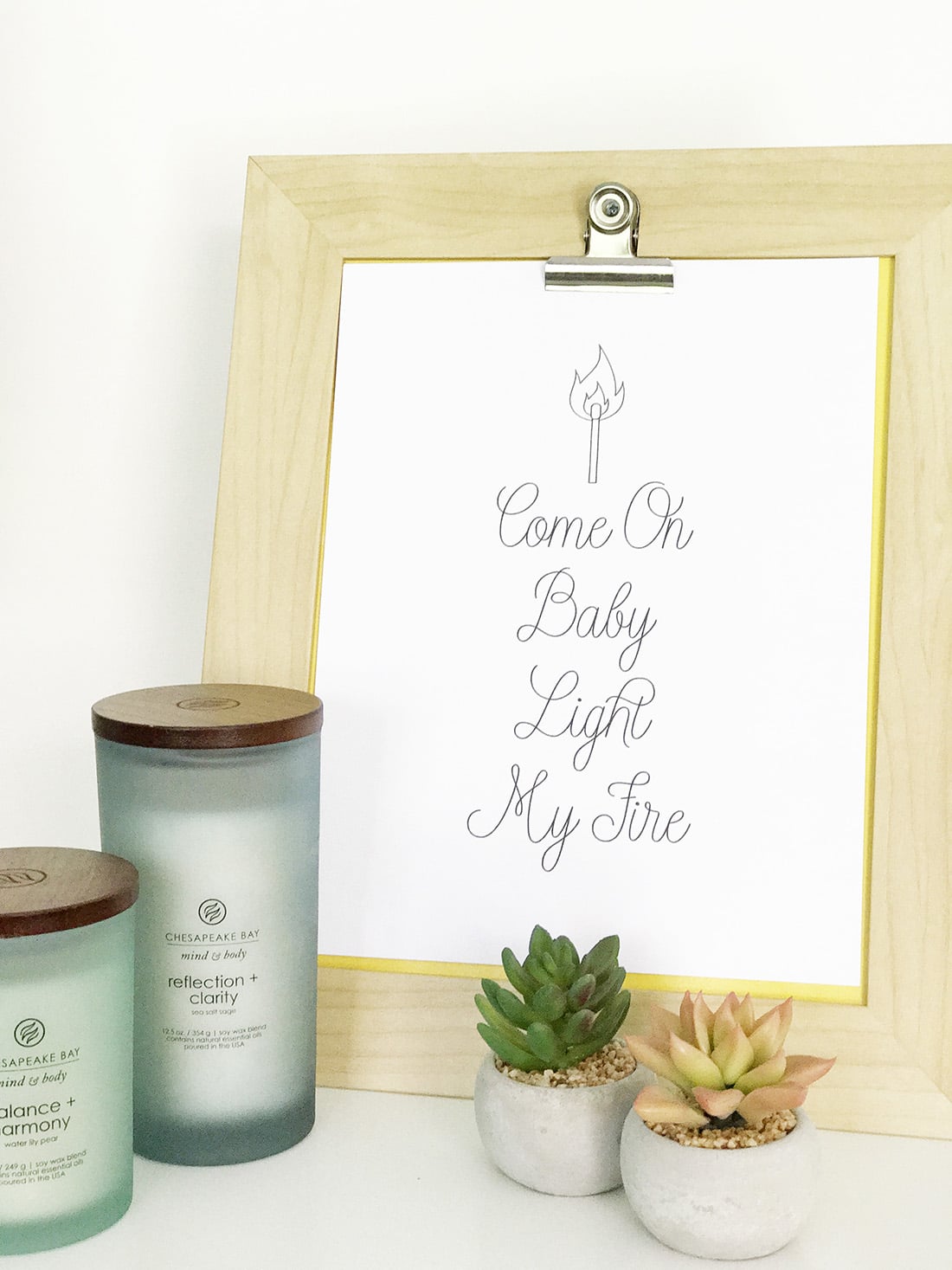 What's Your Favorite Candle?
Which candle would you pick to change up your space? Do you have a favorite scent? Leave a comment and let me know!
Me, I love anything and everything that smells even slightly like the ocean.
Check out the full line of Chesapeake Bay candles to find the scents that are right for you and your home.
Bookmark for later: