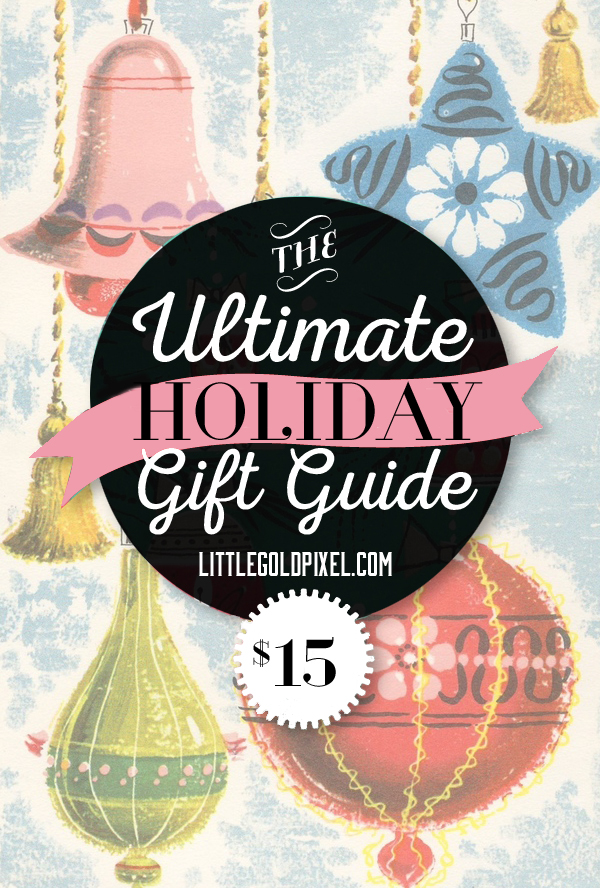 Hi there. Welcome back to the Ultimate Holiday Gift Guide by yours truly. This is a labor of love, fueled by my gut instinct to gather ALL THE THINGS in one place, my foolish desire to do it on a self-imposed deadline — all culminating in me dancing like a fool to disco music in the middle of the night after falling down the rabbit hole that is the Internet on Black Friday.
Yes, disco music. Christmas disco music. For your listening pleasure:
Anyway.
We started with with the $50 gift guide, $40 gift guide, $30 gift guide and $20 gift guide, and each day we're making our way down to the $5 gift guide, which will be filled with awesome stocking stuffers (some might say that's the best part).
A quick word on the process
1. This guide includes gifts in the $11-$15 range. You might find a bargain or two tucked inside because it is the holiday season and prices fluctuate faster than you can say GIFTCARD PLEASE.
2. You'll notice I break it down "She," "He" and "Wee." It's suggestion, not definition. I do not believe in gender stereotyping or ageism or whatnot. I pretty much want everything on this list. Especially the Mr. T tea mug.
I pity the fool who doesn't.
Are you ready? Get your mice set. And gooooooo clicking.
$15 Holiday Gift Guide / 2014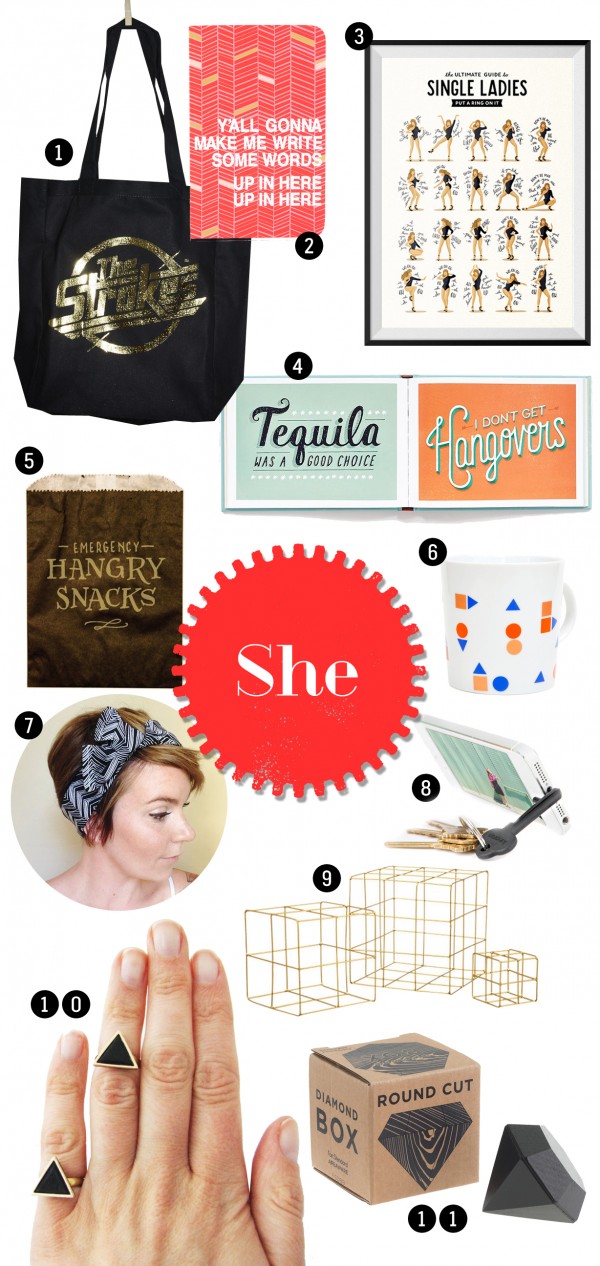 SHE:
For those who came to get down. For the illustration-loving, sarcasm-dripping, hangry-prone people. For those who need a little help taking their selfies. For those who find geometry soothing. For those who shoulda put a ring on it. For those who have loved The Strokes since 2001 and will not stop no matter what (this could just be me?).
1} Strokes tote 2} DMX notebook 3} Single Ladies illustrated lyrics 4} Daily Dishonesty book 5} Hangry Snacks bags 6} Geometric mug 7} Wire headband 8} Key prop 9} Wire cubes 10} Triangle rings 11} Diamond hiding box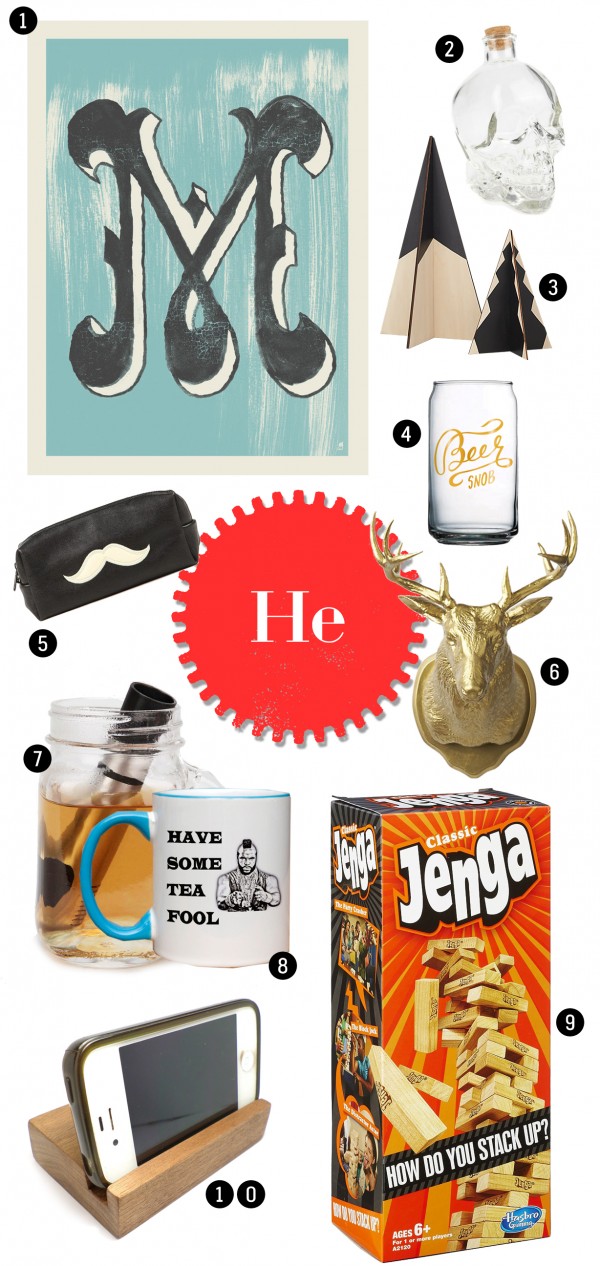 HE:
For those who were really into Indiana Jones and the Kingdom of the Crystal Skull. For the tea lovers, the Mr. T fans and those who can't survive without craft beer. For those who like to keep a classic party game on deck because they're so sick of Cards Against Humanity.
1} Letter art 2} Glass skull jar 3} Geo trees 4} Beer snob glass 5} Mustachioed pencil case 6} Deer magnet 7} Tea infuser 8} Have Some Tea Fool mug 9} Jenga 10} iPhone stand
WEE:
For those who don't like to sleep in the dark. For the ballers. For those who like the Beatles, even in lullaby form. For girls in the village doing all right who became princesses overnight. For everyone who thinks dinosaurs are the bomb-diggity. For those who envision The Rock as the Tooth Fairy.
1} Tooth fairy pillows 2} Mixmates blocks 3} Moon in My Room 4} Rainbow in My Room 5} Rockabye Baby: Beatles 6} Sofia doll 7} Frozen puzzle 8} Pineapple teether 9} Dinosaur finger painting 10} Cactus plush 11} Pro-ball set
Stay tuned for the $10 gift guide.
P.S. Last year's gift ideas: $10 gift guide; $15 gift guide; $20 gift guide
---
THE FINE PRINT: Affiliate links are used in this post. I only link to items I like or want to buy for myself. Thanks for supporting Little Gold Pixel!