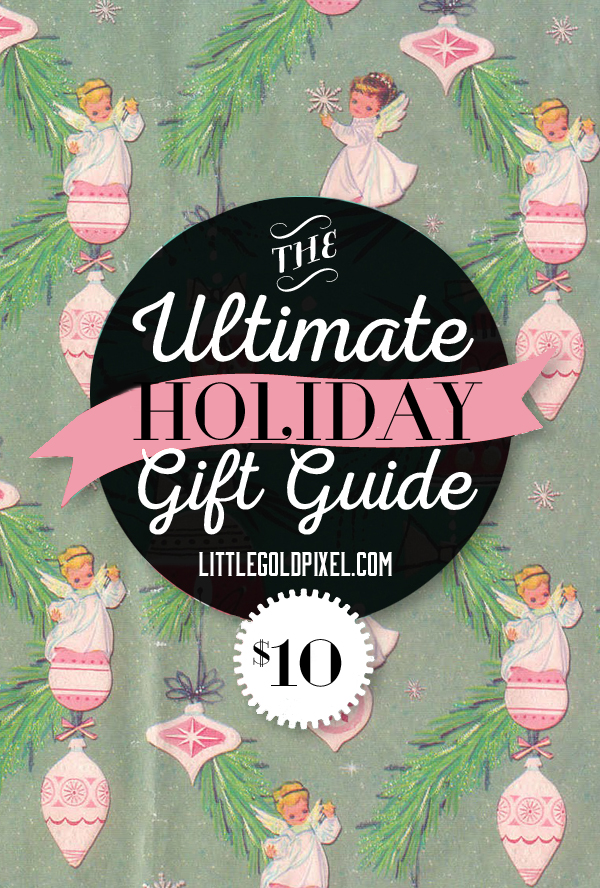 Hi there. Welcome back to the Ultimate Holiday Gift Guide by yours truly. This is a labor of love, fueled by my gut instinct to gather ALL THE THINGS in one place, my foolish desire to do it on a self-imposed deadline — all culminating in me cursing myself for deciding to do two more of these guides. Why oh why didn't I stop at $15?!
In case you're just now joining us, these are the five guides from last week. They are pretty damn good, and I'm not at all biased. Ahem.
$50 guide / $40 guide / $30 guide / $20 guide / $15 guide
We're making our way down to the $5 gift guide tomorrow, which will be filled with awesome stocking stuffers (some might say that's the best part).
A quick word on the process
1. This guide includes gifts in the $6-$10 range. You might find a bargain or two tucked inside because it is the holiday season and prices fluctuate faster than you can say GIFTCARD PLEASE.
2. You'll notice I break it down "She," "He" and "Wee." It's suggestion, not definition. I do not believe in gender stereotyping or ageism or whatnot. I pretty much want everything on this list. Especially the Bullshit Button (see "He" guide for context).
I would use it every single time I'm promised something "in five minutes" at work.
Are you ready? Get your mice set. And gooooooo clicking.
$10 Holiday Gift Guide / 2014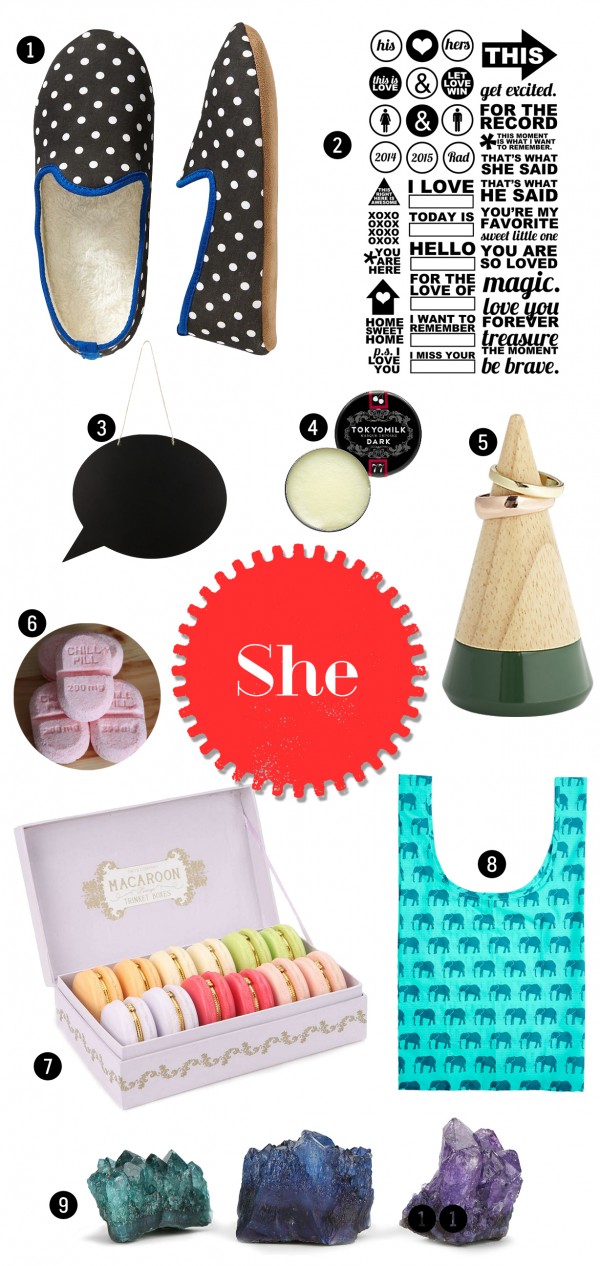 SHE:
For those who like shiny things. For the polka dot lovers, the stamp collectors, the macaron fans. For those who are addicted to lip balm. For those who feel more human after a nice, long soak. For those who are always forgetting to bring their reuseable bags to the store.
1} Polka dot slippers 2} Digital stamp collection 3} Quote chalkboard 4} Lip elixir 5} Ring holder 6} Chill Pill bath bombs 7} Macaron box 8} Elephant bag 9} Geode
HE:
For everyone who likes stripes. For those who need a church key and place to pour their beer. For those who like beer, period, in everything, even food. For those who like to work hard but play even harder. For the fans of money, down to their toes.
1} Business pencils 2} Bullshit button 3} Personalized bottle opener 4} Steel mug 5} Beer bread mix 6} Great balls of wire 7} Striped tee 8} Benjamins socks 9} Beer & pretzel caramels 10} The Grit soap
WEE:
For those who just can't LET IT GO. For the nostalgic-driven. For the star gazers. For the sketch artists. For those who need a smile in the morning with their orange juice.
1} Elsa dress 2} Frozen pencils 3} Frozen tent 4} Glow-in-the-dark stars 5} Pick-up Stix 6} Travel Etch-a-Sketch 7} Lion tumbler 8} Harmonica 9} Art pencils
Stay tuned for the $5 gift guide tomorrow.
P.S. Last year's gift ideas: $10 gift guide; $15 gift guide; $20 gift guide
---
THE FINE PRINT: A few affiliate links are used in this post. I only link to items I like or want to buy for myself. Thanks for supporting Little Gold Pixel!