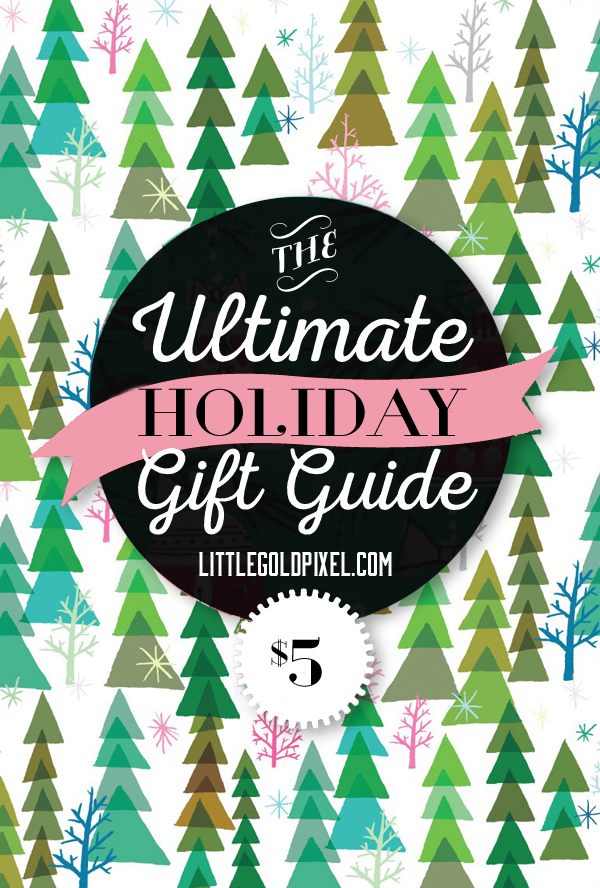 Hi there. Welcome back to the Ultimate Holiday Gift Guide by yours truly. This is a labor of love, fueled by my gut instinct to gather ALL THE THINGS in one place, my foolish desire to do it on a self-imposed deadline — all culminating in me sitting here, basking in the glow of our newly decorated Christmas tree and feeling quite accomplished. Because I did it! Seven gift guides!
That's roughly 180 gift ideas, give or take a few.
In case you're just now joining us, these are the six previous guides:
$50 guide / $40 guide / $30 guide / $20 guide / $15 guide / $10 guide
For this last guide we are spending $5 or less. I mean, some days I spend more than this on coffee. So … there's a bonus stocking stuffer idea that I didn't include: A $5 gift card to Starbucks.
A quick word on the process
1. This guide includes gifts in the $1-$5 range. You might find a bargain or two tucked inside because it is the holiday season and prices fluctuate faster than you can say GIFTCARD PLEASE.
2. You'll notice I break it down "She," "He" and "Wee." It's suggestion, not definition. I do not believe in gender stereotyping or ageism or whatnot. I pretty much want everything on this list. Especially the Peter Pan print.
Because, like the freebie I created says, I never want to grow up.
Anyone else looking forward to Peter Pan Live on the 4th? Christopher Walken as Hook, people! That's reason enough for me.
Back to the $5 holiday gift guide.
Are you ready? Get your mice set. And gooooooo clicking.
$5 Holiday Gift Guide / 2014
HE:
For those who are contemplating a patent of their own. For those who love to fix stuff, even the MacGyver way. For those who know what they want when they want it. For those who want to look tough, but only until the ink washes off. For those who still dream of Slinky races down staircases during sleepovers.
1} 6-month GQ subscription 2} Tesla inventions printable 2015 calendar 3} 10-in-1 bone wrench 4} LED flashlight 5} Industrial candleholder 6&7} Affirmation magnets 8} $5 Amazon gift card (a few $1.99 books on Kindle?) 9} Damn Good Coffee mug 10} Tattly finger tattoos 11} Slinky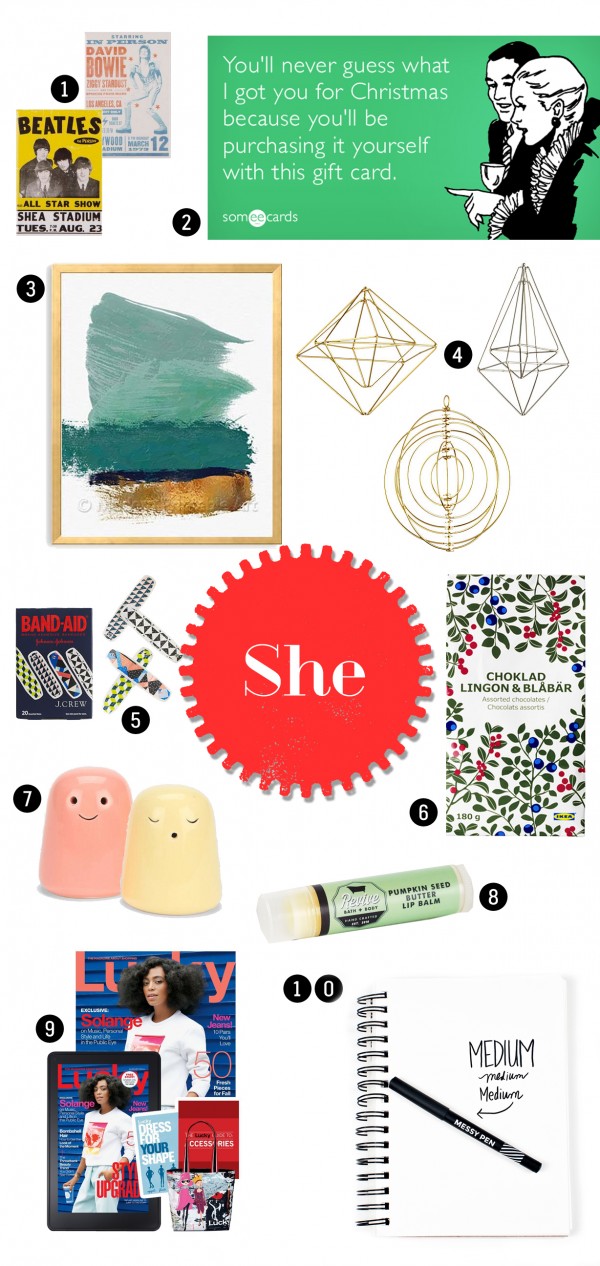 SHE:
For those who like to make their mark. For the chocolate fiends, the shoppers, the accident prone. For those who think David Bowie and John Lennon are tied for Most Awesome. For those who appreciate art on a budget.
1} Music magnets 2} $5 Amazon gift card (so many good Kindle deals for $5 or less, including Wonder Boys, right now) 3} Abstract art printable 4} Geometric ornaments that look good year-round 5} Fancy Band-Aids 6} Fun chocolate bar 7} Salt & pepper shakers 8} Pumpkin seed lip balm 9} 6-month Lucky subscription 10} Messy pen 
WEE:
For the puzzle solvers. For those who make train tracks with washi tape. For the Peter Pans, the Maxes, the Elsas and the animal lovers. For those with imaginations that do not quit.
1} Peter Pan printable 2} Where the Wild Things Are printable 3} Train 4} Car 5} Elsa gloves 6} Tiger flashlight 7} Dapper frog 8} Shape sorter 9} Mr. Potato Head 10} Reusable sticker pad 11} Silver cube puzzle 12} Void puzzle
P.S. Last year's gift ideas: $10 gift guide; $15 gift guide; $20 gift guide
---
THE FINE PRINT: A few affiliate links are used in this post. I only link to items I like or want to buy for myself. Thanks for supporting Little Gold Pixel!
Tree wrapping paper in title image: Patrick Draws Things