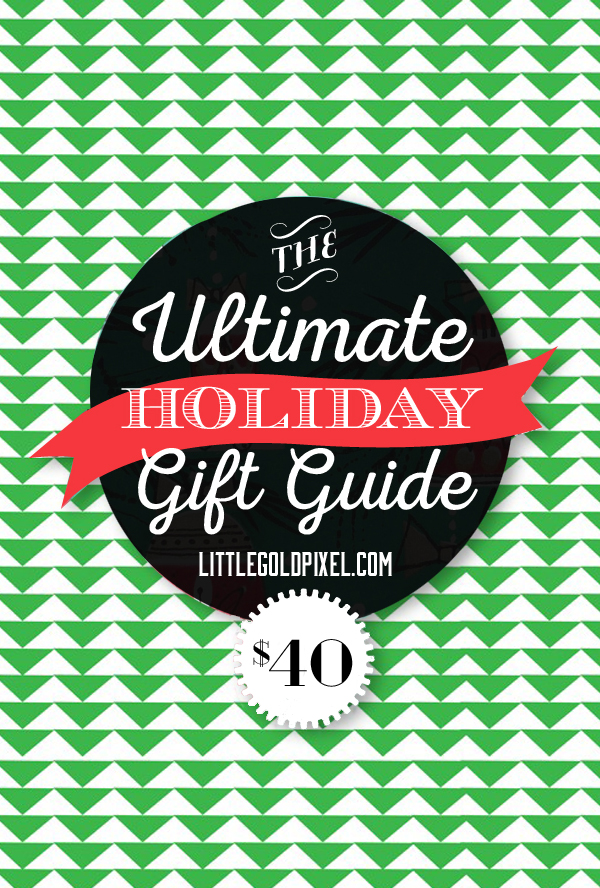 Hi there. Welcome back to the Ultimate Holiday Gift Guide by yours truly. This is a labor of love, fueled by my gut instinct to gather ALL THE THINGS in one place, my foolish desire to do it on a self-imposed deadline — all culminating in a latenight Broken Bells marathon while ABC Family holiday movies play on silent in the background.
The insanity makes sense now, doesn't it?
We started yesterday with the $50 gift guide, and each day we're making our way down to the $5 gift guide, which will be filled with awesome stocking stuffers (some might say that's the best part).
A quick word on the "process"
1. This guide includes gifts in the $31-$40 range. You might find a bargain or two tucked inside because it is the holiday season and prices fluctuate faster than you can say GIFTCARD PLEASE.
2. You'll notice I break it down "She," "He" and "Wee." It's suggestion, not definition. I do not believe in gender stereotyping or ageism or whatnot. I pretty much want everything on this list. Even the stuffed animals. And especially the throwback Atari and Sega Genesis consoles/games.
I will DOMINATE you at Pac-Man.
Are you ready? Get your mice set. And gooooooo clicking.
$40 Holiday Gift Guide / 2014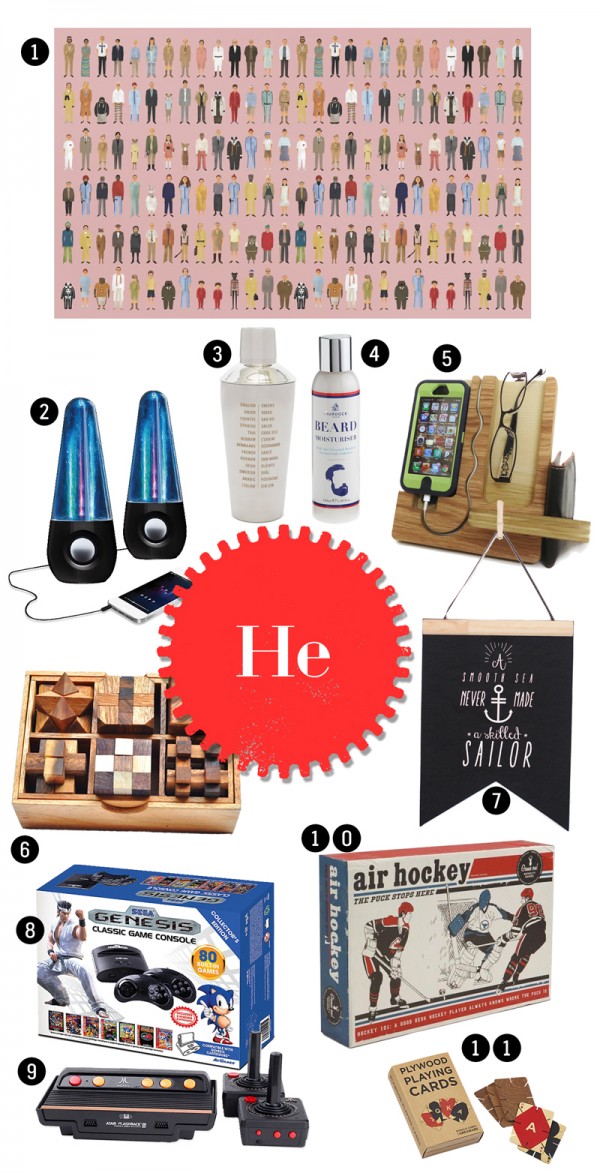 HE:
For those first-generation gamers of a certain age (wink, wink). For those who love The Royal Tenenbaums and card tricks/puzzles/drinking games. For the people who can never find their charger. For the bearded hipsters and thirsty tricksters.
1} Wes Anderson book 2} Dancing water speakers 3} Shaker 4} Beard moisturizer 5} Cellphone dock 6} Puzzle set 7} Felt flag 8} Sega Genesis 9} Atari Flashback 10} Air hockey 11} Wooden cards (for building a house of cards and for playing)
(Psst. That Wes Anderson book is actually on super sale on Amazon right now. $23.72, get on it!)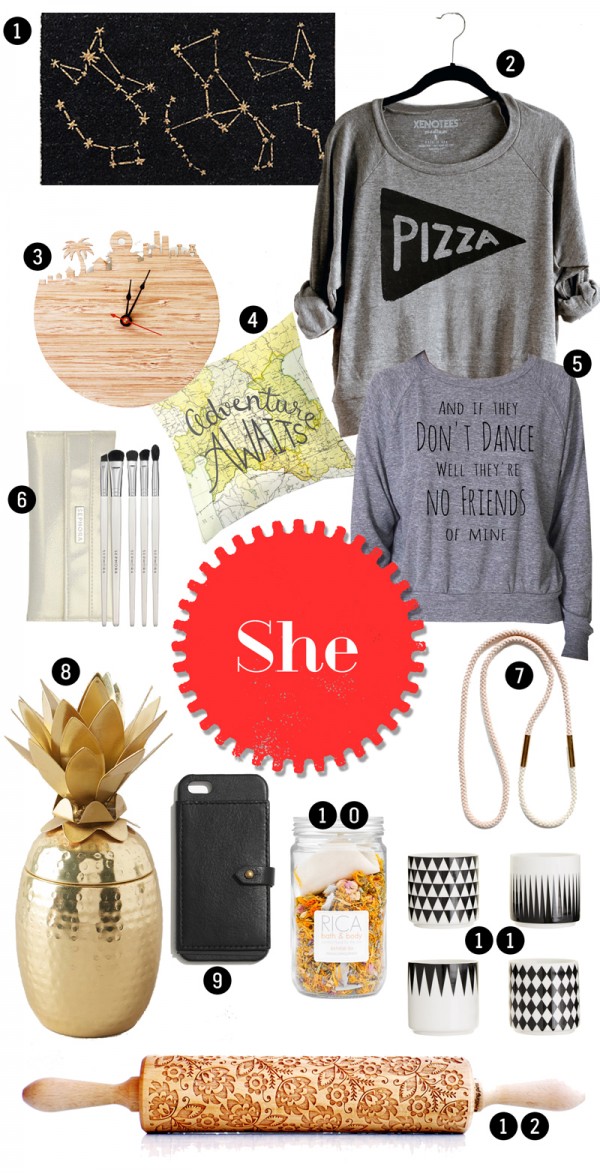 SHE:
For those pizza eaters, espresso drinkers, iPhone carriers. For those go-getters who are about to get cozy. For those who take off their bras as soon as they walk in the door. For those who like patterns on their cookies and maps and appreciate good design in the simple things.
1} Star Path Doormat 2} Pizza shirt 3} City skyline clock 4} Adventure Awaits pillow 5} Safety Dance sweatshirt 6} Makeup brush set 7} Vamoose necklace 8} Pineapple candle 9} Leather iPhone case/wallet 10} Bath tea 11} Espresso cups 12} Rolling pin 
WEE:
For those with overactive imaginations, the daydreamers, the pretenders, the sound shapers, the budding fashionistas, those who like to hug soft things (raises hand).
1} Tumbling Tower Blocks 2} Bird dress-up 3} Angel doll 4} Fairy doll 5} Multiplication table 6} Guitar 7} Record player plush 8} Dragon 9} Cloud pillow (can be personalized) 10} Handmade dress
Stay tuned for the $30 gift guide tomorrow.
P.S. Last year's gift ideas: $10 gift guide, $15 gift guide, $20 gift guide
P.P.S. You can get printable wrapping paper (including the one featured in the top image) from e.m. Papers.
---
THE FINE PRINT: Affiliate links are used in this post. I only link to items I like or want to buy for myself. Thanks for supporting Little Gold Pixel!