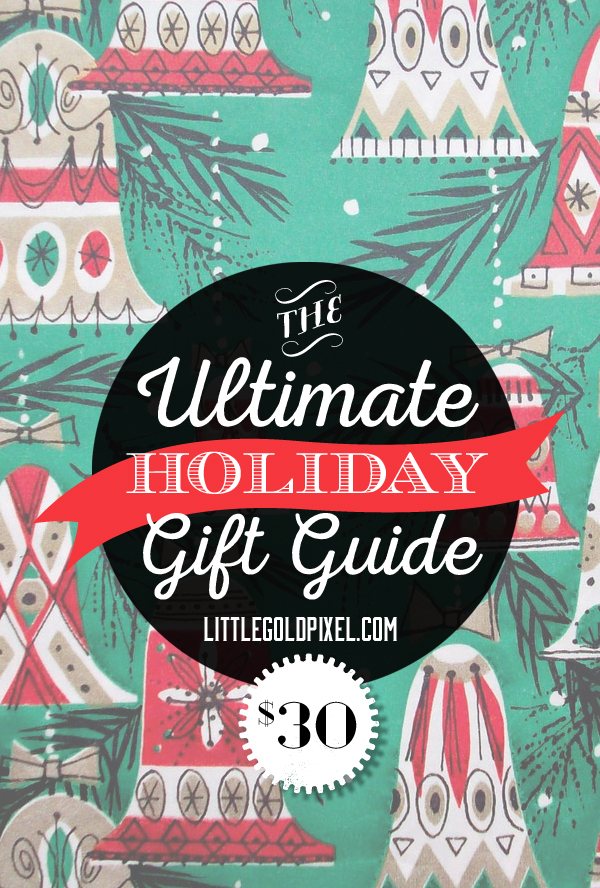 Hi there. Welcome back to the Ultimate Holiday Gift Guide by yours truly. This is a labor of love, fueled by my gut instinct to gather ALL THE THINGS in one place, my foolish desire to do it on a self-imposed deadline — all culminating in me falling asleep late at night while creating collages in my woefully inadequate and antiquated version of Photoshop Elements (it's really time I upgrade to the Creative Cloud).
You can't say I'm not dedicated!
We started with with the $50 gift guide and the $40 gift guide, and each day we're making our way down to the $5 gift guide, which will be filled with awesome stocking stuffers (some might say that's the best part).
A quick word on the process
1. This guide includes gifts in the $21-$30 range. You might find a bargain or two tucked inside because it is the holiday season and prices fluctuate faster than you can say GIFTCARD PLEASE.
2. You'll notice I break it down "She," "He" and "Wee." It's suggestion, not definition. I do not believe in gender stereotyping or ageism or whatnot. I pretty much want everything on this list. Even the videogame controller illustrations. Especially the Aladdin Blu-ray.
I had such a crush on Aladdin. ♫ Make way for Prince Ali! ♫
Are you ready? Get your mice set. And gooooooo clicking.
$30 Holiday Gift Guide / 2014
WEE:
For all those who are curious and are into the magical pull of magnets. For the scribblers. For the Richard Scarry fans. For the stackers. For children of parents who love Labyrinth and 1990s hip hop.
1} Paper airplanes tee 2} Babe With the Power tee 3} California Knows How to Party tee 4} Bristle blocks 5} Boat rattle 6} Magnatab tracer 7} City blocks 8} Aladdin Blu-ray 9} Lowly Worm 10} Coloring placemats 11} Anatomy magnets 12} Magnetic blocks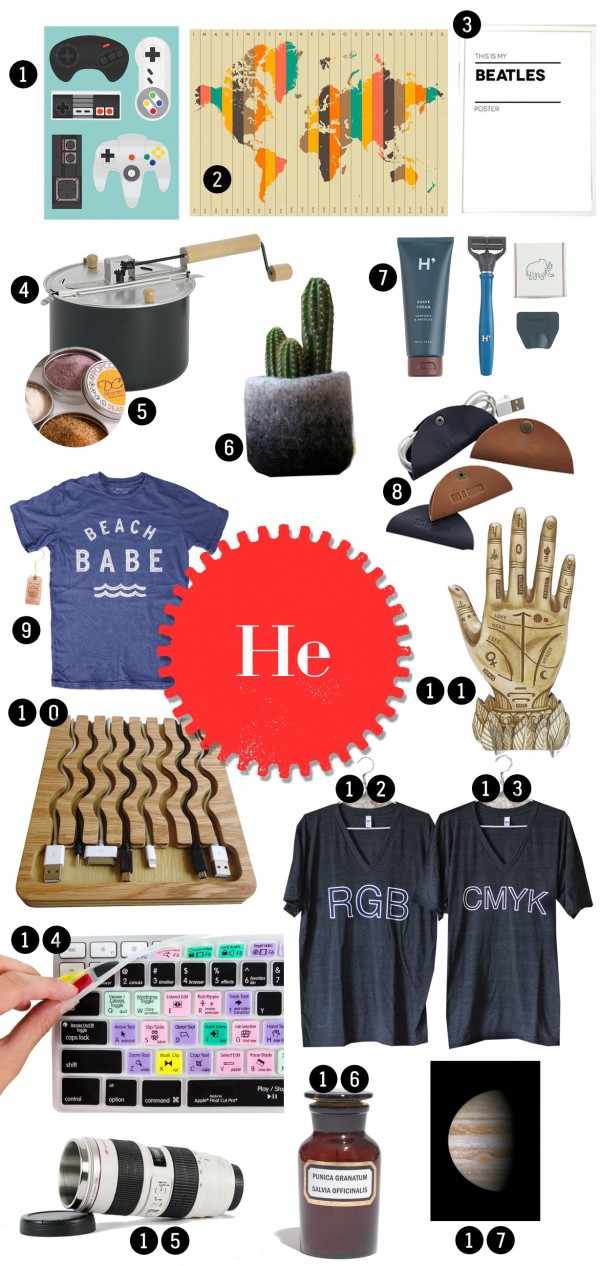 HE:
For all those who love photography, like a muskier scent and have a sense of wonder in the universe. For the gamers, the shavers and the friends of succulents. For those who know they are babes, and say so at the beach.
1} Videogame controller art 2} Timezone map 3} Beatles poster 4} Popcorn popper 5} Popcorn salt 6} Felt planter 7} Shaving kit 8} Cord tacos 9} Beach Babe tee 10} Docking station 11} Palm reader 12} RGB tee 13} CMYK tee 14} Photoshop keyboard cheat sheet 15} Camera lens mug 16} Candle 17} Jupiter poster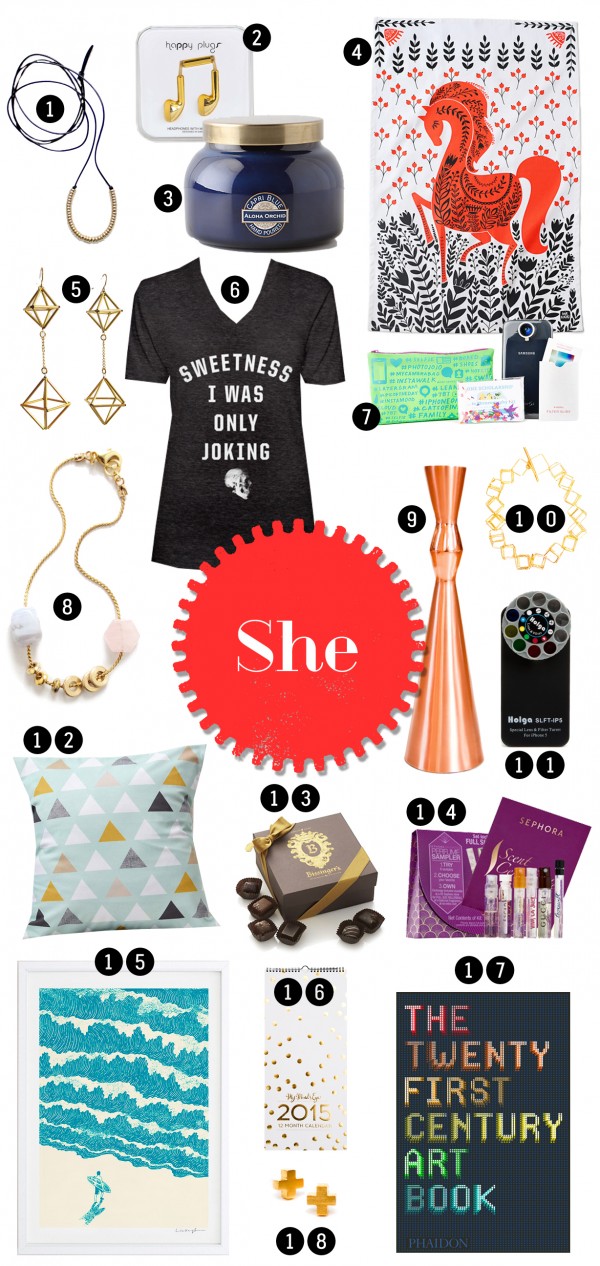 SHE:
For those art lovers, ocean cravers, Swedish design fiends. For those who love everything gold. For chocolate eaters. For those with a dark humor. For the Instagram updaters. For those whose favorite shape is triangle.
1} Leather and brass necklace 2} Gold earbuds 3} Aloha Orchid candle (aka best candle ever) 4} Red horse towel 5} Himmeli inspired earrings 6} Sweetness I Was Only Joking tee 7} Phoneography starter kit 8} Pastel and gold bracelet 9} Candlestick 10} Toggle bracelet 11} Holga lens for iPhone 12} Triangle pillow 13} Wine-tasting chocolates 14} Perfume sampler 15} Surf art 16} 2015 gold foil calendar 17} Art book 18} Cross earrings
Stay tuned for the $20 gift guide tomorrow.
P.S. Last year's gift ideas: $10 gift guide; $15 gift guide; $20 gift guide
---
THE FINE PRINT: Affiliate links are used in this post. I only link to items I like or want to buy for myself. Thanks for supporting Little Gold Pixel!