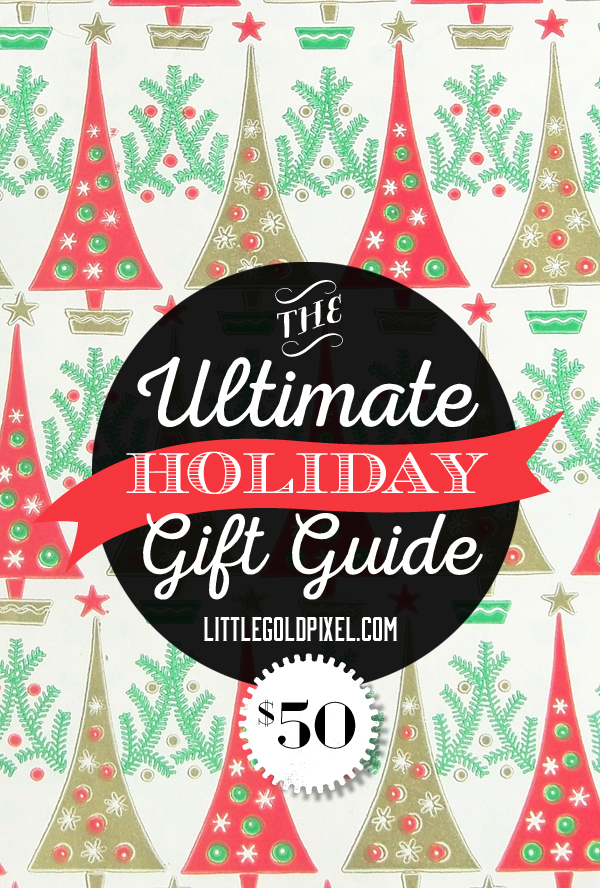 Hi there. Welcome to the Ultimate Holiday Gift Guide by yours truly. This is a labor of love, fueled by my ongoing flirtation with online window shopping and extra fueled by a latenight surge of caffeine and a sticky "delete" key on my laptop.
A quick word on the "process"
1. This is the first of several guides, including gifts in in the $41-$50 range. You might find a bargain or two tucked inside because it is the holiday season and prices fluctuate faster than you can say GIFTCARD PLEASE. (For example, the train set featured below was $49 yesterday when I compiled this list but it's $33 today and tomorrow it could be $100 but who knows.)
2. You'll notice I break it down "She," "He" and "Wee." It's suggestion, not definition. I do not believe in gender stereotyping or ageism or whatnot. Cross pollinate. Buy the men's grooming kit for your mom or the scooter for your grandma. It's all good. And, truthfully, I want nearly everything on this list for myself.
Are you ready? Get your mice set. And gooooooo clicking.
$50 Holiday Gift Guide / 2014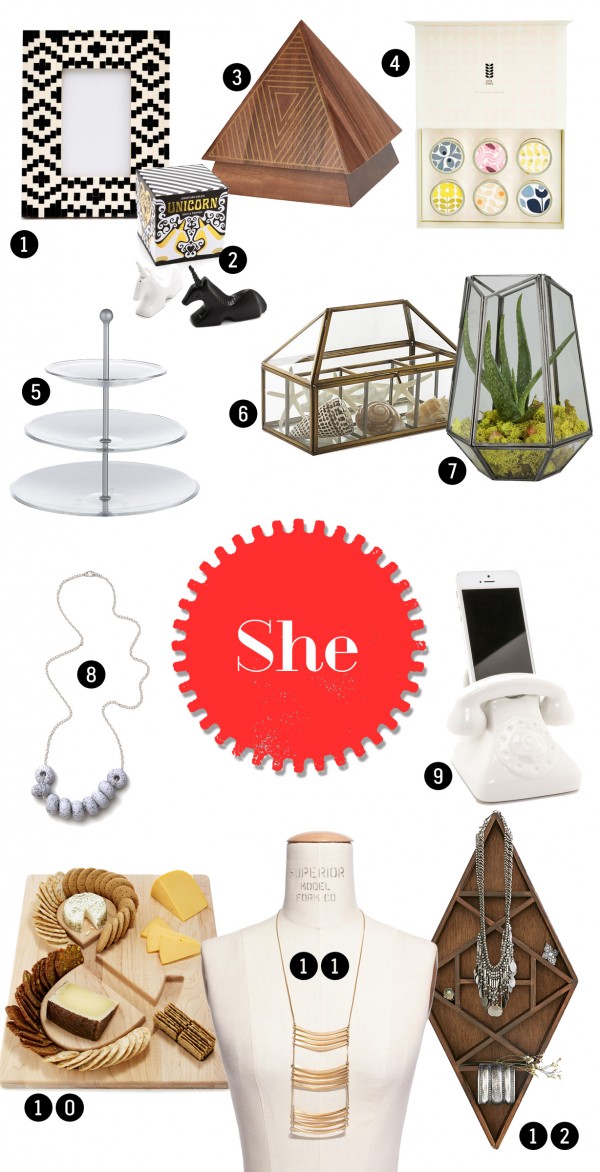 SHE:
For the unicorn admirers, wine and cheese aficionados, green thumbs, party planners, necklace-loving and nostalgic people in your life.
1} picture frame 2} unicorn salt shakers 3} jewelry box 4} mini candles 5} tripoli server 6} atrium 7} gem-shaped atrium 8} bead necklace 9} phone charger 10} cheese board 11} necklace 12} curio cabinet
HE:
For the zombie-fighting, science-minded, precision-focused readers in your life.
1} Walking Dead hoodie 2} Space Odyssey hoodie 3} Labyrinth Game 4} Working Man's Hygiene Kit 5} Vans 6} Bag 7} Penguin Bookends 8} Antlers 9} Arrow Bookends 10} Bowling game 11} Fibonacci cutting board 12} Match holder
WEE:
For the scribblers, practicing singers, builders, conductors, budding photographers and pint-sized thrill seekers in your life.
1} Coloring Mural 2} Karaoke machine 3} Camera 4} Hanging Initial 5} Monster Block Set 6} Train set 7} Scooter 8} Legos 9} Plasma car
Stay tuned for the $40 gift guide tomorrow.
P.S. Last year's gift ideas: $10 gift guide, $15 gift guide, $20 gift guide
---
THE FINE PRINT: Affiliate links are used in this post. I only link to items I like or want to buy for myself. Thanks for supporting Little Gold Pixel!