I don't know about you, but in this house we have a lot of form vs. function debates. This tends to happen when one person is a designer and another person is … normal.
Yes, I will admit it. Designers can be a finicky bunch. We want pretty and we want it to work. Sometimes these things are not mutually exclusive. Take for example the conversation I had with the Geek Squad about how we should route wires because I did not want to see them. Not even a little.
Wires = hell to a designer.
Oh, and there's the conversation I had with H about a massage chair, which happens to be at the top of his wish list. He is very specific about what he wants (read: mall massage chair, ugly leg grips included), and he will not be swayed by my sleek, beautiful alternatives (read: but these do not have ugly leg grips, which are super important to the experience!). We are at an impasse.
Anyway, now that we're in the middle of gift-giving season, I have been hoarding away links to tech items that I find aesthetically pleasing and highly functional. These are gifts that fall in the category of "I want them myself" and "Please buy these for me." Maybe you'll feel the same way about them! Or maybe you know and love a designer who would want these things (they will).
Ultimate Tech Gifts for Designers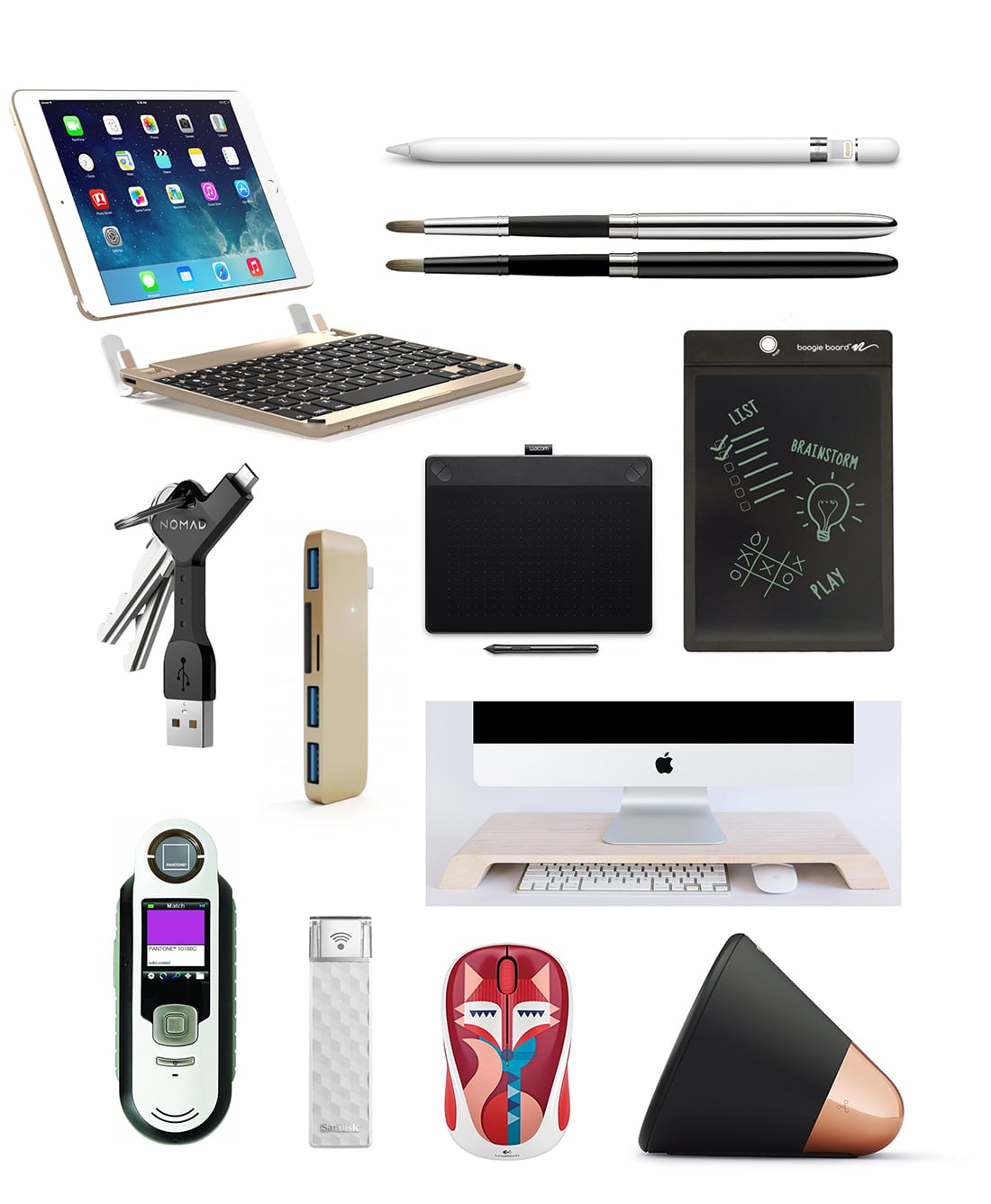 Brydge keyboard: I love that this sleek keyboard looks like it is part of the iPad, turning it into a laptop so you can work on the go. Colors include gold (my fave!). This keyboard has been hailed by design and tech experts, so you know it's the ultimate in form + function. Plus it has a patented hinge for 180 degree viewing angles, backlit keys, and three-month rechargeable battery.
Apple Pencil: Can't you just see me sitting in the airport with my Brydge keyboard and Apple pencil? What am I up to? TCB, man. TCB.
Sensu brush & stylus: A for-real painting experience on your device!
Boogie Board: LCD writing/sketching tablet you can fit in your handbag. Sign me up.
Wacom tablet: I can't live without mine. It's how I draw digitally, and this latest installment has a fresh, clean design.
USB hub: If you've ever wanted more ports on your Macbook (hello!), this looks ideal.
iPhone key: Never be without a charger again. It's a keychain! It's a charger! It's a must-have.
Lifta desk organizer: What could be more satisfying than hiding your keyboard and mouse at the end of the day, leaving a beautiful, empty desk? Nothing, I say.
Pantone color matcher: Now, this is a pie-in-the-sky wish list item, for sure, but isn't it cool?
Wireless stick: Because designers HATE wires. HATE, with a fiery hot passion.
Wireless mouse: A cool design + no wires? The best stocking stuffer a designer could ask for.
Aether Cone: This music player learns your music tastes and plays what you like. The future is now. Plus, it looks sweet in black/copper.
Excuse me while I stop drooling over these gifts for designers. Santa, baby, you know what to do.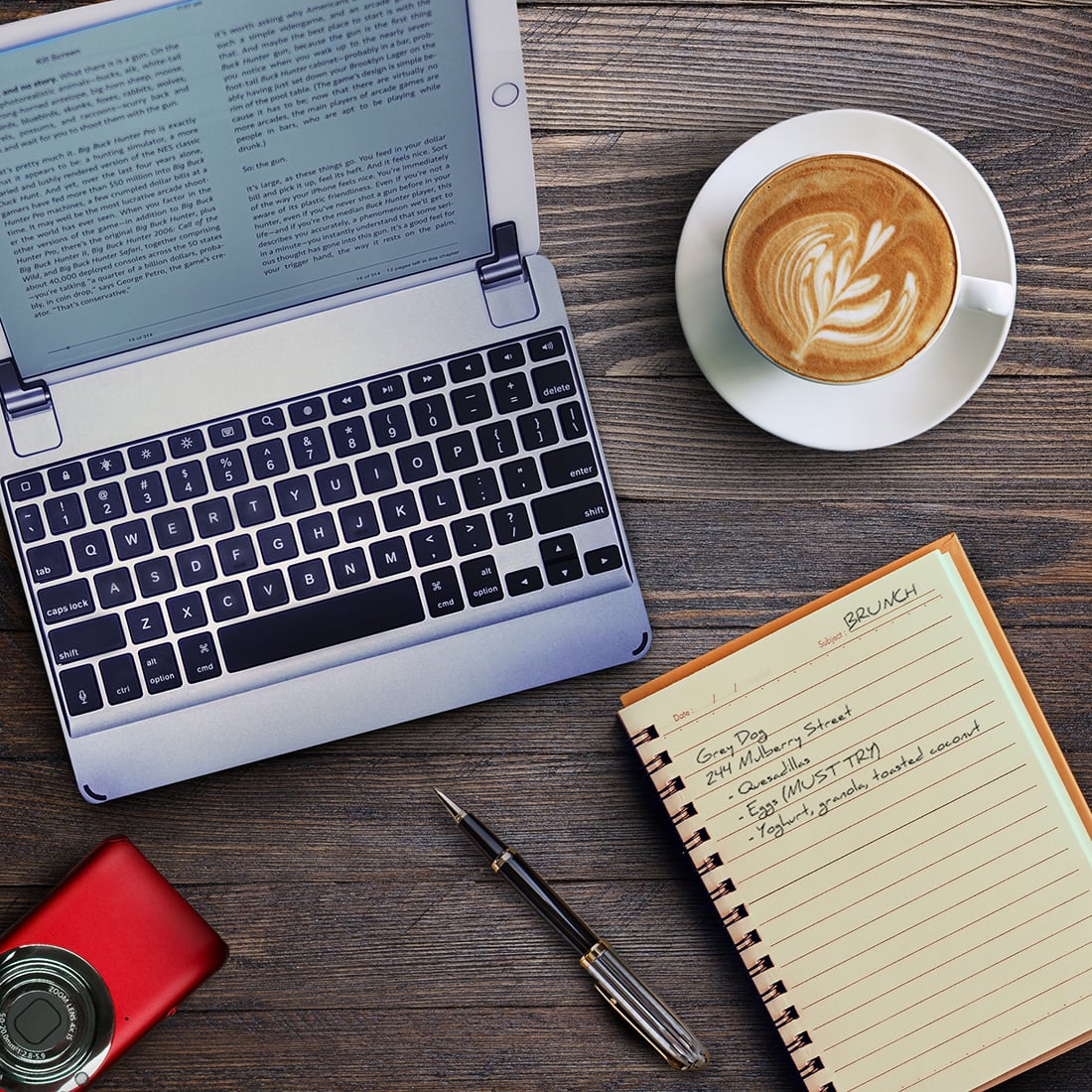 I partnered with Brydge on this gift guide, and I have some good news: For a limited time for the holidays, Brydge is offering significant discounts on all models of keyboards as well as bundle deals with accessories. I have my eye on a gold keyboard, and the savings are pretty significant, so go check it out.
Pin this gift guide for later: