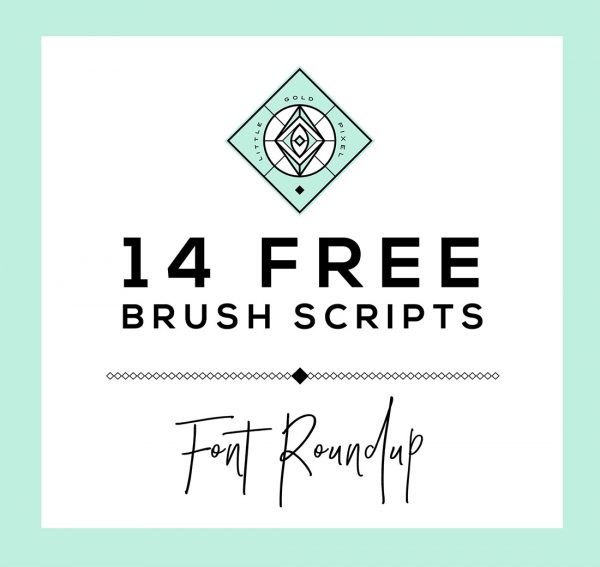 We stayed in a hotel in San Francisco that had typed passages from On the Road for wallpaper. When we arrived home, I felt inspired to round up my favorite free brush scripts and share them with you, beatnik style.
That was more than two months ago. This post has been sitting here for a long time. It's one of those posts that started taking shape in one place, got a little steam in another and is finally coming to fruition in yet another.
Deciphering: Yes, we moved.
But that's not all: I've officially gone entrepreneur.
I'm following my own arrow! This is probably the ONLY thing I have in common with Kerouac (whose name I absolutely butchered loudly and proudly in Philosophy 101 back in the day).
After all, I'm not a restless soul who flits back and forth across the map, at least not often. But I am committed to my craft. Jack had spontaneous prose; I have Little Gold Pixel and you.
As always, I'd love to hear from you. Drop me a line with any suggestions on blog content, any projects you'd like to collaborate on, any favorite passages featuring Dean Moriarty.
Here's my favorite quote of all time, also a printable in the shop:
What is that feeling when you're driving away from people and they recede on the plain till you see their specks dispersing? – it's the too-huge world vaulting us, and it's good-bye. But we lean forward to the next crazy venture beneath the skies.
14 Free Brush Script Fonts
There are so many great premium brush scripts, but great free ones can be a tall order. I looked high and low, and these are the best of the best.
Make sure you click on the links below the graphic to go to the original download pages. Also make sure to check rights usage. Many of these fonts are free for personal use only.