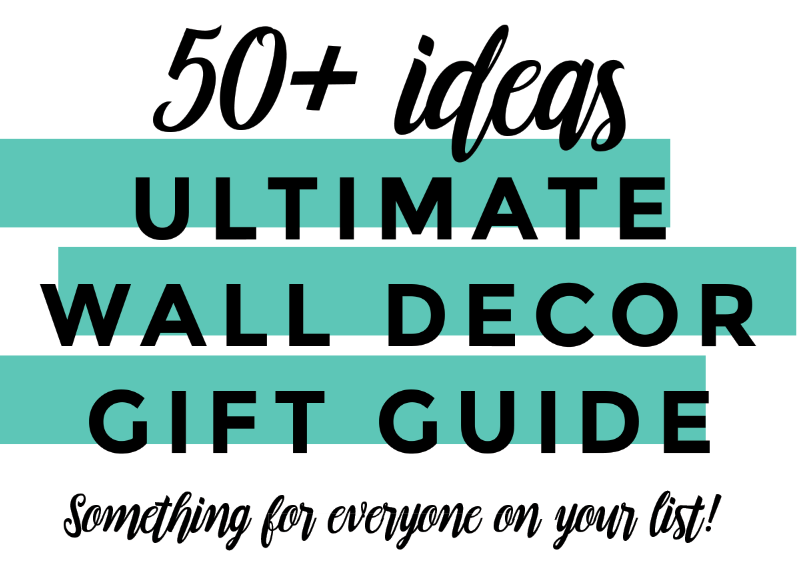 This may be the time of year to deck the halls with boughs of holly, but it's also the time of year to give wall decor as gifts so your loved ones can deck their halls with art the rest of the year.
Just think about it: Wall decor is one of those luxuries that tends to be put off. You just don't think about it, or you can't justify spending money on artwork for yourself.
Heck, my hallway gallery wall was bare for years before I got around to it! (Psst, check out my free printables for temporary wall decor solutions.)
Your gift might just be the thing that helps your friend/family members dust off their frames and switch things up.
I've rounded up 50+ items in this ultimate wall art gift guide — something for everyone on your list. I came up with a target giftee for each item. Some of these are based on real people, so if you recognize yourself there's a good chance it was on purpose!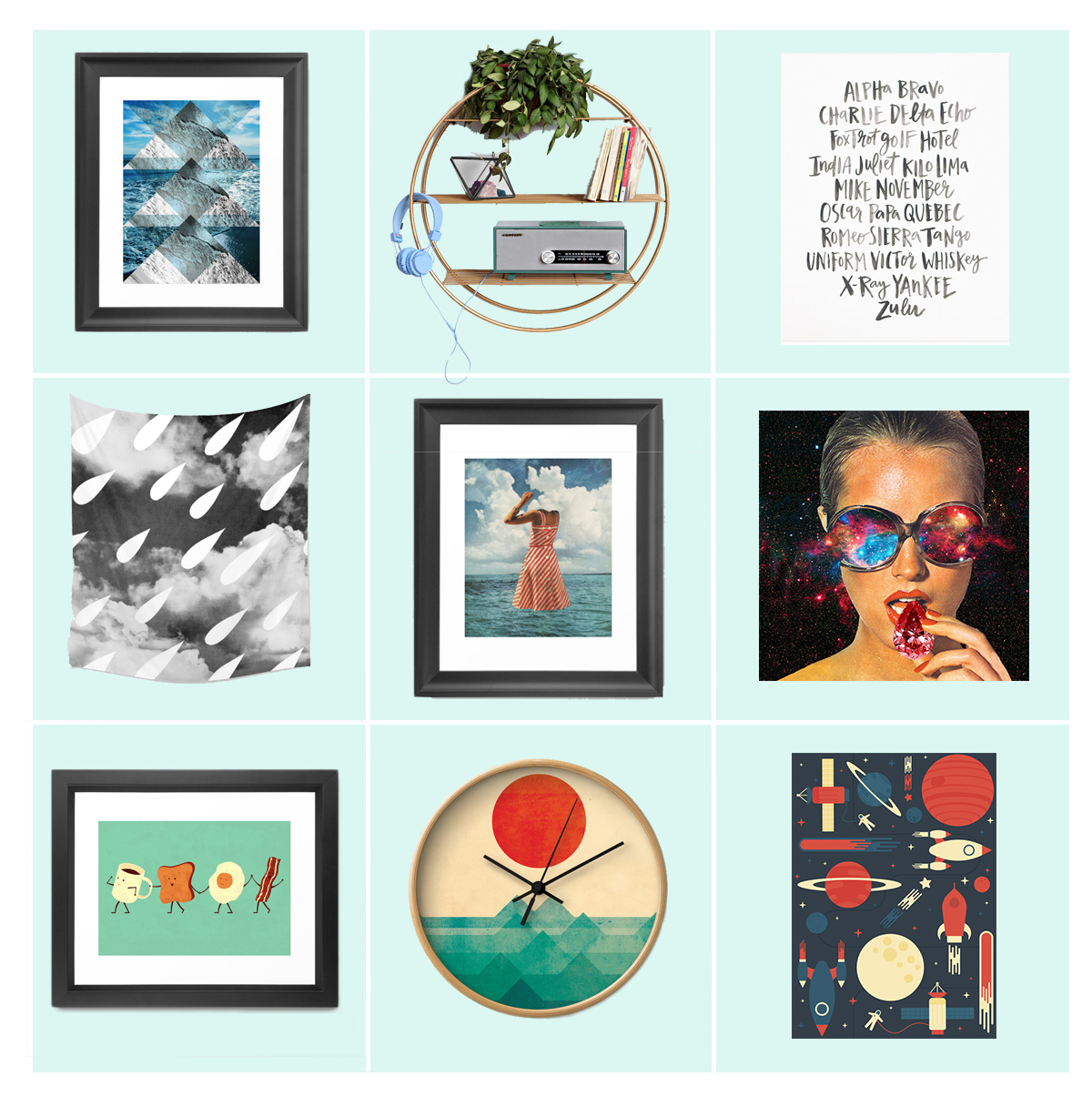 For your friend who just moved into a new home and needs fresh wall art • Geometric Sea Collage
For your cousin who just started college • Circular Shelf
For your friend who loves spy movies • Alpha Bravo Charlie
For your BFF who loves new wave music • Storm Clouds Tapestry
For your sister who visits modern art museums on vacation • Float
For your friend who always sings "Material Girl" at karaoke • I Am I
For your husband who loves coffee, bacon, eggs and toast just as much as you do • Let's All Go and Have Breakfast
For your aunt whose sock drawer is tidy and color-coordinated • The Ocean the Sea the Wave Wall Clock
For your niece who wants to be an astronaut when she grows up • Space Odyssey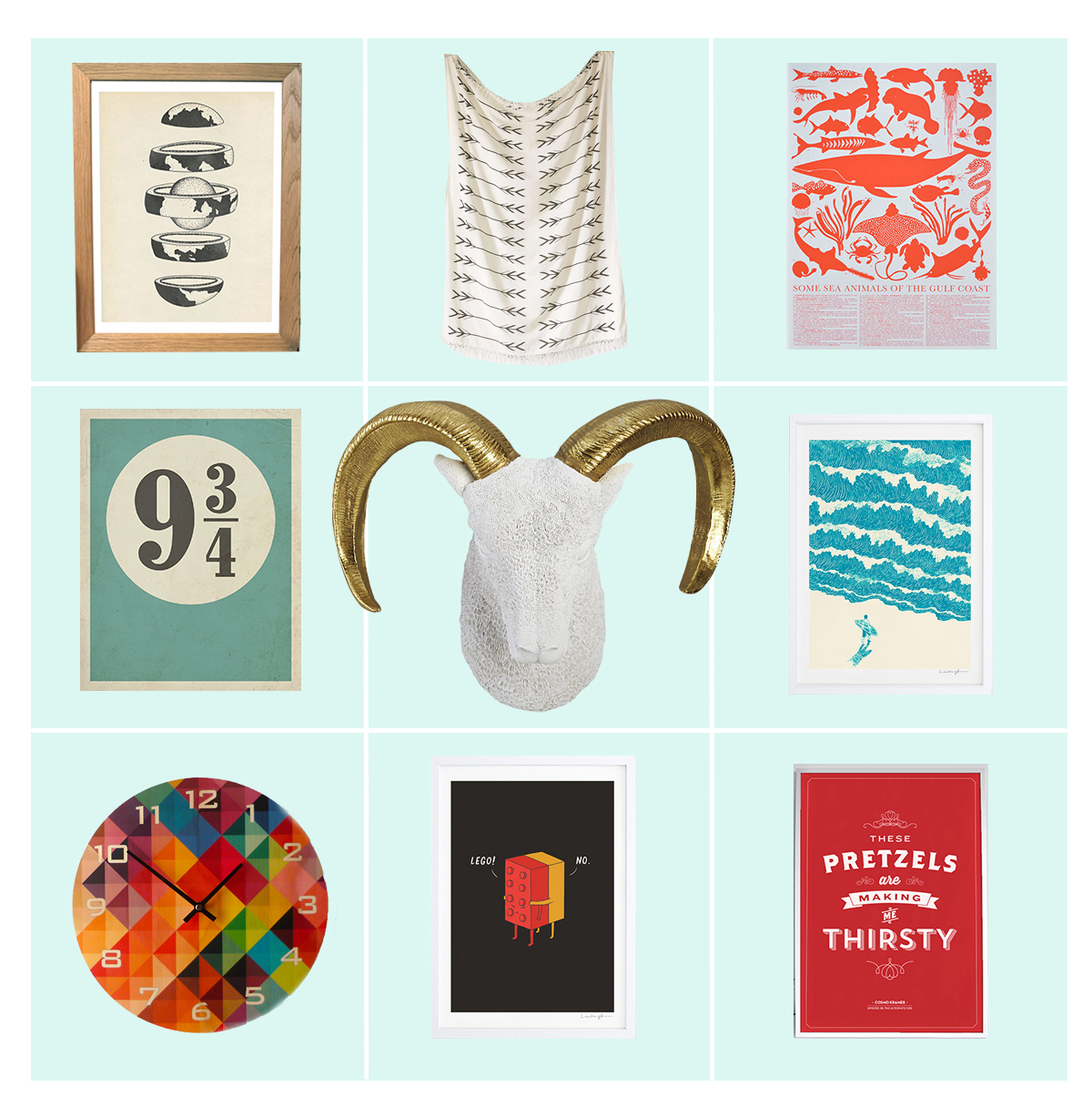 For your friend who is always sharing eco-friendly tips on Facebook • Earth Print
For your friend who has been to all the midnight showings of The Hunger Games • Black and White Arrows Tapestry
For your uncle who always has a fun animal anecdote on tap • Large Sea Animals Poster
For your cousin who grew up reading Harry Potter books • 9 3/4 Platform
For your aunt who can never pass up a whimsical trinket • Goldie the Wall Hanging Ram
For your boyfriend who always wears flip-flops and knows all of Spicoli's lines • To the Sea Art Print
For your baby-to-be who will look at these colors in his/her nursery and be mesmerized • Grid Clock
For your son who will always be your darling no matter how many Legos you step on • I Will Never Lego
For your BFF who drove to three different Targets with you to buy the Seinfeld box sets when they first came out • These Pretzels Are Making Me Thirsty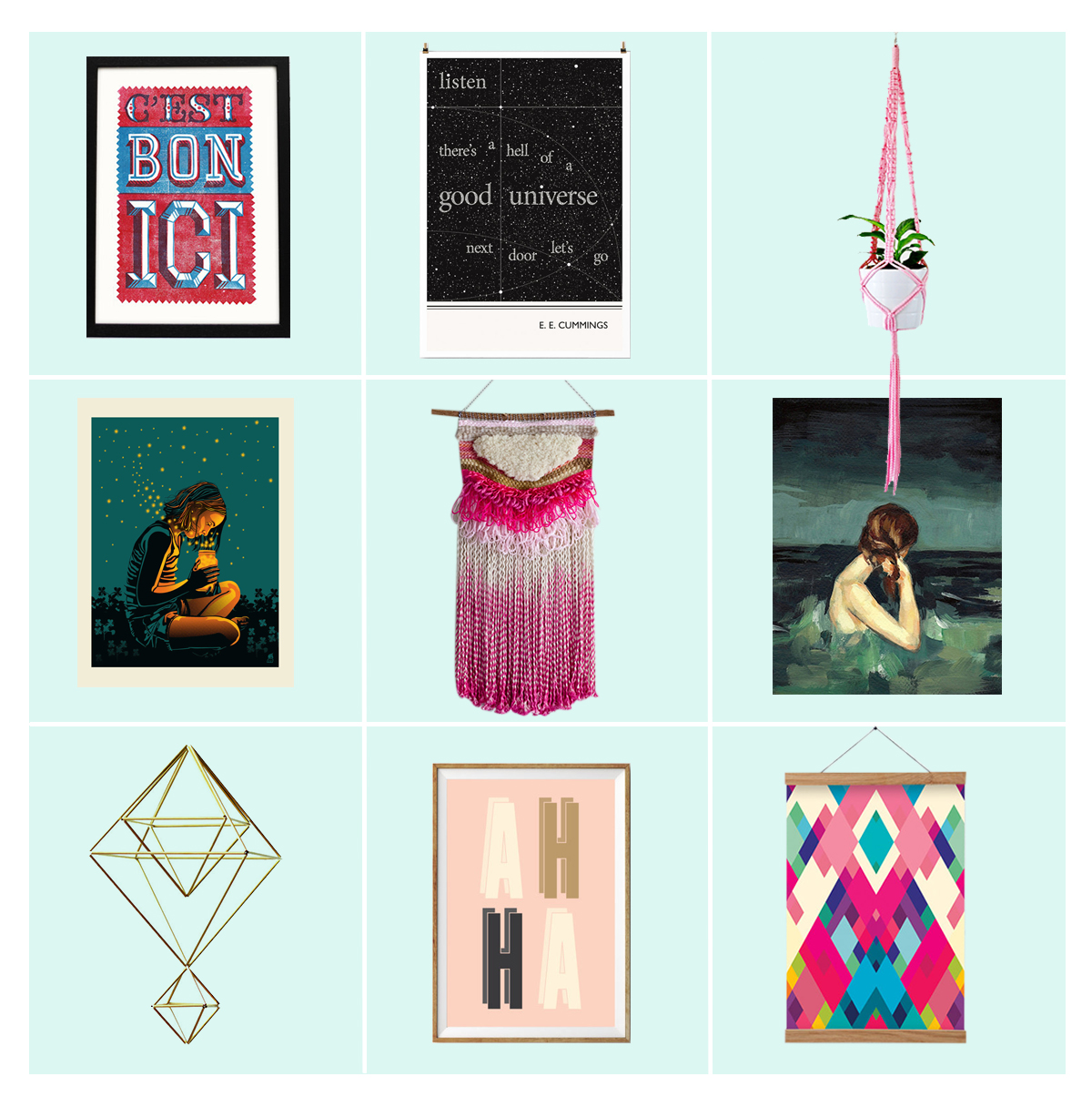 For your friend in Paris who is in art school and setting her own path in the world • C'est Bon Ici
For your literary friend who talks about String Theory when he gets drunk • Literary Quotes e.e. cummings
For your friend who blogs about propogating succulents like it's easy or something • Modern Macrame Hot Pink
For your childhood friend who would take you on family trips every summer • Summer Glowbugs
For your friend who sings like Janis and quotes Bob Dylan • Lovely Rita Wall Hanging
For your mom who always packed a cooler of beer, a good book and a lounge chair to hang out at the beach all day • Married to the Sea
For your colleague who likes to make art installations with her hands in her spare time • Modern Hanging Mobile
For your friend who always turns up the radio when it's her jam • Ah Ha
For your friend who can do an uncanny impersonation of the Kimmy Schmidt theme song • Abstract Diamond Print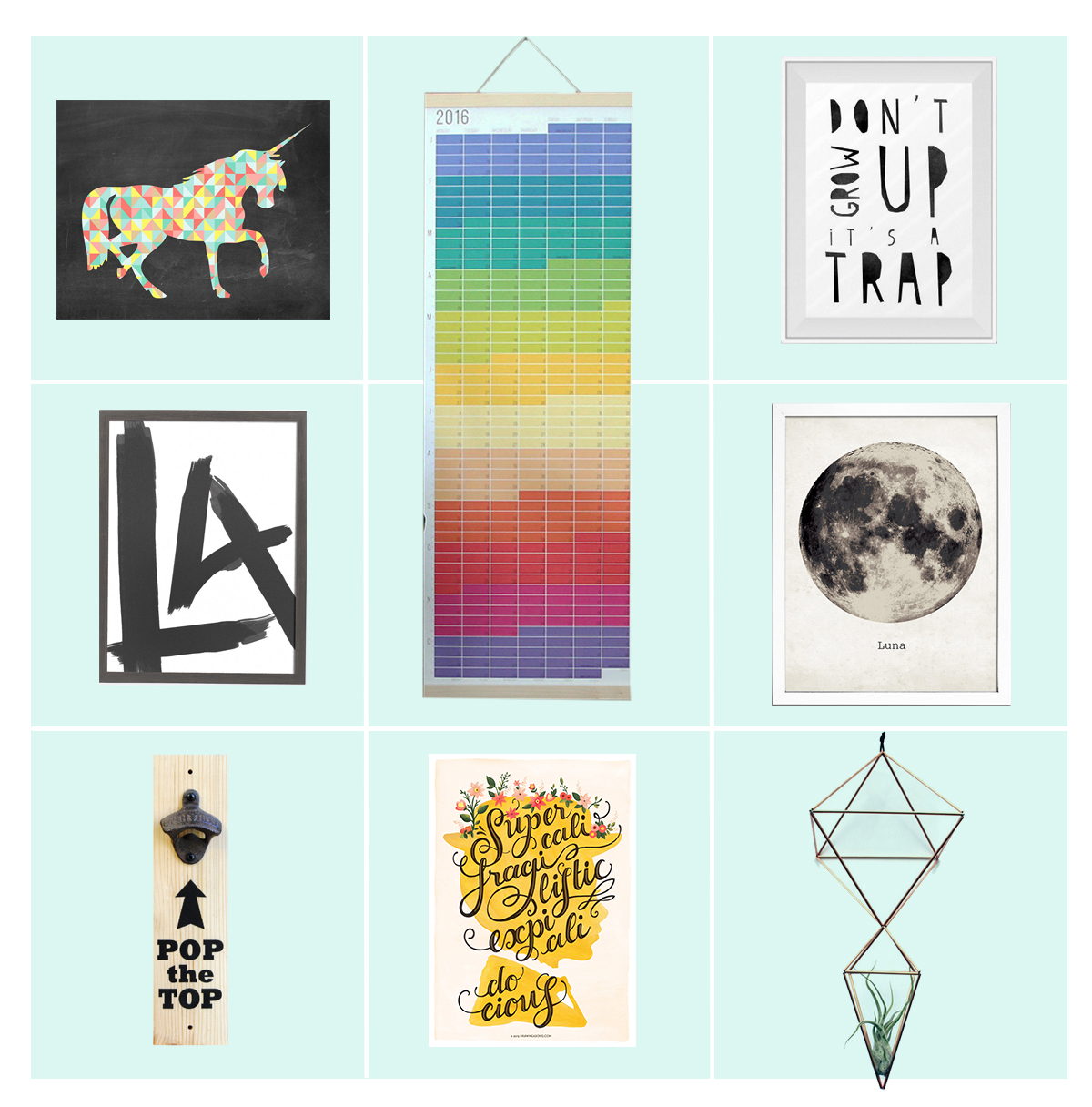 For your daughter who lines up her unicorn dolls and makes them jump between couches • Geometric Unicorn
For your friend who always remembers your birthday even when not tipped off by social media • Rainbow Colors Calendar
For your colleague who has a stuffed animal at her desk and sends you funny cat & dog videos everyday • Don't Grow Up It's a Trap
For your friends who moved to L.A., because they love it here even when they hate it here • L.A. poster
For your book club friend who loved the Lunar Chronicles as much as you did • Giant Moon Poster
For your brother who has a history of good dance moves and arsenal of Def Leppard lyrics • Wall Mounted Bottle Opener
For your friend who is always all smiles and knows exactly how to cure a hangover • Mary Poppins Music Poster
For your sister-in-law who is so bad-ass she pulled a giant rotting tree out of the ground with her bare hands • Hanging Himmeli Air Plant Holder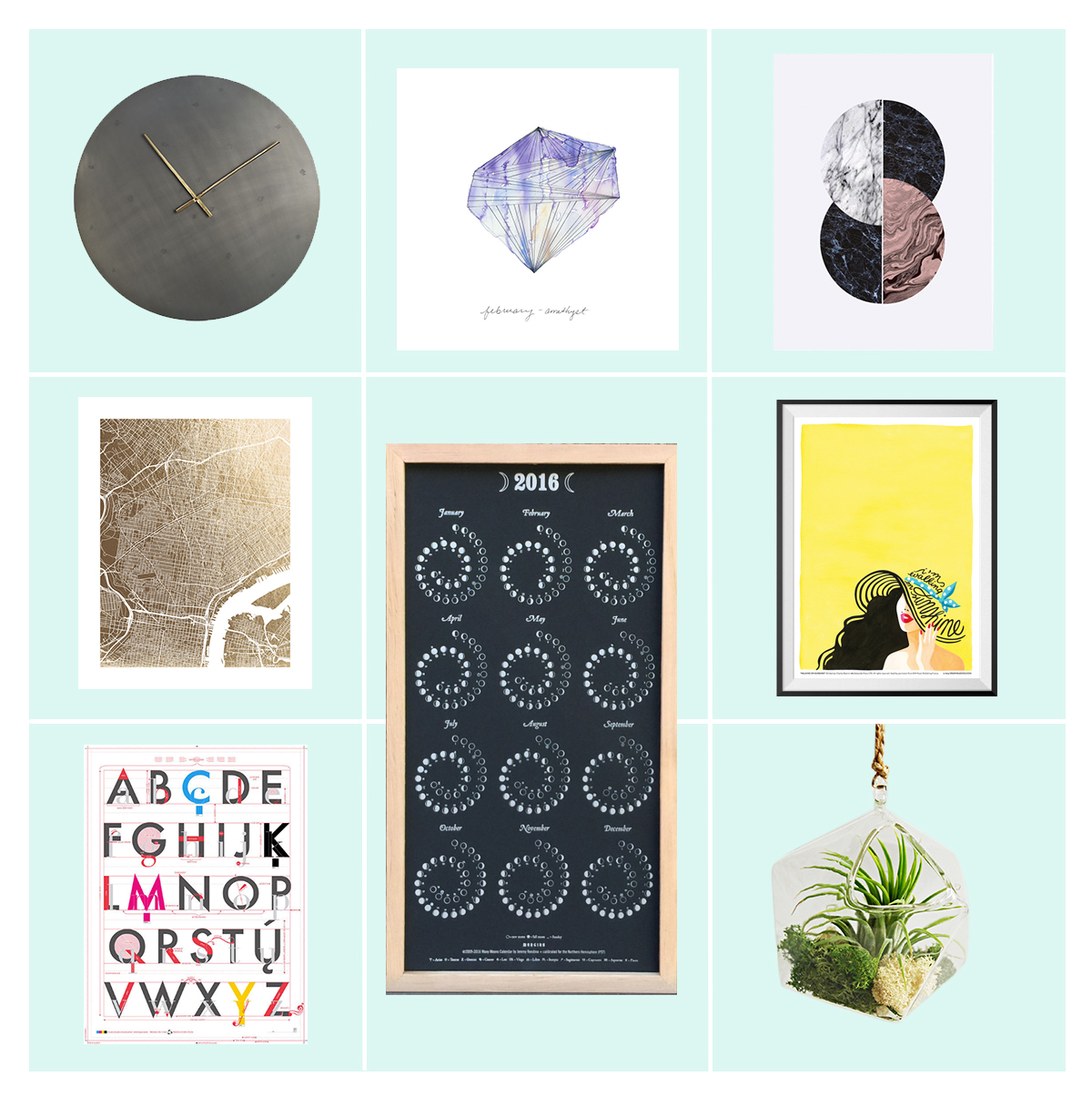 For your boss who appreciates well-designed objects • Iron Circle Wall Clock
For your friend who once mapped out a star chart for her and her boyfriend • Watercolor Horoscope
For your vintage-shopping friend who pretty much wants to live inside a B&W movie • Marble Circle Poster
For your friend who never trusts Waze • Foil Stamped City Map
For your aunt who introduced you to the best Michael J. Fox movie ever • Walking On Sunshine Music Poster
For your design friends, who will find fault in this font, too • Alphabet of Typography
For your sister who swears that everyone drives like morons during a full moon • 2016 Moon Calendar
For your colleague who miraculously kept flowers alive on her desk for an insane amount of time … like, months • Geometric Air Plant Terrarium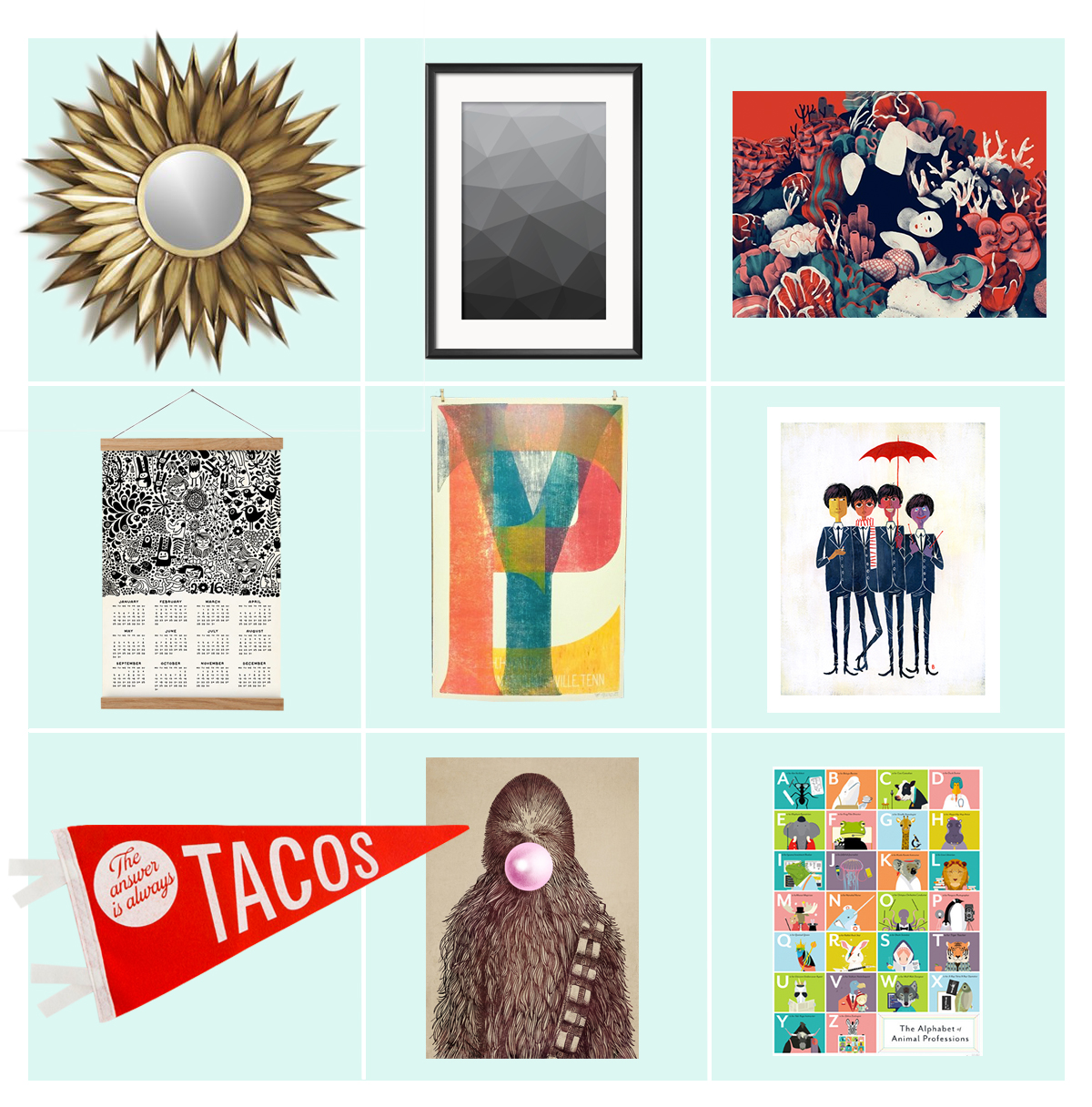 For your stylish friend who always finds the best sales and knows someone who can get you comp tickets to anything • Sunflower Burst Mirror
For your girlfriend who would be super subtle except that her favorite perfume is Poison • Minimal Geometric Print
For your artsy friend who always orders the newest seasonal drink at Starbucks • Coral Beds
For your child's teacher, along with a gift card to somewhere cool • Doodle Wall Calendar
For your bookworm friend who refuses to give up hardbacks for a Kindle • Hatch Show TYPE
For your uncle who taught you how to rock'n'roll when you were a kid • Fab Four
For your friend who always remembers it's Taco Tuesday at the taco truck • The Answer is Always Tacos
For your dad whose Chewie roar is second to none • Big Chew
For your nephew who is on the fast track to be a racecar driver • Alphabet of Animal Professions