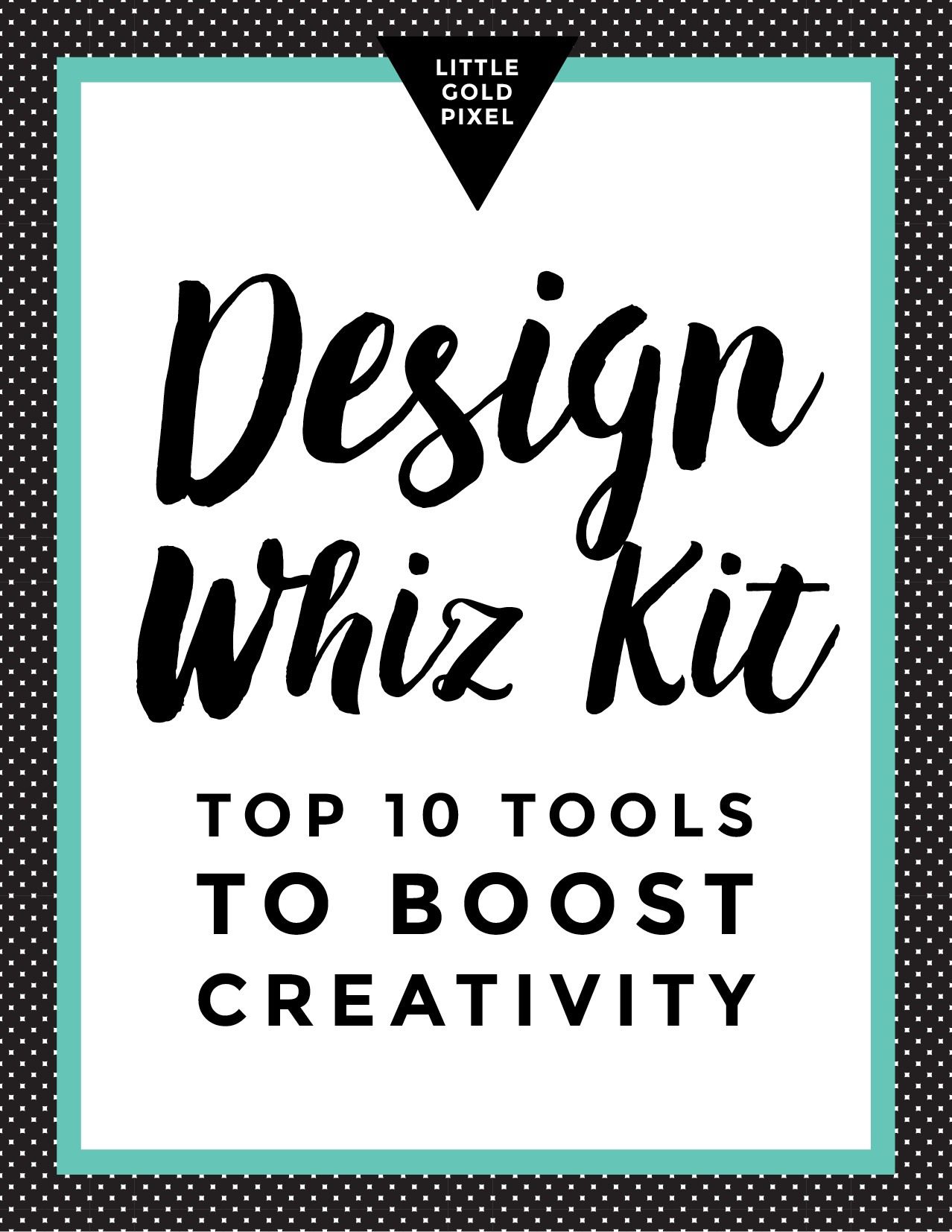 10 Design Tools to Boost Creativity
At least a few times a week, I get emails asking about various stages of my process. I've been responding to these queries as they come in, like a dope, when it occurred to me that hey! I could create a post that answers everyone's questions at once.
So here we go.
I've been saving up my replies for a few months, and finally came up with a top 10 list of design tools/software I use on an everyday basis.
The best part?
I've included a mix of paid services/software and free resources. You have everything here that you need to start creating your own designs. The key is to just start.

There are a lot of free tools out there, and I might even be able to show you how to use them with good results, but nothing substitutes the trio of
Illustrator
,
Photoshop
and
InDesign
. I use the design holy trinity every single day of my life. You really cannot beat the versatility and adaptability of these programs.
Cost: Plans start at $9.99/mo (for Photoshop alone). I pay $29.99/mo for the entire suite. It's worth every penny.
This is the trick behind most of my handwritten/hand-drawn elements. You can play with brushes to get the exact feel you're going for. I like to
rock it out
, and also to
play it soft
.
Cost: Varies. $200-$400.

From stock photography to fonts to illustrations to brushes, this store cannot be beat. I find it rejuvenating to purchase design elements from time to time. Not only does the purchase support a fellow artist, it's also a catalyst to inspire a new point of view or technique. A new font can break you out of a style rut, for instance.
Cost: Prices are set by seller, but pay attention every Monday for free deals!
4. Watercolors & Paints
Seriously. I sit with my kid and make art. Sometimes it looks good, other times it is trash. Always it is inspiring to make something with my hands. I usually get ideas that I wouldn't normally get otherwise, like
my Holly Jolly Christmas printable
. See also:
watercolors on Instagram
.
Cost: Minimal. You just need an imagination and a willingness to get your hands dirty, literally.

I like to get a little lost pinning stuff that inspires me. Sometimes I will see something with the perfect colors or a saying that I need to re-create. The key here is inspiration. Copying isn't cool. I have a running Google doc with random notes like "Beatles illustration." I look at this doc when I'm feeling blocked. Man, I need to make that Beatles illustration! Someday soon, hopefully! In the meantime, check out these
Beatles lyrics printables
.
Cost: Nothing at all. Well, maybe a few hours down the rabbithole.

Sometimes I want to attempt something I haven't tried before (always challenge yourself!), and to get started I'll search for a tutorial. I can't tell you how many times this has saved me when I want to learn new shortcuts or techniques, especially in Adobe Creative Cloud. There are a million ways to do every little thing — no kidding!
Cost: $Free/YouTube; $Varies/get 3 months for $.99 with this link: Skillshare

This phone app lets me capture shapes out "in the wild" that I can then use as the basis for brushes or vectors. I'm almost as obsessed with this as I am with Snapchat selfie filters. But you don't post a lot of selfies on Snapchat, Vanessa! I know. You're welcome. My phone is full of screenshots, though!
Cost: Free to install; may or may not be costs associated with account (since I'm already an Adobe CC customer, I just sign in).

Besides Creative Market, this is my other favorite shop for grabbing fonts, vectors and brushes. The bundles are always a great deal (you get sooo much for your money). And don't forget to check out the freebies.
Cost: There are freebies. Most other prices vary, depending on whether you buy a la carte or via a bundle. Bundles are usually around $29. Also, check out the $1 section for even more deals.
9. Free Stock Images

I'm not the best sketch artist — unless I have a digital brush and eraser. My quick trick? I will search for a free stock image and sketch side by side to make my initial illustrations.
Visual Hunt
is a good one-stop source for this.
Cost: Free.

For personal-use items, I have a great resource guide on the blog that I update often. Bookmark accordingly!
Cost: Free — both the list AND the resources, a win-win.
Get the printable/clickable guide!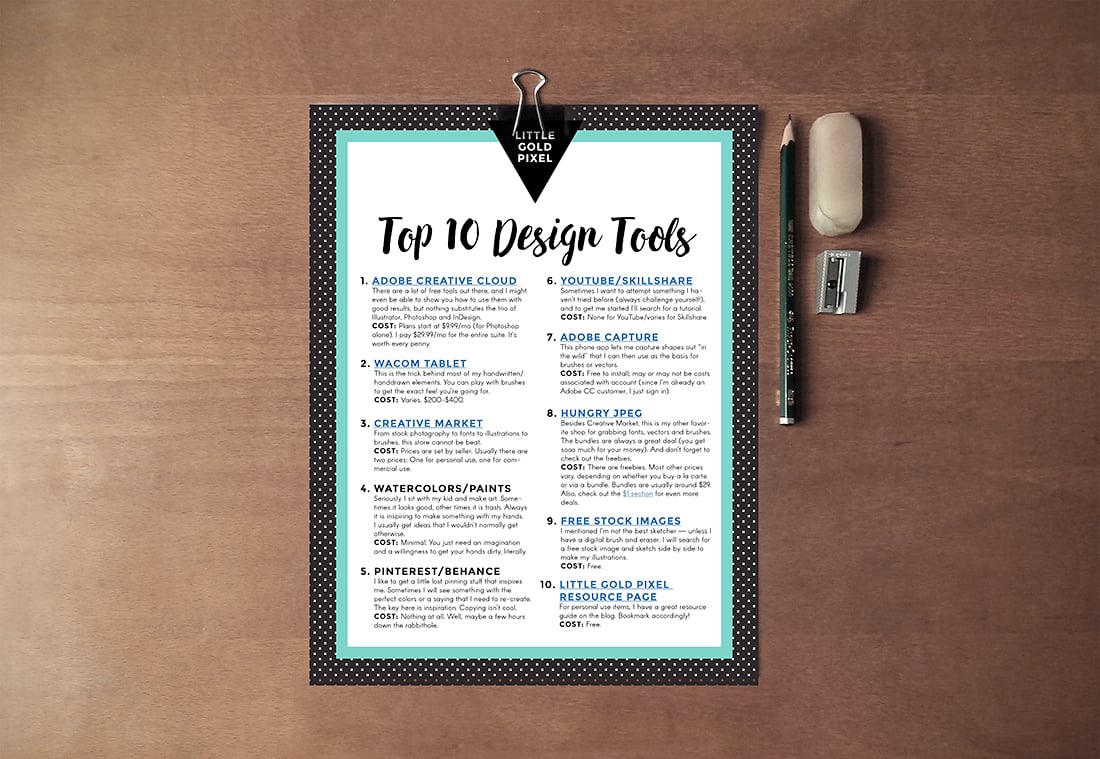 ---
THE FINE PRINT: This post may contain affiliate links. I may receive a small commission should you purchase something. I would never send you somewhere that didn't have awesome stuff, rest assured! And thank you for supporting Little Gold Pixel.