Guys, I want to tell you a little about the rabbit hole I fell down when I Googled "presents for teachers." It was a string of really terrible, tacky DIY stuff. I mean, it's nice when I open up a handmade ornament from my 3-year-old, but would thirtysomethings really deign to give their children's educators something so juvenile? I'd have to check with teachers to be certain, but according to the Internet (super reliable source) it totally happens.
Yes, it's the thought that counts, but surely we can think of something better to make. Even if we're not super crafty people. Even if we're not super crafty people who can't even sew. Yes, I'm holding up my own hand.
I found 10 DIY gifts that I promise will not make anyone cringe or inwardly groan.
(Psst: If even the simplest DIY fails you, you can really never go wrong with chocolate or gift cards or both. Send them to me; I'm good at quality control. Ahem.)
10 DIY Gifts You'll Actually LIKE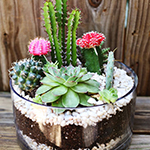 Seriously, this doesn't even need to be so giant and beautiful. A small succulent in a small pot is a really cute and thoughtful gift, and it puts absolutely no pressure on the receiver. What it says: Enjoy this beautiful stress-free thing that requires minimal effort to keep alive.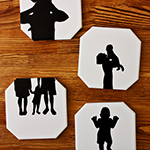 So, this would be perfect to do for someone who loves Instagram and her child(ren)/pet/significant other/you. What it says: I love you enough to stalk you on Instagram, but in a non-creepy way.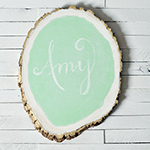 A useful gift that is highly customizable, you can use colors appropriate for anyone in your life. Would be good for a sports fan (think: team colors) or a child's room or for a teacher's classroom. What it says: Everyone likes chalkboards, and even though the Lakers suck right now, here's a Lakers chalkboard so you can keep track of their losses.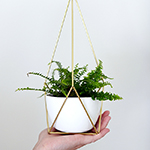 This is one of those retro-hipster items people love to receive because it seems so silly to dole out money to buy one for themselves. What it says: You seem like you like the 1970s just as much as I do!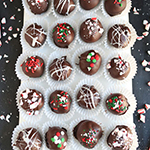 When in doubt, chocolate. Always chocolate. Plus these seem pretty easy to make, always a bonus. What it says: I love you. Chocolate. Nomnomnom.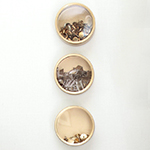 Much like the plant hanger, this is something people use but either don't buy because they seem excessive or excessively ugly. So why not pretty them up and put something inside for an extra treat (Tic-Tacs, thumb tacks, any kind of tacks). What it says: Now you'll never have to search for a tack again.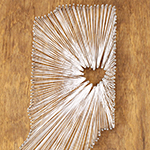 Here in Los Angeles, it's very rare to meet someone who is originally FROM California. A lot of us are transplants who are far from home for the holidays. So this would be good for a friend who is far from home and misses it. What it says: I know your home state is special to you, even if it's just a flyover state to most people.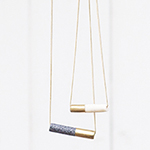 Most women will appreciate an understated, modern necklace. And by most women I mean me. What it says: I think you're modern and stylish, and this will complement you perfectly.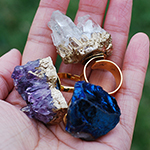 Most women will appreciate a little bling on their ring, even if just for special occasions. What it says: I know you need something flashy for that New Year's Eve party, and I've got you covered.
This DIY dish looks ultra fancy, but it's clay! It's easy to make, and that's my jam. What it says: You need a place to stow that flashy geode ring, and I know just the spot.
What do you think? Would you like to receive any of these gifts? What's your favorite homemade present? 
P.S. You can never go wrong with Christmas cookies.