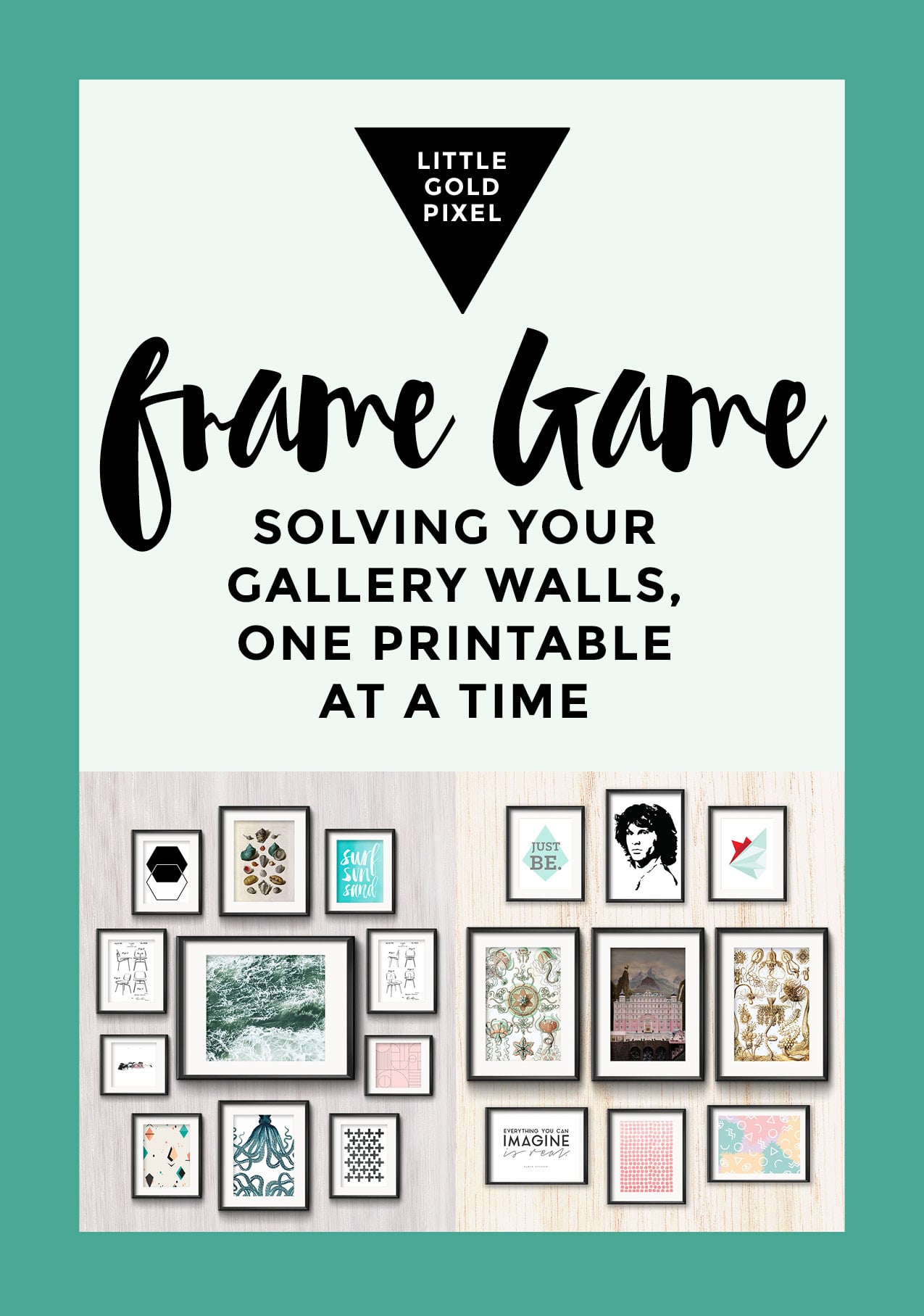 Frame Game is an occasional series in which I take readers' gallery wall requests and find art that fits their personalities. Click here to see past Frame Games.
Today's wall was inspired by Mindi, who is looking for ways to insert some beach vibes and color into her usual neutral industrial-style living room.
In her own words:
"I'm trying to mix beach theme with industrial lol! I love neutral colors with accent colors in like teal and coral. I used to decorated with black everything and I'm trying to get some color in my life."
"I'm trying to get some color in my life."
Some of the specific loves she mentioned were octopuses, retro, beach, the West Coast, The Doors, Grand Budapest Hotel.
California Beach Vibe Gallery Wall, Take 1
Out of all the Frame Games I've done thus far, this one rings closest to home for me. I mean, beach! The Doors! Grand Budapest Hotel! All the cards were aligned for me to harness my unique L.A.-eclectic viewpoint for Mindi's space.
I started with some base geometric/industrial pieces, including a pair of patent drawings for some Eames chairs, so Mindi wouldn't feel so far removed from her beloved style. Then, I kept that color palette simple. If you're not used to decorating with color, a little can go a long way.
This color palette is blue/teal/seafoam/light pink/coral with, of course, a healthy dose of black.
You'll notice that the beach elements aren't as cutesy as the ones I found for the Beachy Keen Frame Game.
The ocean in California is a little deeper, colder and way more turbulent than the East Coast or Gulf Coast and definitely the opposite of my beloved Hawaii. People are always surprised when I say this. "But isn't it sunny all the time in L.A.?" Yes, but no. Several months out of the year you'll encounter a thick marine layer, known as May Gray or June Gloom (today was a perfectly May Gray Day, by the way).
The first time I visited I was disappointed in the ocean here, honestly. But over time I've grown to love it for its very unique flavor. Watch the video for Sweater Weather if you want to catch some of those vibes.
To download these printables, click on the links below the roundup to go to the original download pages.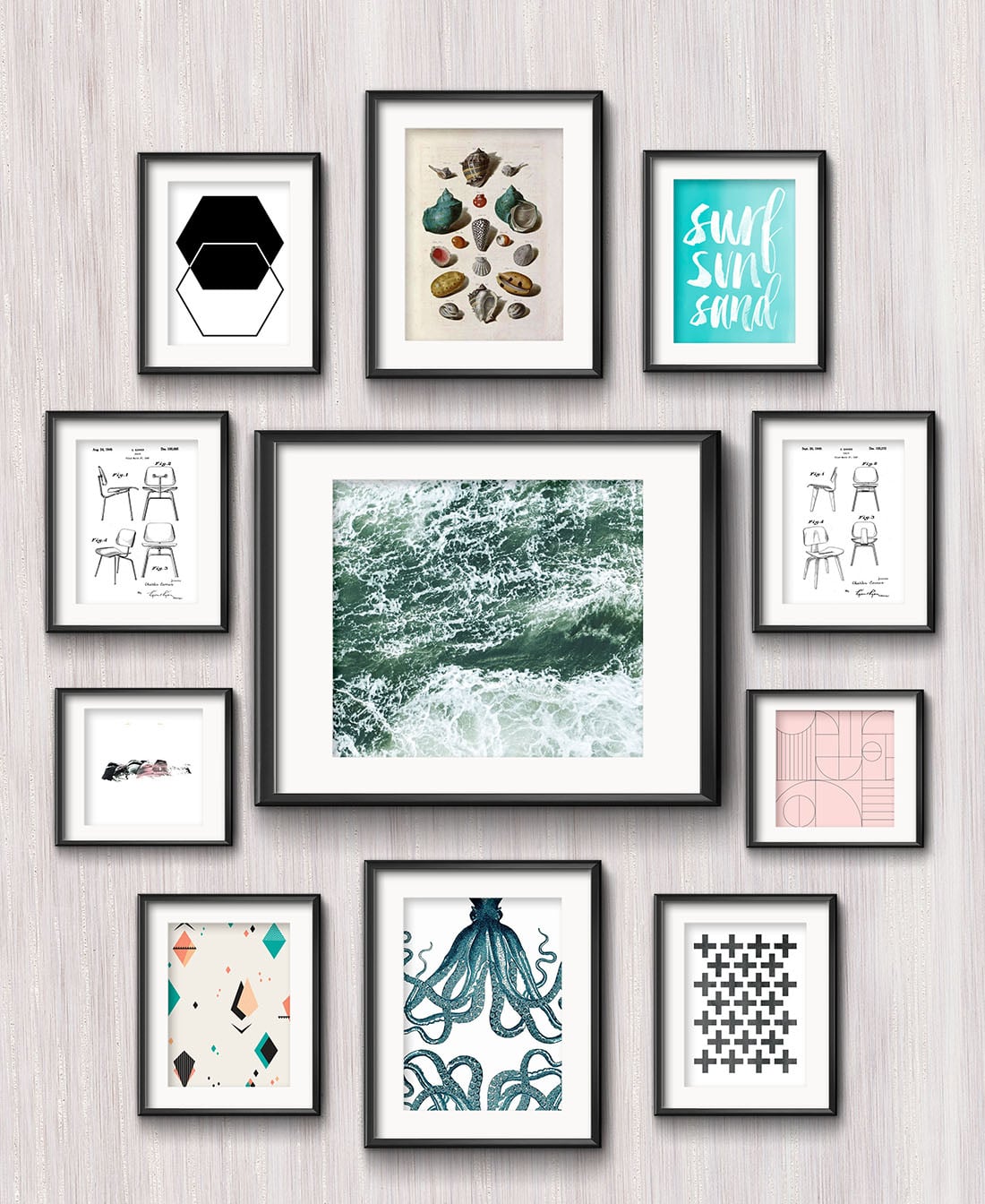 Hexagons • Shells • Surf Sun Sand • Eames, left • Eames, right • Ocean Photo • Colorful Brush • Pink Bauhaus • Diamonds • Octopus • Swiss Crosses
California Beach Vibe Gallery Wall, Take 2
For this second take, I turned to the Lizard King and Wes Anderson.
It would have been wrong not to invoke Jim Morrison for this one, after all he was a proponent for the West Coast, singing "the west is the best" in "The End."
But my favorite part might be those flanking sealife patterns. They look so alien, so bizarre, and yet so pleasing in their patterns. The remind me of the kelp forest I saw in a glass-bottom boat at Catalina. There's some crazy stuff in those depths, my friends. Best not to think about it.
There you have it. Two California beach vibe gallery walls, and not a palm tree in sight! I might have my California card revoked if I don't watch myself.
To download these printables, click on the links below the roundup to go to the original download pages.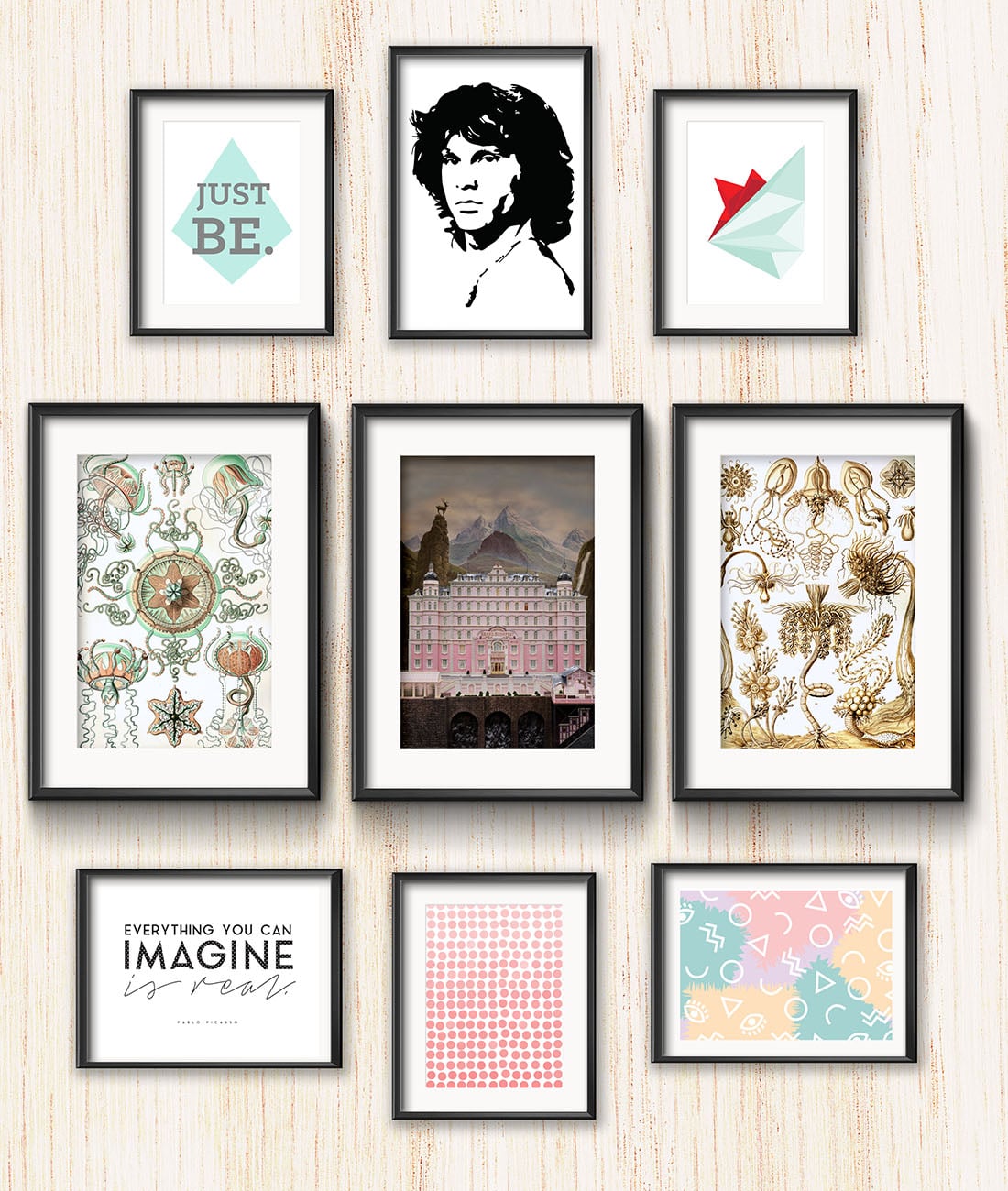 Just Be • Jim Morrison • Diamonds • Sealife patterns (both, + more) • Grand Budapest • Picasso quote • Pink/Coral pattern • Colorful Eyes
If You Wanna Splurge
Sometimes, no matter how long you search for the perfect free printable (hey, it might still be out there!), there comes a time in every curator's life when you simply must pay for good, quality art. Please do. I believe in supporting artists!
This is what I'd buy for Mindi. Two matching retro-inspired beach printables from my shop that say "Surf" and "Swim."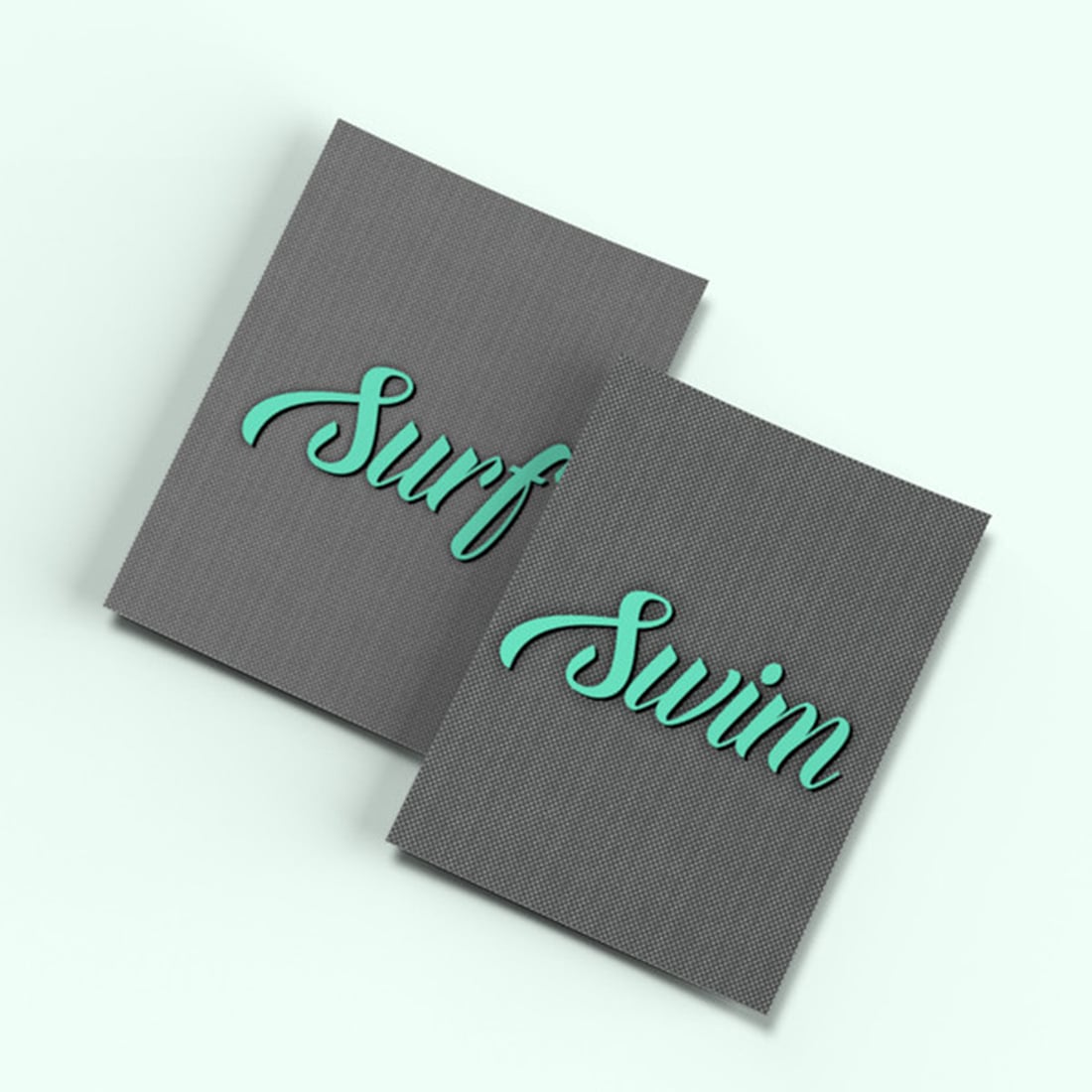 If she wanted a BIG splurge, I'd say go for these West Coast subway art posters. Normally I'd say subway art is a little tired, but in this case they're well-made, and the sentiment is perfect for someone who loves industrial design, too.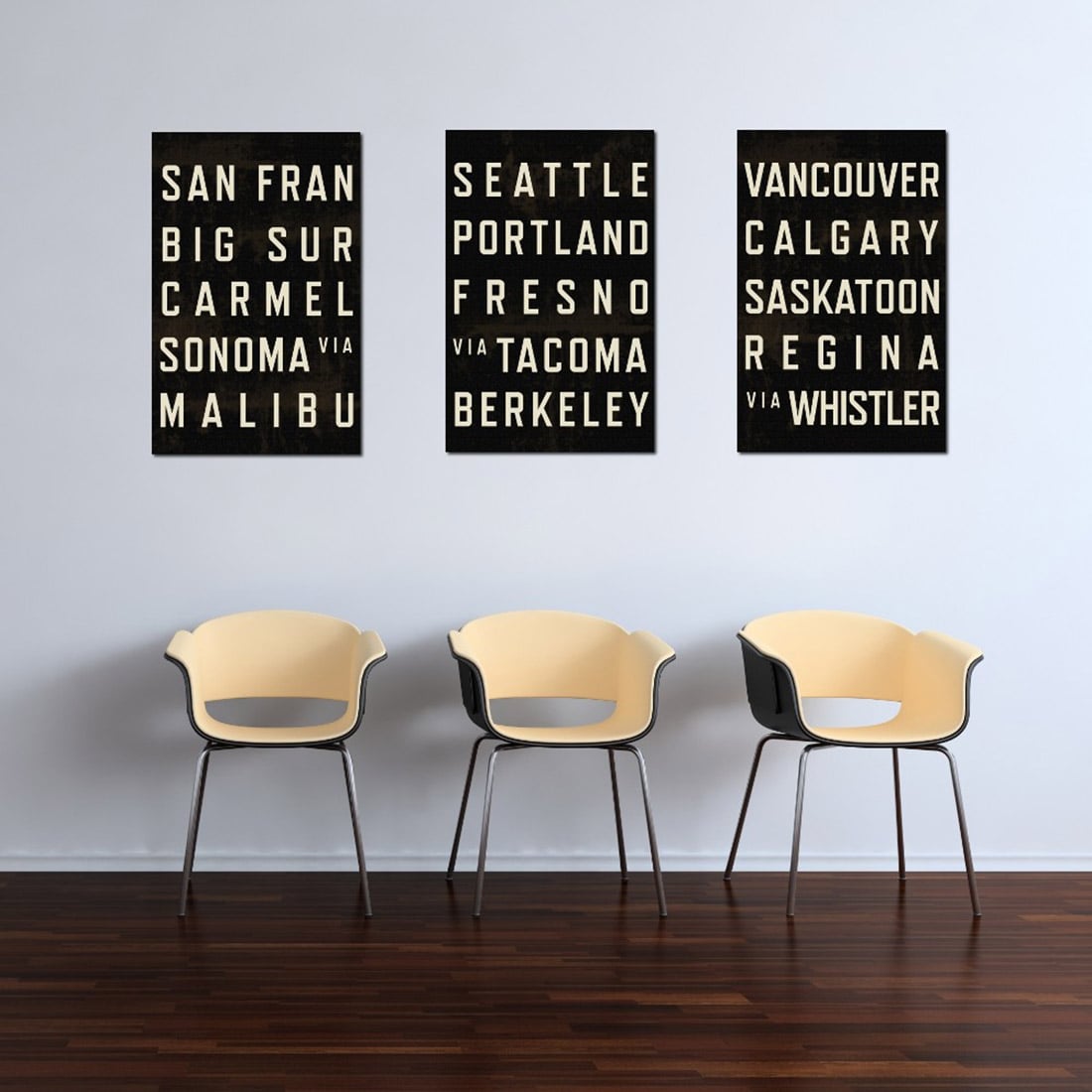 Interested in being featured on the Frame Game?
Sorry, the wait list for the Frame Game is so long that I'm no longer accepting submissions for free gallery walls.
Find out about my gallery wall consultation packages. They're similar to Frame Game but go waaaaay above and beyond, measuring down to the inch and giving you a solid plan for executing your very own, personalized gallery wall.
Check out my packages:
Feel free to contact me for any custom needs.
---
P.S. The frames featured in this post are mockups. Check the individual download pages for details on ideal image size. Want to print something huge but it's sized at 8x10? Consider a larger frame with a mat. (Example here.)
---