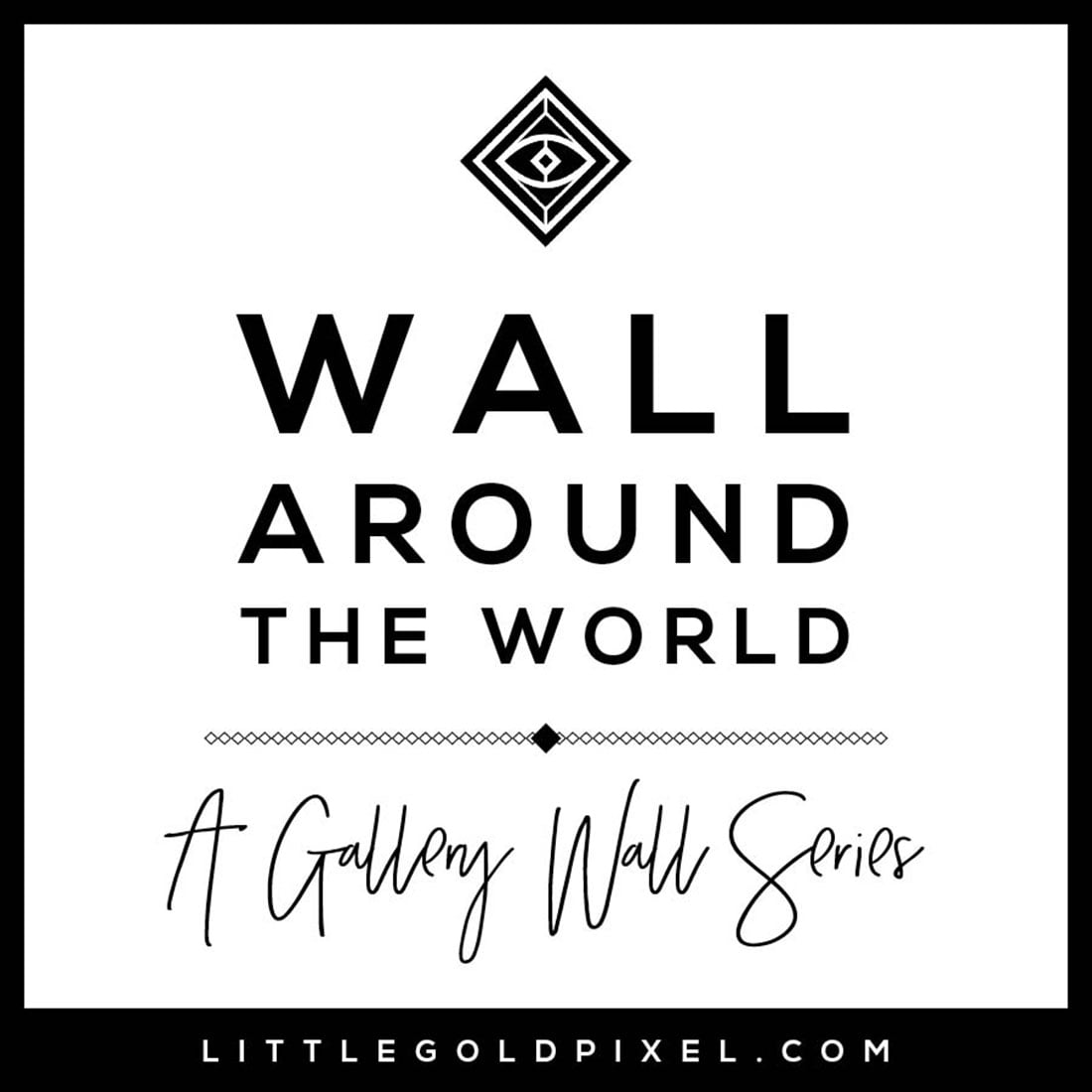 Welcome to the latest installment of the Wall Around the World series, where we go inside the homes of some amazing gallery wall stylists and get the inside scoop on how they choose their art and decor. Check back every Tuesday for the latest virtual tour!
Today's coastal boho gallery walls come from central Florida, where Lilly lives with her husband in their 1970s-era urban oasis.
Here, Lilly shares the secrets to her home style, including her love of the color blue, plants, and how she likes for her decor to tell a story.
On where she lives
I live in Central Florida, Orlando to be exact, in east Orange County.
Close enough to downtown but far enough where you can see deer and raccoons in the wild.
This is not the Orlando you think about as you book your vacation to Disney World. This is real-life suburbia where everyone is rushing through the expressway to get home after work.
I'm lucky enough to live in an established neighborhood tucked between conservation lots. Our own little oasis in the city.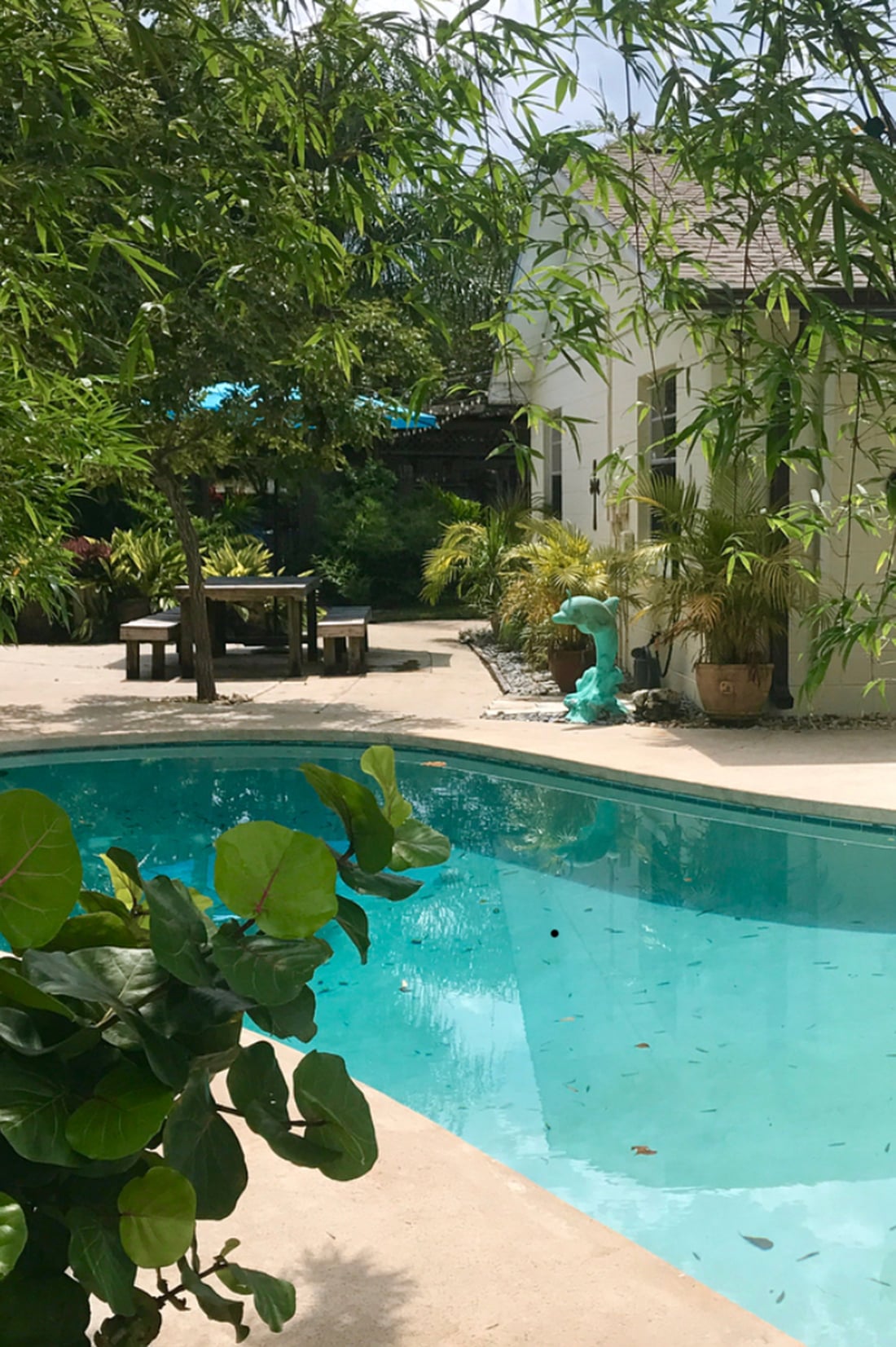 Our house is a single family home that was built in 1978.
It's a classic 1970s Florida ranch. We have been living here for 15 years now.
It's a very comfortable home, more now as we are empty nesters. While it is a decent size home, the features from the '70s are kind of limiting for today's living. The bathrooms and kitchen are tiny. And we have a huge stone fireplace that some people might find beautiful but for me is a waste of valuable wall space. Let's be real, who needs a fireplace in Florida?!!
On the plus side, we have huge windows that bring in so much light. There is ample space in between homes and the backyard is huge. Also, this home came with an in-ground pool, which in Florida is a must!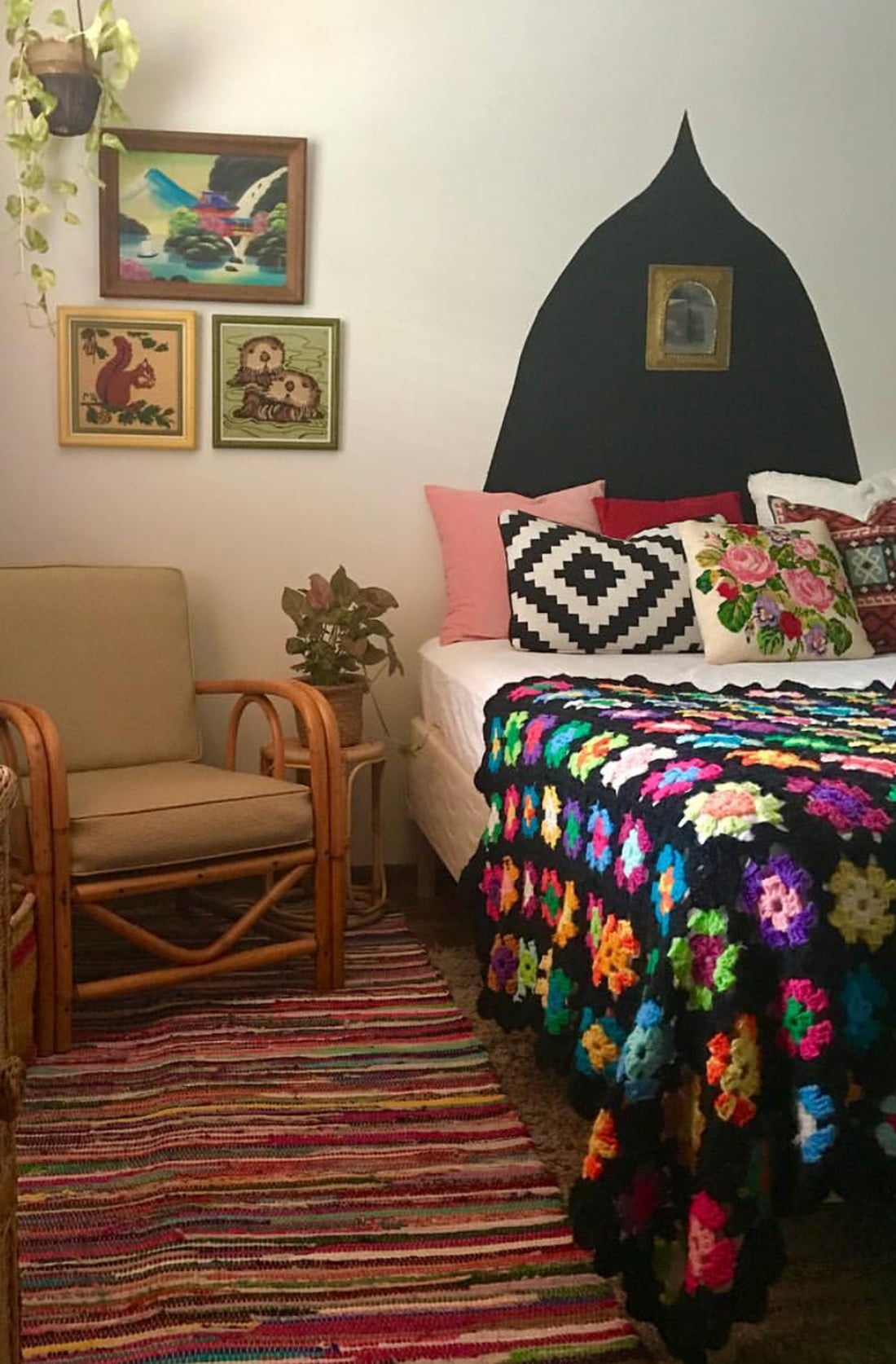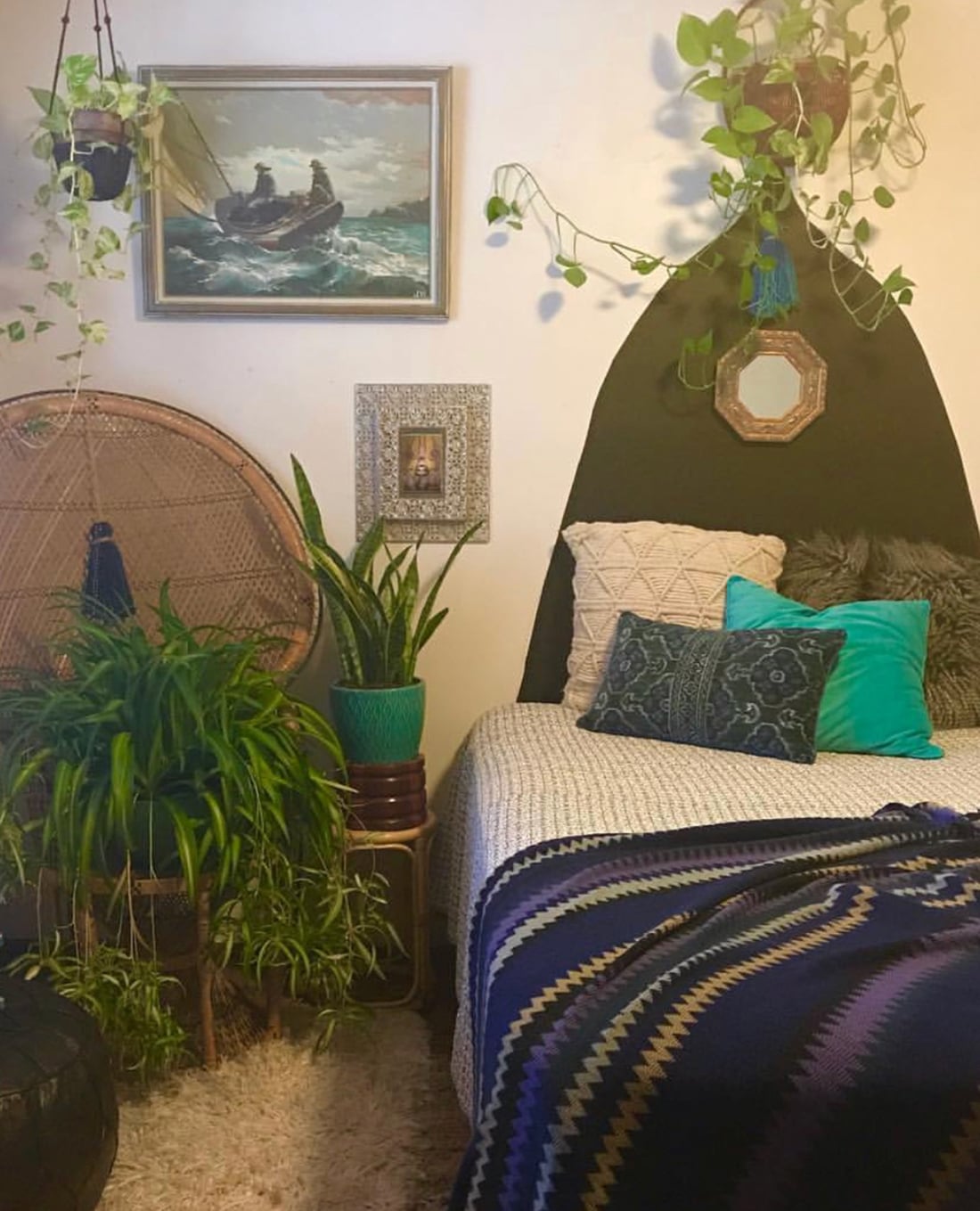 Fantasy house guest: I would love to invite Drew Barrymore. Just because I think she's down to earth and carefree. I would have a pot of Turkish tea infused with flowers ready and we will talk about everything important and relevant and also a bunch of nonsense. I think she would love my decor choices because I always think about that welcoming feeling when you walk through our door.
On her home decor style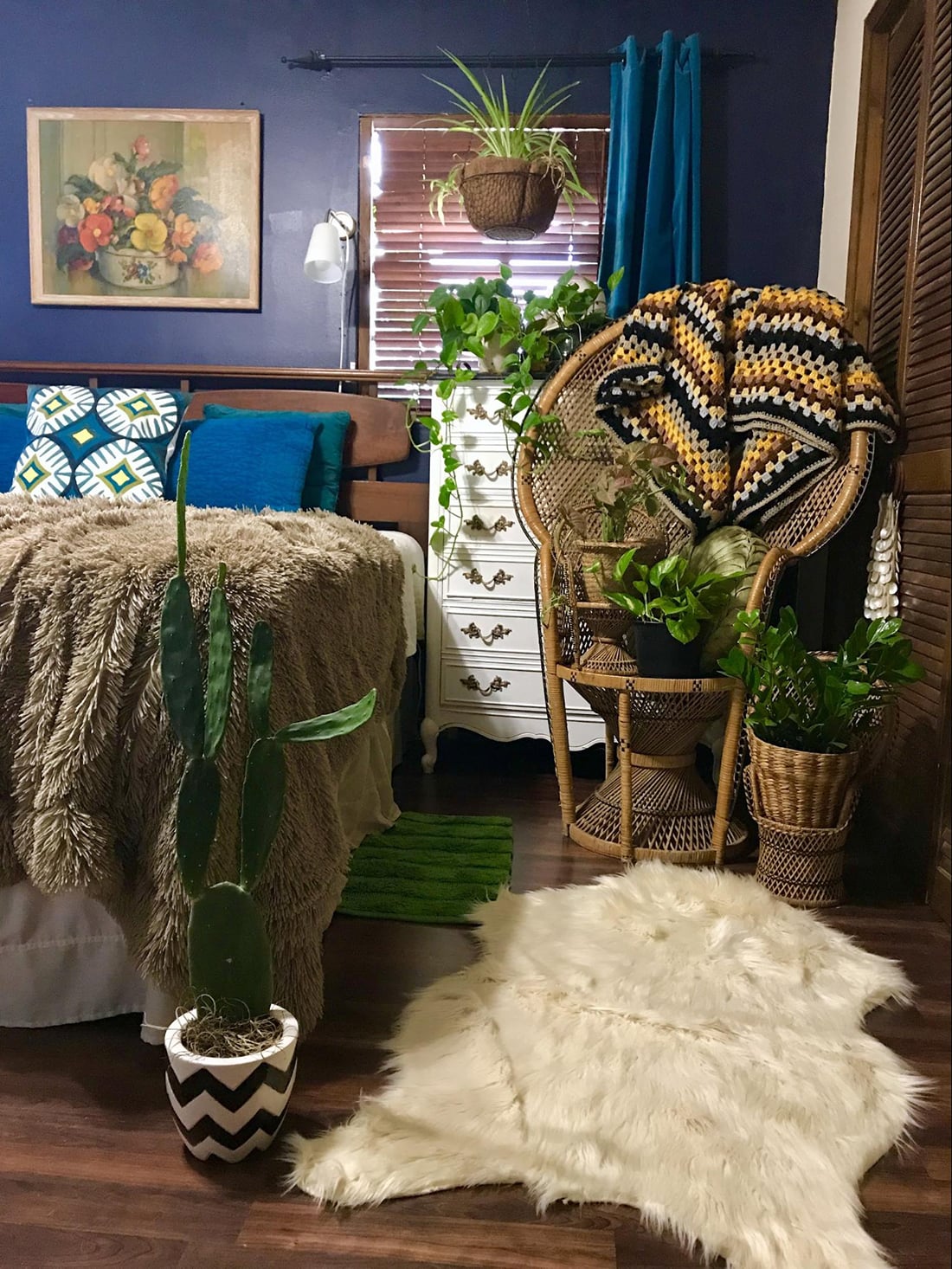 My decor style is definitely bohemian. Eclectic boho with a coastal twist.
I like my home to be welcoming — unassuming but remarkable, full of color and texture.
I'm a wife, mother and creative decor enthusiast. I truly enjoy the process of creating a warm welcoming home from utilitarian objects that have been previously loved. I believe in reusing and recycling. I believe that creativity and imagination are the base for a collected unique place to call your own.
Since early on in life I knew I liked unconventional art, decor, music. I didn't go well with what everyone was doing.
Sometimes you try to tame yourself just to fit in. But I learned from my mother that you just need to do you.
Our parental home was always fabulous, colorful and fun. She used to pair mid-century with rattan, laid a fabulous blue terrazzo floor and every nook was good for a plant. So I inherited her wild heart for unconventional everything-goes style.
On making decor decisions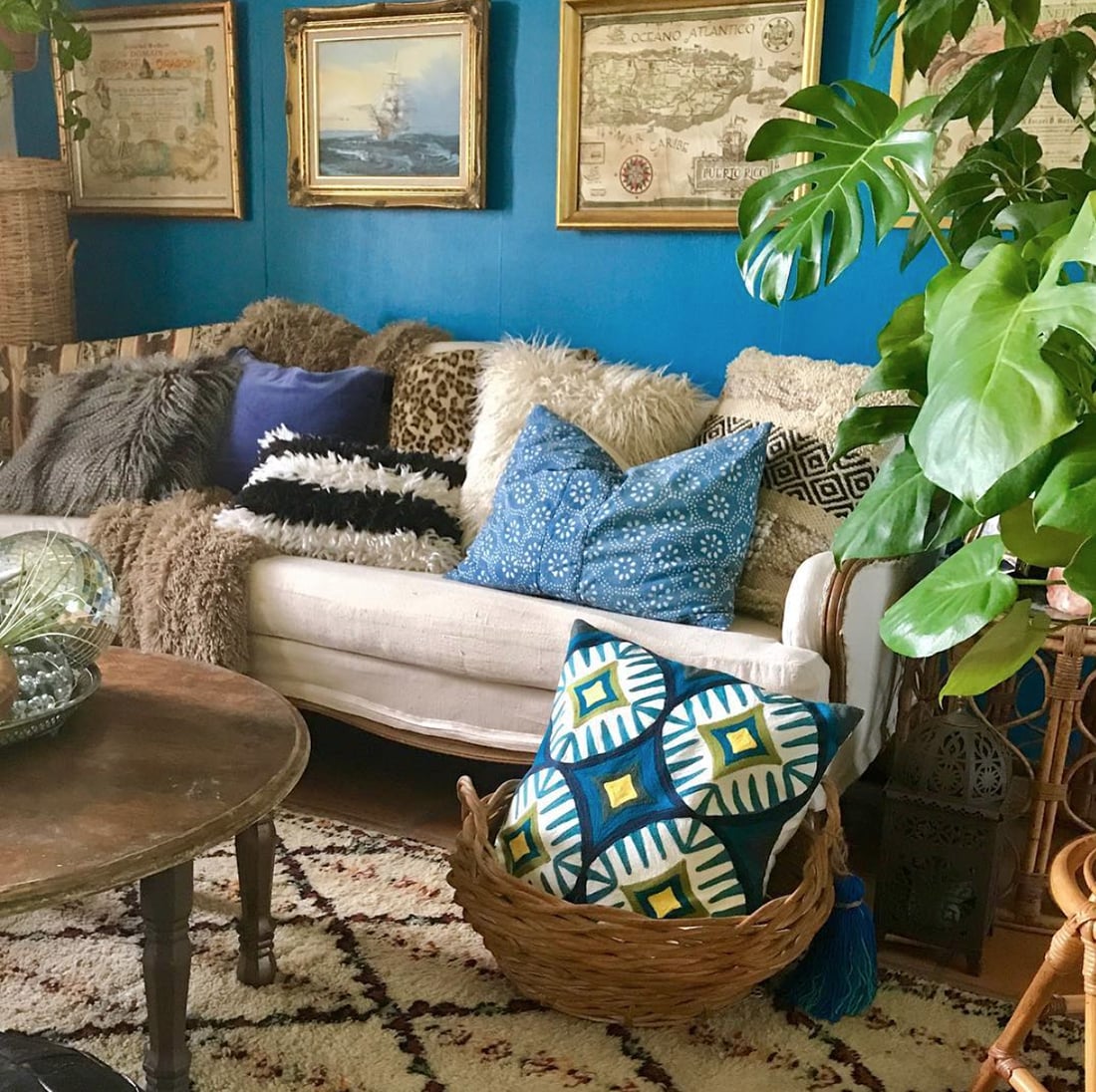 Absolutely love every shade of blue since it reminds me of the sea. I grew up in Puerto Rico where the ocean is part of who we are. I like a fresh, collected, tropical living space.
I've liked an extremely wide range of different styles at different stages of my life and that combined makes my current style very much bohemian. I like thrifting and love to display my finds and also souvenirs from my travels. I like my home to tell a story of who we are as a family. Every object is a tale to tell.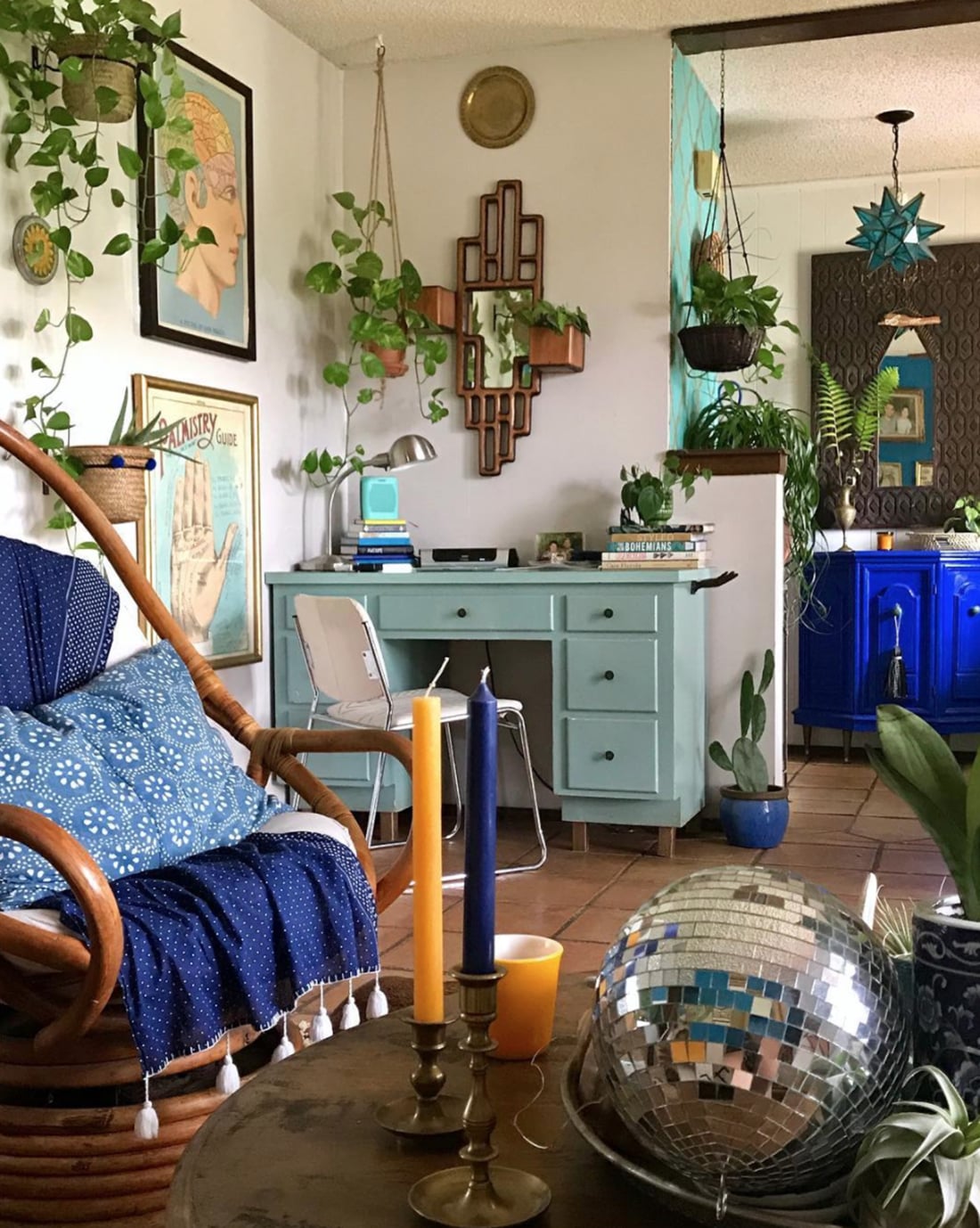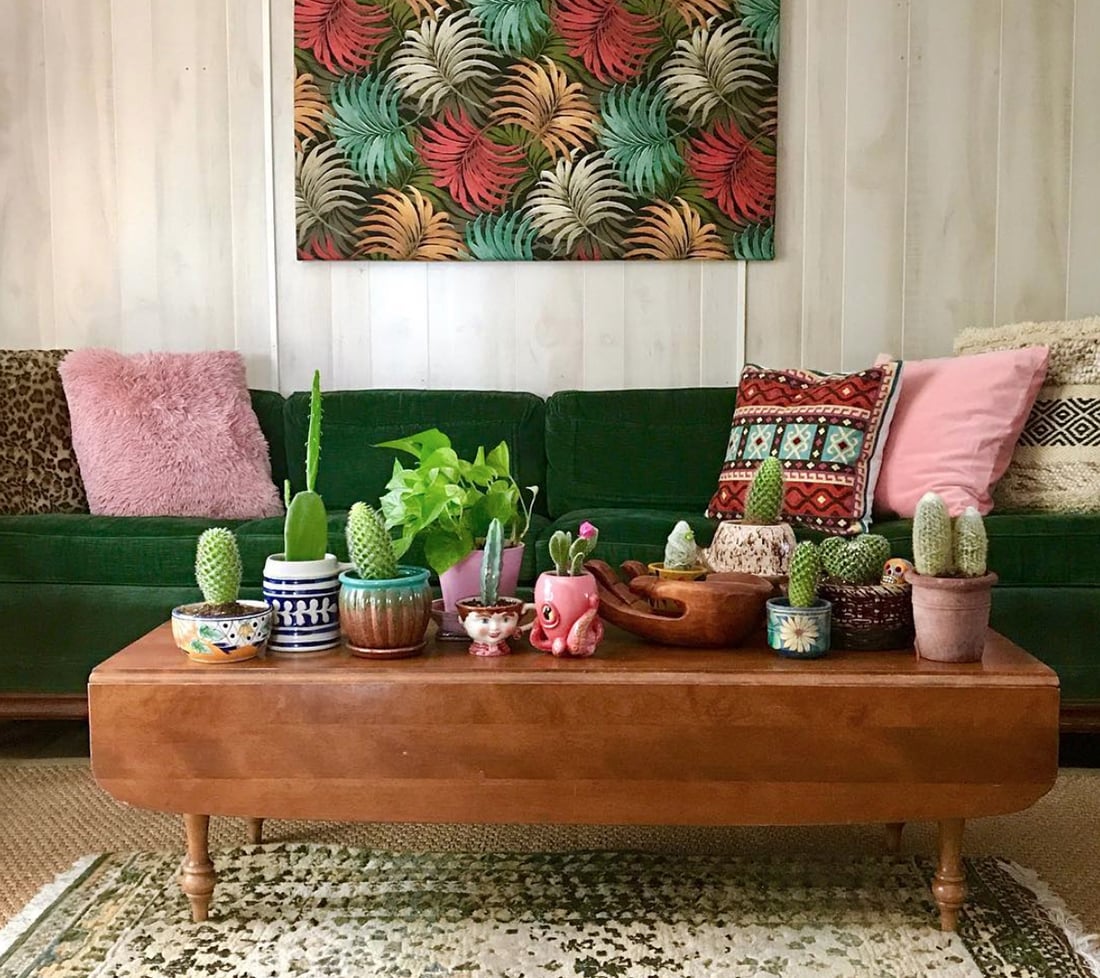 What has constantly stayed is my love for plants. I need them throughout my home. I always gravitate toward green spaces. It's my way of bringing the island feel to me.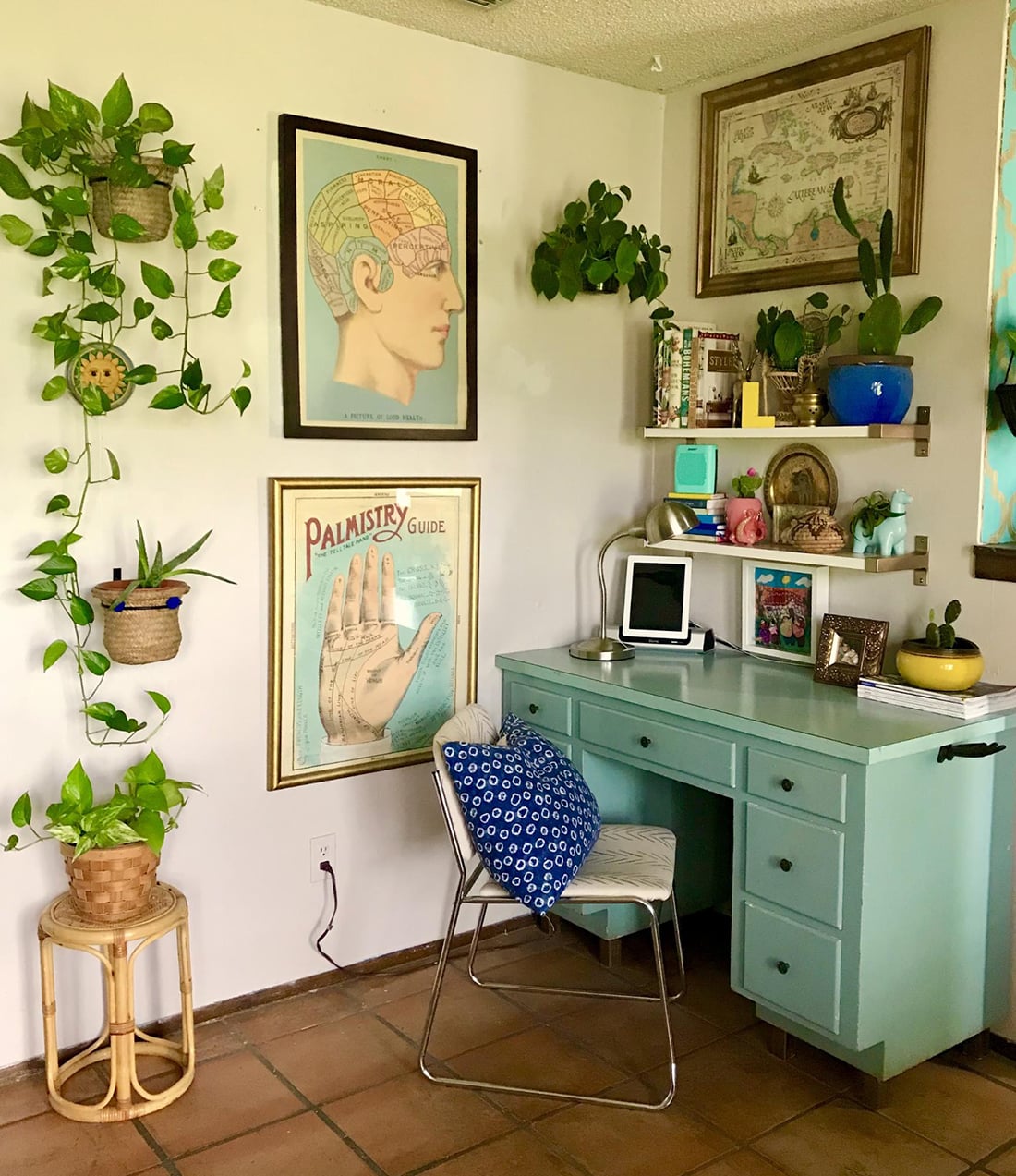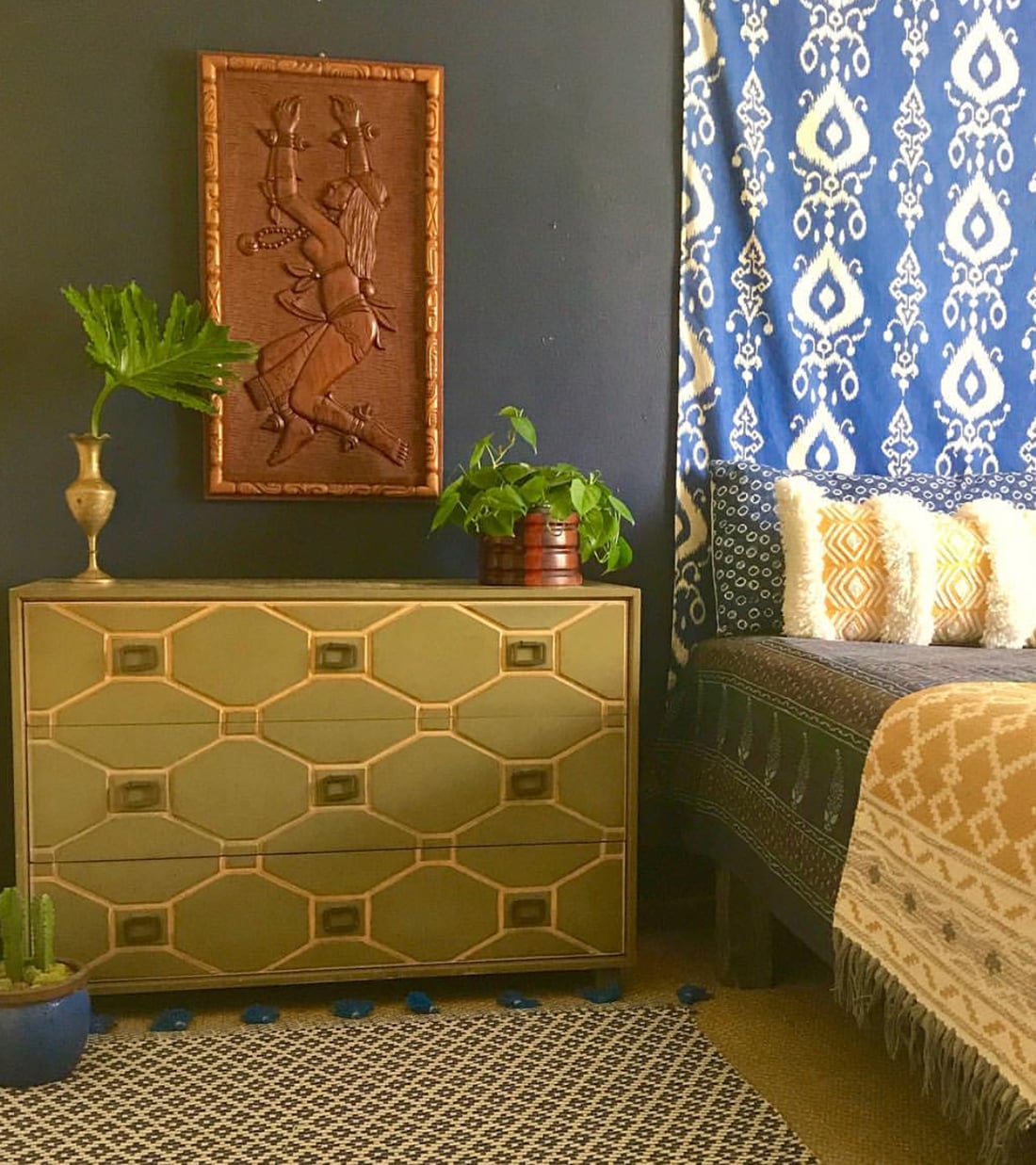 Favorite shops: I prefer to buy decor items at thrift shops and my favorites are my local Goodwill stores. Also love HomeGoods and Target because of their variety. Art supply shops are always a fantastic source of different one of a kind items.
Finding inspiration: I'm sure I don't talk for just myself when I say I absolutely love Justina Blakeney, because how can you not?? She makes decor magical with color and texture. But I also love my fellow decor enthusiasts in Instagram. They're the most amazing decor community and it's where I get so much inspiration from.
On the gallery wall process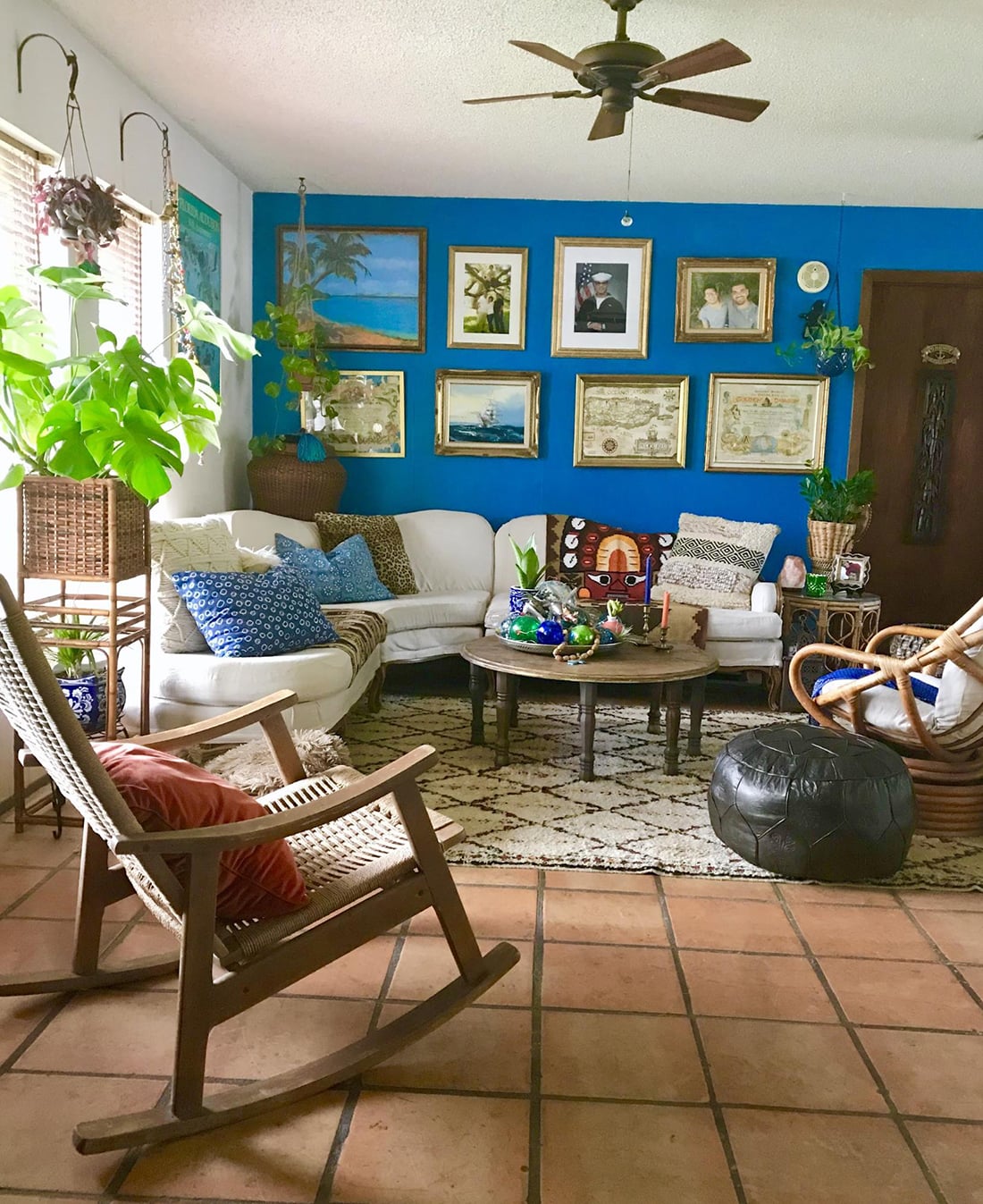 Gallery walls are one of my favorite things to do.
My gallery walls almost always start with a family picture. But my favorite, the blue wall, started with my husband's naval WestPac's certificates. Following the theme, I added a kitschy beach scene I found at a thrift shop. Then my youngest boy joined the Navy, so I proudly displayed his boot-camp portrait.
The rest of the gallery was completed with a reproduction of a vintage nautical map of Puerto Rico and an ocean scene. So there is a story going on. If I find an interesting piece later on I'll swap the art.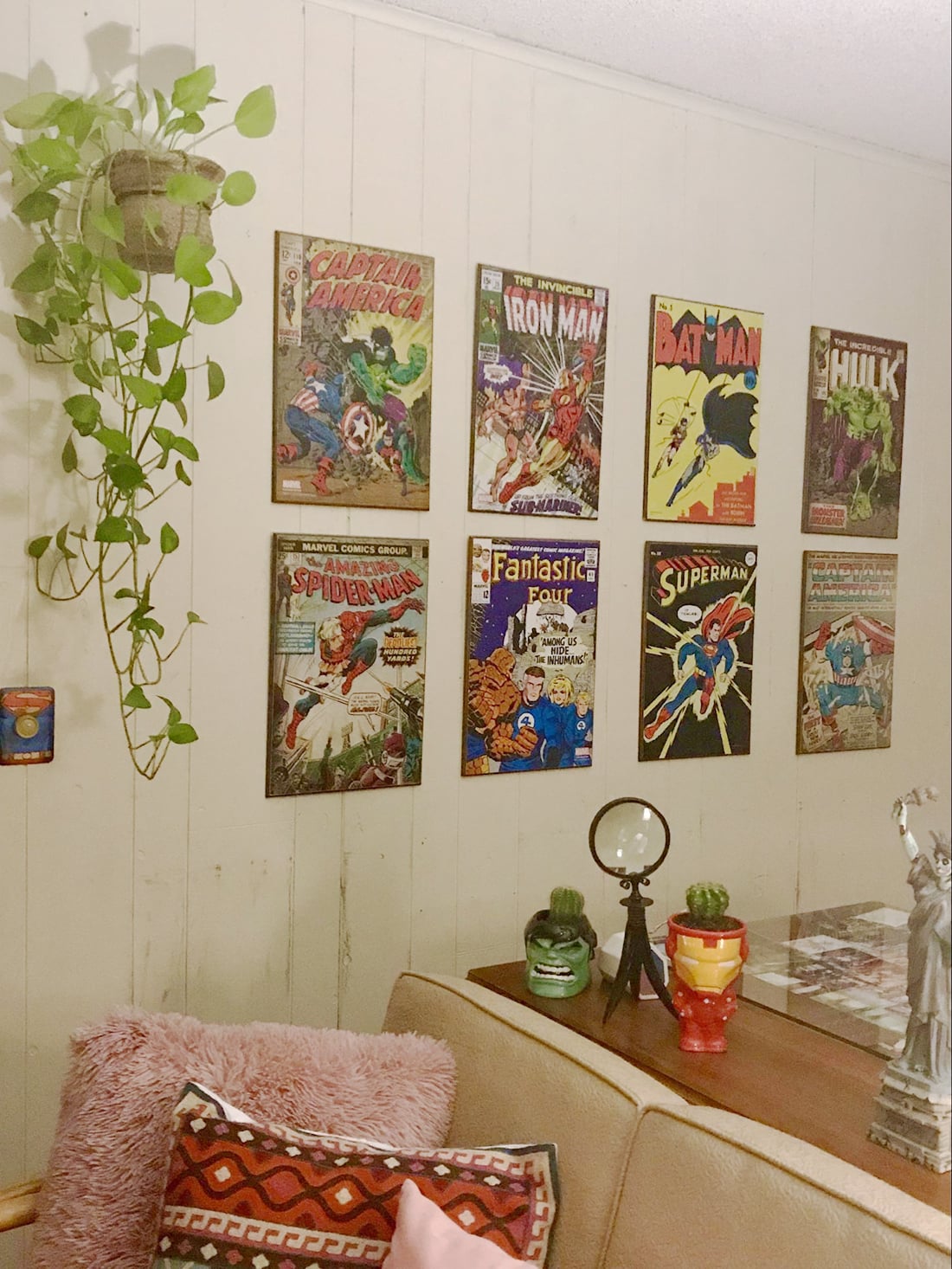 Another wall displays a collection of vintage comic book covers art. This one is part of my husband's office space. He's an avid vintage comic book collector.
Gallery wall advice: Take your time to collect pieces that you really, really love. Those pieces will become your trademark. I try to stay away from trends as they won't last long and the look get tired and overused quickly. As much as I love some trends, I always work with more versatile pieces that have a lasting impression and work in different rooms.
On her favorite wall art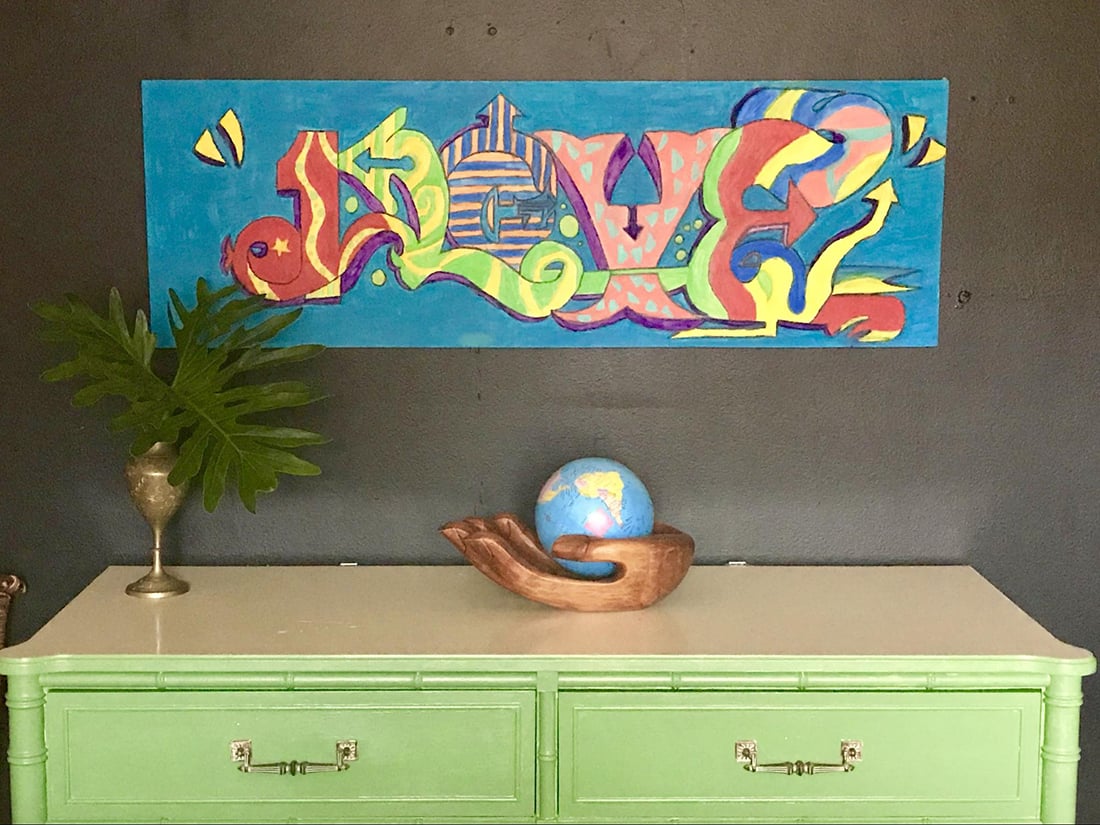 One Love: My oldest son, who happens to be a graphic designer, made this piece early on during his college training. He's a color loving, free spirited man. The colors and the message brings me joy.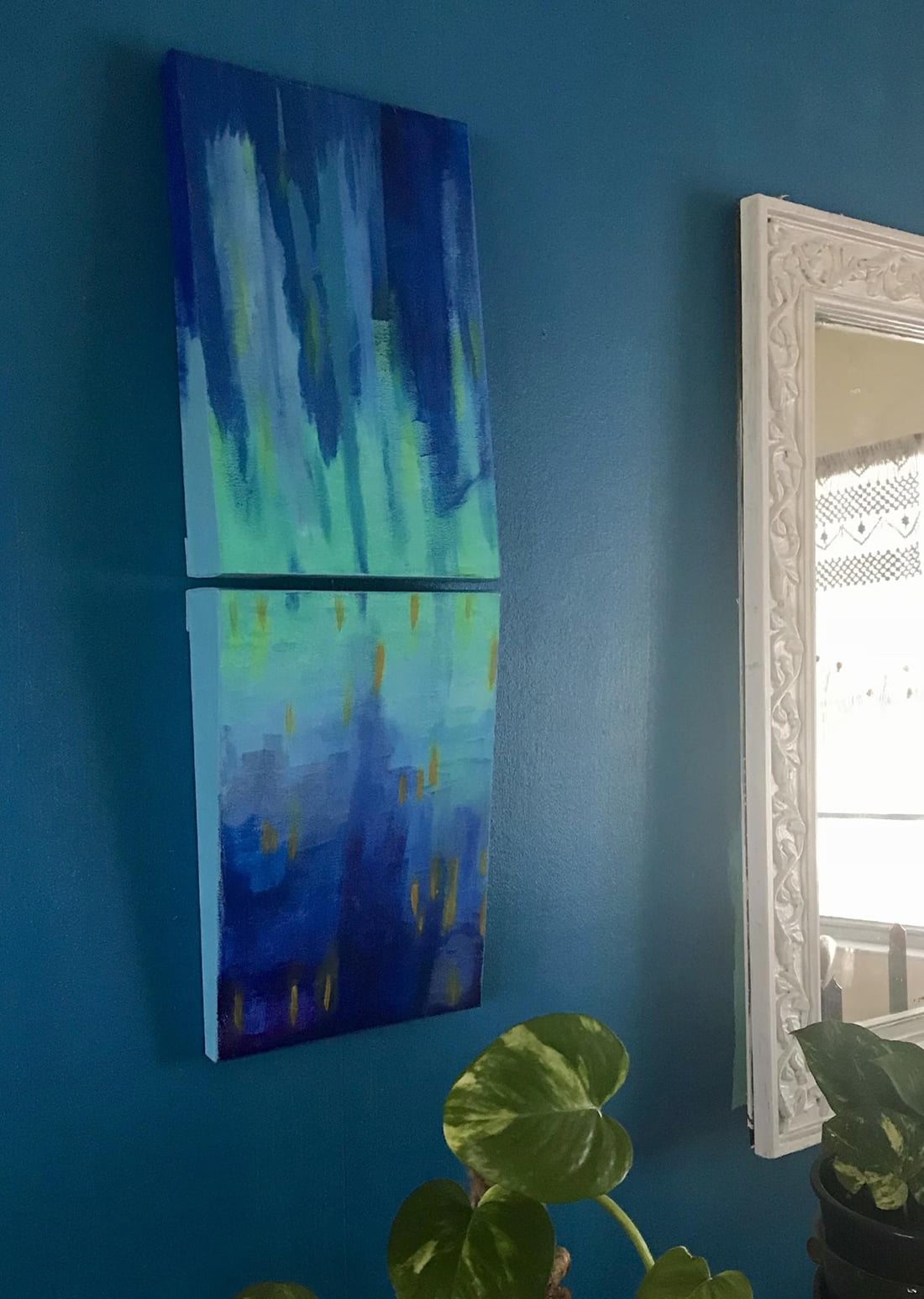 Blue Abstract: Another piece made by my son. I asked him for some art for my living room as a gift for Mother's Day. He came up with this two piece acrylic on canvas with the perfect colors for my blue space. I waited a long time for it since he didn't give it to me on Mother's Day. But it was recently that I found the inscription in the back; "Shoutout to my mom (the most awesome), for providing the genetic creativity to make all this possible. I love you"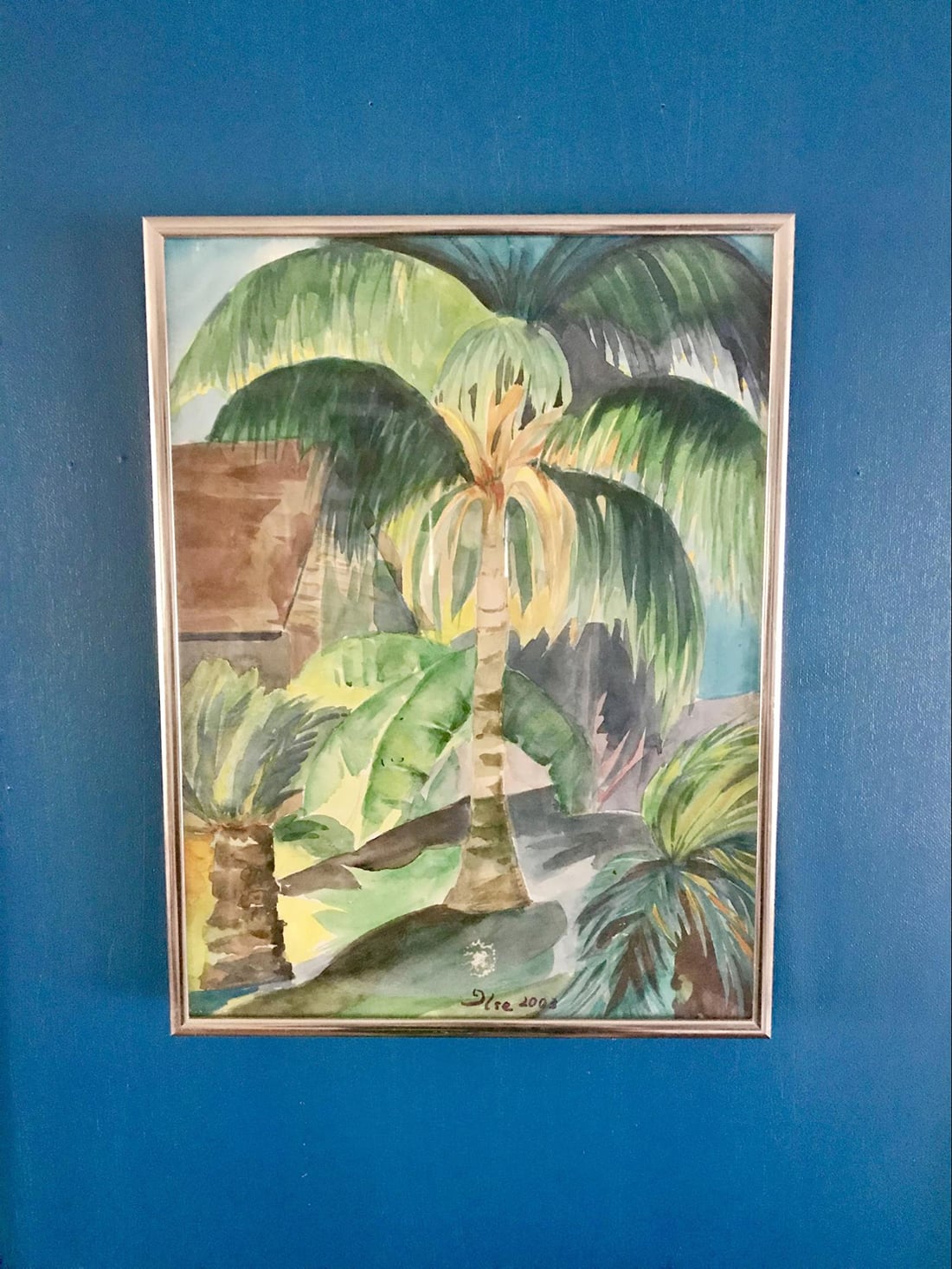 Island Palms Watercolor: This watercolor has been with me for over 20 years. I found it at a thrift shop and the colors attracted me. The shades are my forever favorites and to think a stranger painted this to ultimately be in my home, is something to cherish.
---
You can find Lilly posting her awesome interiors on Instagram: @lillithortiz.
---
P.S. Read previous Wall Around the World posts.
Bookmark Coastal Boho Gallery Walls for later: