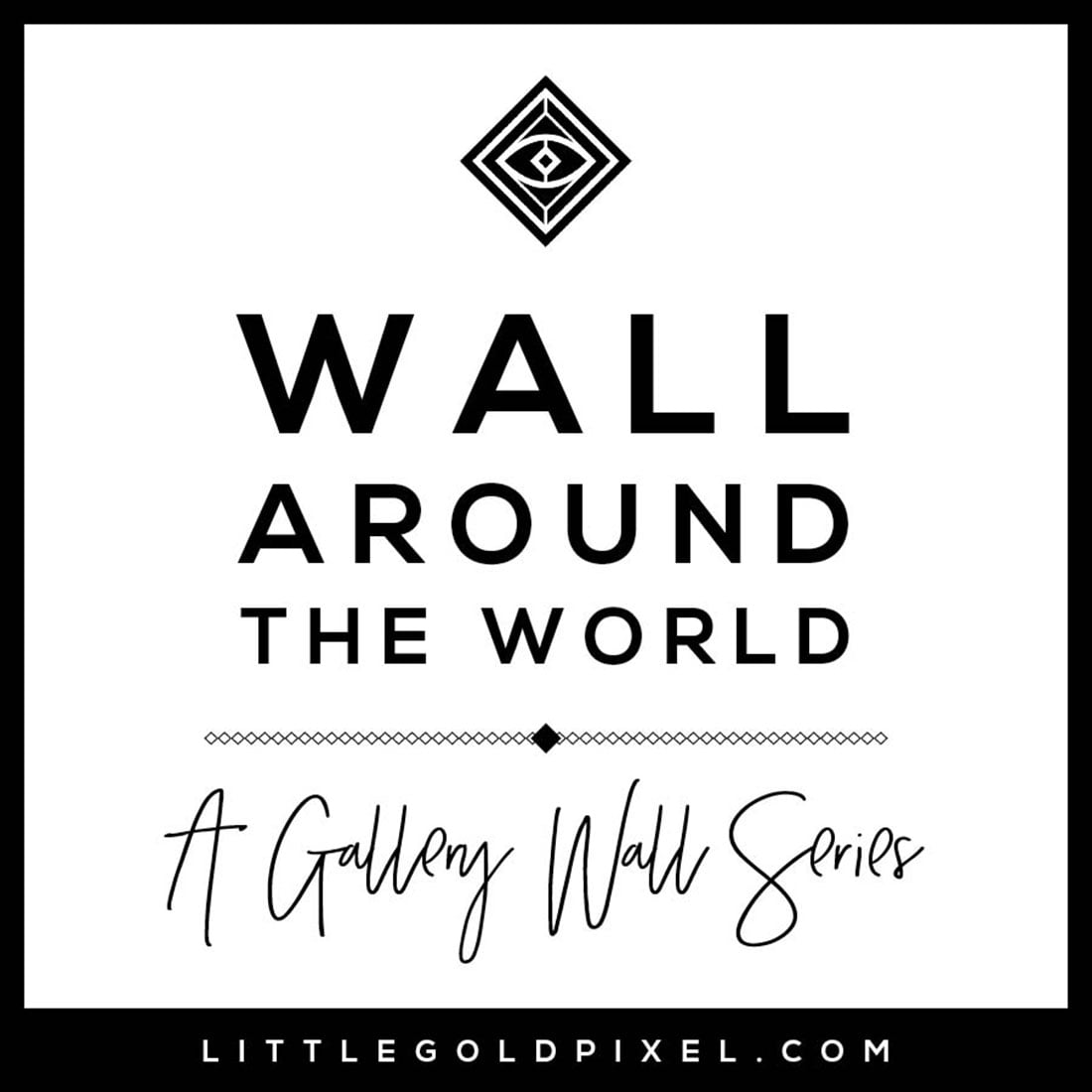 Welcome to the third installment of the Wall Around the World series, where we go inside the homes of some amazing gallery wall stylists and get the inside scoop on how they choose their art and decor. Check back every Tuesday for the latest virtual tour!
Today's wall comes from Pennsylvania, where Erin lives in Pittsburgh with her husband.
Here, Erin shares the secrets to her home style, including her affinity for unexpected glam and the importance of decorating with pieces that have personal meaning.
On where she lives
I live in Pittsburgh, Pennsylvania, in a neighborhood called Shadyside.
It is a really neat area with tons of beautiful old Victorian homes, lots of trees and there are tons of great shops, bars and restaurants within walking distance.
I moved here from Manhattan, so it was a nice transition to live somewhere I could actually have trees and yards around, yet still have a little of the hustle and bustle and walk-ability of places close by that I was used to.
I have lived in this apartment since January, but I have lived in the building for 3 years.
The building is a converted 100-year-old hotel, so there are amazing architectural details — tons of windows, unique moldings and beautiful original hardwood floors — throughout.
The most frustrating limitation aside from size (which is to be expected with city living, though!) is the plaster walls.
I love to hang art, obviously, and it is always such a hassle to hang things properly.
Fantasy house guest: I have to say chatting with Taylor Swift about dating would not be boring. Regardless of what people think of her, if any girl says they have not found a single one of her songs relatable, they are lying. I imagine she would probably say my style was "funky."
On her contemporary eclectic style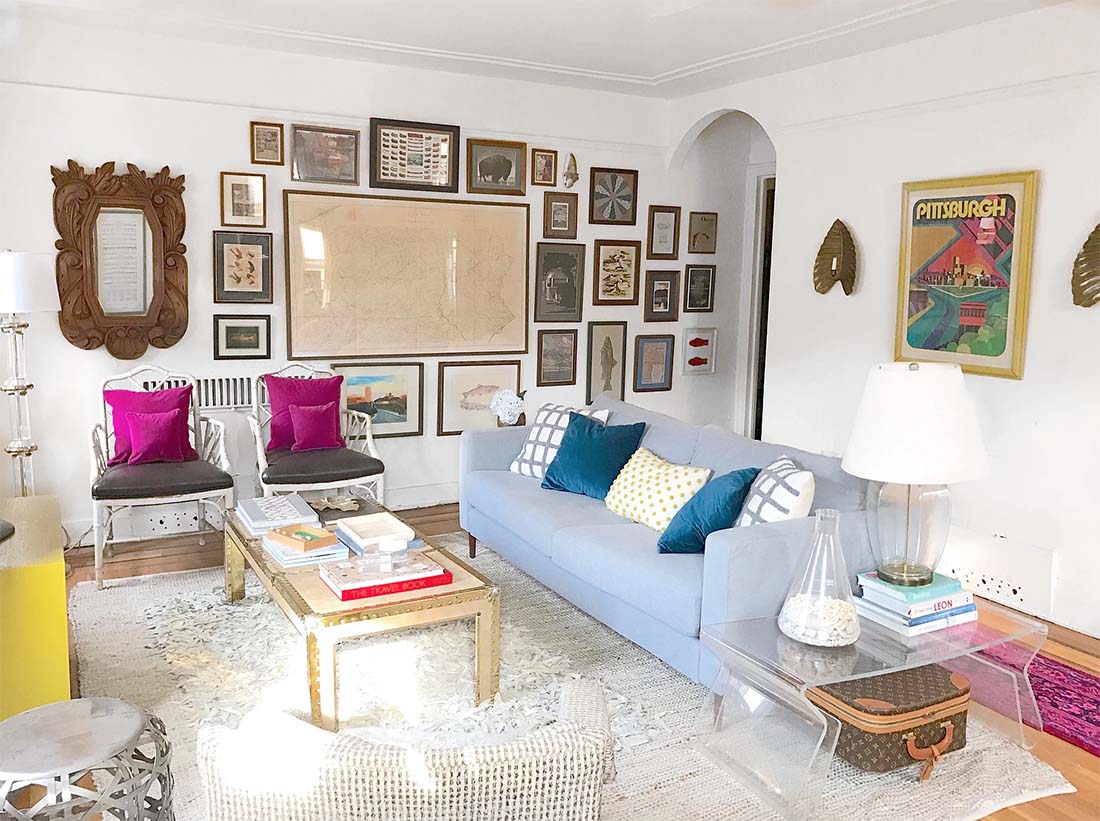 I think "contemporary eclectic" is the best way to describe it.
It is unexpected and usually unconventional.
The room becomes a conversation piece, and I enjoy having stories behind the items I surround myself with.
On making decor decisions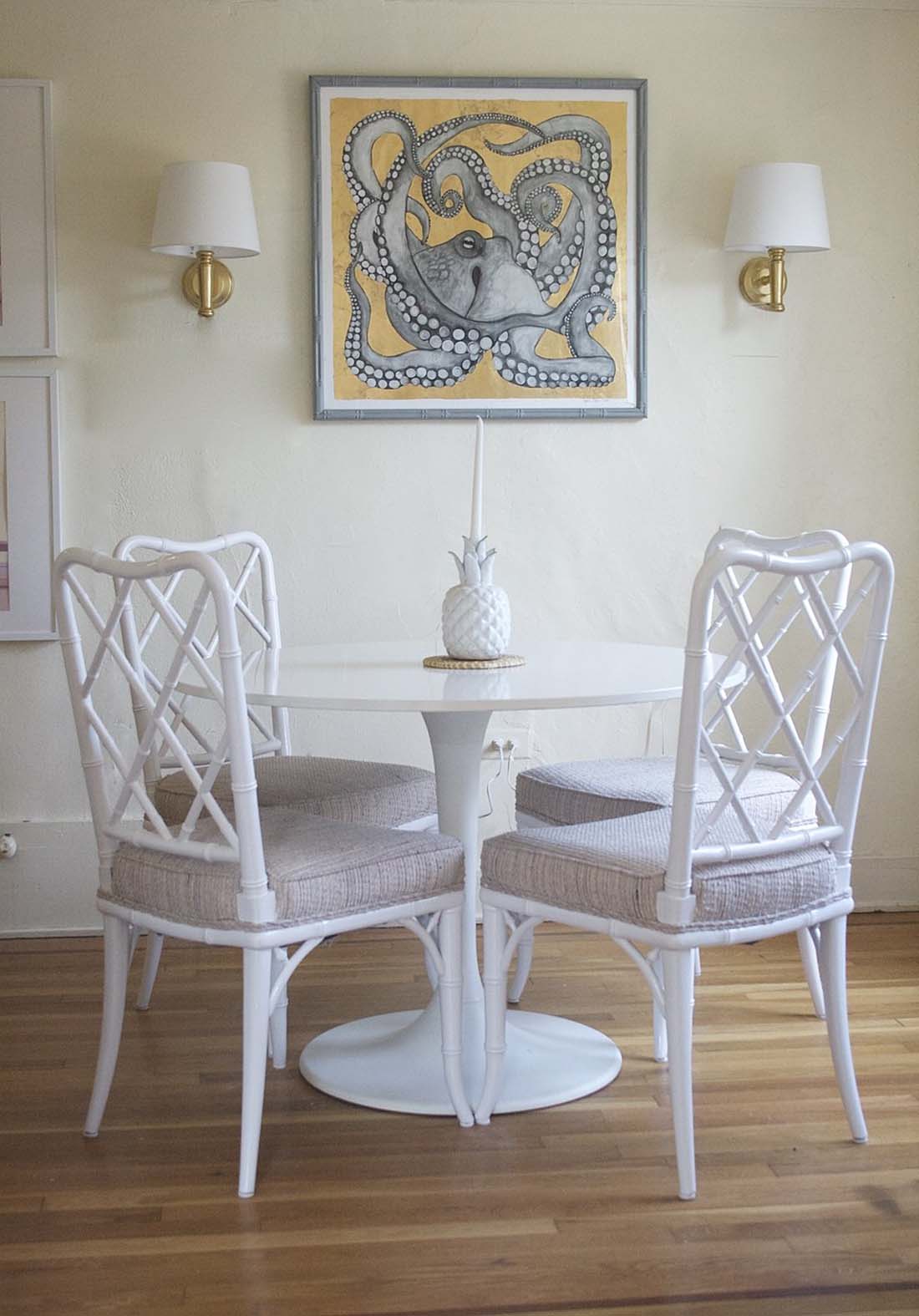 I have never set out to emulate a certain style. I've always just simply brought in items I love and made them work.
I think I got that from my mother, who has incredible taste and eye for great eclectic design.
I strive to create spaces that are aesthetically very unique and interesting, while also being comfortable and reflective of my (or my client's) personality and style.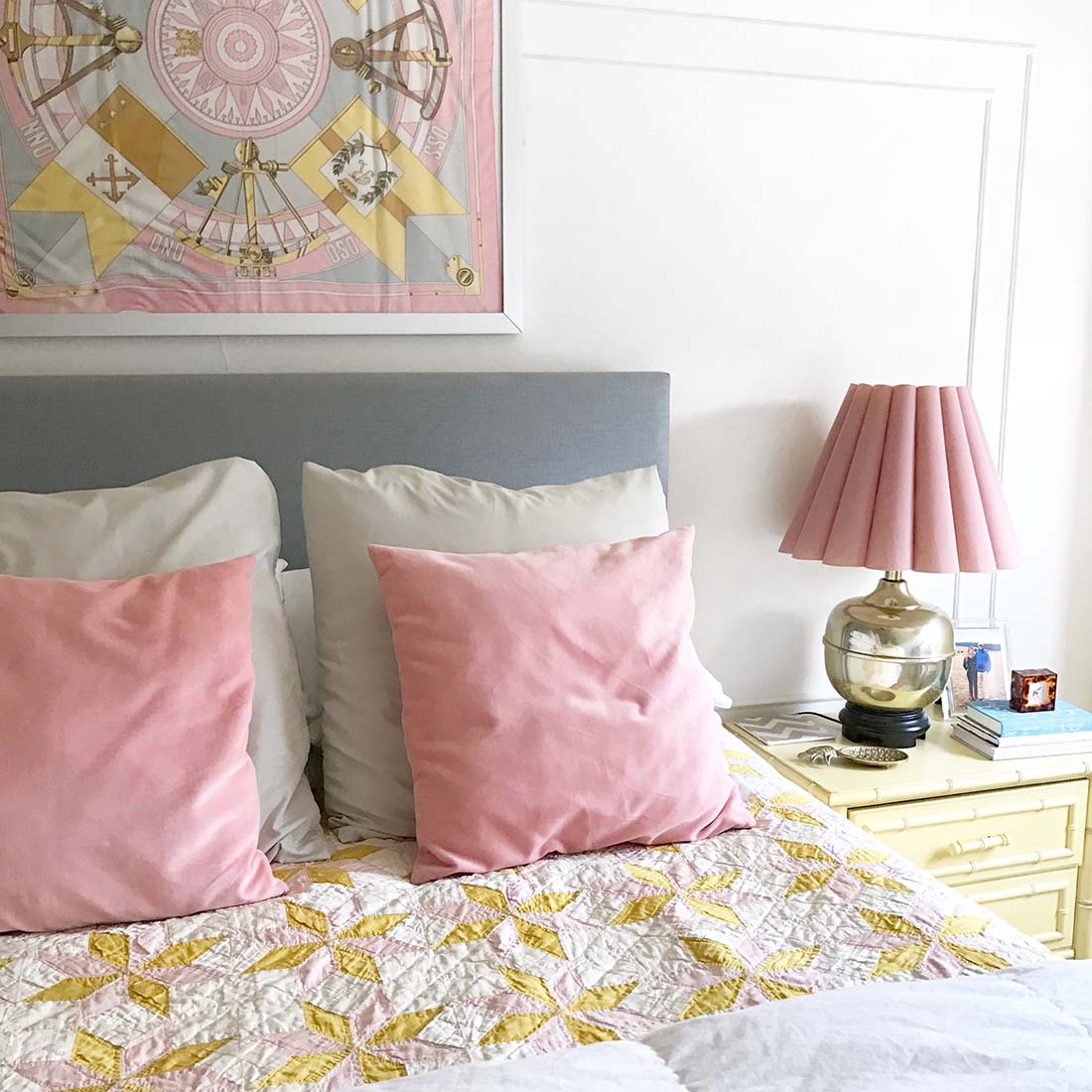 Favorite shops: I am not really a mainstream shopper, so I am usually checking out my local second-hand shops. But I will always love a good stroll through HomeGoods if I am in that part of town!
Finding inspiration: I have always admired Emily Henderson since her early days on HGTV! I like how bright and inviting her spaces are, and that there is usually a pop of something unexpected, whether it be a color or furniture or artwork. I love any movies about New York, and since I lived there for 6 years, it has definitely influenced a lot of my design choices.
On the gallery wall process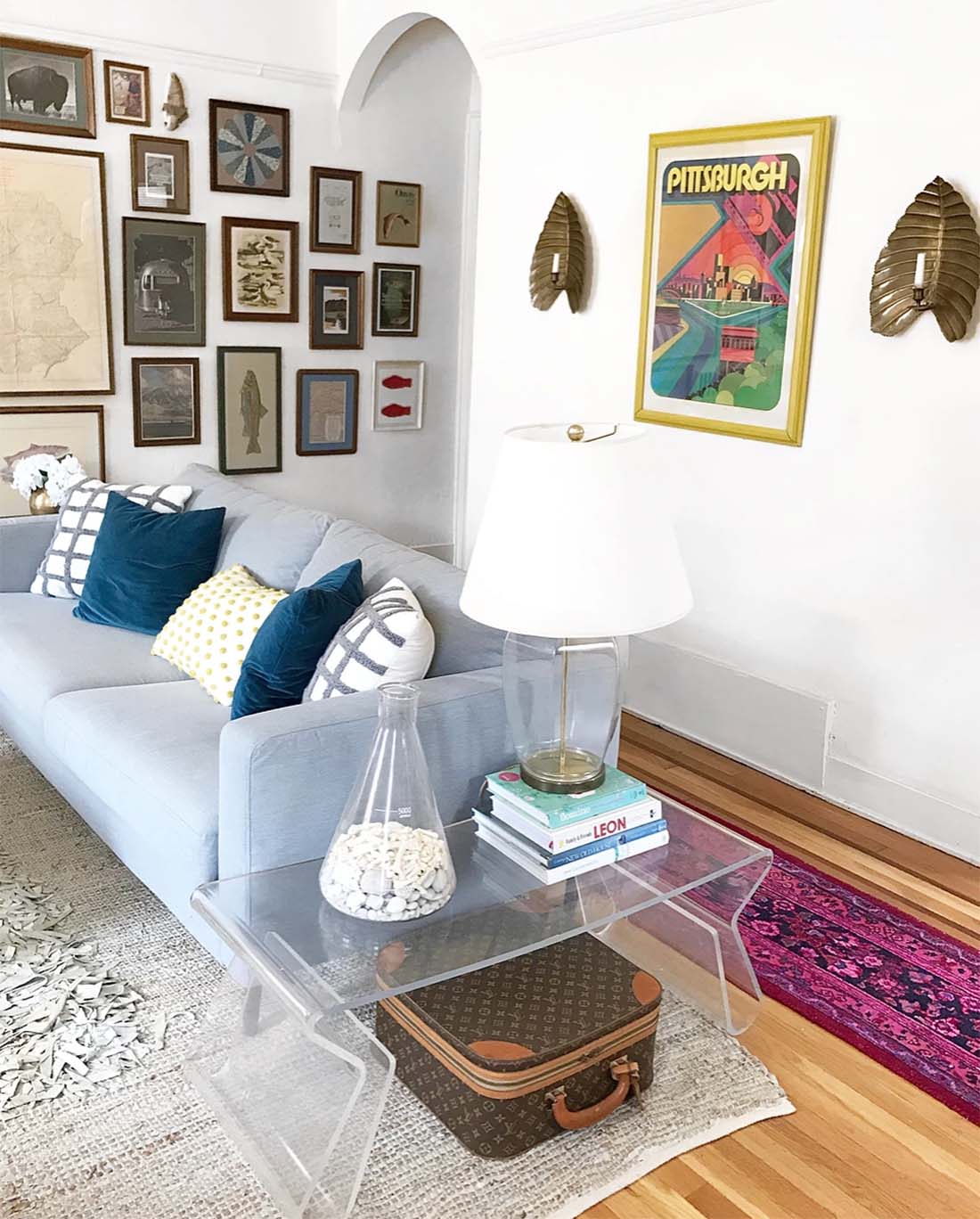 Curating gallery walls is one of my favorite things to do. Occasionally a client will want something more generic or uniform (botanical, birds, etc.) but my first pitch is always something more personalized.
For the gallery wall in our family room, it was specially designed with my husband in mind.
He is a professional fly fisherman, and loves everything to do with the outdoors, so each piece reflects that in some way.
Gallery wall advice: Focus on finding pieces that have meaning to you, as well as colors that you like. And don't be afraid to DIY! It is incredible the difference a coat of paint can make on a piece in terms of really pulling a space together. I painted the frame the Pittsburgh poster was in chartreuse to match the television and end tables in our living room. It really made the picture pop and was the perfect finishing touch that tied the whole room together. It's always great to get inspiration from Pinterest and Instagram, but be wary of trends and try to focus on pieces that really bring you joy and will stand the test of time.
On her favorite wall art pieces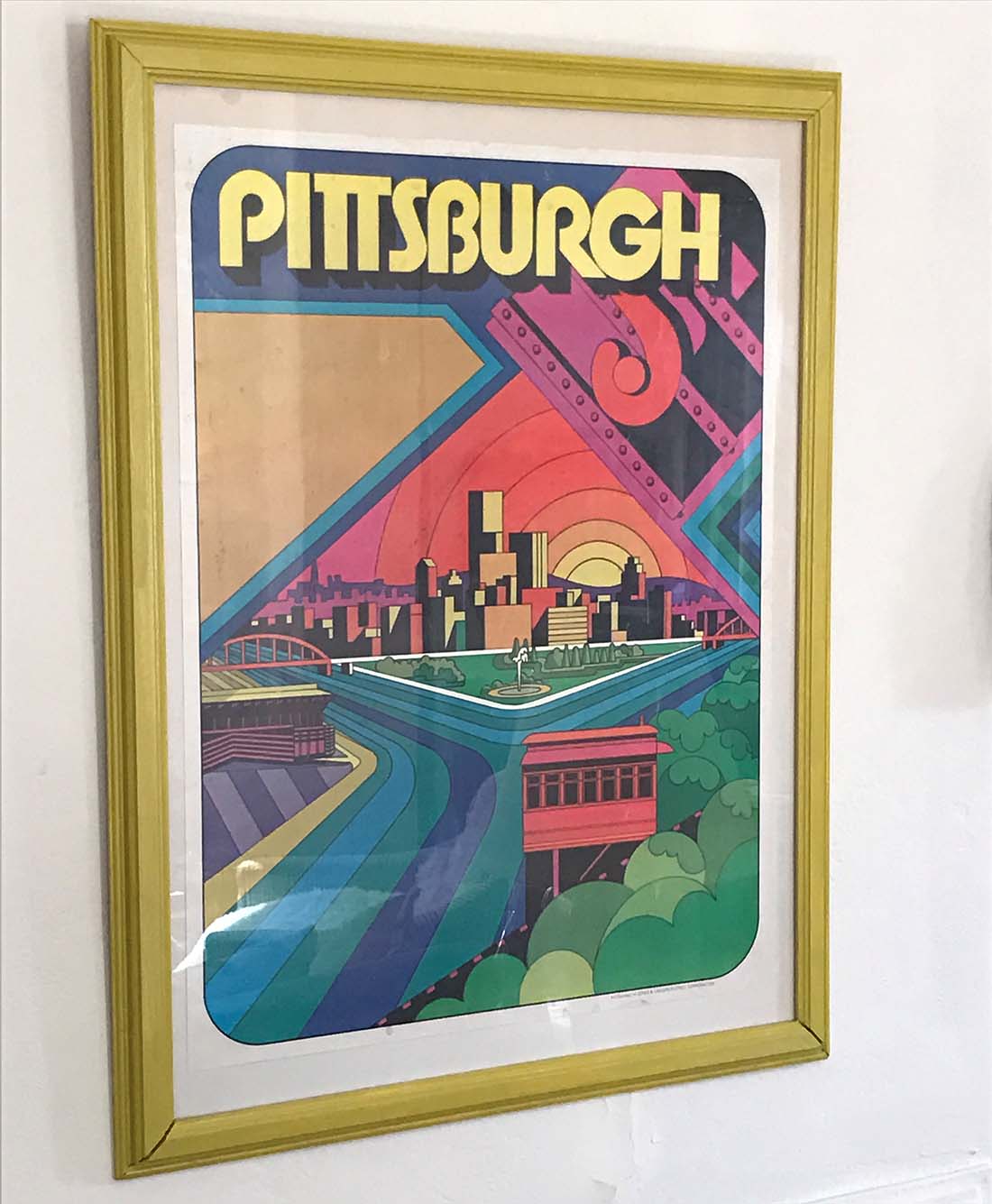 Colorful Pittsburgh: The vintage Pittsburgh poster is definitely one of my favorite pieces because the colors are so rich and it is so unique. I came across it on Craigslist a few years ago and literally messaged the seller for 8 months before they finally responded and we were able to meet up — and it was only $5!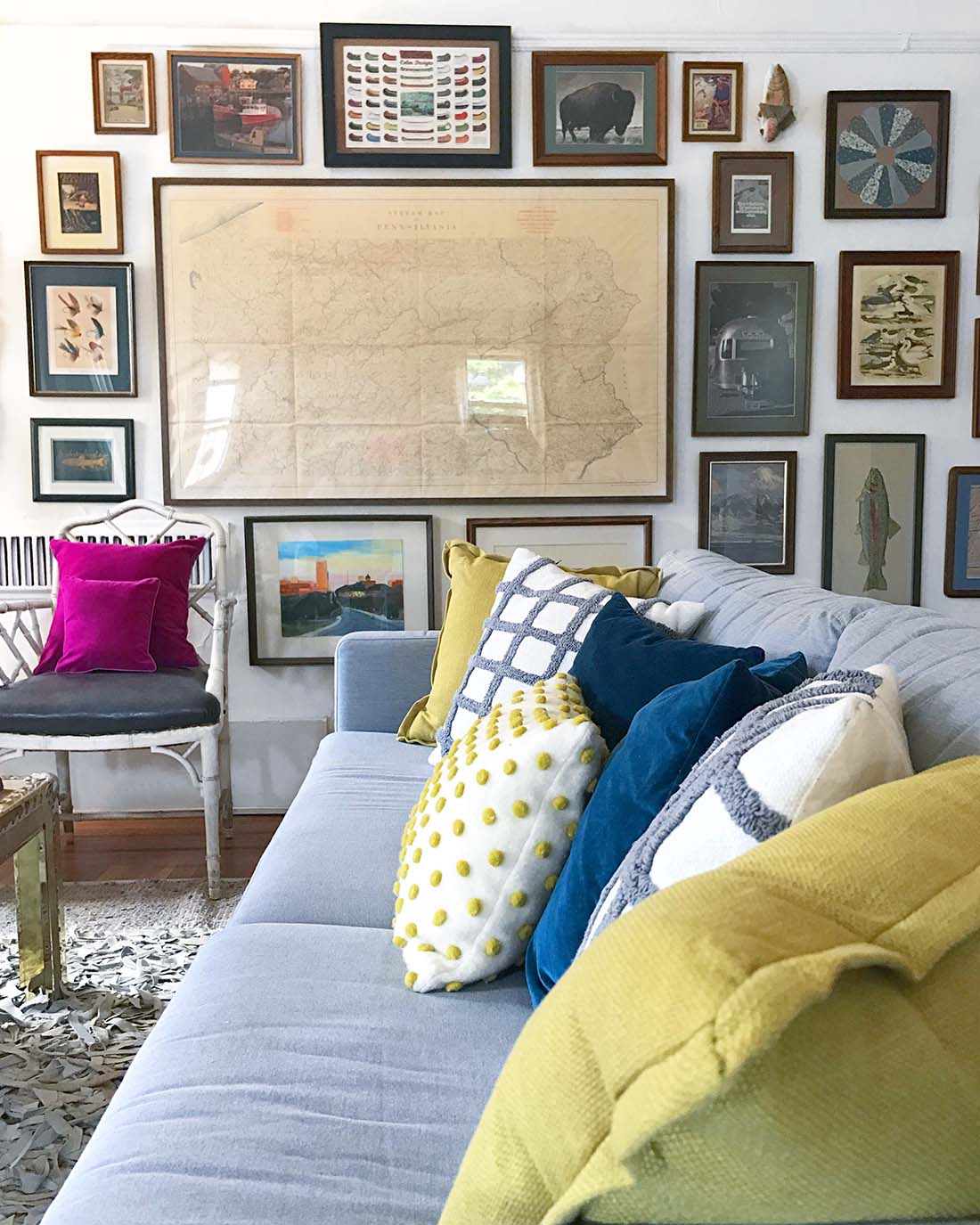 Catching the big one: The huge vintage stream map of Pennsylvania was actually what started the idea of our feature gallery wall. My husband, who grew up in Pittsburgh, started fly fishing at a young age, and knows the streams like the back of his hand. So when I came across this, I knew I had to have it. Eventually he will have his own space, so saving it for that was my intention starting out. But once the rest of the gallery/collection started to grow, I wanted us to enjoy them now rather than keep them all packed away until we move again.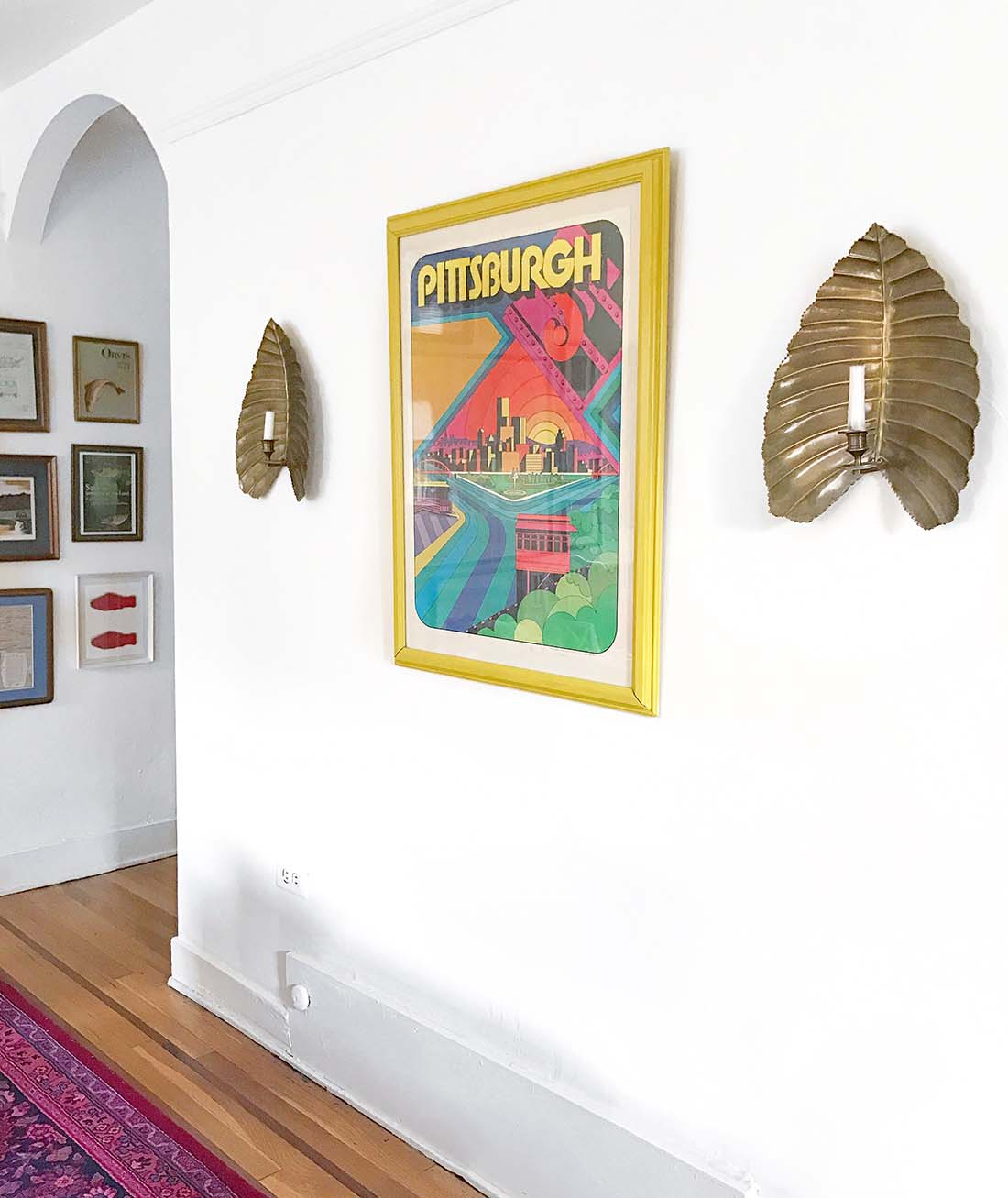 Unexpected glam: The brass leaf sconces are also two of my favorite pieces. I have yet to come across anything quite like them. They add a bit of unexpected glam to the space, while tying in the rest of the brass accents in the room. I also love incorporating three-dimensional pieces into a gallery wall to add texture and depth.
---
You can find Erin on Freshzen.org, where she offers her organization and decoration services. You can also find her on Instagram daily: @mediumalistdesign.
---
P.S. Read previous Wall Around the World posts.
Bookmark Contemporary Eclectic Gallery Wall for later: