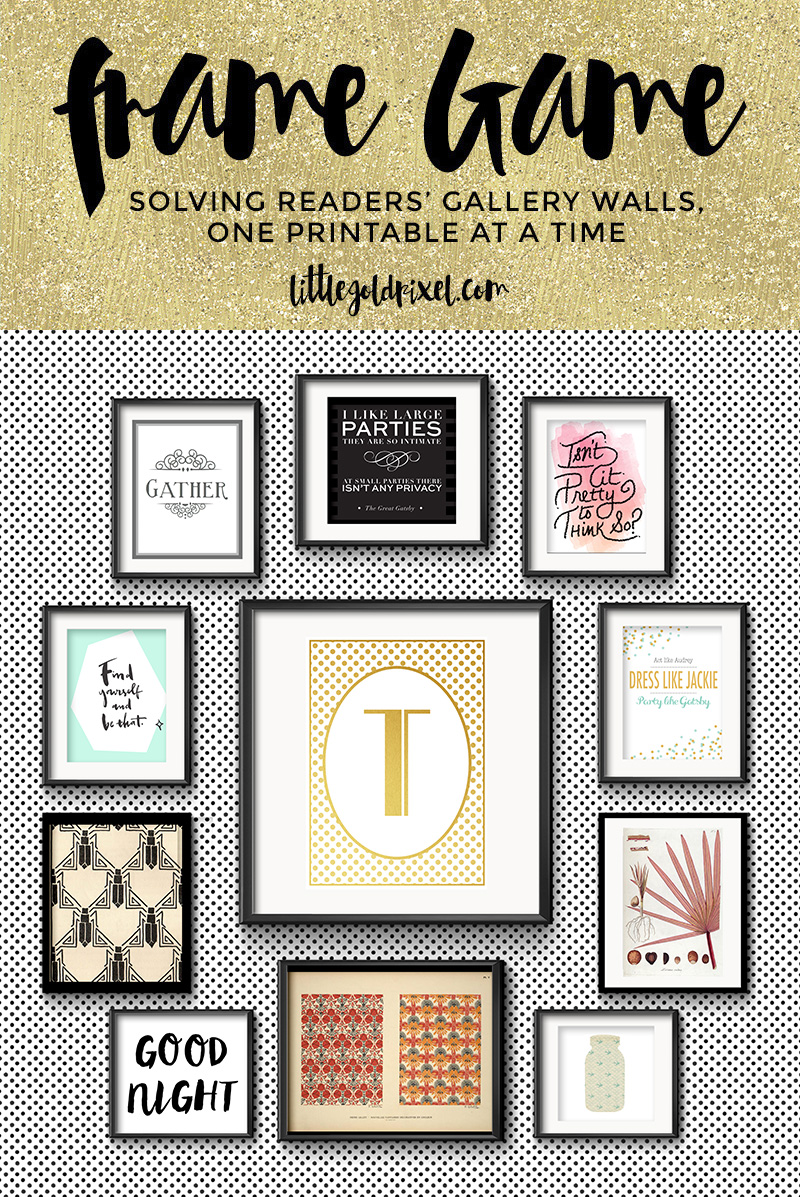 Frame Game is an occasional series in which I take readers' gallery wall requests and find art that fits their personalities. Click here to see past Frame Games.
Today's wall was inspired by Tami, who is looking for ideas for her bedroom.
In her own words:
"I love navy blues, peaches, tiffany blue and hints of gold. I love typography! So anything written in a cool font I will love! My favourite book is The Great Gatsby. I love the 1920's era and how everything felt grand and expensive. I would love for that to come out in the decor of the room. My favourite movie is Pretty Women. I love old classics. This movie incorporates everything I love: fashion and good style."
Let's go!
Grand Art Deco Charm for a Gatsby Fan
I may have gone a little overboard (TWO gallery wall options!) looking around for this one because I, too, have a thing for the opulence of the 1920s and the writers of the Lost Generation.
As a matter of fact, I included an Ernest Hemingway quote I created because it felt perfect and it had a peach hue that spoke to me. I also searched high and low for fabulous art deco patterns, finally finding a few in the New York Public Library digital collections. These should print out OK at small sizes, but there's an option to buy a larger, high-res print from the library on the download page.
For the first wall, I went with a large golden Gatsby-style monogram — "T" for Tami. It's not something I would recommend for a living room wall, but for a bedroom I think it's intimate and luxurious.
To download these printables, click on the links below to go to the original download pages.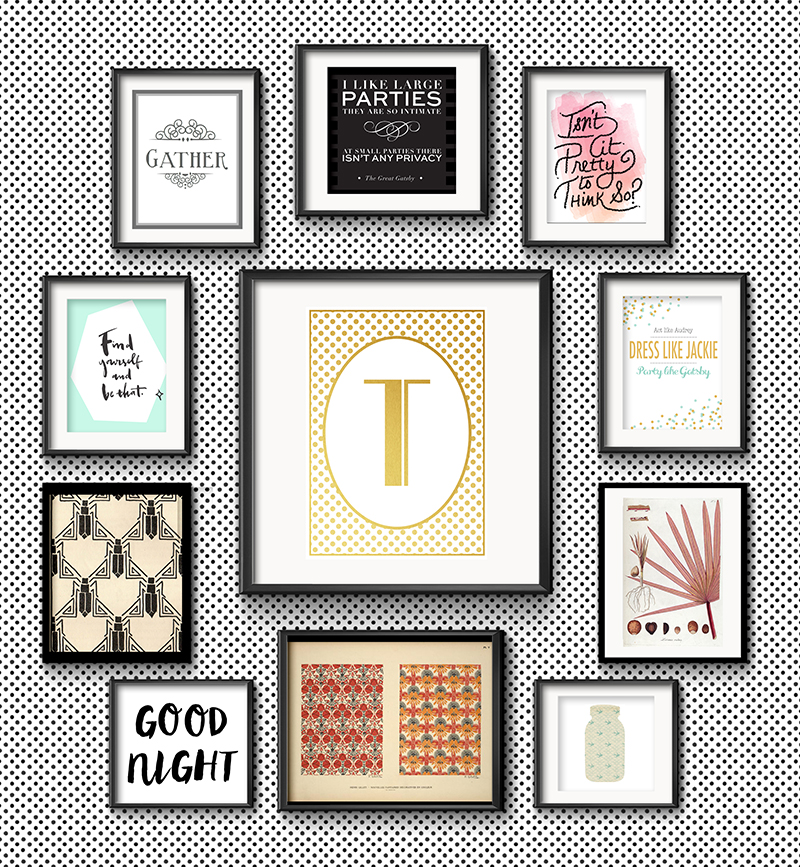 Gold monogram (also, check out this free Gatsby monogram creator for an alternate idea) • Gather • I Like Large Parties Gatsby Quote • Isn't It Pretty to Think So? Hemingway Quote • Find Yourself and Be That • Party Like Gatsby • Insect Art Deco Pattern • Botanical Print • Good Night • Red/Orange Art Deco Patterns • Tiffany Blue Mason Jar Pattern
I couldn't find any free Pretty Woman-inspired art that I liked, so I made one for Tami myself. A simple "I want the fairy tale" quote goes a long way. In this gallery wall, I brought in pops of tiffany blue and some 1920s-esque elements, including the insect art deco patterns, butterfly illustrations and flapper-era girl.
I wanted to explain how/why I picked the photo, but in reality the photo picked me. It grabbed my attention by having the right tones and the right balance of architecture vs. femininity.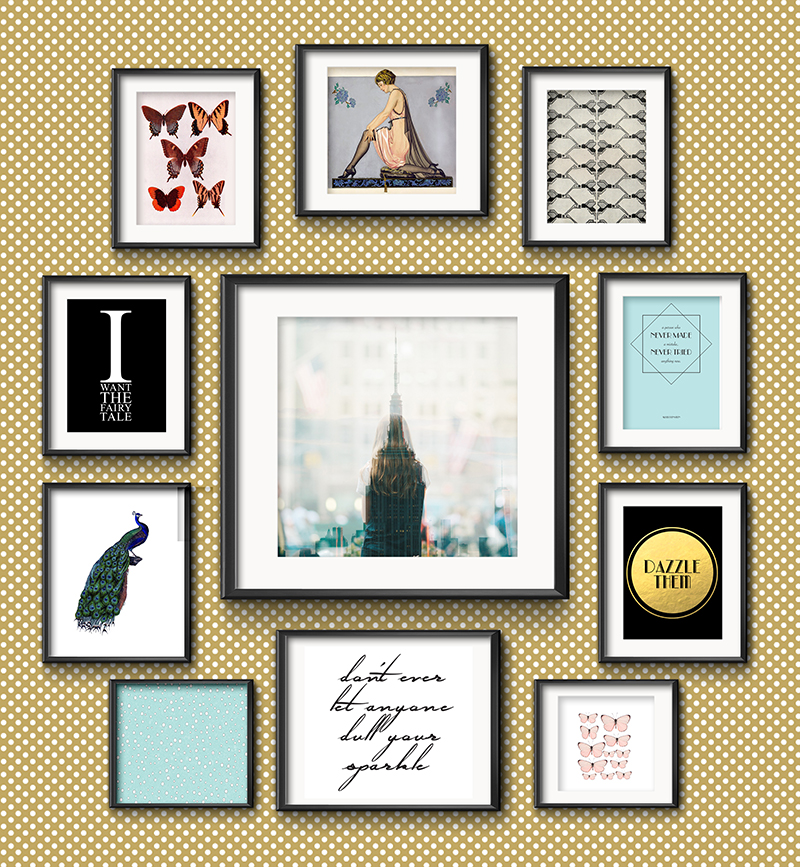 Colorful Butterflies • 1920s woman • Grasshopper Art Deco Pattern • I Want the Fairy Tale Pretty Woman Quote • Girl + Skyline Photo • Einstein Quote • Peacock • Dazzle Them • Tiffany Blue Pattern • Don't Let Anyone Dull Your Sparkle • Blush Butterflies
---
If You Wanna Splurge
Sometimes, no matter how long you search for the perfect free printable (hey, it might still be out there!), there comes a time in every curator's life when you simply must pay for good, quality art. Please do. I believe in supporting artists!
This is what I'd buy for Tami. A large, 16×20 Gatsby poster using the type as a graphic overlay. Totally worth the $30+ from TradeMarkDesign.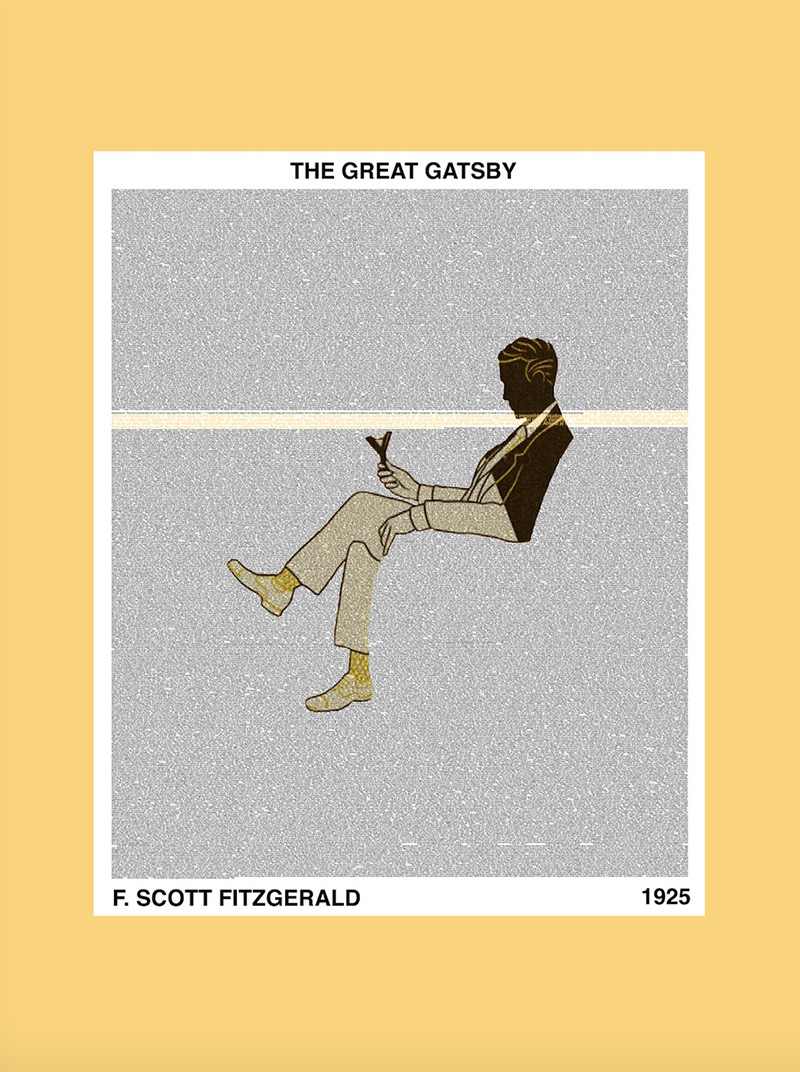 And some runners-up: A Little Party Never Killed Nobody, Art Deco Print, Pretty Woman
---
Interested in being featured on the Frame Game?
Sorry, the wait list for the Frame Game is so long that I'm no longer accepting submissions for free gallery walls.
Find out about my gallery wall consultation packages. They're similar to Frame Game but go waaaaay above and beyond, measuring down to the inch and giving you a solid plan for executing your very own, personalized gallery wall.
---