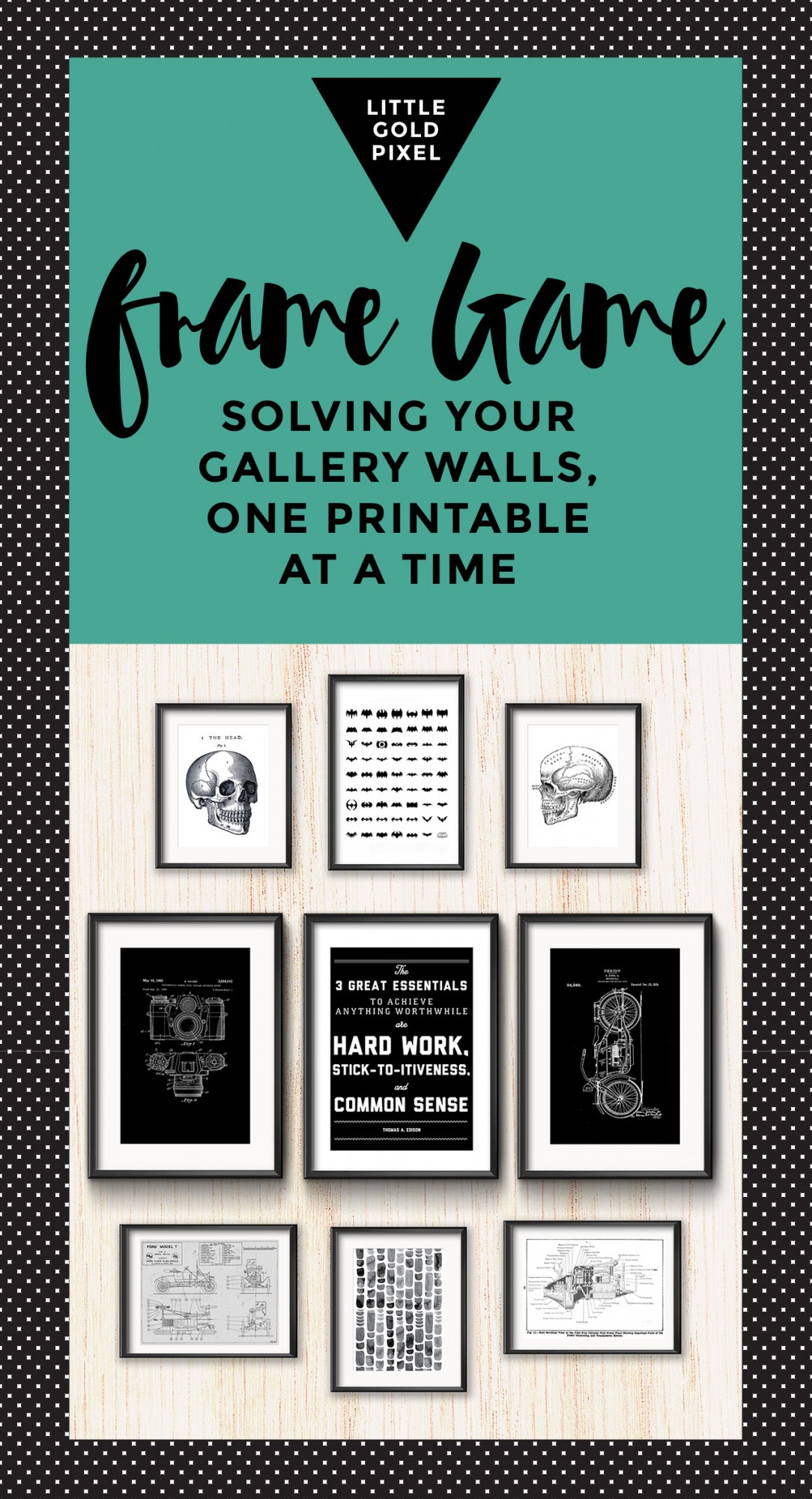 Frame Game is an occasional series in which I take readers' gallery wall requests and find art that fits their personalities. Click here to see past Frame Games.
Today's wall was inspired by Keli, who is looking for ideas for her living room.
She recently moved into a three-bedroom home with her fiance, and finally has the room to put together a gallery wall.
"I'm a psychology major (somehow that transfers into me liking fun skull prints)."
In her own words:
"As far as movies go we are total nerds who love superhero movies (Batman for specifics). I actually collect antique cameras and I'm a psychology major (somehow that transfers into me liking fun skull prints), and my fiance is a technician so cars are his thing."
Frame Game: Stark B&W Gallery Wall for Science-Minded Couple
This was an interesting one, for sure.
The longer I hunted for art for Keli and her fiance, the more I noticed a pattern: Everything I was finding was black and white, and all in a highly scientific engineer print style or, in the case of the skulls, medical illustration.
I decided not to fight the flow. This might be my first all B&W gallery wall, and honestly, I really dig it.
This also might be the first time I've split a couple's gallery wall into an even amount of his/hers prints.
For him: a series of three automobile patent designs (including the body and engine of the Ford Model T, going all the way back to the beginning.
For her: two very cool craniums to appease the psychology major, plus a camera patent design
For them: A poster of the history of Batman logos, a fun brush pattern to pad the bottom out, and the centerpiece quote by Edison. Could this get more scientific?
To download these printables, click on the links below the roundup to go to the original download pages.
Option No. 1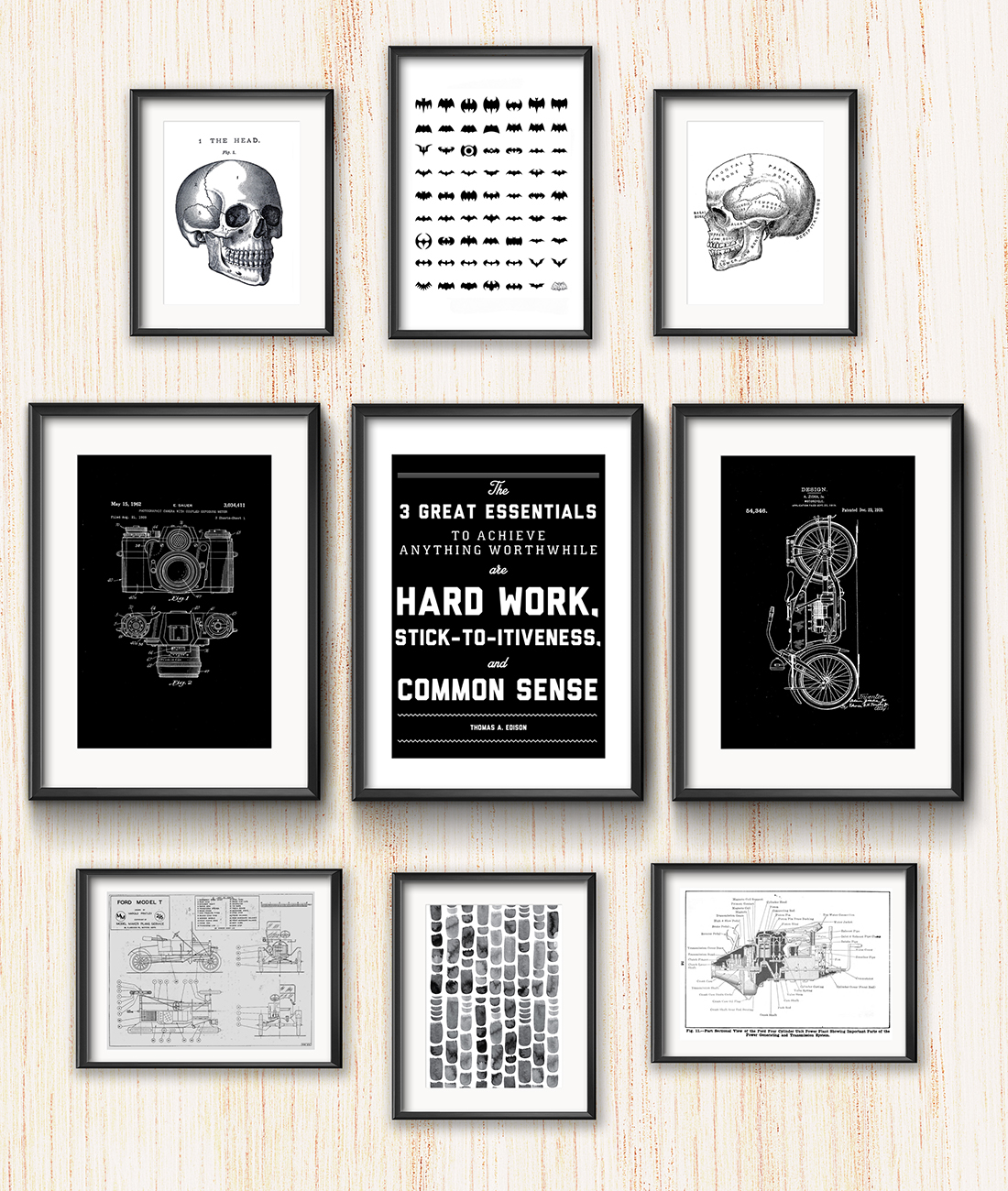 Option No. 2
If the first options wasn't enough, I have a bonus for Keli: a diptych of vintage camera posters. Love these.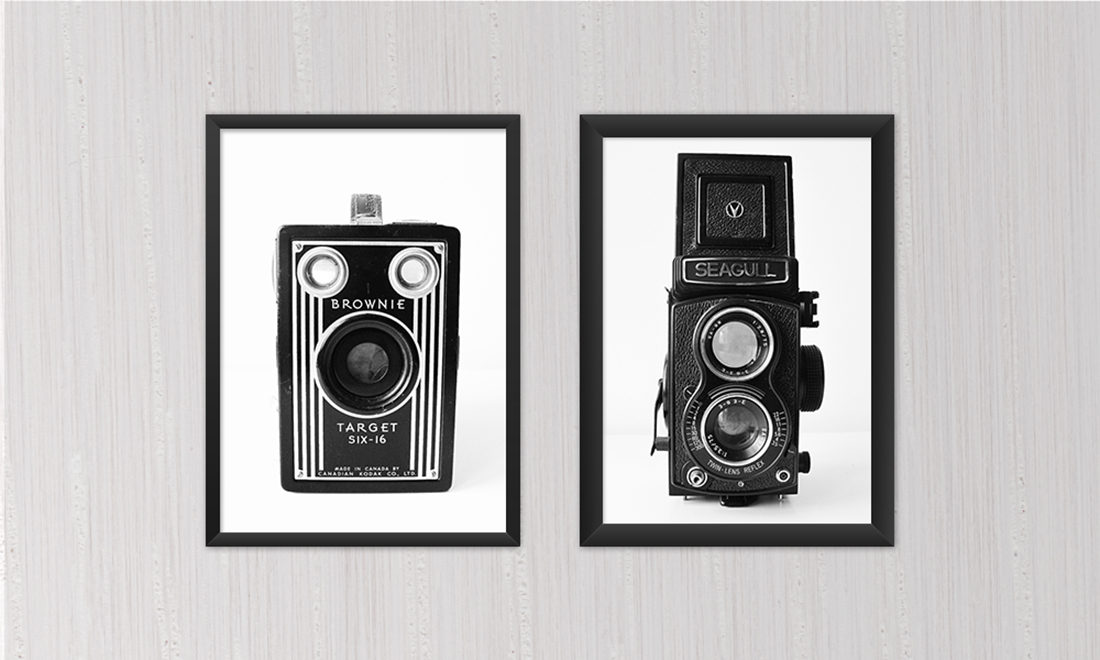 If You Wanna Splurge
Sometimes, no matter how long you search for the perfect free printable (hey, it might still be out there!), there comes a time in every curator's life when you simply must pay for good, quality art. Please do. I believe in supporting artists!
This is what I'd buy for Keli. A fun Batman poster from Lullabuy. Hilariously enough, yes, it's ALSO grayscale.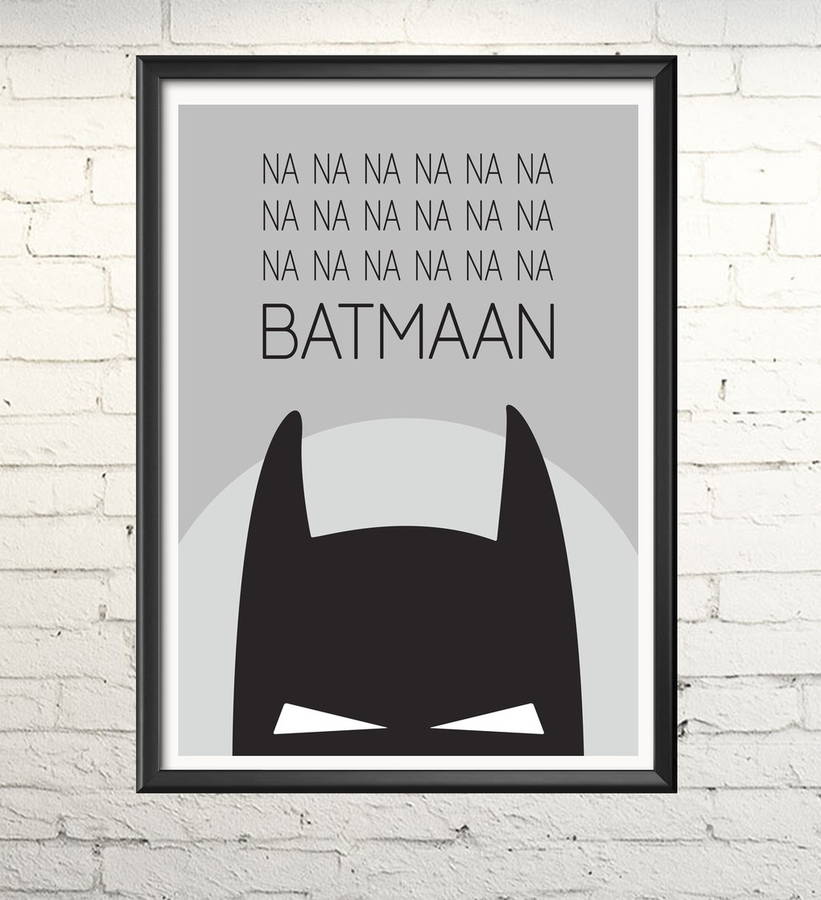 Interested in being featured on the Frame Game?
Since I've started rounding up free printables, I've received a lot of emails seeking help with various scenarios you have in your homes. The Frame Game queue is quite long right now, and wait times could be a year or longer.
If you have a pressing decor dilemma you'd like me to solve in the meantime, I do offer gallery wall consultations with a guaranteed delivery date of a week or less.
Check out my packages:
Feel free to contact me for any custom needs or to be added to the looooooong Frame Game queue.
---
P.S. The frames featured in this post are mockups. Check the individual download pages for details on ideal image size. Want to print something huge but it's sized at 8x10? Consider a larger frame with a mat. (Example here.)
---