Psst, a quick aside — Did you find this post via Pinterest? If so, nice to meet you, and thanks for stopping by! I hope you have a few minutes to click around so we can get to know each other better. A few good places to start: There is a
freebies page
I think you would like, as well as my
About page
and a roundup of my
Favorite Posts
. Looking for help planning your gallery wall? Book one of my
gallery wall consultations
. I sell my best printables on
Etsy
, and my best designs are on
Society6
.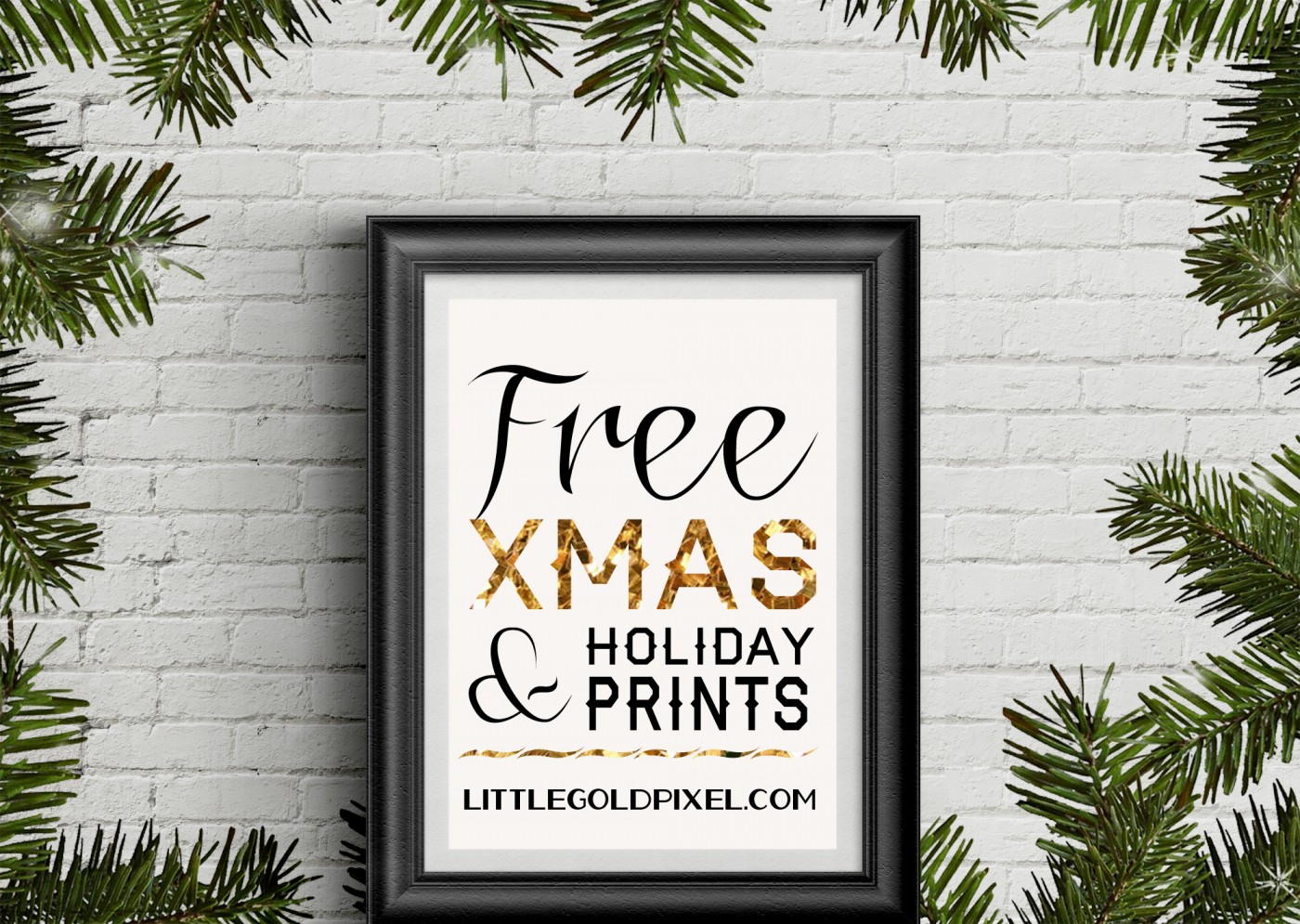 I've read many an article about easy ways to infuse some Christmas cheer into your home, and I was shocked that I rarely ever saw the easiest way.
Are you ready?
Switch out some art in your existing frames.
I've done the legwork to make it even easier for you by digging through the lumps of Internet coal and rounding up an assortment of modern and stylish free Christmas printables. Did I mention they are free? And you can print them at home?
OK, let's proceed, then.
First, let's pretend this is our beautiful fireplace and tree.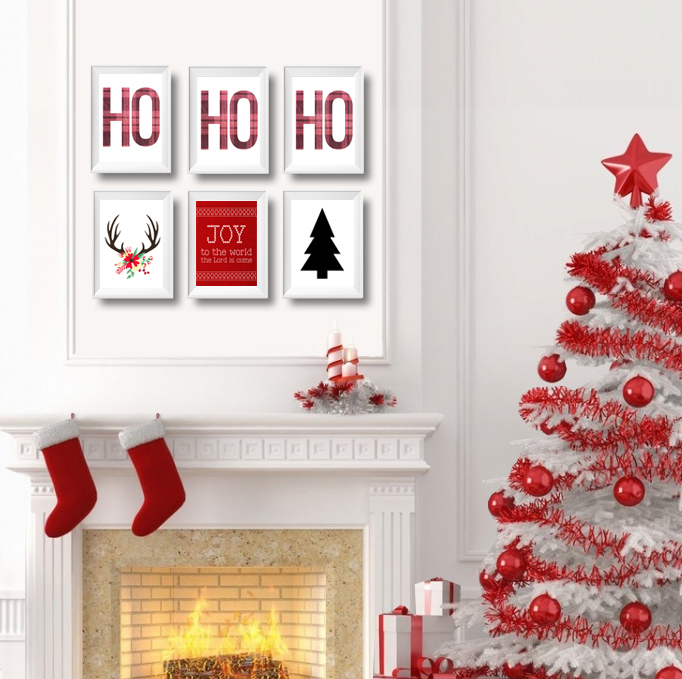 (Oh how I lust after the lush fake white trees at Target. Someday, someday.)
See those prints about the mantel? ALL FREE. And there are 30+ more where that came from.
Do you still need a pep talk?
Yesterday, I received a package of new photos of my brother's family, including adorable shots of my niece and nephew. I gushed over them like the proud aunt I am, then set them aside, telling myself I'd hang them up this weekend.
Then I came to my senses.
It literally took me two minutes to open up the frames holding last year's photos and replace them with the new prints. That's how long this project will take you.
And everyone will think you're some kind of holiday genius for thinking of a small detail like a seasonal print. Yep, you will start a revolution simply by printing out a piece of art and putting it in a frame.
Are you in? YES. Can I get a shoutout? For Rudolph! For Frosty! For Little St. Nick! For the kid who just wants a hippopotamus for Christmas! For simply having a wonderful Christmastime!
Free Christmas Printables for Your Holiday Decor
To download, click on the link and follow instructions on the individual posts.
I hope you don't mind, but I decked the (virtual) halls a little bit: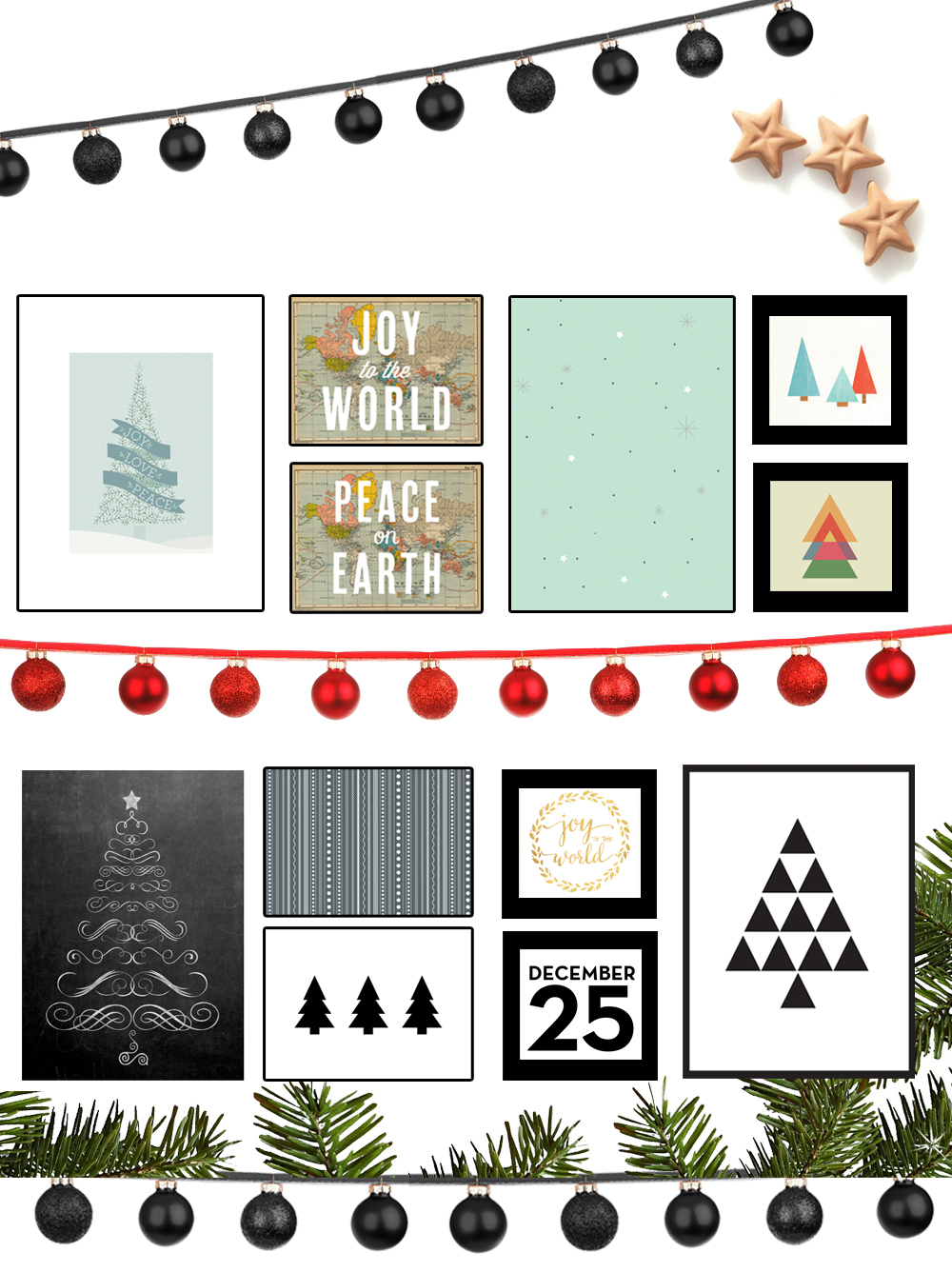 Top: Joy, Love Peace tree /// Joy to the World & Peace on Earth /// Stars retro pattern /// Geometric trees /// Overlapping trees
Bottom: Curlicue tree /// Holiday pattern /// Three trees /// Joy to the World, gold /// December 25 /// Triangle tree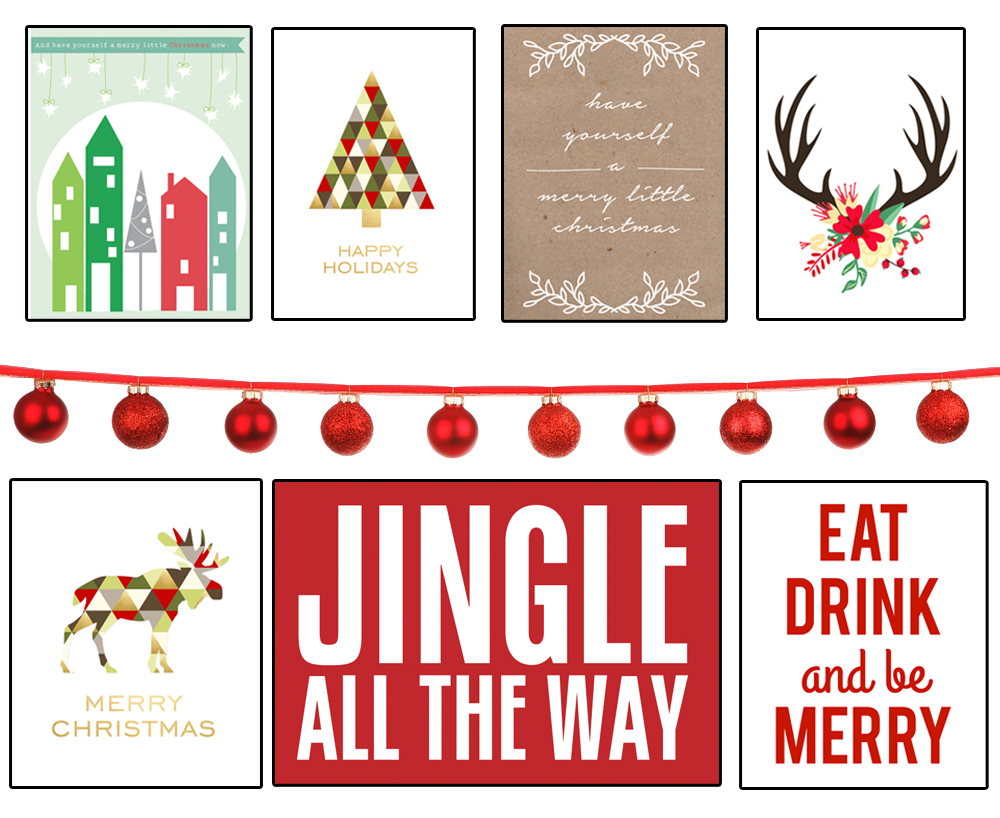 Top: Winter street scene /// Happy Holidays tree /// Have Yourself a Merry Little Christmas /// Antlers
Bottom: Merry Christmas deer // Jingle All the Way /// Eat Drink and be Merry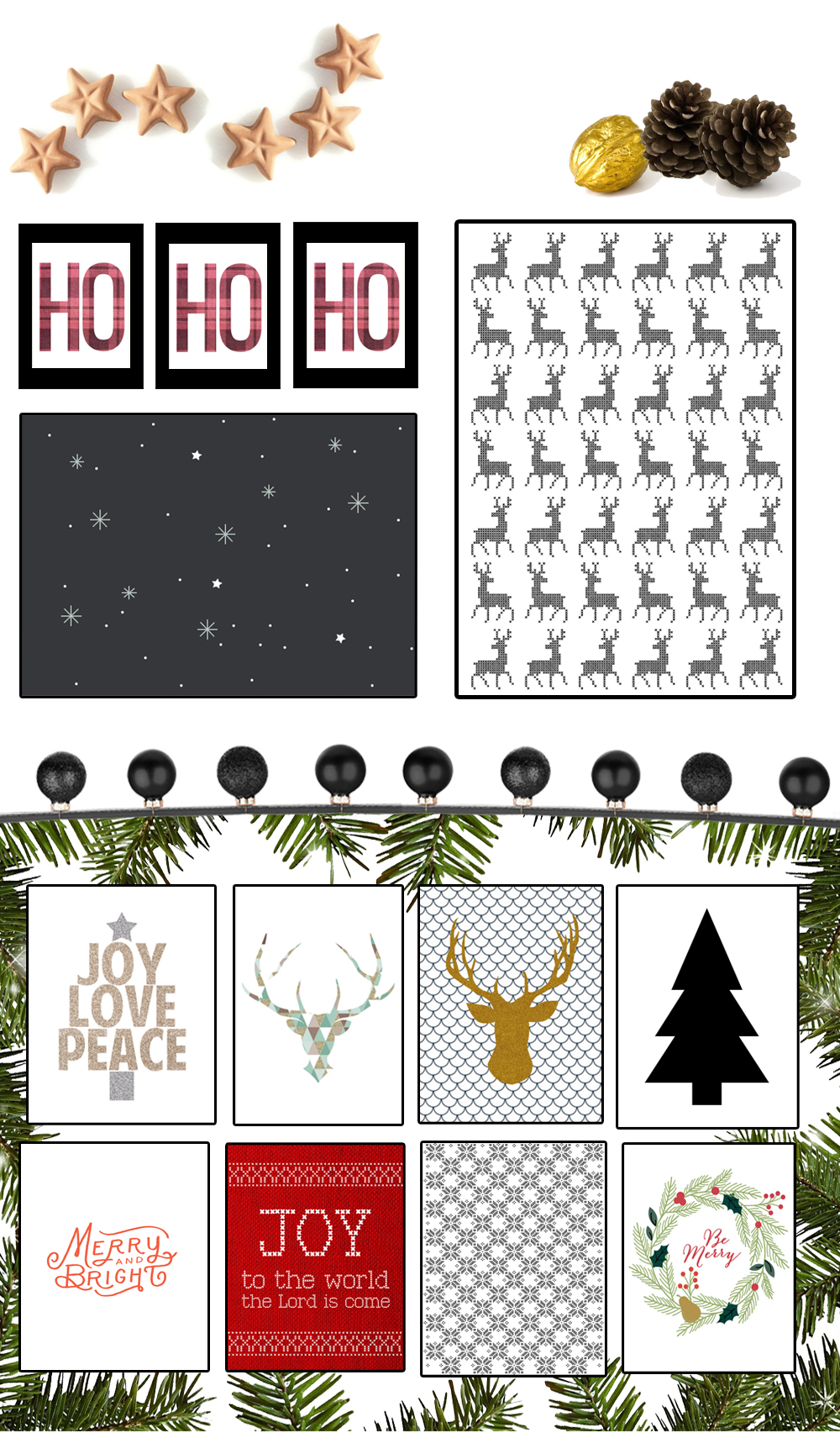 Top: Ho Ho Ho /// Stars, in black /// Deer cross-stitch pattern
Bottom: Joy Love Peace tree /// Geometric antlers /// Gold antlers /// Black tree /// Merry and Bright /// Joy to the World /// Snowflake cross-stitch pattern /// Be Merry wreath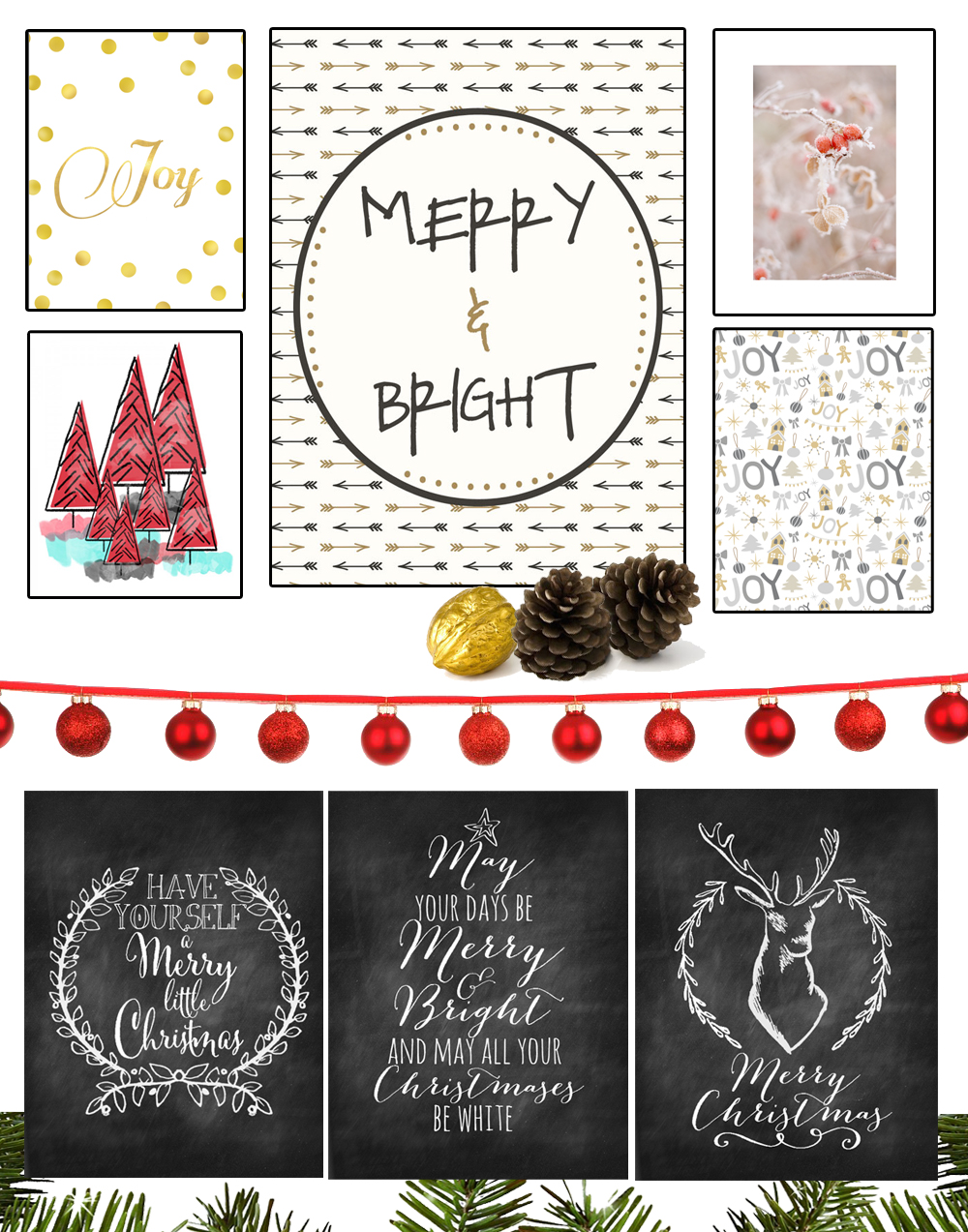 Top: Joy, in gold /// Merry & Bright /// Berry art /// Red holiday trees (+ one more, not shown) /// Joy pattern
Bottom: Chalkboard prints
Plus, 2 more I spied after finishing this list: Merry & Bright and Be Jolly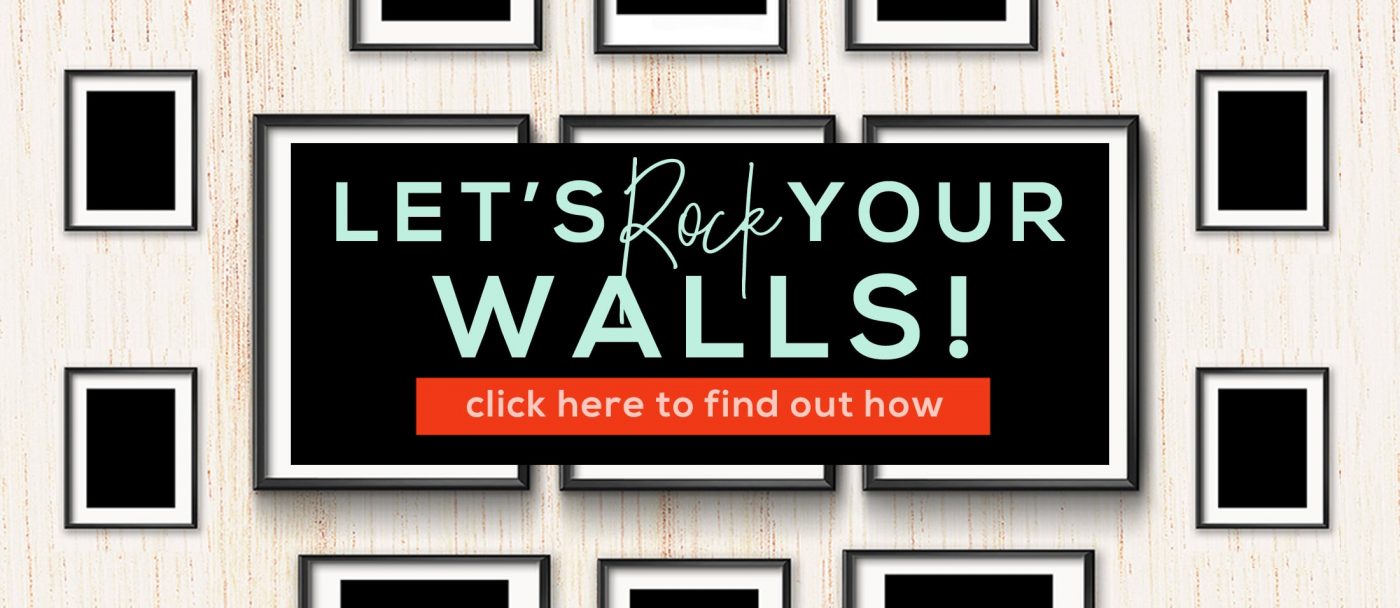 Before You Go!
While I was looking for these printables, I was listening to a playlist on Spotify called The Eggnog's Spiked. It's perfection.
What's your favorite Christmas song? Let's discuss in the comments!
P.S. More freebies here.