Psst, a quick aside — Did you find this post via Pinterest? If so, nice to meet you, and thanks for stopping by! I hope you have a few minutes to click around so we can get to know each other better. A few good places to start: There is a
freebies page
I think you would like. Looking for help planning your gallery wall? Check out my
gallery wall consultations
. Looking for art for your gallery wall or home decor? I sell my best printables in the
Little Gold Pixel Shop
,
Etsy
and
Society6
.
Join the Little Gold Pixel club
with an email that drops every Thursday (always with an exclusive free printable!) & I'm on social media everywhere as @littlegoldpixel. Say hi! I can't wait to meet you!
Recently I confided in a friend that my eating habits had been subpar. In fact, I had nothing to eat that day besides coffee and chocolate.
"Well, those are the essential food groups," she joked.
My mind flashed to those food pyramid charts we learned as kids.
Did you know the pyramids are now "plates"? Plates broken down by grains/protein/dairy/veggies/fruit? No oils/fats in sight!
I'm saddened by this in an irrational way. It's the same way I felt when Pluto got downgraded from planet status. And when Czechoslovakia split up. I still can't remember the countries of Eastern Europe.
Anyway, I thought it would be funny to come up with a few faux food pyramids. They're for those of us who would rather live off chocolate & coffee, or pizza & beer.
AKA everyone.
UPDATE 5/2016: I have recently finished an entire set of nine Cravings printables, available for purchase in the shop. Grab your favorite, or all of them at once if you're feeling extra cheeky. (These make great gifts, too!)
Current options: Beer & Pizza, Tequila & Tacos, Wine & Cheese, Coffee & Chocolate, Milk & Cookies, Tea & Biscuits, Eggs & Bacon, Popcorn & Butter, Doughnuts & Cake
Oh, and don't forget to keep scrolling down for a roundup of 20 more kitchen free printables!
Faux Food Pyramid Kitchen Free Printables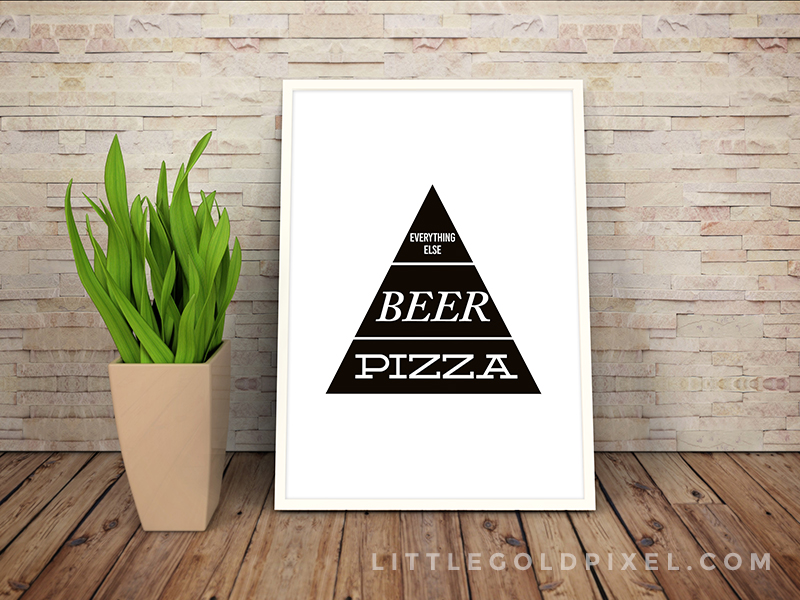 Psst, have you signed up for the Little Gold Pixel newsletter? I send out a free printable with each one!
Kitchen Free Printables: A Roundup


To download: Click on links below. Links will take you to the original download page. Find button/link on that page, and download. Some printables are in PDF format, others in JPG format. Most are easy to print in an 8×10 size. Use your discretion if cropping for a different frame size. You can either print at home on photo paper (matte is my preference) or take a USB to your printer for a longer-lasting print on archival paper.
Coffee Talk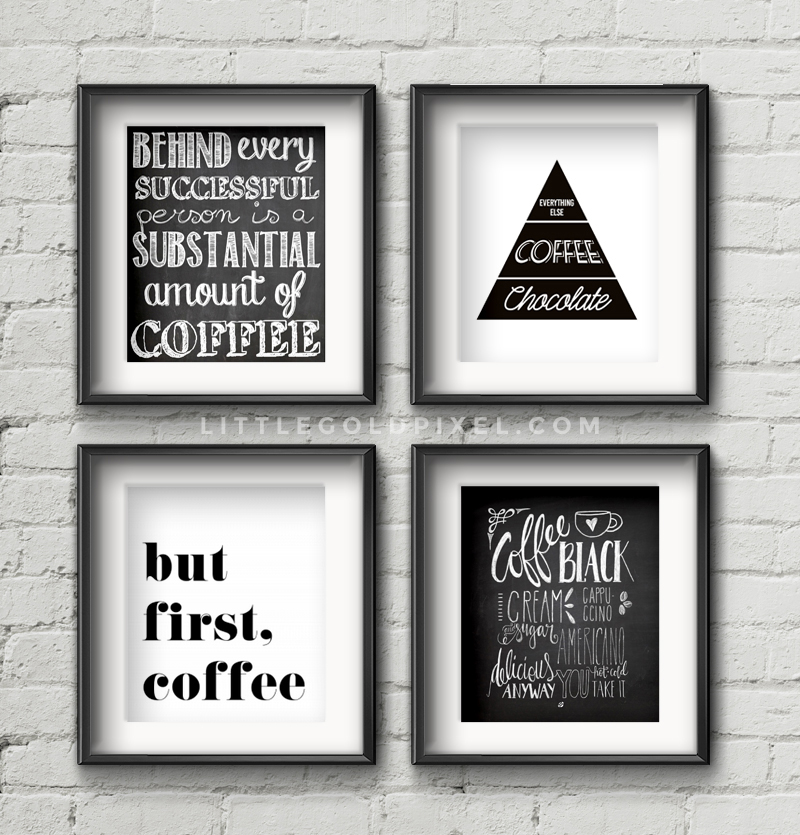 Substantial Amount of Coffee / Coffee & Chocolate Food Pyramid / But First, Coffee / Delicious Any Way You Take It
You'll notice that I didn't put these kitchen free printables in big galleries like I do for my other roundups. This is because kitchens are typically smaller, and most people will only have room for a small sampling, maybe even just one piece of art.
My kitchen is what I call a one-butt kitchen, meaning only one person can bend down comfortably at a time.
Normal people call this a galley kitchen.
There is literally room for just a few 8x10s on one sliver of a wall.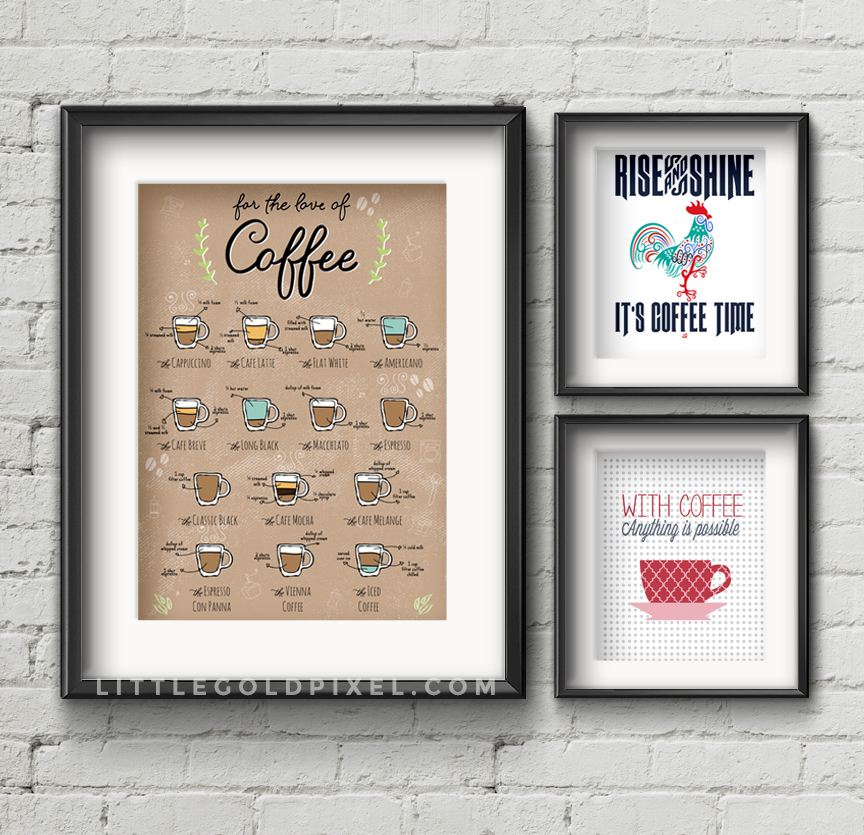 For the Love of Coffee / Rise & Shine / With Coffee Anything Is Possible (+ more)
Black & White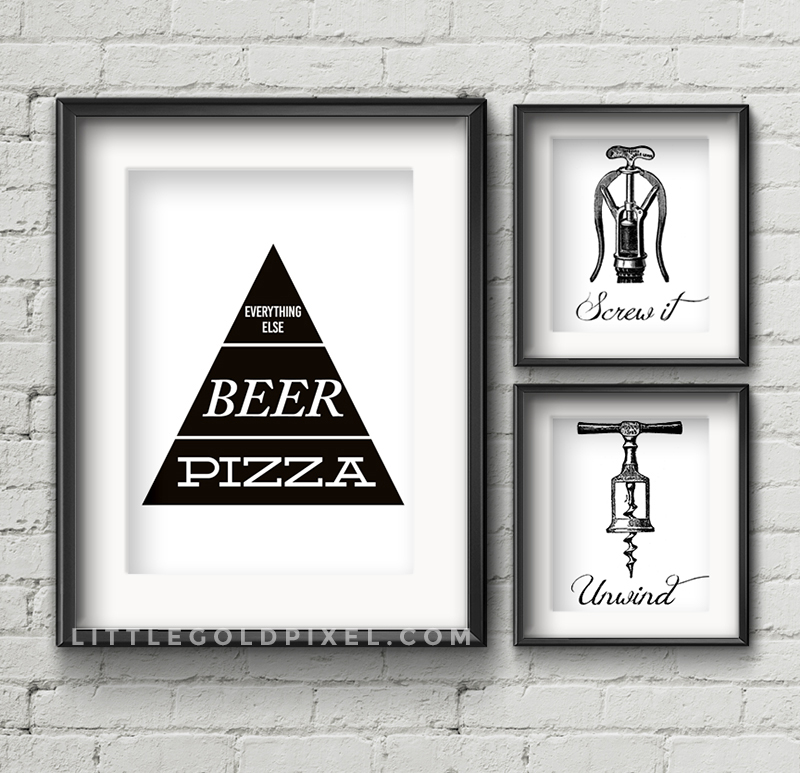 Beer & Pizza Food Pyramid / Screw It & Unwind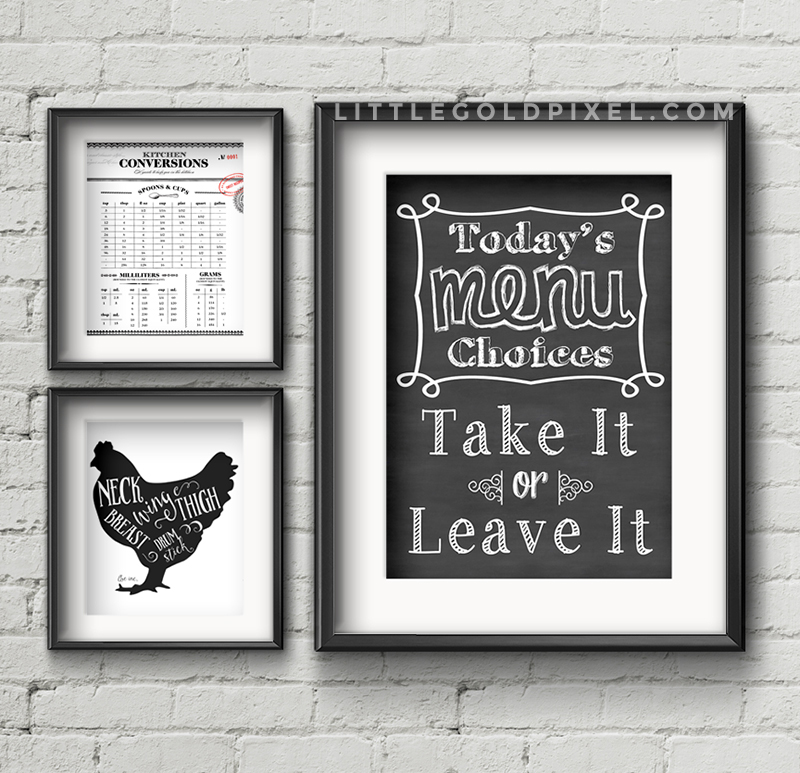 Kitchen Conversions / Chicken (+ more)  / Take It or Leave It
I like all of these printables, obviously, or I wouldn't have included them. The "Take It or Leave It" sign has a special place in my heart, though.
Our 4-year-old daughter thinks we're short-order cooks lately. I don't know where she got that idea, but I'm going to start telling her, "Take it or leave it." I might even sing it, a la The Strokes.
Too Sweet to Eat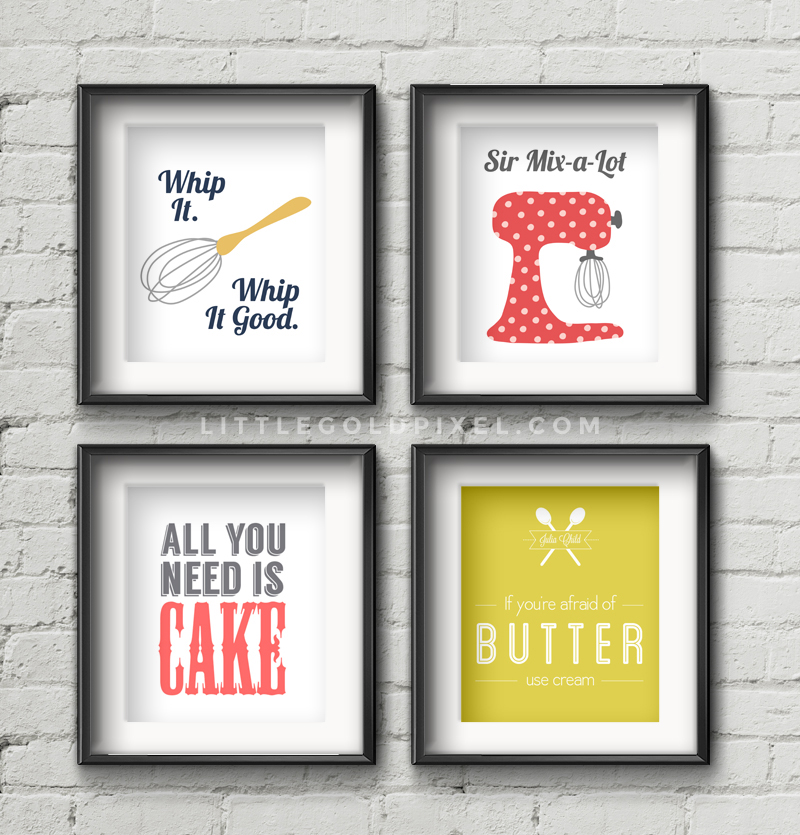 Whip It, Sir Mix-a-Lot (+ more, including my fave "Pour Some Sugar On Me") / All You Need Is Cake / Julia Child quote (NOTE 6/8/15: It appears the original download link has expired on this one, unfortunately)
If you don't have room to hang printables on your kitchen walls, there's always the fridge.
In fact, that would be a good way to switch things up often. Print out all of these bad boys and rotate them with magnets to keep your kitchen view fresh!
Another tip: Clear countertops and prop a small frame against the backsplash. Maybe put an apple in front of it so your kitchen always looks like a stylish Instagram photo.
I'm kidding. Sorta.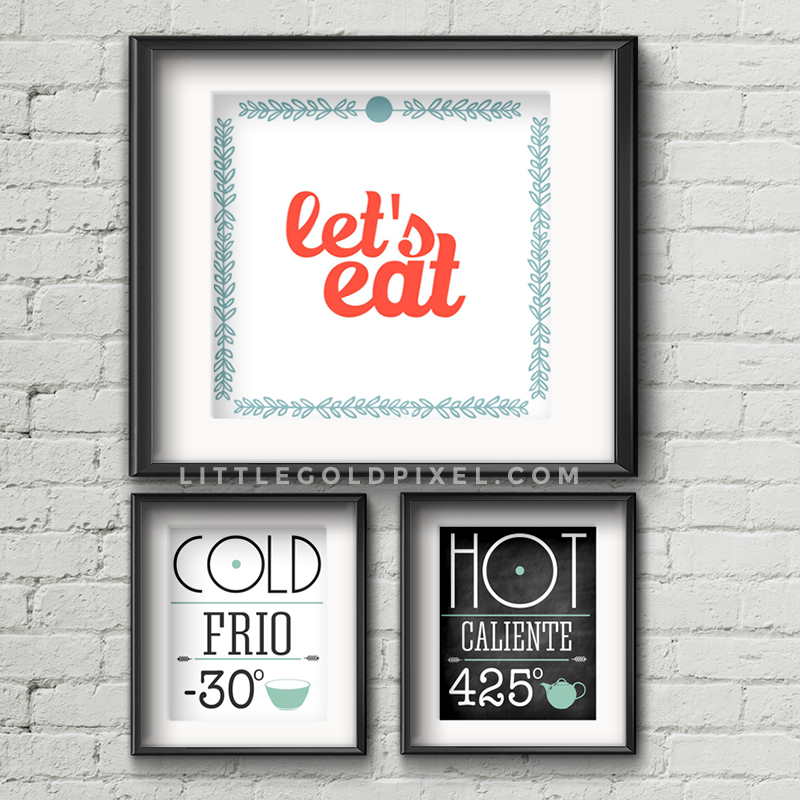 Let's Eat (+ more) / Hot & Cold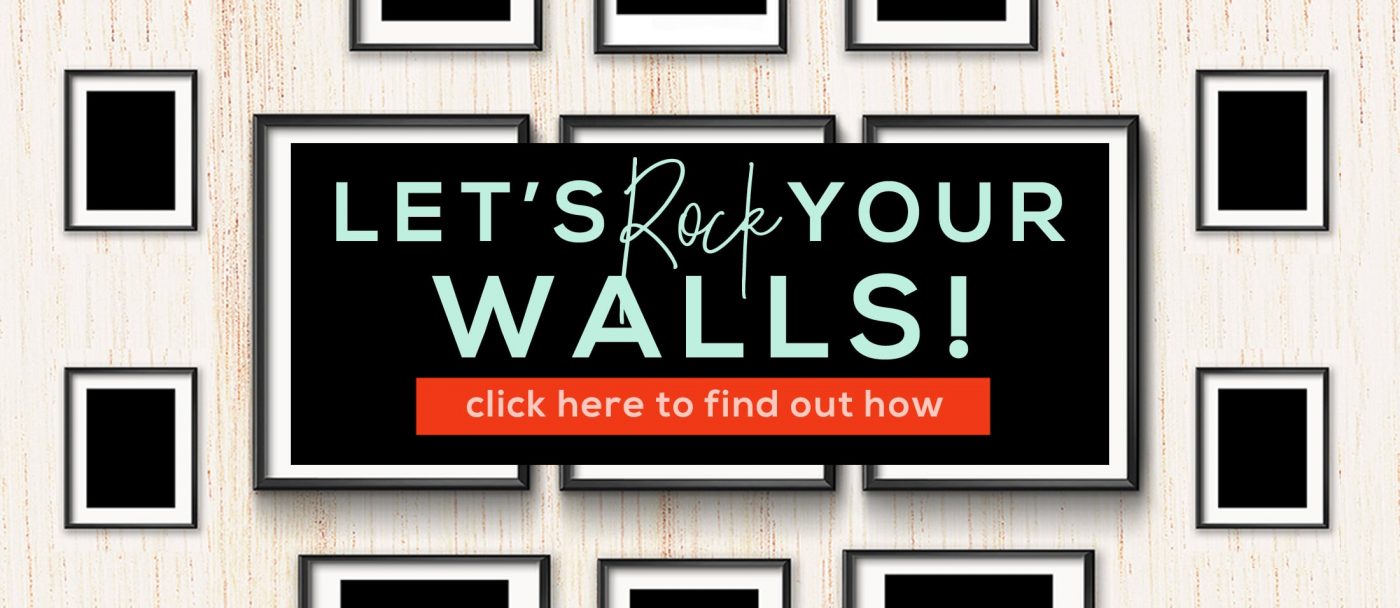 Last but not least — I enjoy rounding up my fave free printables almost as much as you like reading these posts. I'll aim to give you an update periodically, probably every other month or so. In the meantime, if you spy a free printable you think I'd enjoy, drop me a line with the link, and maybe I'll include it in the next roundup (along with a finder's shout-out!). I'm on Twitter, Instagram and Facebook. You can tag me on Pinterest. Or use this email form if you'd like.
P.S. Past Little Gold Pixel freebies!
---

---