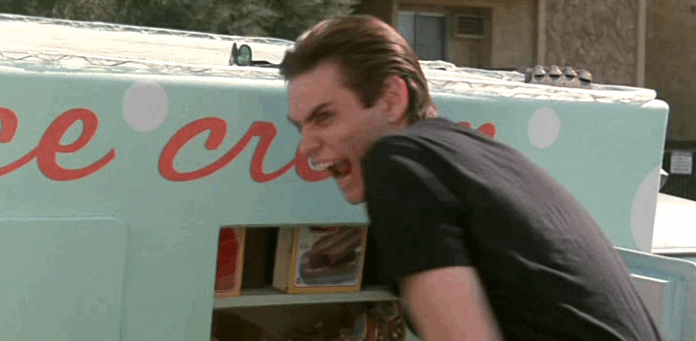 I don't know about you, but I could use some inspiration for finding a Halloween costume this year. The sooner the better, too, because even though I start off really gung-ho about making a homemade costume or putting together something super original, my enthusiasm typically wanes.
I'll let this highly scientific chart speak for itself.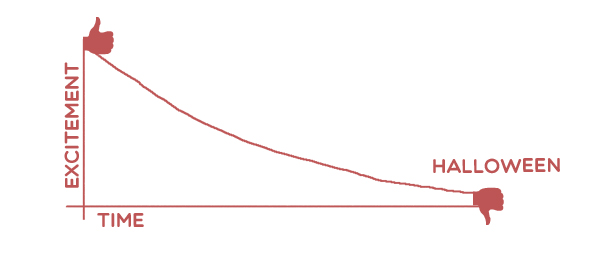 This could explain how I ended up looking nothing like a cat a few years ago and kinda-sorta like a pirate last year.
In my search for easy and fun Halloween costumes, I keep coming back to the scenes I love so much from certain movies. Here are my top 5 picks. There are many more where these came from (and certainly some more frightening, if that's your thing).
Top 5 Halloween Costumes Worn in Movies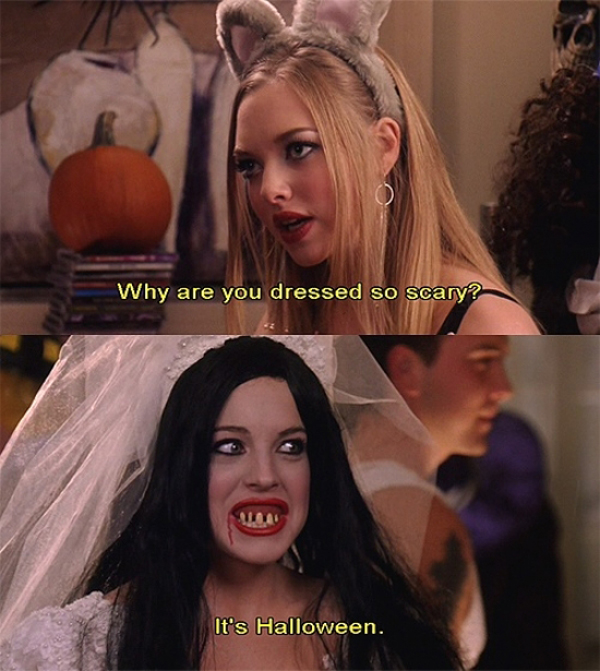 "Ex-Wife" from Mean Girls
Scene: Cady Heron doesn't get the memo that all the girls are dressing like sluts ("I'm a mouse, duh") and crashed the party with her gory getup.
Fun: Who doesn't want to play with the fake teeth and blood?
Easy: A headband, tulle and really tacky prom dress or wedding gown from the thrift store. Set.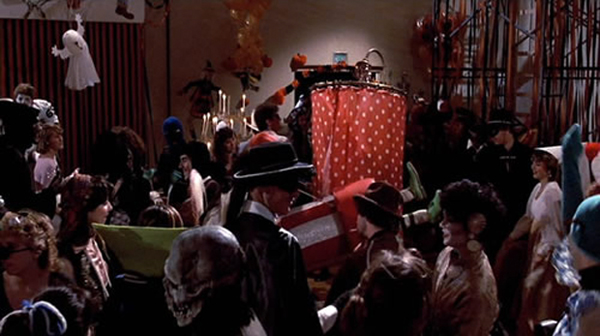 "Shower Curtain" from Karate Kid
Scene: Daniel LaRusso tries to hide from his enemies in this clever ensemble. Spoiler: They find him anyway.
Fun: Makeout party!
Easy: Apparently you can just buy one.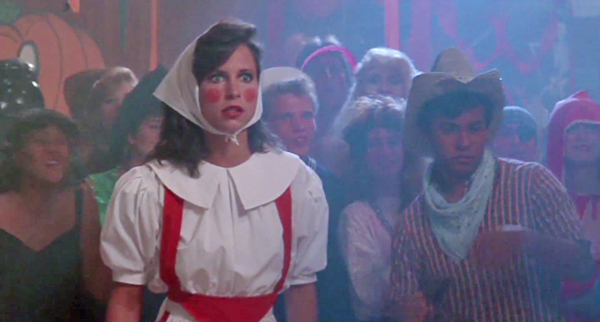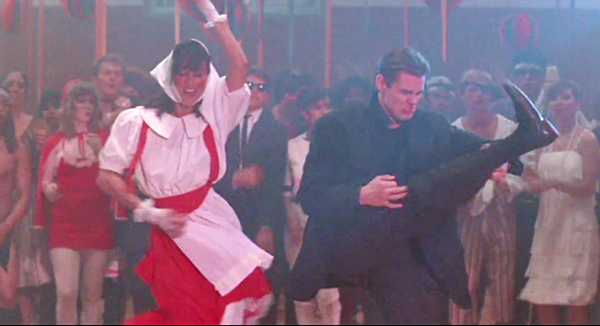 "Jill" from Once Bitten
Scene: Robin is upset with her boyfriend because he's supposed to be Jack (as in Jack and Jill), but instead he comes to the dance dressed as a vampire even though he "says" he's not wearing a costume. Some funky lady shows up and tries to steal him away, but Robin fights back with her mad skills during a dance off.
Fun: Cute but not hooker-wear, plus you have a swirly skirt, and who doesn't like a swirly skirt?
Easy: Debatable. But I could see a white blouse, red skirt and strategically pinned pieces of white fabric for the kerchief and apron working in a pinch.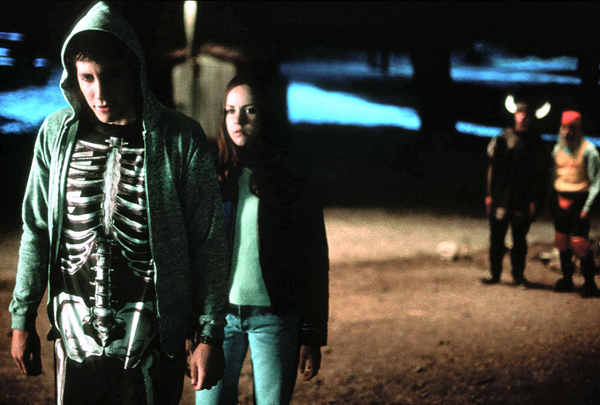 "Skeleton" from Donnie Darko
Scene: Donnie Darko is on a date with destiny and shows up to the Halloween party wearing literally the laziest costume ever. The hoodie really ties it all together.
Fun: Wearing a hoodie will make you instantly recognizable as Donnie. Bonus points if you get your significant other to dress up like Frank, the demented bunny (who still gives me nightmares).
Easy: It's a pretty easy costume to find.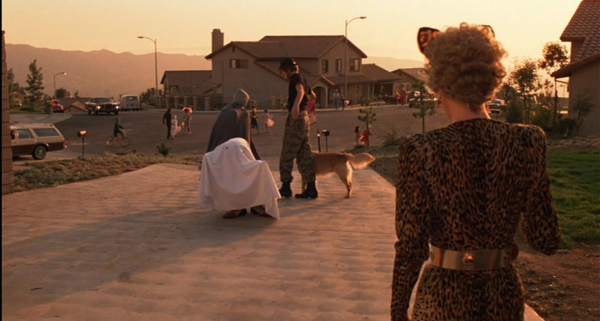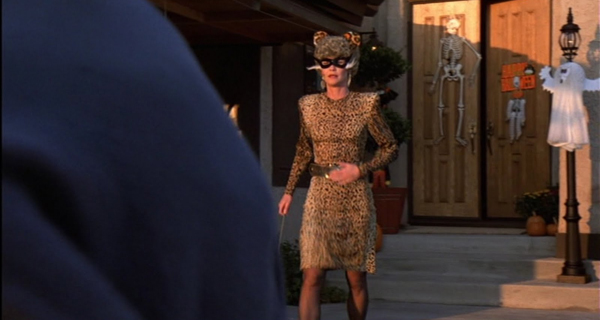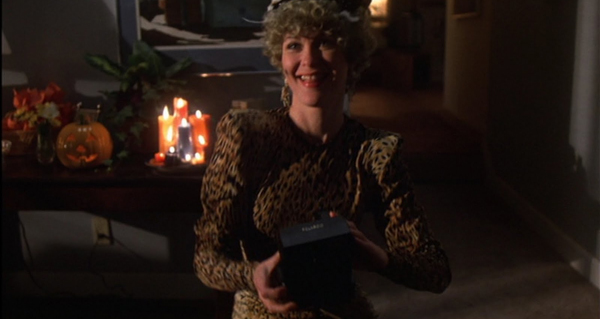 "Cat Creature" from E.T.
Scene: Elliott's mom takes pictures of the kids in their Halloween costumes, failing to notice that it's E.T. wearing the ghost costume, not her daughter.
Fun: This costume is like the musical Cats meets Catwoman meets random cat print. It's almost like I tried to do a few years ago, but better.
Easy: A simple masquerade mask, a cat headband, and a dress you'd wear even if it weren't Halloween (this one is awesome & this one, too). Do a simple Google search for tiger print or leopard print dress.
Which one would you wear? I need help deciding.
---
This post contains just a few affiliate links. Thanks for supporting Little Gold Pixel!