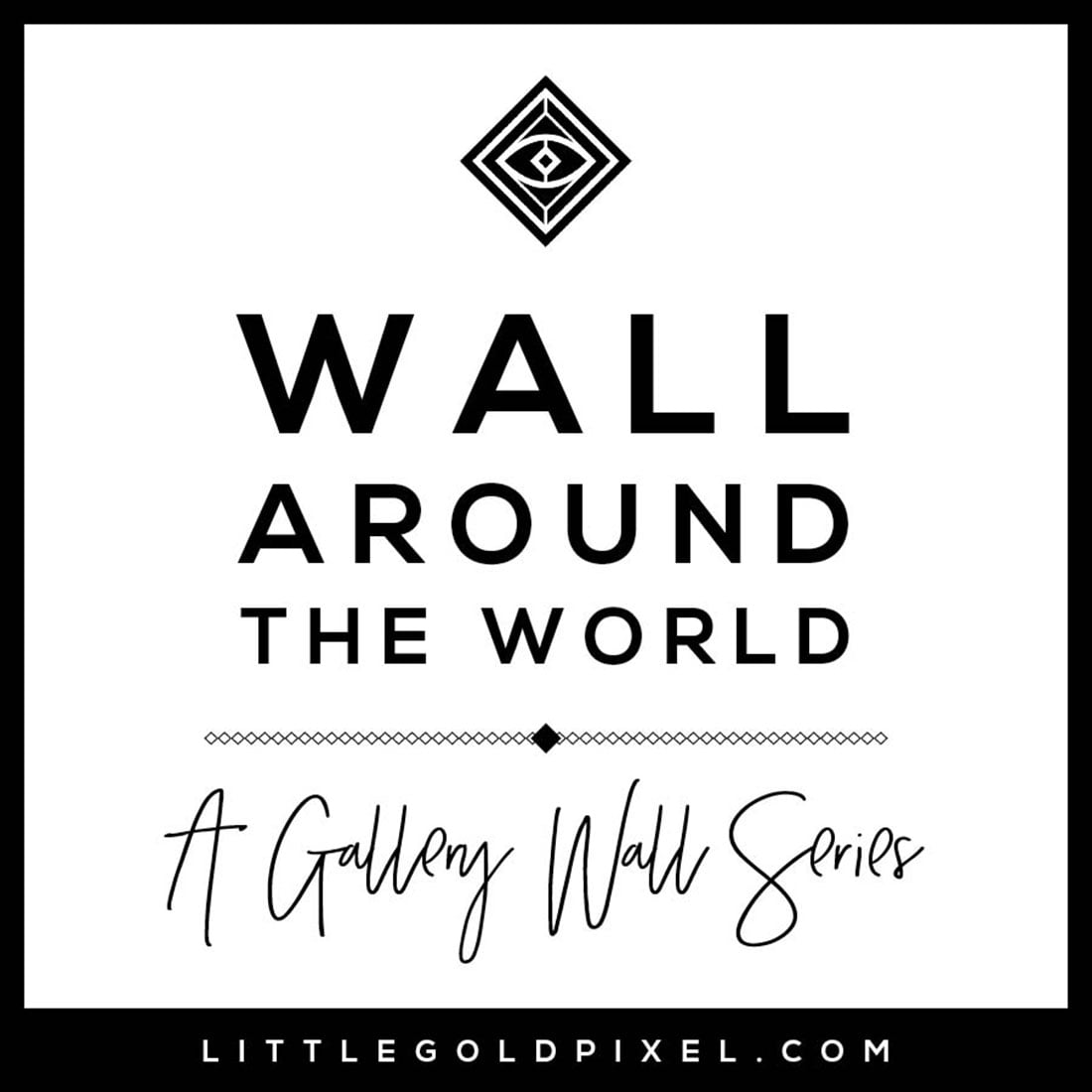 Welcome to the fourth installment of the Wall Around the World series, where we go inside the homes of some amazing gallery wall stylists and get the inside scoop on how they choose their art and decor. Check back every Tuesday for the latest virtual tour!
Today's wall comes from North England, where Lisa lives in York with her husband, three children, dog and kitten.
Here, Lisa shares the secrets to her home style, including her philosophy on recycling decor and her affinity for George Michael.
On where she lives
I live in a village five miles from York which is in the North of England.
It's a beautiful, historical city which is surrounded by a wall that was built by the Romans in 71 AD.
We live in an old Georgian house which was built in 1759.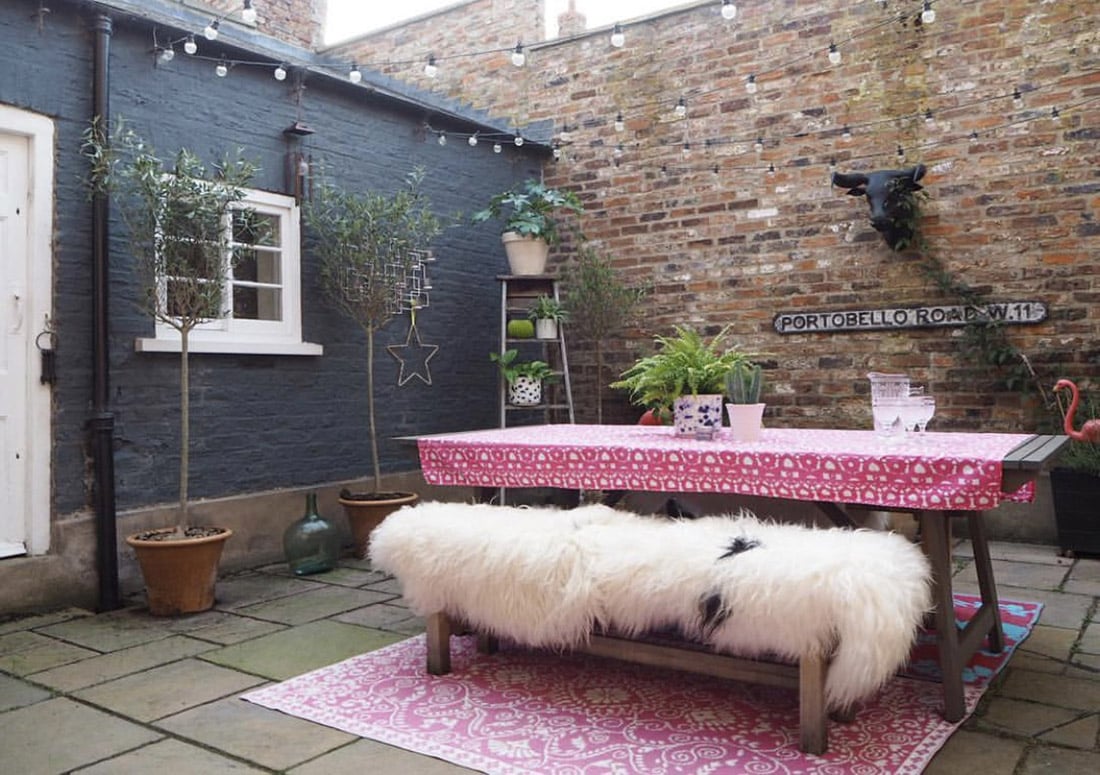 I love the space that we have here, high ceilings and lots of original period features.
It's fabulous to wonder what has gone on within these walls over the years!
On the minus side, old houses are expensive to maintain and the heating bills are very high!
Fantasy house guest: I'd ask George Michael, make everyone dress in Choose Life T-shirts, and we'd drink Aperol Spritz. I think he'd like my bamboo wallpaper in my bar.
On her upcycled eclectic style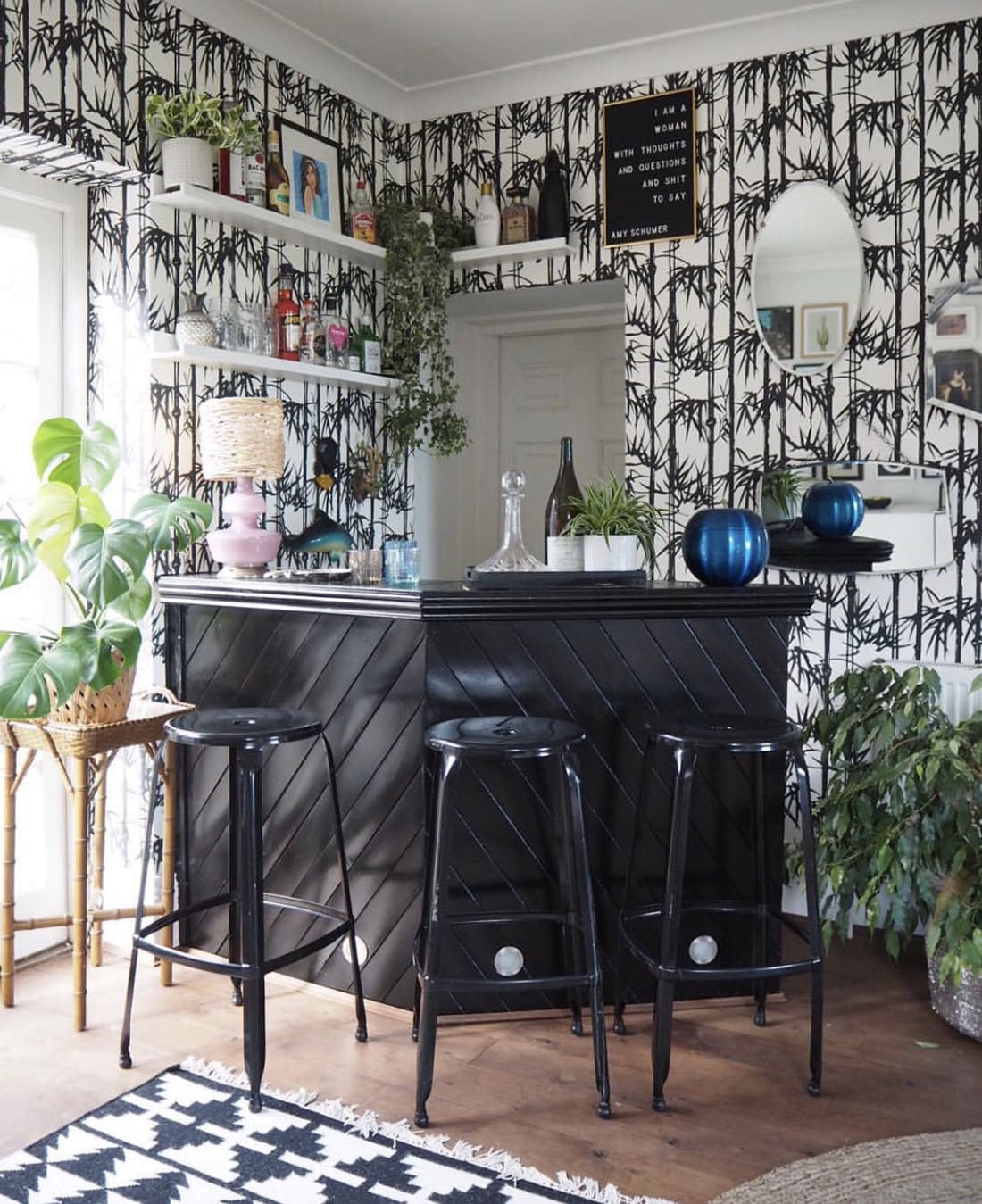 My style is eclectic.
I am passionate about recycling and upcycling furniture, and love mixing old with new.
I've always been a thrift shop trawler and eBay user, and 90 percent of my home is thrifted.
On making decor decisions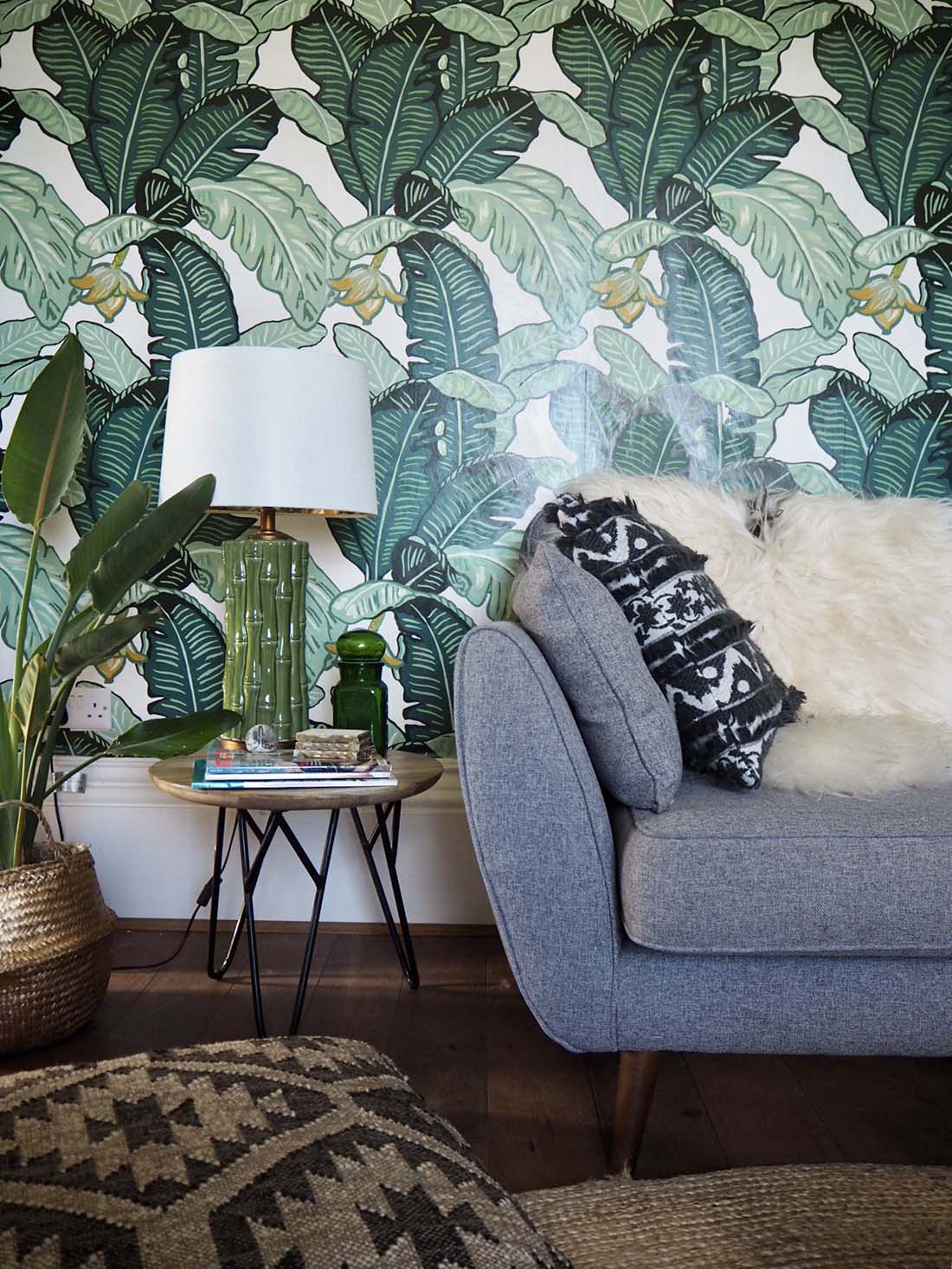 I've always loved interiors and it was only when we moved to York and into our dream home that I was really able to explore my ideas!
The house had been refurbished, but it was perfect for a decor like me who wanted to put her own mark on it.
The empty spaces enabled me to work out what my style really was by a process of elimination.
I eBayed or sold all the items that I wasn't actually in love with and was left with the items that I really loved!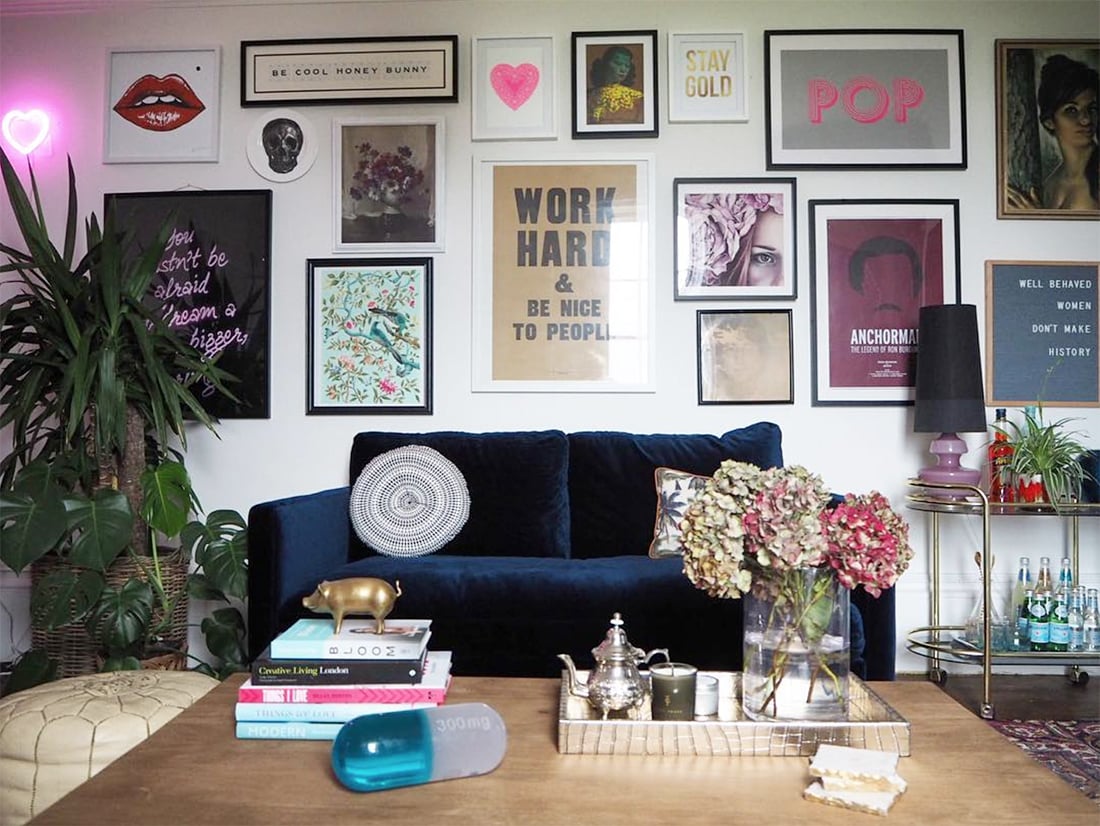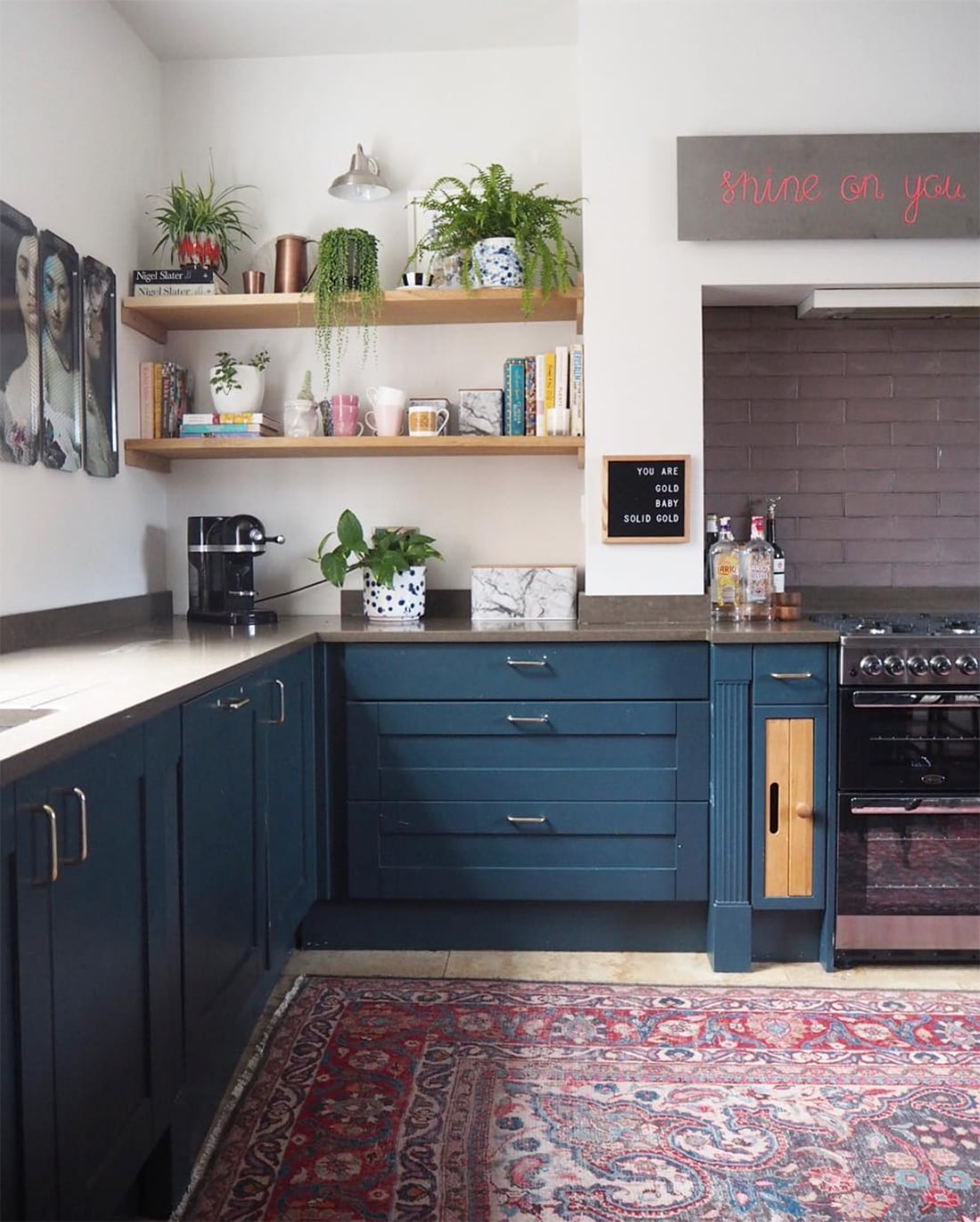 Favorite shops: Violet & Thistle, Curious Egg, Rockett St George, Made.com, Habitat, Homesense
Finding inspiration: I adore Jonathan Adler, the boho chic of Liz Kamarul and the consistent fabulousness of Emily Henderson. My favourite musician was George Michael, and I love a bit of kitsch (80's Wham was my favourite era).
On the gallery wall process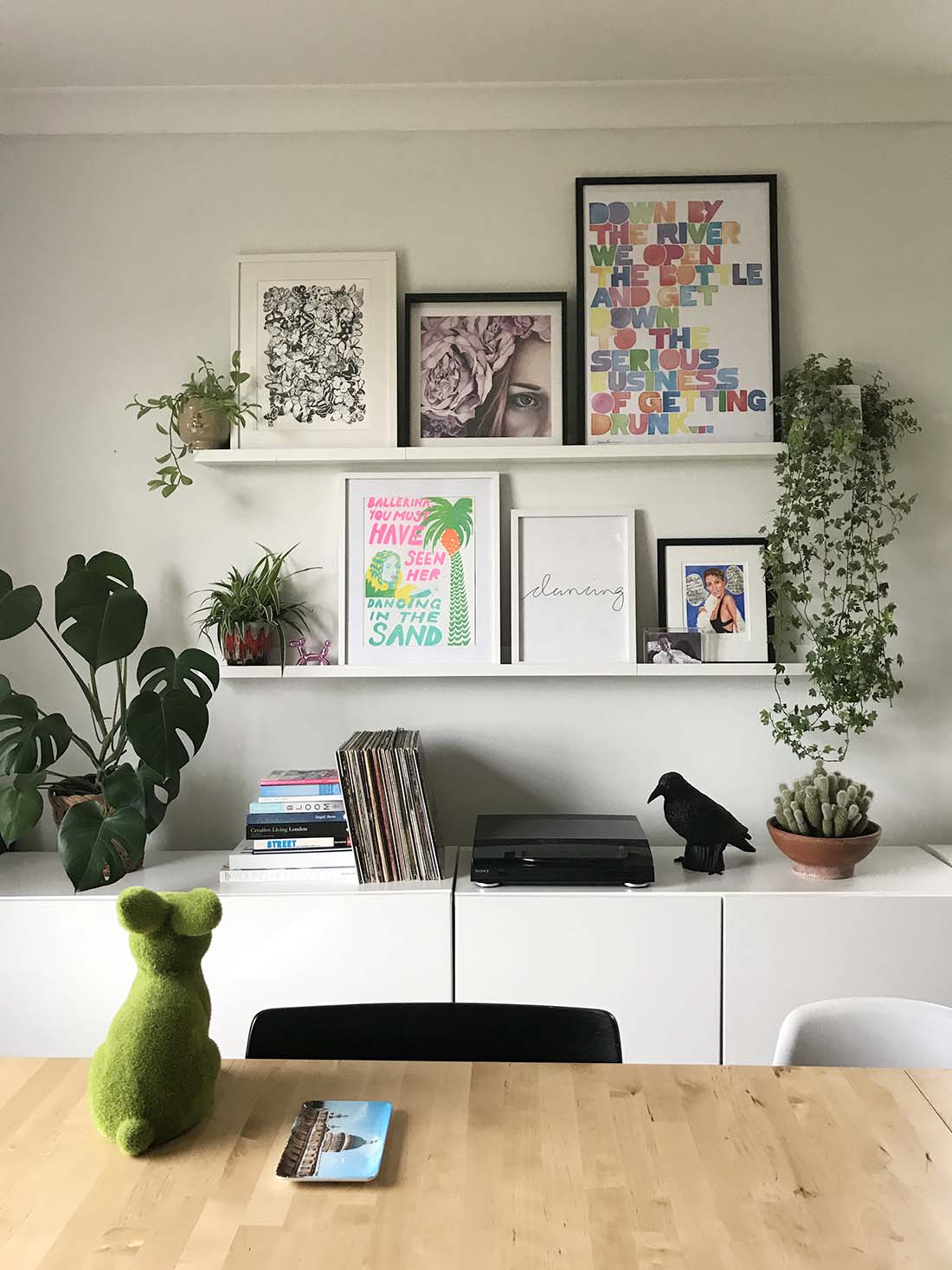 I enjoy mixing old with new — it's not uncommon in my house to see a modern print from a small online store mixed with a gold framed Old Masters print from the local thrift shop.
I'm a hugely transient decorator, and always have been, so everything in my house needs to be multitasking, including the art! I like art to be a major focal point in a room.
Gallery wall advice: Only have in your home things that you really love. If you don't love it, get rid of it and don't feel the need to fill spaces. Wait until you find things that suit your space perfectly, don't settle for less. Shop thrift and recycle!
On her favorite wall art pieces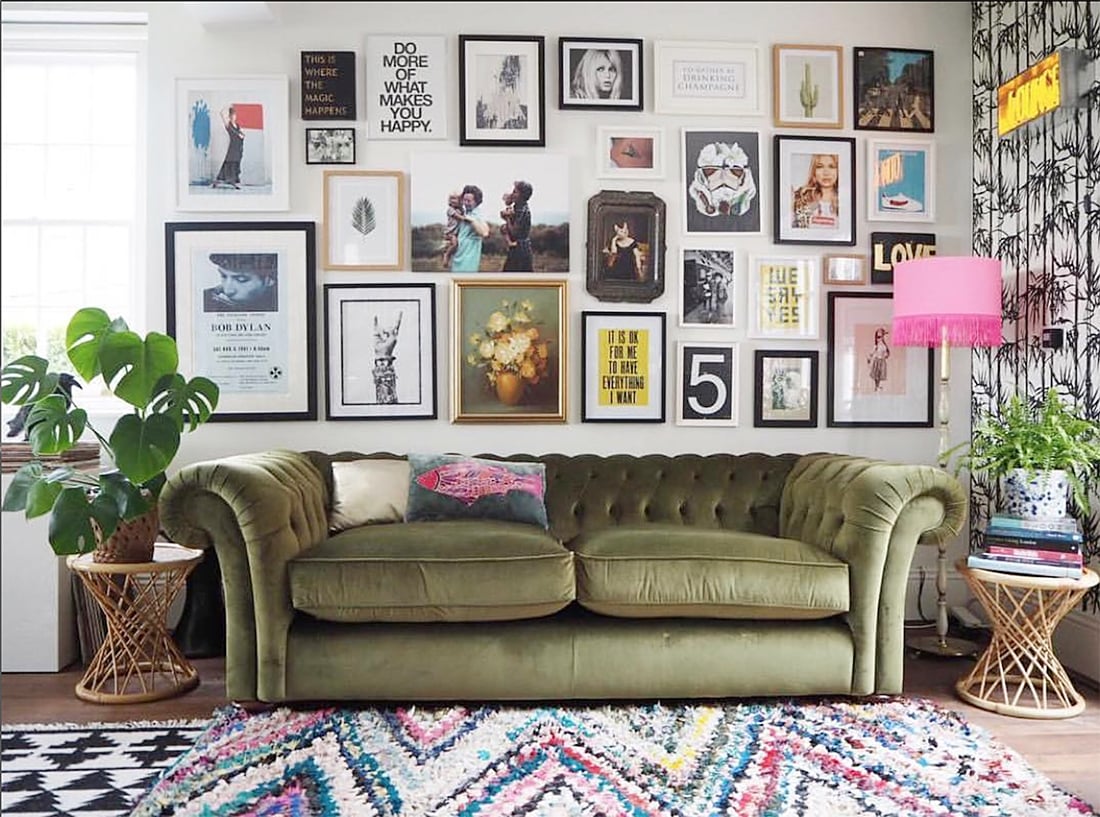 Family memories: A print of my two grandmothers dancing with me and my brother on the beach at Sandbanks.
Bob Dylan concert poster: Bought this for my husband for his birthday, he's mad about Bob Dylan.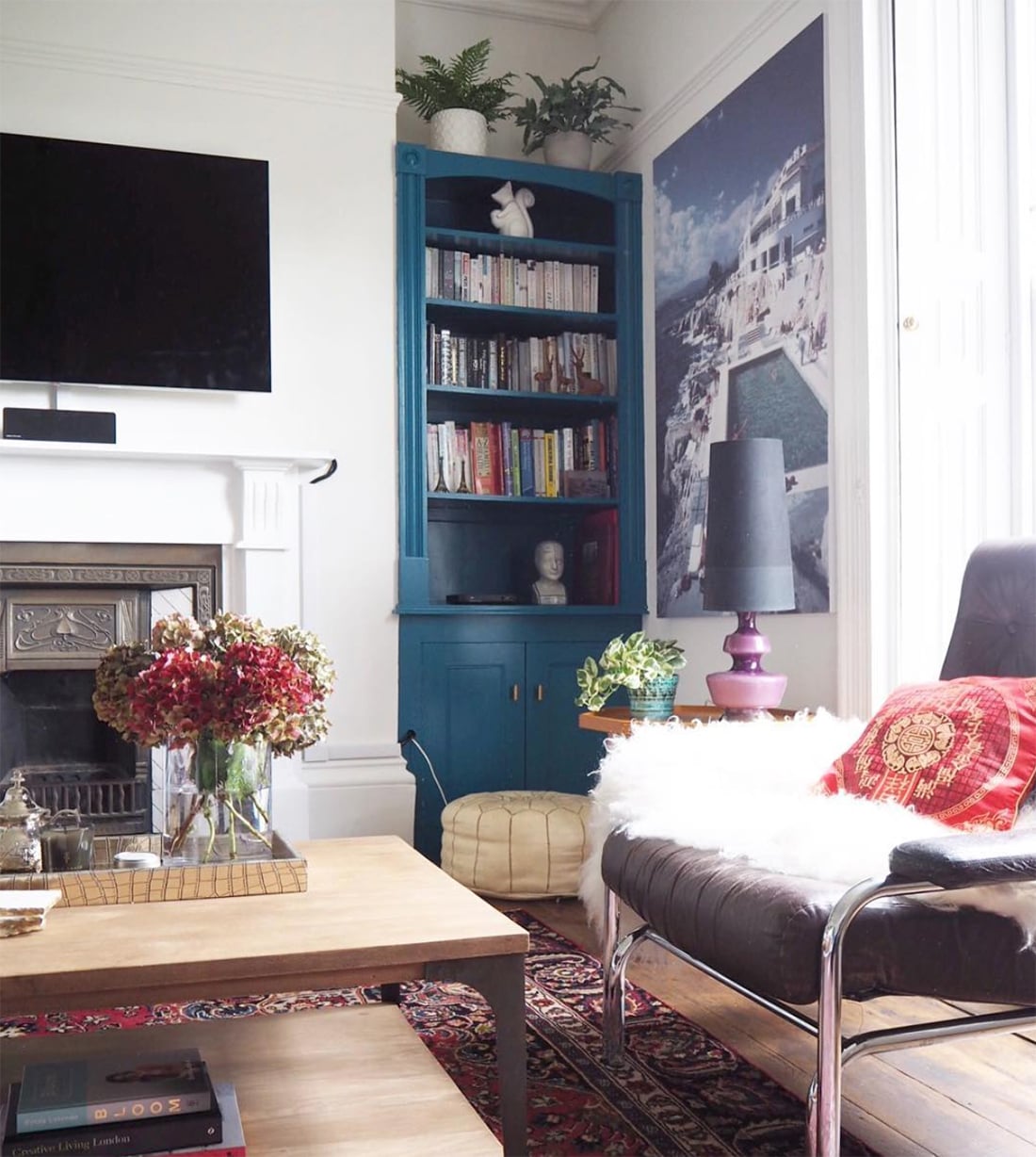 Slim Aaron's Hotel Du Cap D'Roc: Husband bought for me as knew I loved it, always makes me happy.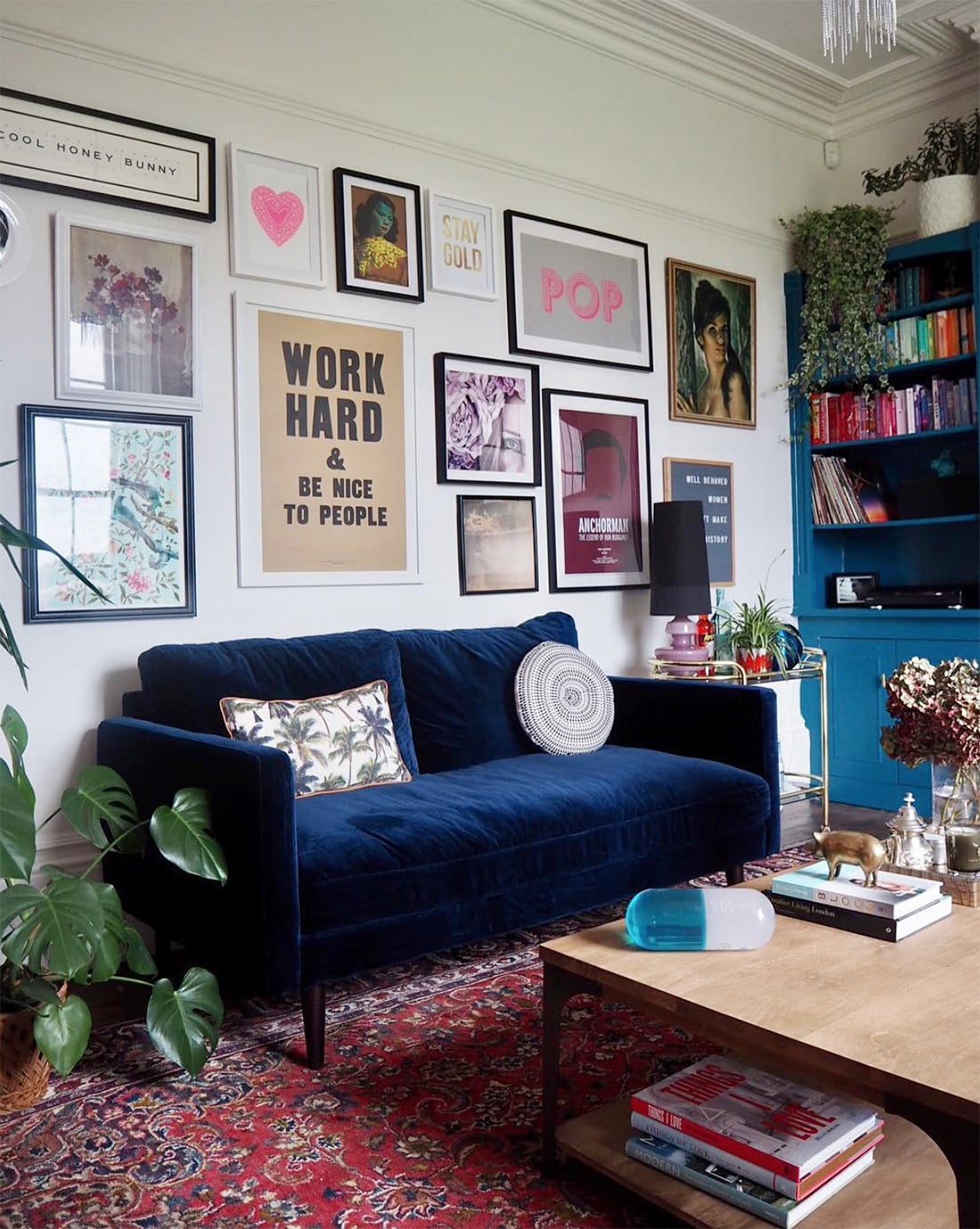 J.H. Lynch's Tina: Picked up for £15 in a charity shop, love this mid century style of art.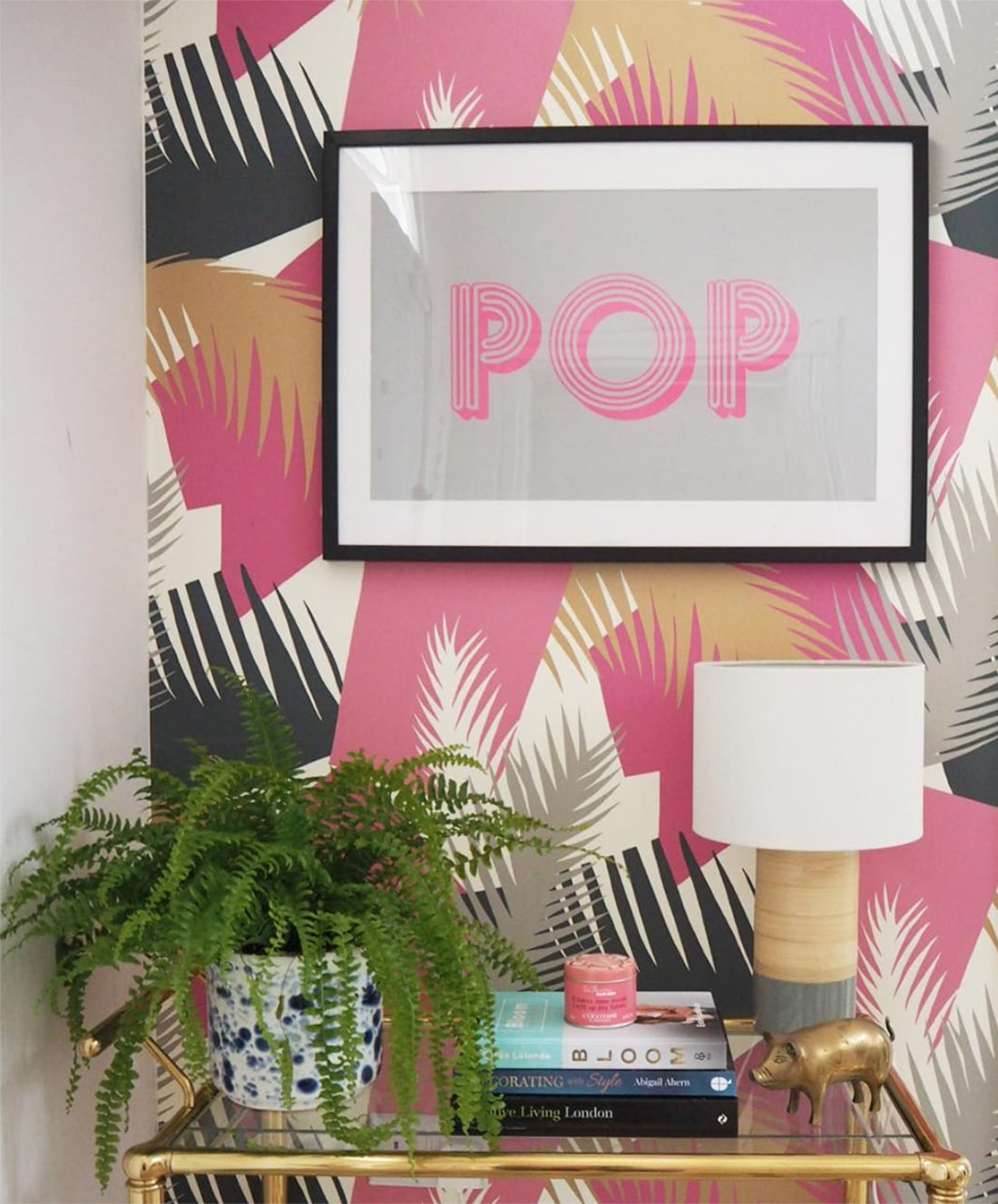 POP print: Love the 70's disco vibe of this print from a talented design duo called Quirk & Rescue.
---
You can find Lisa on her site, Lisa Dawson Styling, where she writes about styling and updating on a budget. She runs regular workshops on Styling Your Home and Instagram tips, and has just launched the UK's first multi-platform blogger challenge, Revamp Restyle Reveal. She was shortlisted for both the EKBB Influencer Awards and the prestigious Amara IBA's this year. She was also recently listed in Marie Claire's Top 30 Influencer Power List. You can also find her on Instagram: @_lisa_dawson_ and Twitter: @lisadstyling.
---
P.S. Read previous Wall Around the World posts.
Bookmark Upcycled Eclectic Gallery Walls for later: