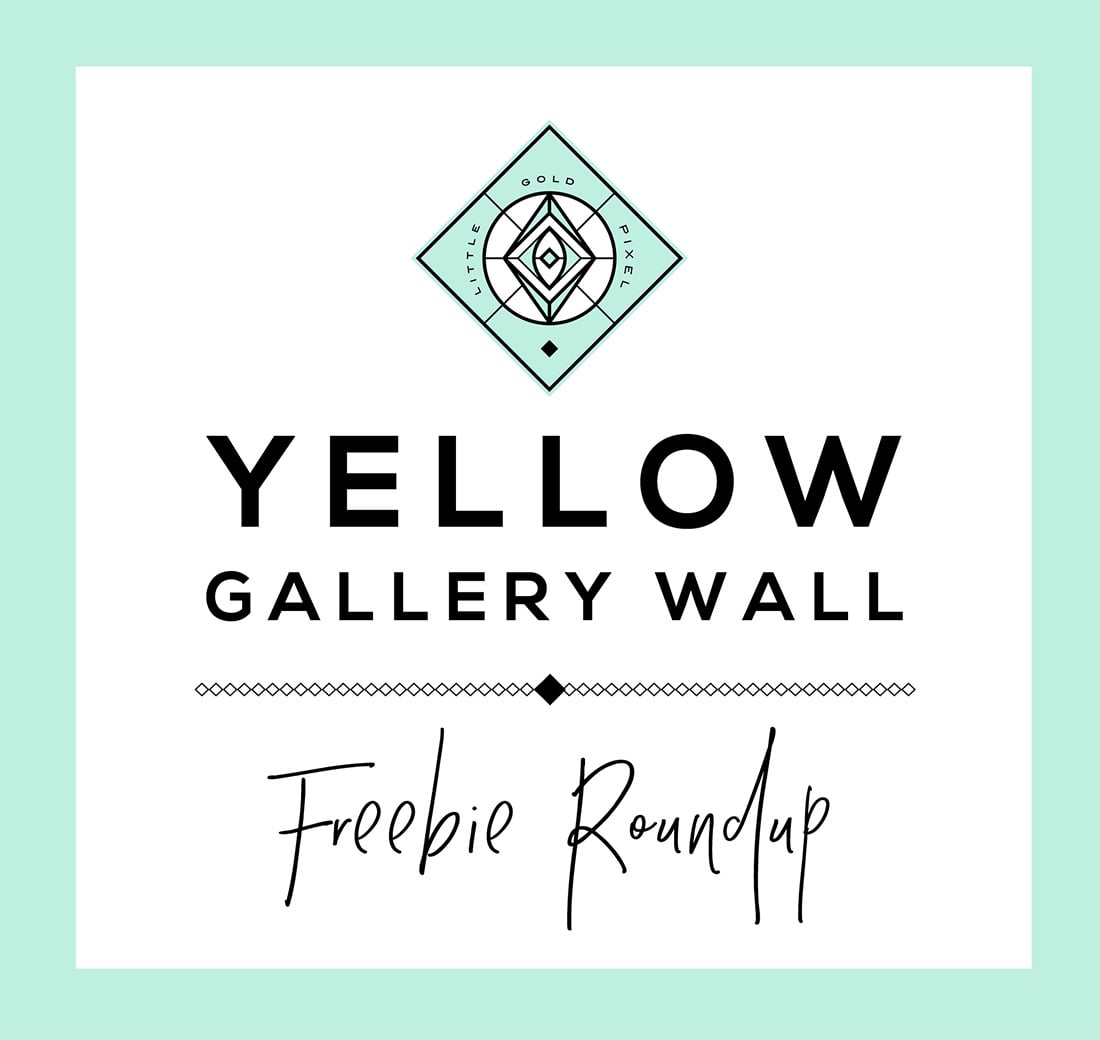 Welcome to today's freebie roundup, in which I search high and low for free yellow printables to create a yellow gallery wall.
Of all the gallery wall themes, you ask about color-coordinated themes most often. It's no wonder because it's the most tempting kind of gallery wall yet the easiest to get wrong.
The last time we did this was in September (eight months already!), when we created a red gallery wall.
I hope to continue this series more often than once every eight months, jeez, so let me know in the comments below whether you have a preference for the next color roundup.
Yellow seemed appropriate this time because we are getting deliciously close to summer. Is there any color more obviously summery than yellow?
It brings to mind, in no particular order: the sun, yellow polka dot bikinis, the sun, mustard at a backyard barbecue, the sun, pineapples, the blistering hot sun, yellow striped beach towels, the blistering hot solar flare of a sun, you get the idea.
For today's yellow gallery walls, I've gathered yellow in the vein of greenish citron all the way to a deep, almost orange burn.
Let's get started.
Yellow Gallery Wall #1: Citron Love
To put these various tones together in a cohesive way, I made sure that three of the six pieces of art were mostly white space, which allows the yellows to breathe and not clash.
Gray, black, light blue and white secondary colors keep everything feeling like it belongs.
The pop of red is an unexpected but funky touch.
I imagine a very fun-loving but fierce woman rocking this wall. Scroll down beneath image to find links to the original art pages. Please follow the rules for each artist's work. Most are for personal use only.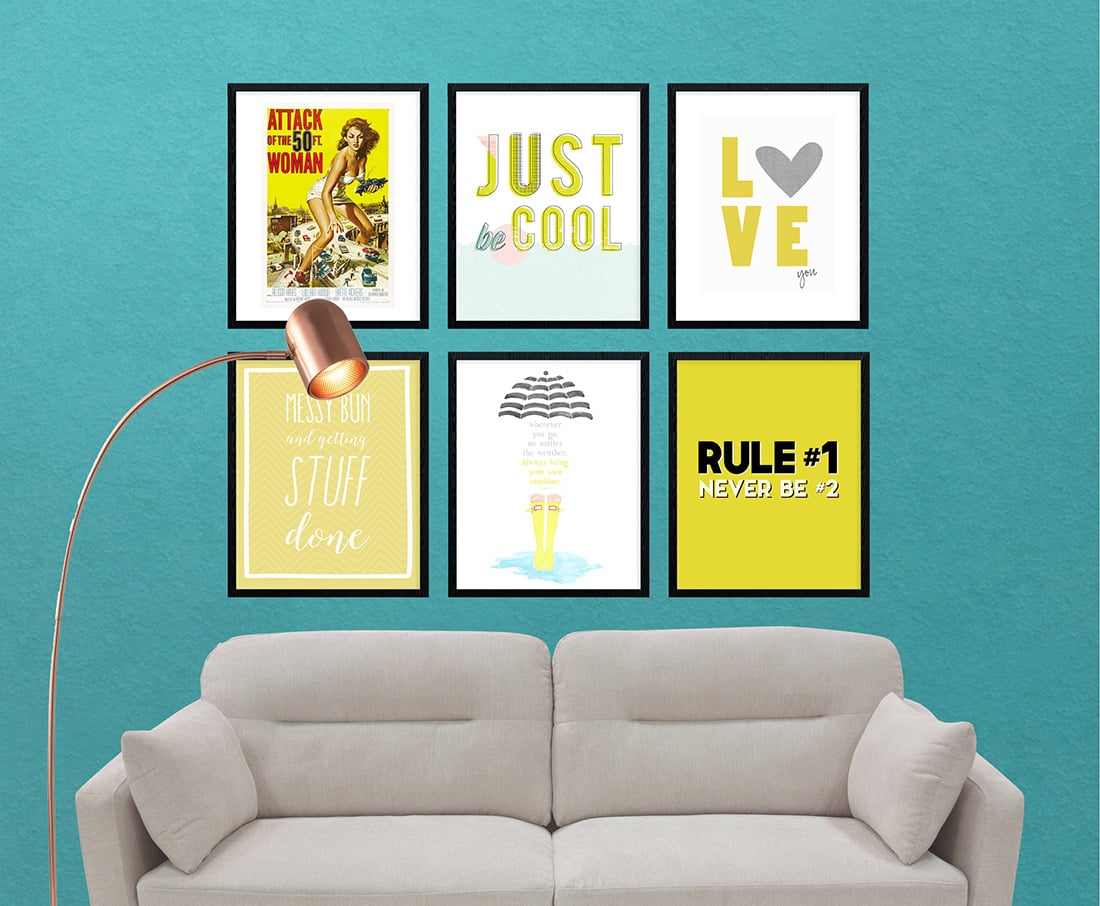 Sofa is from Target and floor lamp is available through Gilt.
Yellow Gallery Wall #2: Tropical Vibe
This wall relies on tropical imagery and pink to tie it all together.
But most of all, PINEAPPLES!
I imagine a surfer girl loving this combo.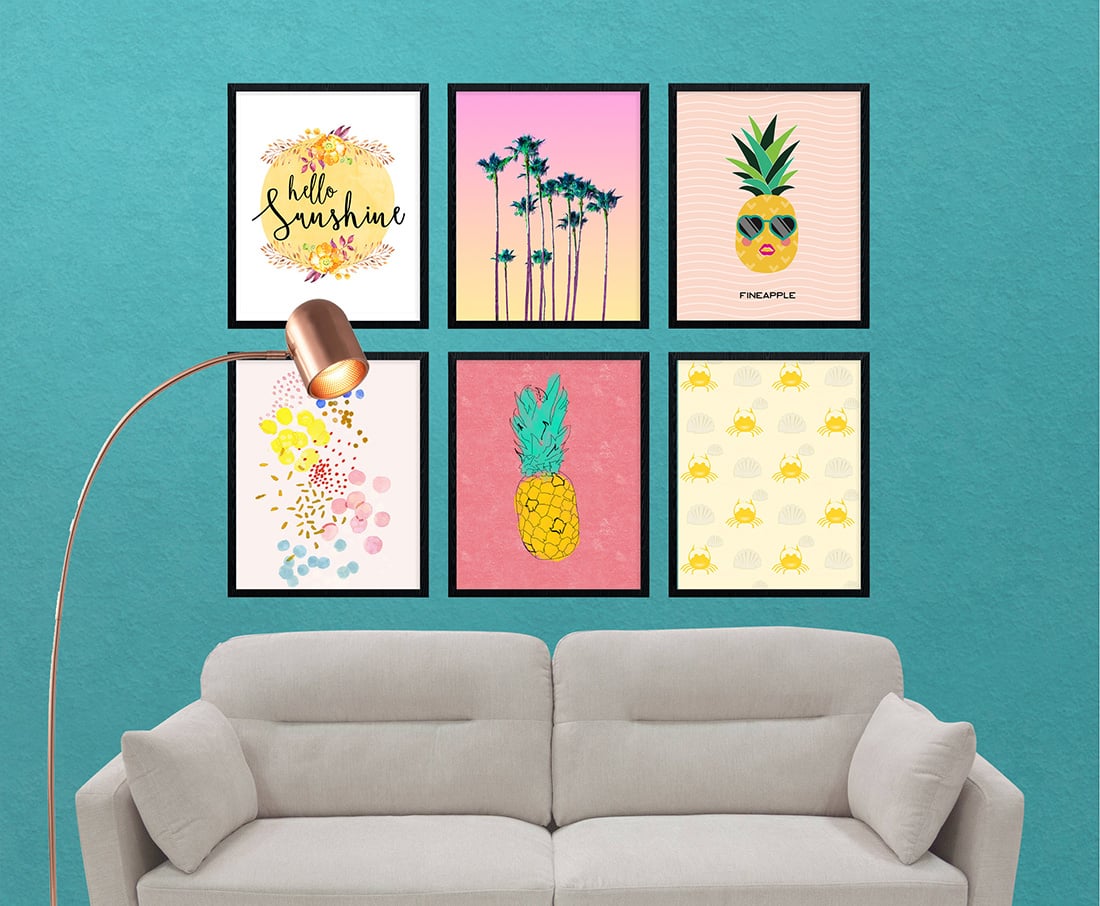 Yellow Gallery Wall #3: Gradient Palms
This wall uses a lot of Matt Crump's awesome candy minimal wallpapers to evoke a whimsical beach vibe.
All of these images are wallpapers, so be cautious when trying to re-create this look. The scale might not be possible at this low resolution, so some experimenting will be necessary.
A wall perfect for a daydreamer who believes in unicorns.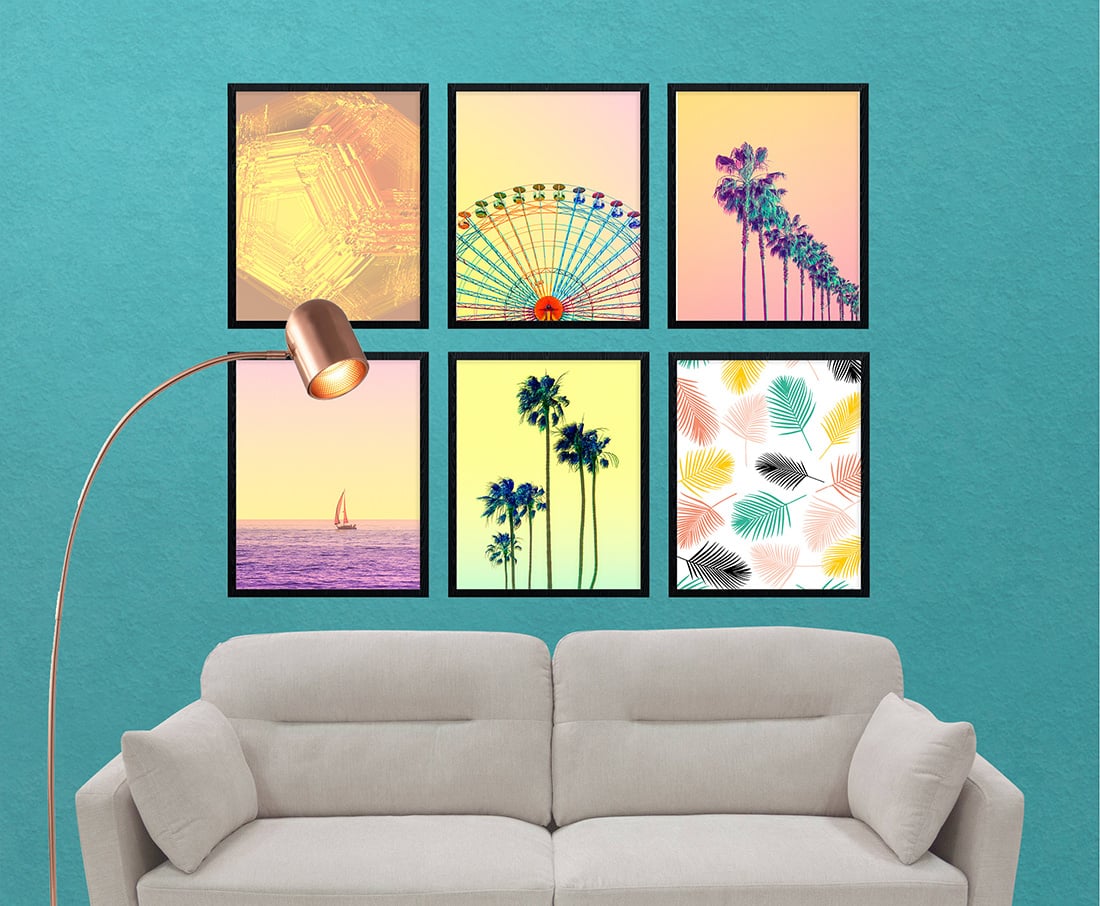 Yellow Gallery Wall #4: Bright Yellow
Here's your monochrome wall.
For the purist.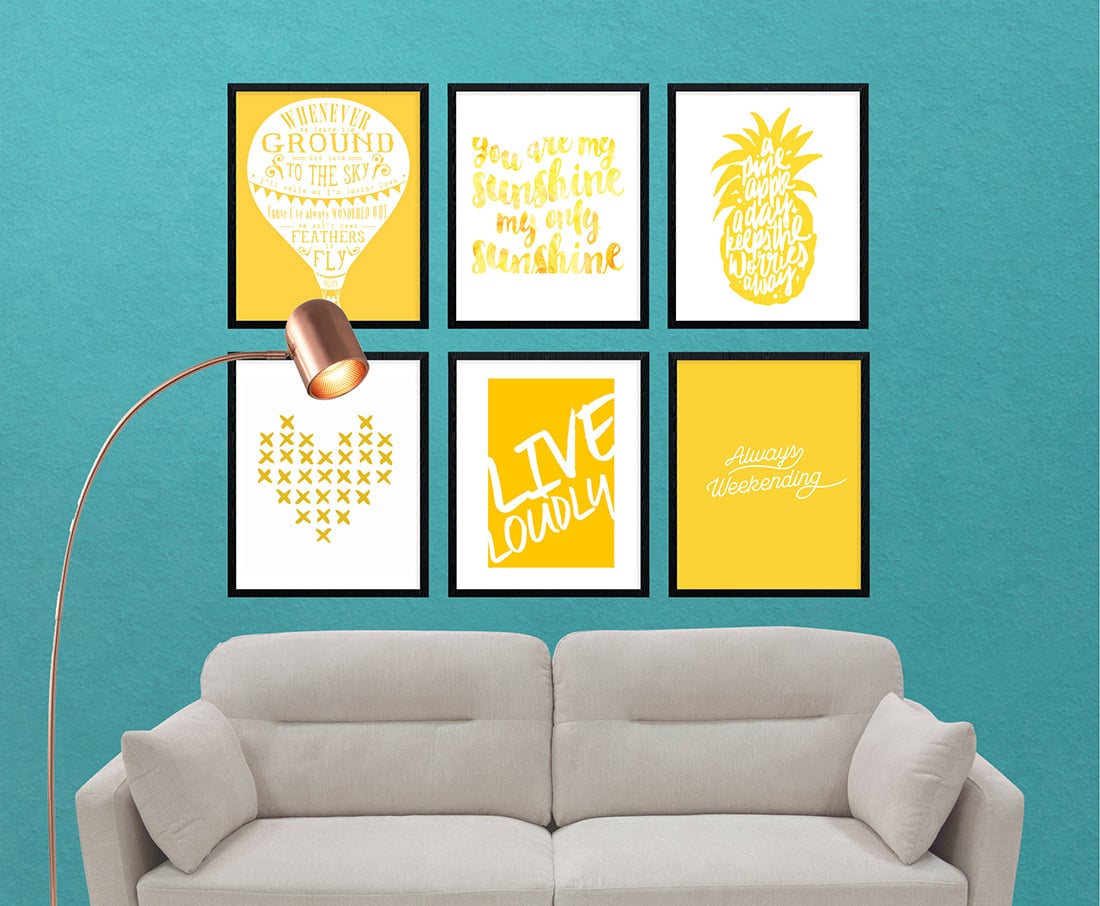 Yellow Gallery Wall #5: Retro Belle
For a woman who's bad-ass enough to fly planes, study butterflies and garden, all in one day.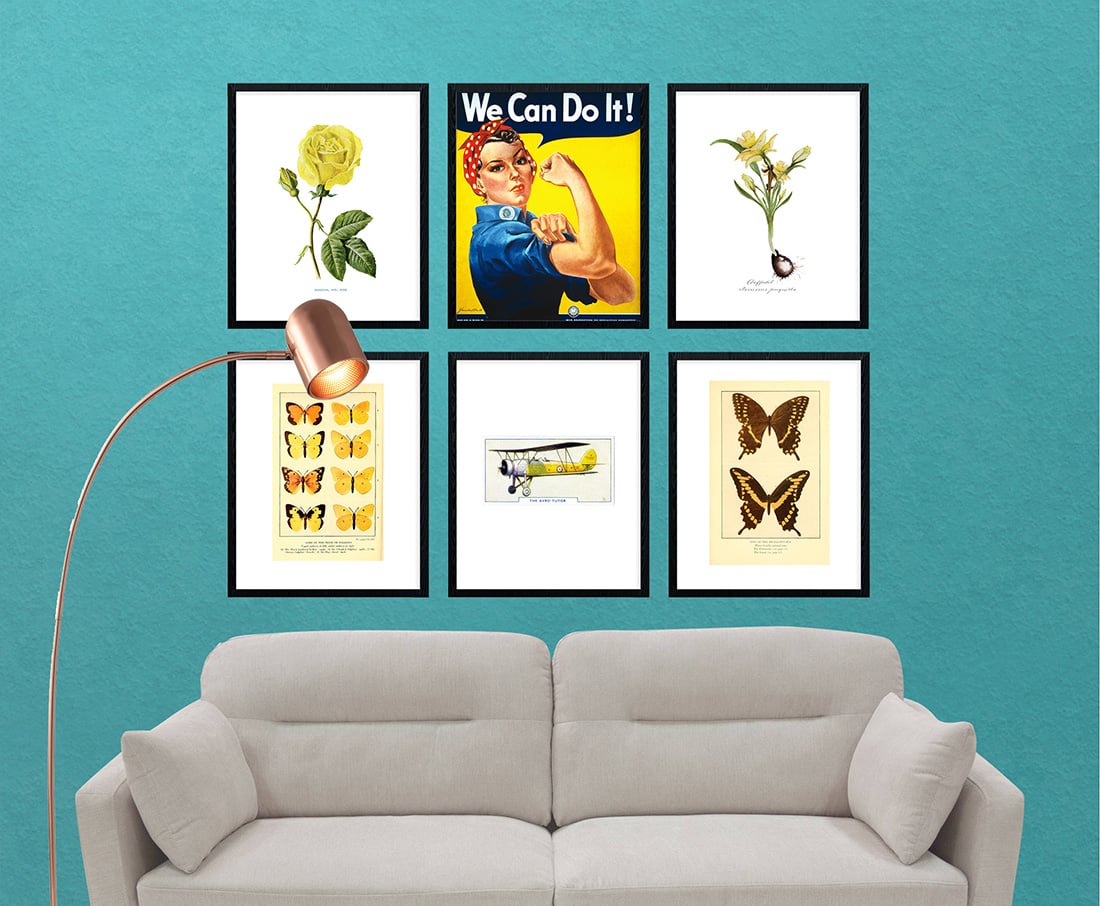 Yellow Gallery Wall #6: Make Lemonade
Would look great in a kitchen, don't you think?
For the person who always has a centerpiece on their table and a batch of ice tea in the fridge.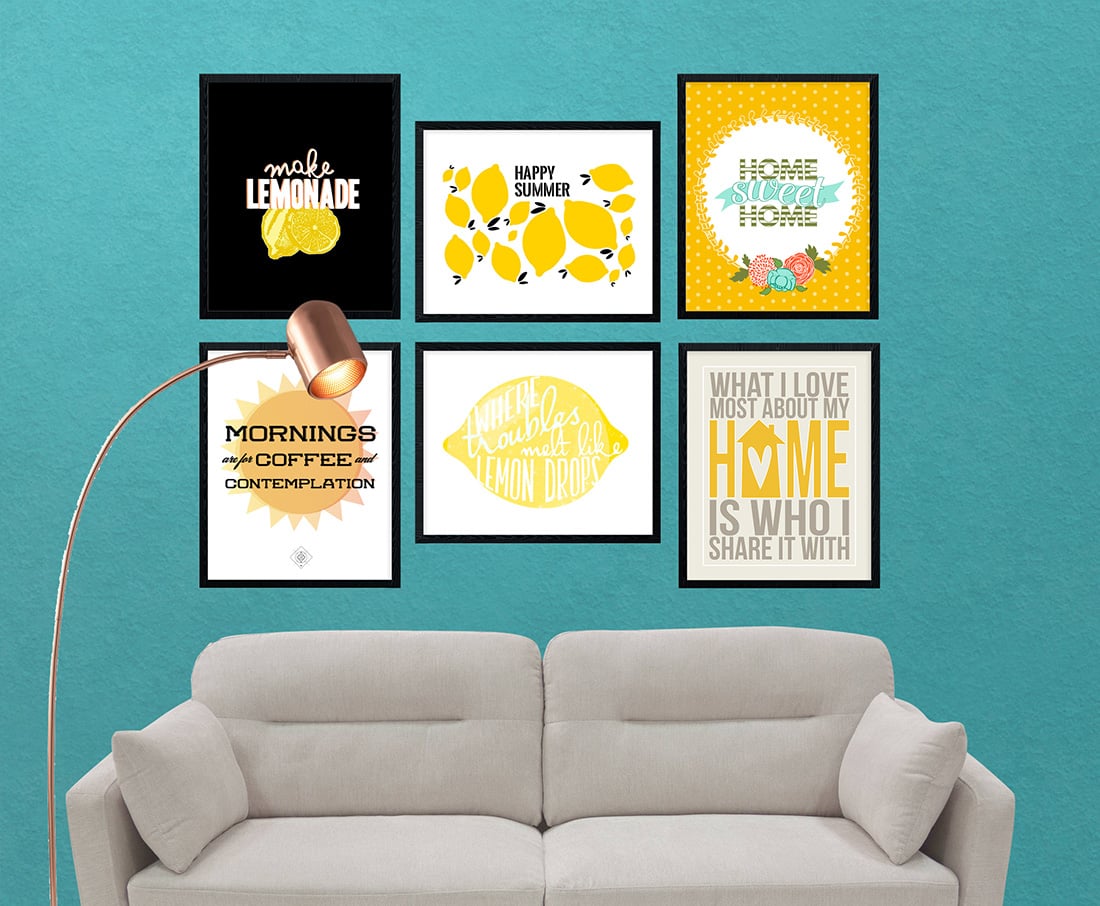 Yellow Gallery Wall #7: Retro a-Go Go
This might be my personal favorite, with the deepest mustards and the unique blend of surf, magic and vice.
I imagine you might love this if you still dig "Pulp Fiction" and taking long naps at the beach.
Like I said, me.
Pro tip: These posters are odd sizes, so rely on matting to make them fit standard frames.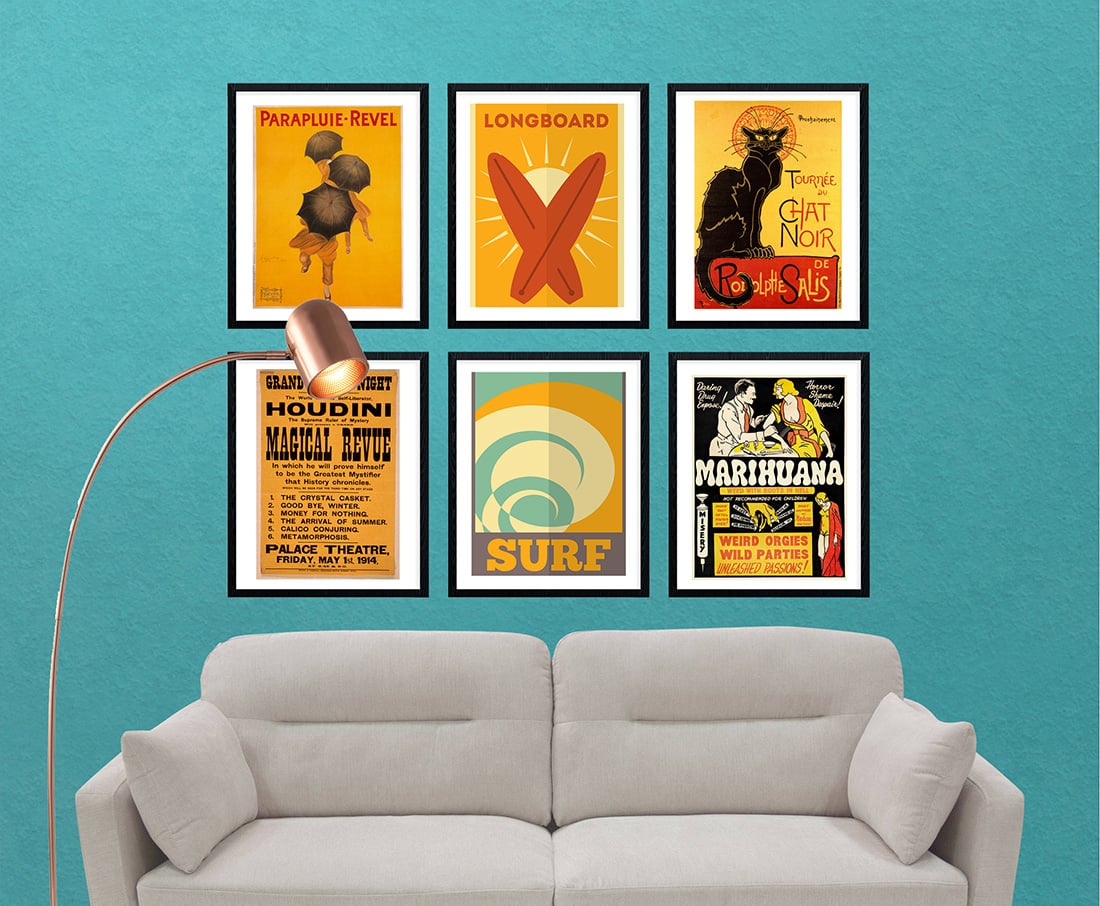 Which wall suits you best? Tell me in the comments!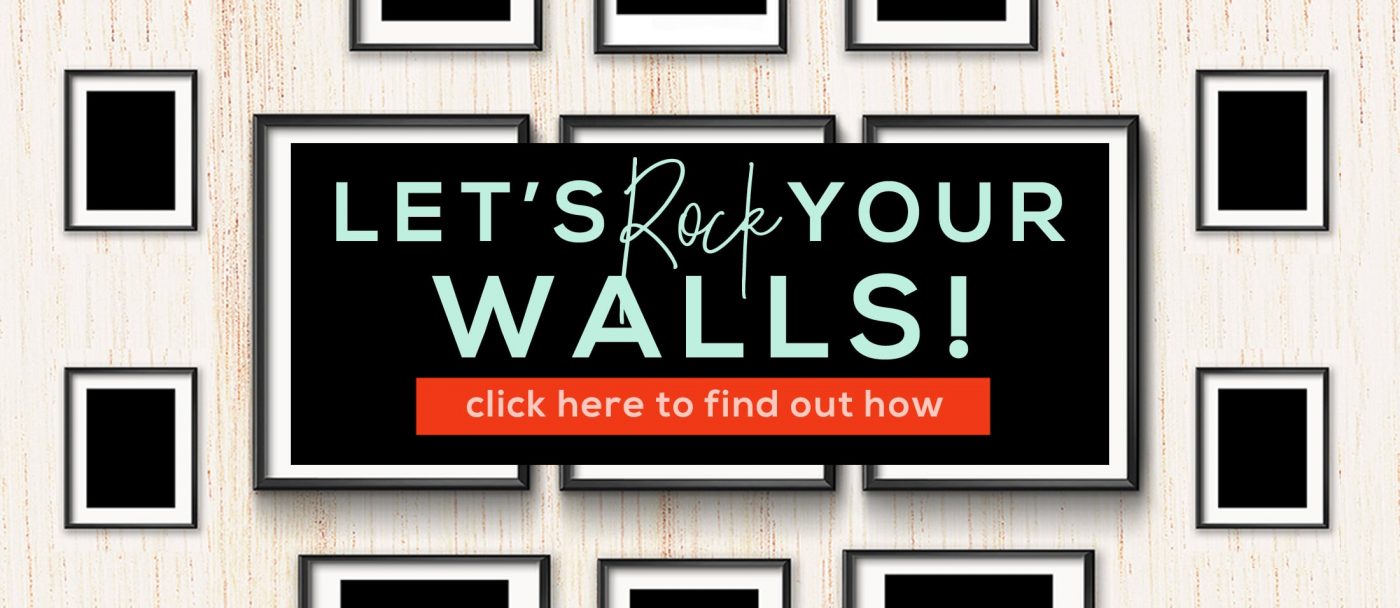 Bookmark for later: