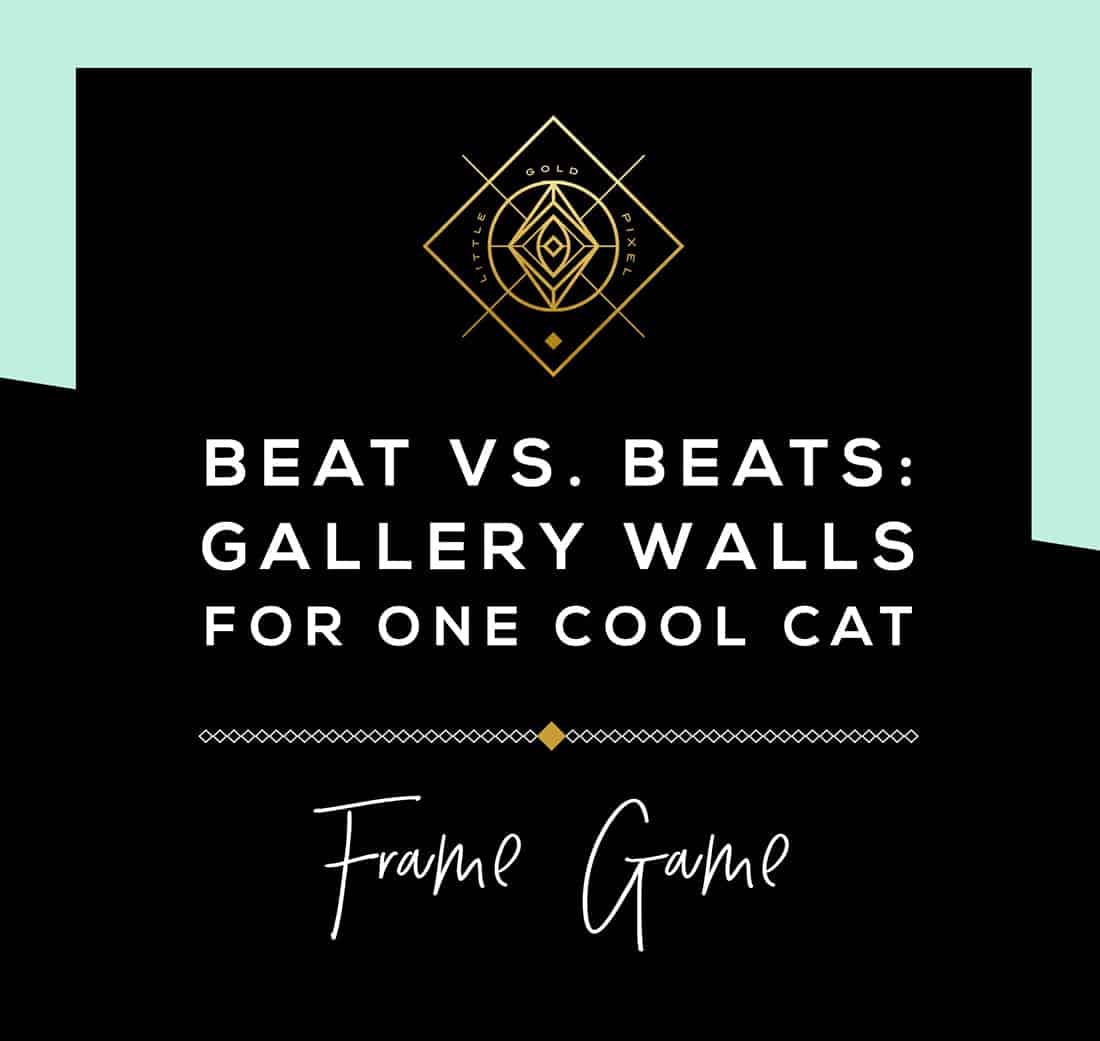 Frame Game is an occasional series in which I take readers' gallery wall requests and find art that fits their personalities. Click here to see past Frame Games.
Today's wall was inspired by Piper, who is looking for ideas for her living room.
She is one helluva music buff. Here's a short list of her music-related loves: buying, listening and obsessing over vinyl records, music, playing the piano, indie music, old-school blues and R&B, old school rock 'n' roll, Pink Floyd, the Stones
She's also inspired by vintage stuff, Audrey Hepburn, the films "Amelie" and "Drive," beat writers, Salinger and Camus.
Her ideal color palette: Whites, pale blues and black; "anything that reminds me of ocean and/or sky"
Absolutely not: Country music and pinks, oranges, greens or yellows
Frame Game: Hip Rocker Gallery Walls for One Cool Cat
So, are Piper and I twins separated at birth? Because hello, I love all of these things.
When trying to narrow the focus of this gallery wall, it was clear right away that I would be curating a music-themed wall. A rocker gallery wall, to be specific.
But something else jumped out: beat writers
I went through a bit of an obsession with the Beats in my formative years, even going so far as to take a course about them in college, in which I found out that William S. Burroughs really enjoyed capers. (Isn't it weird, the stuff you remember? I think it's only because the professor had a caper-related story he told about 50 times.)
PLUS the Beats and their natural ties to old school blues and jazz had just the right amount of music tie-in that I thought would make sense for Piper. So, two gallery walls were born.
The color palette proved a bit of a struggle since Piper nixed most hues; in particular I really wanted to curate some neon pink in homage to "Drive," and some warm reds & yellows in homage to "Amelie," but I will save these inspirations for another gallery wall someday.
To download these printables, click on the links below the roundup to go to the original download pages.
Option No. 1: Rocker Gallery Walls
In this gallery wall, I mixed Piper's love of antique shopping (the phonograph) and affinity for ocean blues with her love of rock music.
What would a rock gallery wall be without a hand throwing up the symbol, some guitars and a record?
Plus the perfectly colored Pink Floyd lyric art ties it all up in a neat little bow.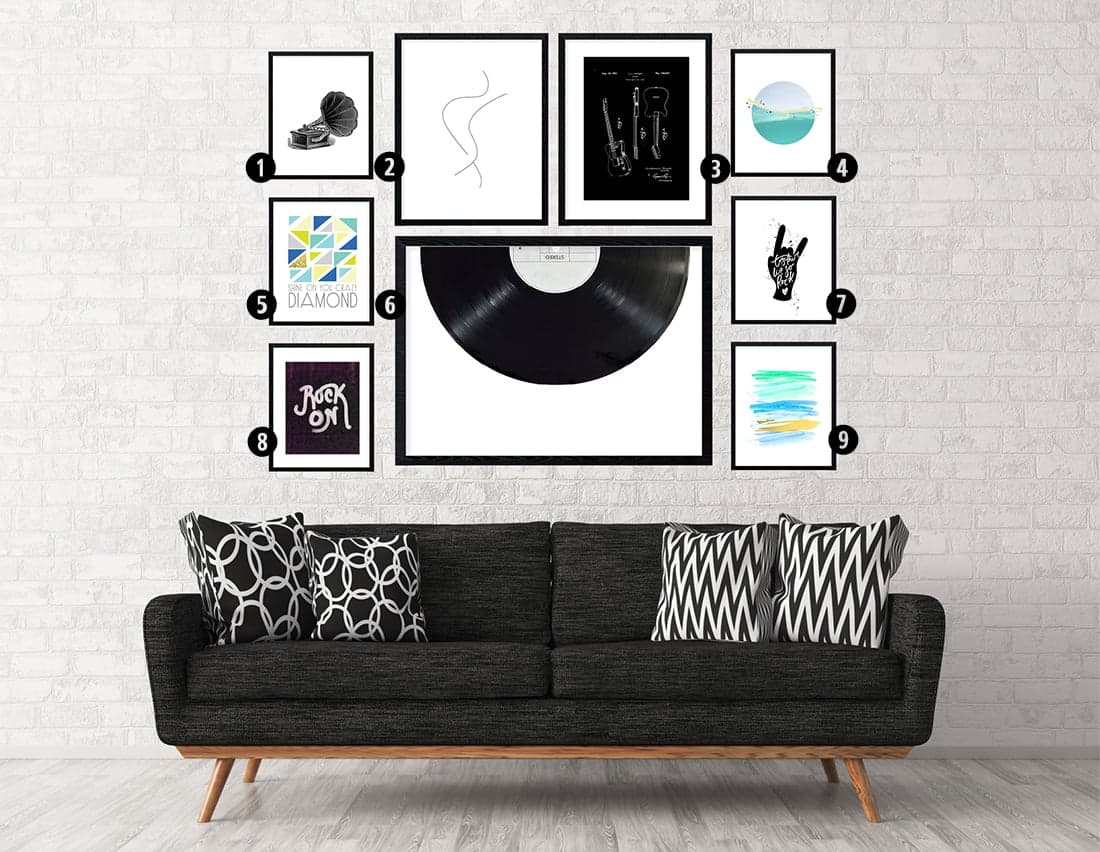 Option No. 2: Beat + Rocker Gallery Walls
Now here's where I took some liberties and went down the Beat rabbit hole.
It all started with an innocent image of Mr. Spontaneous Prose himself, Jack Kerouac.
Next, I added my Kill Your Darlings printable because in addition to being great writing advice, it's also the title of an excellent film about a murder that took place among the Beats, based on the book by Kerouac and Burroughs called "And the Hippos Were Boiled in Their Tanks."
I recommend the film. It has a great cast, led by Daniel Radcliffe, Dane DeHaan and Michael C. Hall.
Another Beat film that you might want to check out? On the Road, although it pales in comparison to the book.
Anyway, back to the wall at hand. I pulled my trusty midcentury abstract out, too, and some hexagons, as well as an agate that is rough around the edges. All artwork should convey a sense of being unfit for the space they're in, kind of how the Beats felt a disconnect from the world they were living in, yet so full of energy they're finding ways to bust out.
This wall stays within the same color palette as the first wall, so these pieces can mix/match.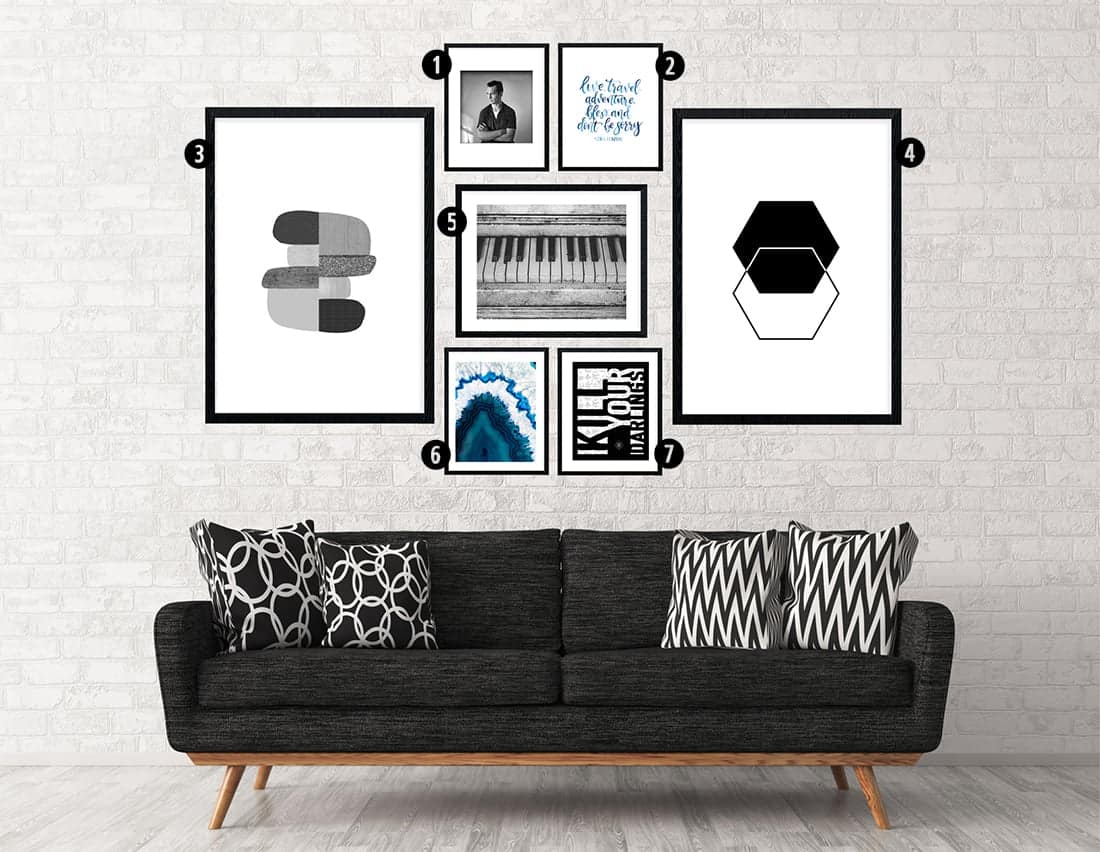 If You Wanna Splurge
Sometimes, no matter how long you search for the perfect free printable (hey, it might still be out there!), there comes a time in every curator's life when you simply must pay for good, quality art. Please do. I believe in supporting artists!
This is what I'd buy for Piper. A Mick Jagger piece that's really got swagger.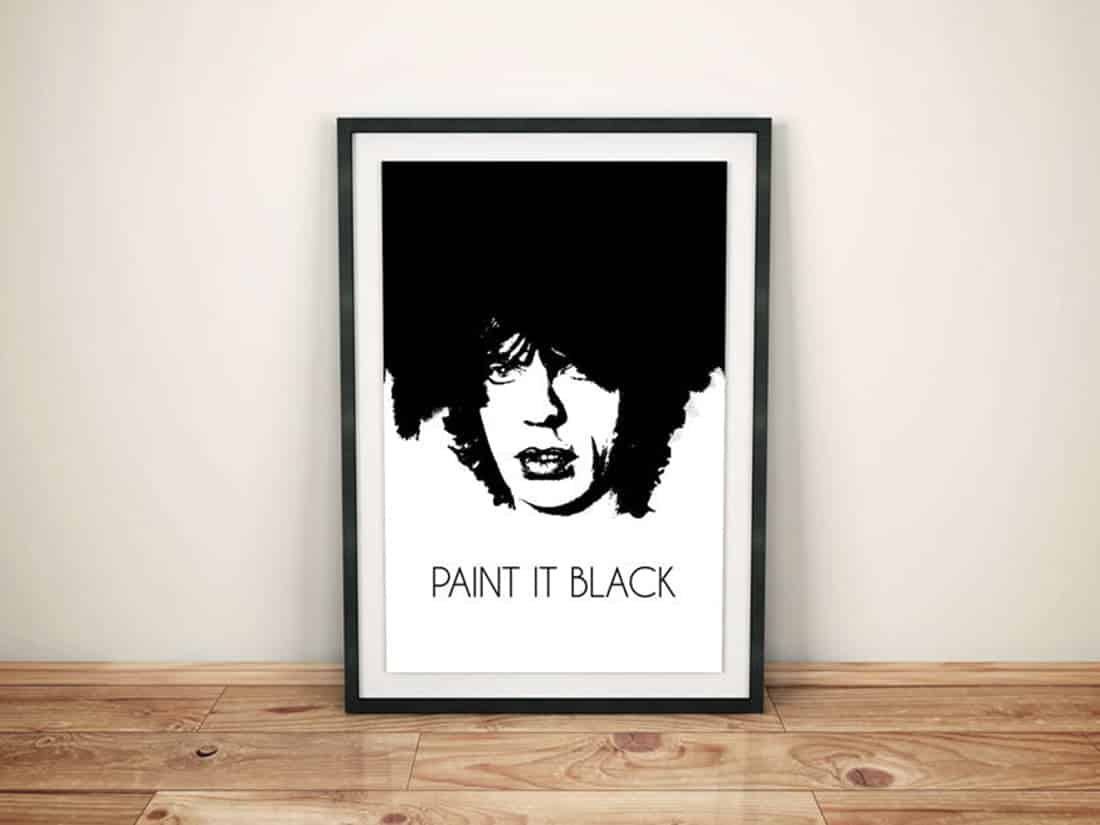 Also cool? This Guitar Lessons illustration by Max Dalton, only I couldn't find any prints for sale.
Interested in being featured on the Frame Game?
Sorry, the wait list for the Frame Game is so long that I'm no longer accepting submissions for free gallery walls.
Find out about my gallery wall consultation packages. They're similar to Frame Game but go waaaaay above and beyond, measuring down to the inch and giving you a solid plan for executing your very own, personalized gallery wall.
Check out my packages:
Feel free to contact me for any custom needs.
Bookmark for later: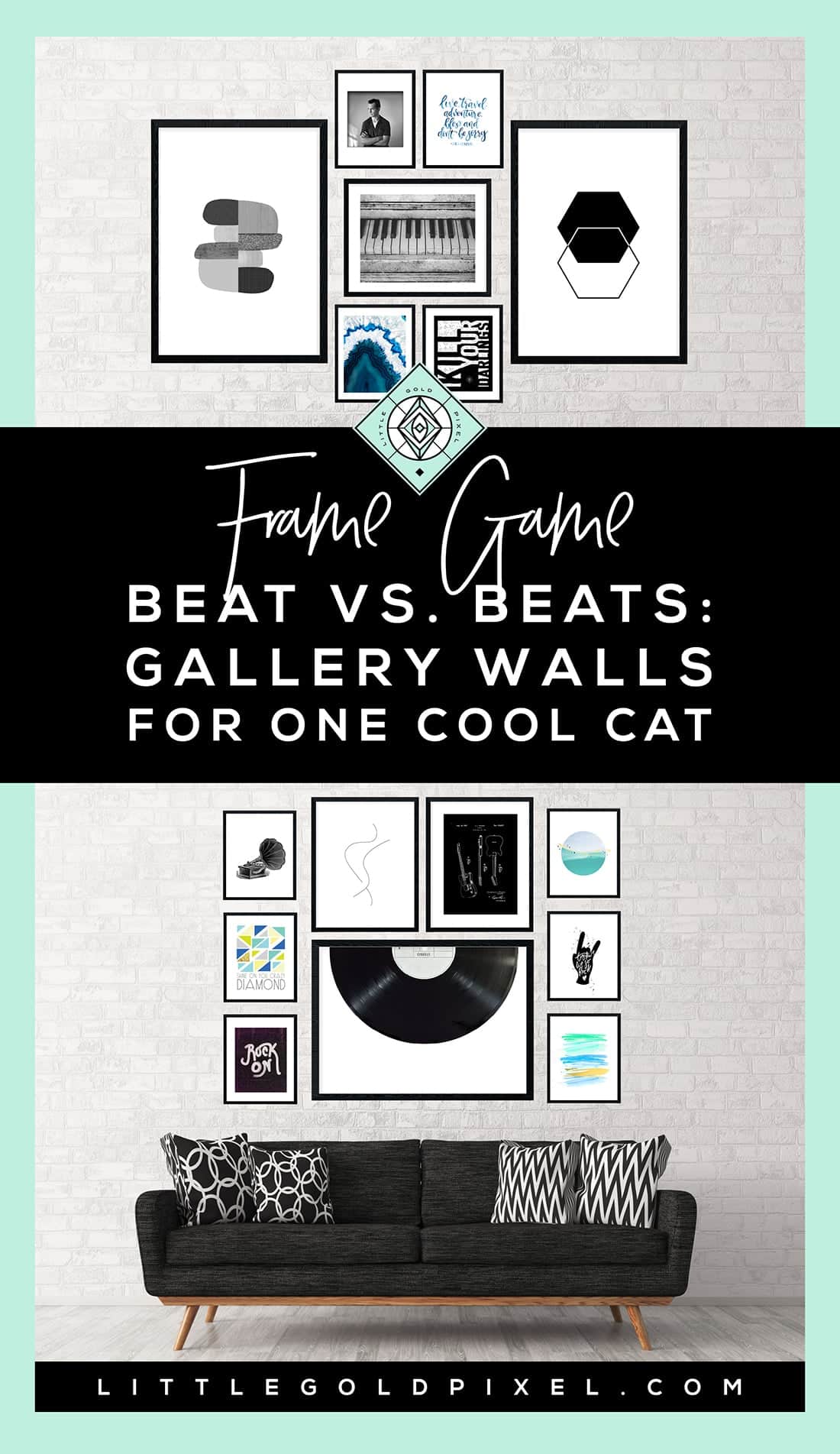 ---
P.S. The frames featured in this post are mockups. Check the individual download pages for details on ideal image size. Want to print something huge but it's sized at 8x10? Consider a larger frame with a mat.
P.P.S. Tons of free printables here.
---