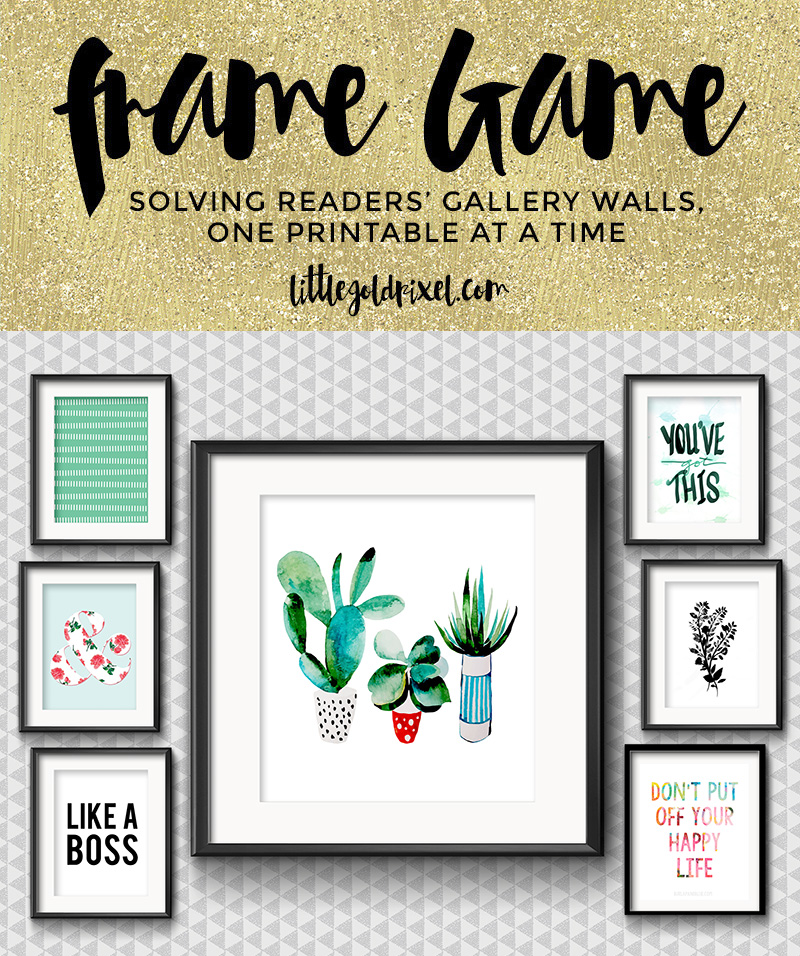 Frame Game is an occasional series in which I take readers' gallery wall requests and find art that fits their personalities. Click here to see past Frame Games.
Today's wall was inspired by Jenna, who is a kick-ass entrepreneur plus a single mom of three ranging in age from 8 months to 15 years.
She suggested a few different areas in her life she'd like to decorate, hoping I'd pick one.
Well, I'm picking all three. Because I'm pretty sure with all her responsibilities she is used to taking care of other people constantly, so I'd like to take this chance to turn the tables and take care of her.
In Jenna's words:
"A Southern- or Texas-themed wall. Would love this for my dining room. I love color. Except purple. Aqua and orange are my favorites.
"A wall for an entrepreneur. Female. For my office.
"A whimsical wall for my bedroom. I love fairy tales, Alice in Wonderland, color color color. Especially aqua. Hot pink, orange, gold glitter. … No purple.
"Inspirational quotes and affirmations are good right now."
Let's go!
A Southern-inspired Dining Room
I tried to stay true to what Jenna wanted, I really did. But no purple? Does she even know who I am?
You know how once you try to avoid something suddenly it's the only thing you see? Yeah, that's what happened to me and purple. 
There was one thing I found for her that I thought was amazing (and ORANGE!) but it didn't quite fit in with the Southern dining room as much as I wanted. So bummed! In case you're interested, it was a vintage Texas poster.
In general, well-designed freebies with a Southern theme were difficult to find. I'm happy I finally hunted down the ones below, especially the one about minding your own "biscuits." I could just hear my late great Aunt Betty saying something like that. She was a Texan and a charmer.
To download these printables, click on the links below to go to the original download pages.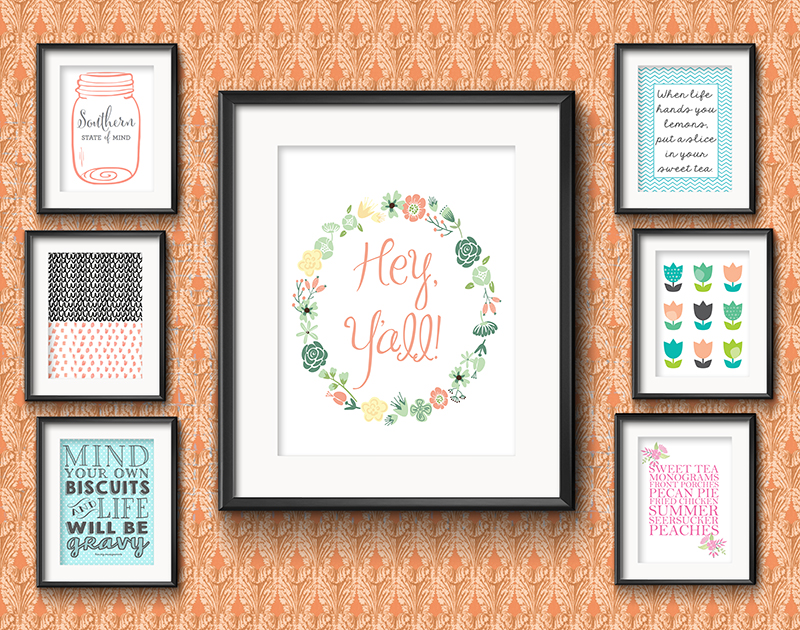 Southern State of Mind • Hey Y'all • Sweet Tea
Double Pattern • Tulips • Biscuits & Gravy • Southern Sayings
A Whimsical Bedroom
I so much wanted to bring more color into this gallery wall, but I couldn't sacrifice the oh-so-awesome Alice in Wonderland illustrations, from the original book printing and now in open domain for downloading.
One of my favorite ways to get a huge pop of color into a room is to (a) either paint or wallpaper the walls or (b) blow up a nicely-saturated photo. This free stock photo gave me very strong "through the rabbit hole" vibes.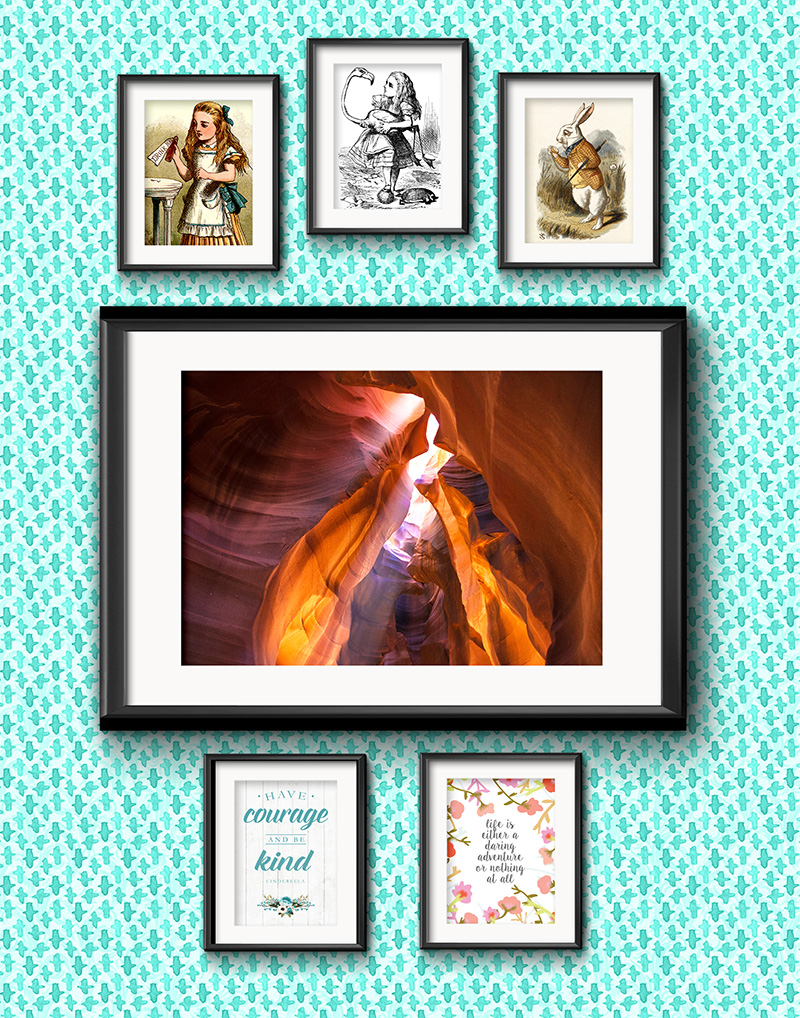 Alice in Wonderland prints: 1 • 2 • 3
Orange Rock Photo • Have Courage and be Kind • Daring Adventure
Inspirational Office Space
The biggest challenge I had with Jenna's rooms was laying off the quote printables. I mean, what you're seeing here is only a small sampling of the quote printables I downloaded for this project. I might have a problem.
I kept this color palette on the cool, turquoise side to give it that office je ne sais quoi.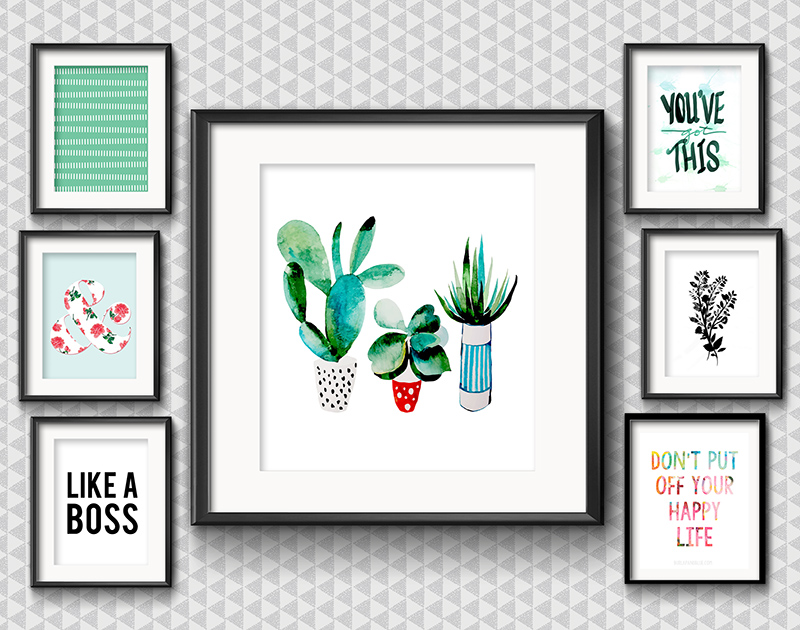 Turquoise pattern • Succulents • You've Got This
Ampersand • Floral • Like a Boss • Don't Put Off Your Happy Life
---
Quick Tip
Sometimes, no matter how long you search for the perfect free printable (hey, it might still be out there!), there comes a time in every curator's life when you simply must pay for good, quality art. Please do. I believe in supporting artists!
This is what I'd buy for Jenna. A very colorful and cheeky quote from "Alice in Wonderland," starting at $18 for an 8×10 via The Wheatfield by Katie Daisy.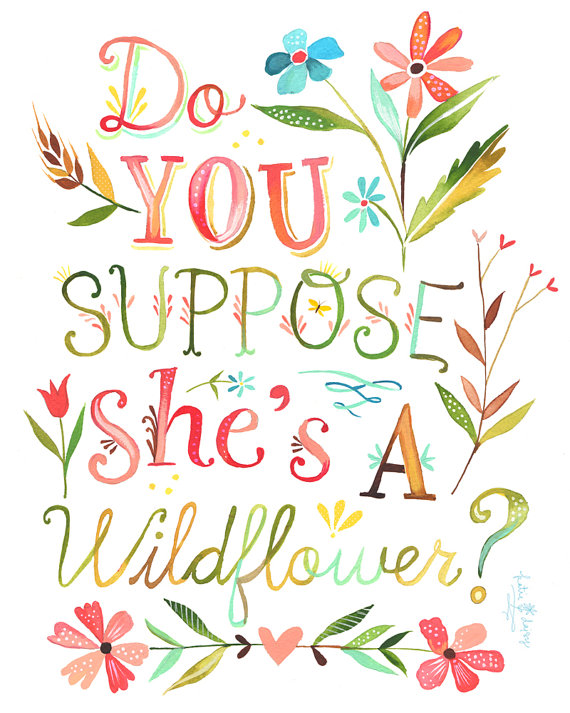 ---
Interested in being featured on the Frame Game?
Sorry, the wait list for the Frame Game is so long that I'm no longer accepting submissions for free gallery walls.
Find out about my gallery wall consultation packages. They're similar to Frame Game but go waaaaay above and beyond, measuring down to the inch and giving you a solid plan for executing your very own, personalized gallery wall.
---