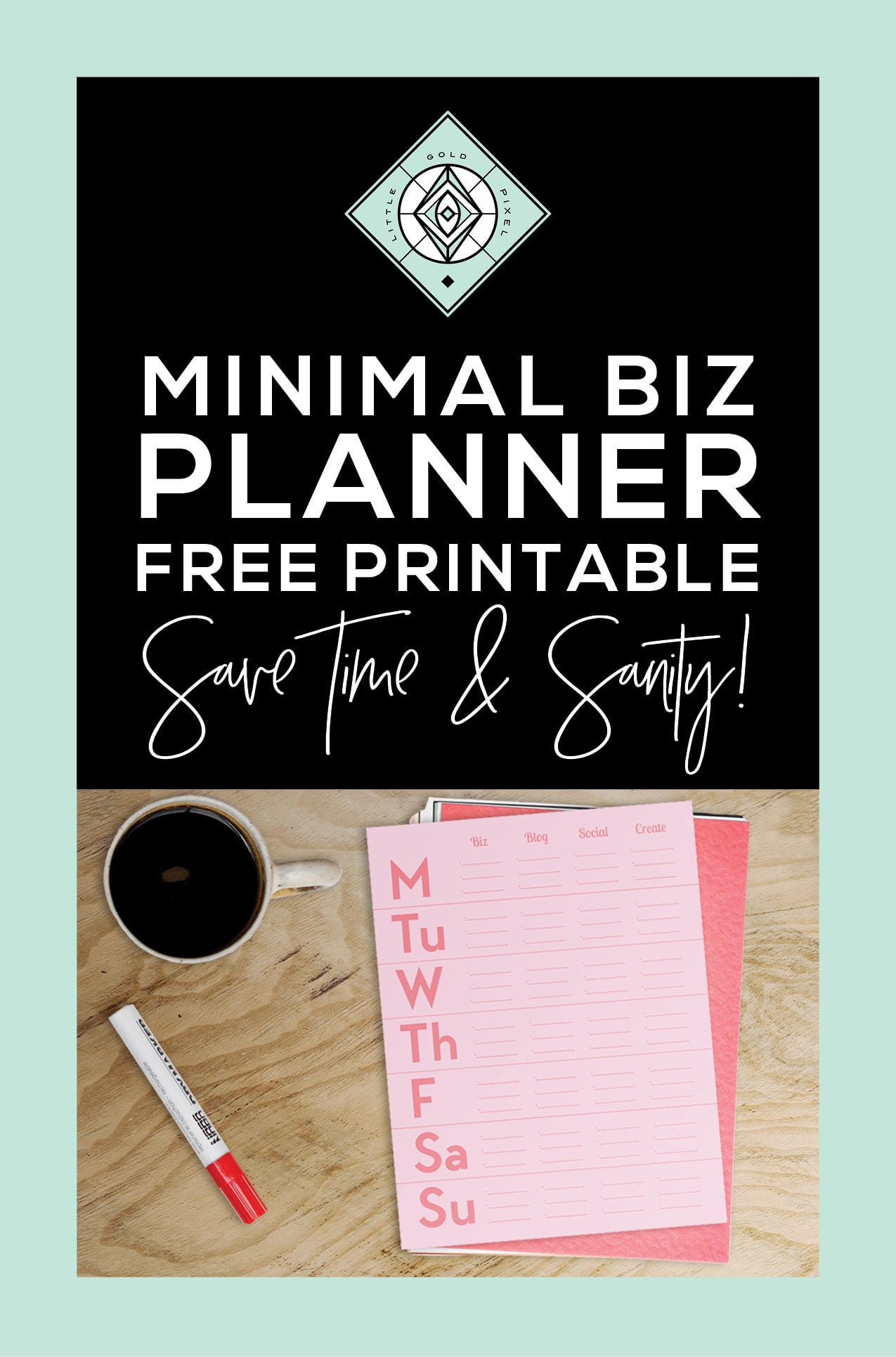 I'm really excited to share this minimal business planner with you because it's already helping me manage tasks and time so much better than before.
Before … I was a serial multitasker. Always adding tasks, sometimes never finishing tasks.
Multitasking, man.
For the longest time I was actually proud of myself for being a good multitasker. I'm not sure why. It's like someone showed up at my door with a bag full of 50 tasks and told me I'd be a millionaire if I could juggle them all at once.
Look at me, juggling 50 tasks! Juggling 50 tasks at a time is so easy — what's one more?
Now, years later, I have 200 tasks in the air and not a single check with six zeroes.
Excuse me?!
Friends, I need to drop these hypothetical balls right now because I'm one person and there are infinite tasks out there waiting to be juggled. I need to create a system.
How a Minimal Business Planner Can Save Your Sanity (It saved mine!)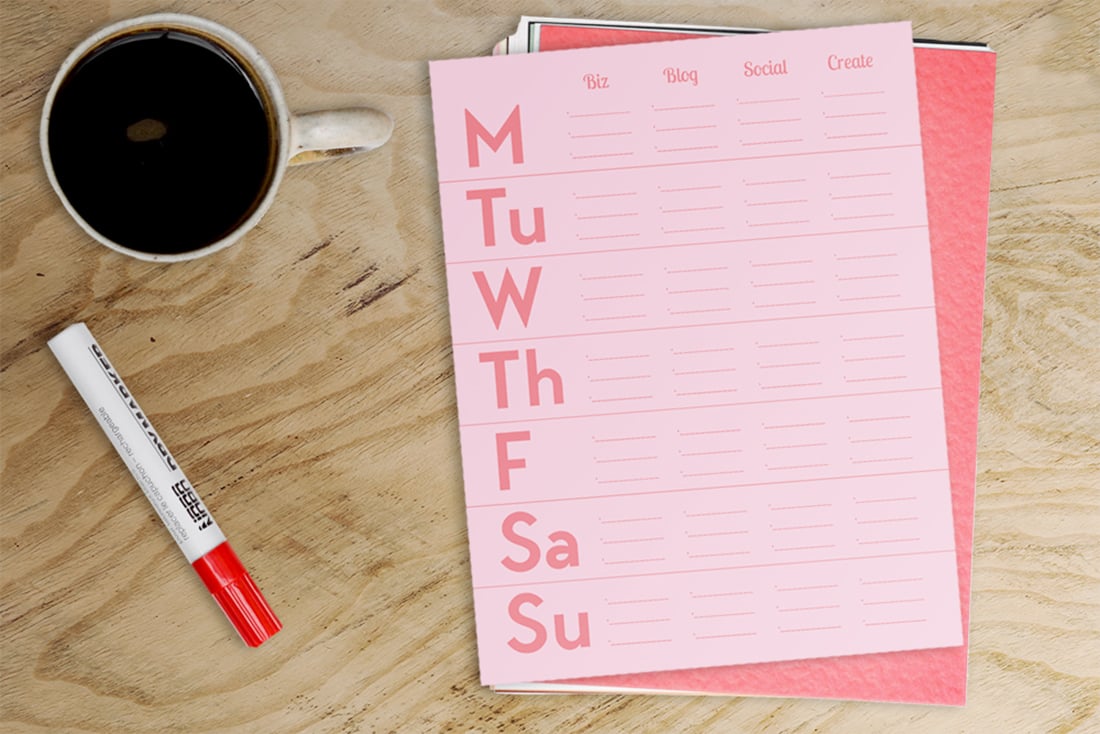 I noticed the multitasking overload this year, which happens to be the year that I'm working toward becoming a bonafide entrepreneur with this business (this blog, the shop and plans beyond both).
Here's how my days have gone lately:
Think of a million ideas for my side business throughout the workday.
Come home, spend time with my family, continue thinking about those ideas.
Late at night, look at my computer and wonder what I should do first.
Start with one, painfully tedious task that ends up taking three hours (and my entire night).
Repeat.
I am quite literally dropping the ball here.
You've probably noticed that I've been on this blog less often in recent months. I've been sporadic about sending out newsletters. I'm taking forever to populate the shop.
Can you say burnout?
Then, one day when I could've been coming up with a million plans I'd never execute, I thought of this instead: Why don't I come up with just one thing a day I can do for each aspect of my business?
So I created a little schedule and divided it into four parts: Biz, Blog, Social, Create
And I created three small (teensy, tiny) lines for each section, for each day of the week. The small size is important because it forces you to really come up with very focused tasks, ones that can be described in 2-6 words.
How to Use This Business Planner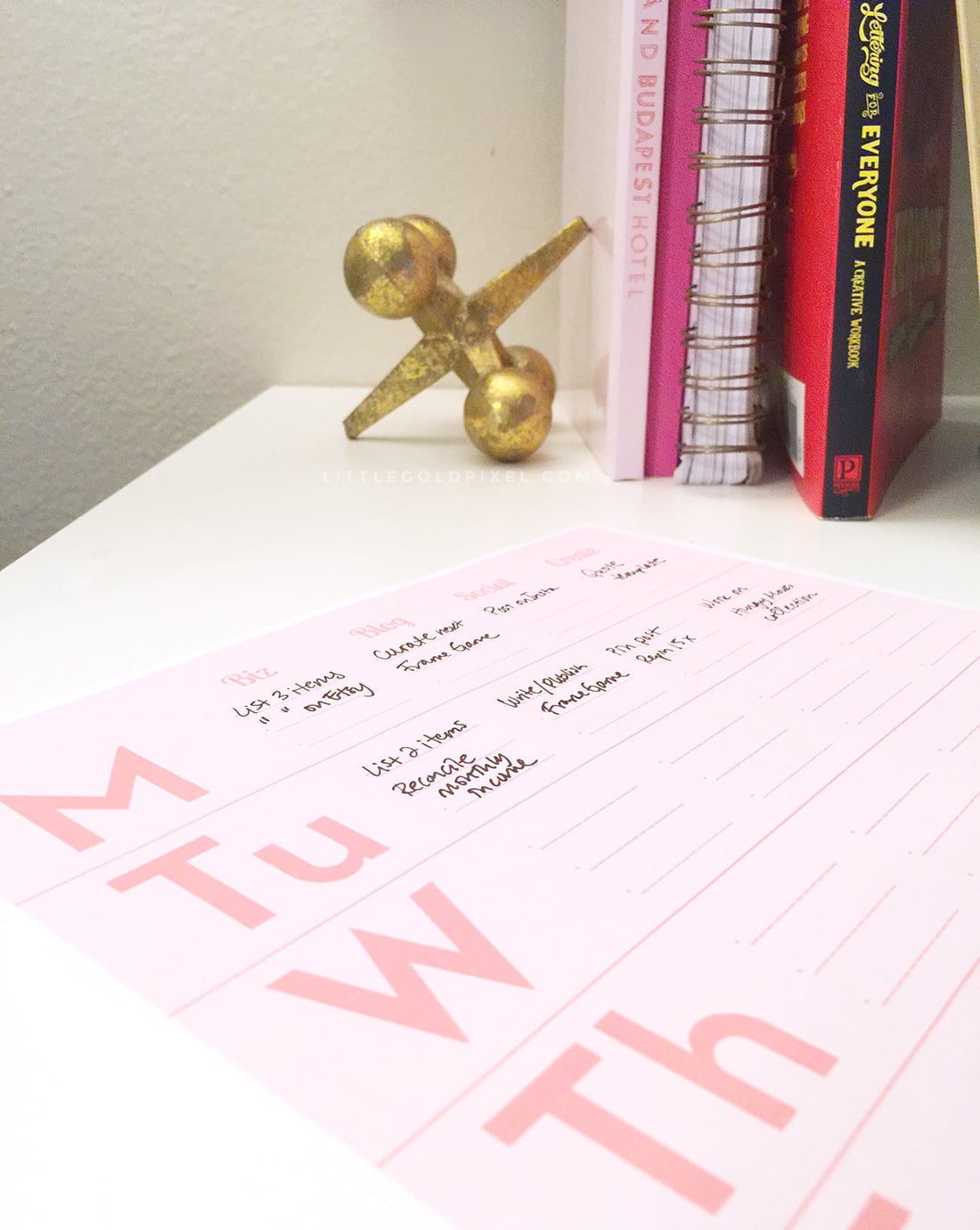 Because it's so minimal, you'll never get bogged down with minutiae. Why? Because you have a clear goal.
"List 3 items" means exactly that. Don't talk yourself into doing "just one more" or get sucked into your analytics or something. List 3 items. Cross it off. Done. Move on to the next task. "Curate next Frame Game." This means I will take some time to round up printables for my next post. I am not going to write the post. I'll save that for the next day.
See where I'm going with this? No need to do so much at once that you end up doing less overall. These little tasks add up, and before you know it you've accomplished a lot more than usual.
If you're really on top of it, you might plan out your entire week in advance. Me? I like to work two days ahead at a time, that way I can change course if something comes up.
I made an editable version to share with you — editable so you can change the words across the top to make sense for your life. For instance, maybe you need help organizing your cleaning schedule. Or organizing your meal plan. The possibilities!
Get the minimal planner for free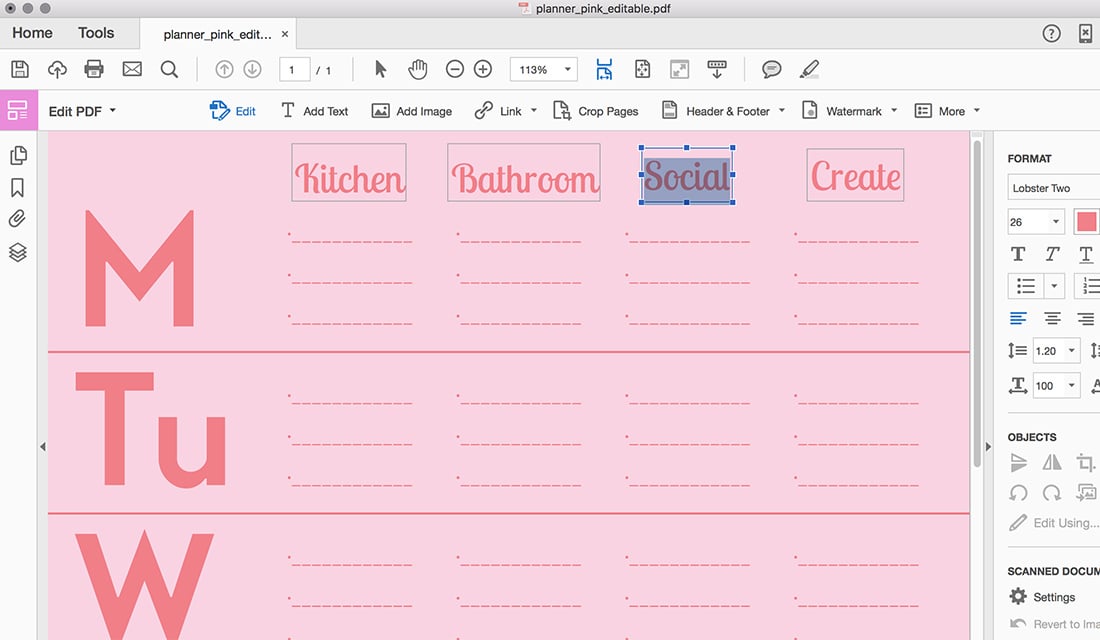 Download
Simply open up the PDF in Acrobat and choose to "edit PDF" to change these words. The font I am using here is Lobster Two, which is free to download in case you do not have it already. You can also change the font to anything you choose (my personal favorite is Insomnia).
Do let me know if you print this out and use it. Tag me on social media (@littlegoldpixel everywhere). Hopefully it's as much of a game-changer for you as it is for me!
P.S. Check out my top 10 design tools to make your creative process even easier.