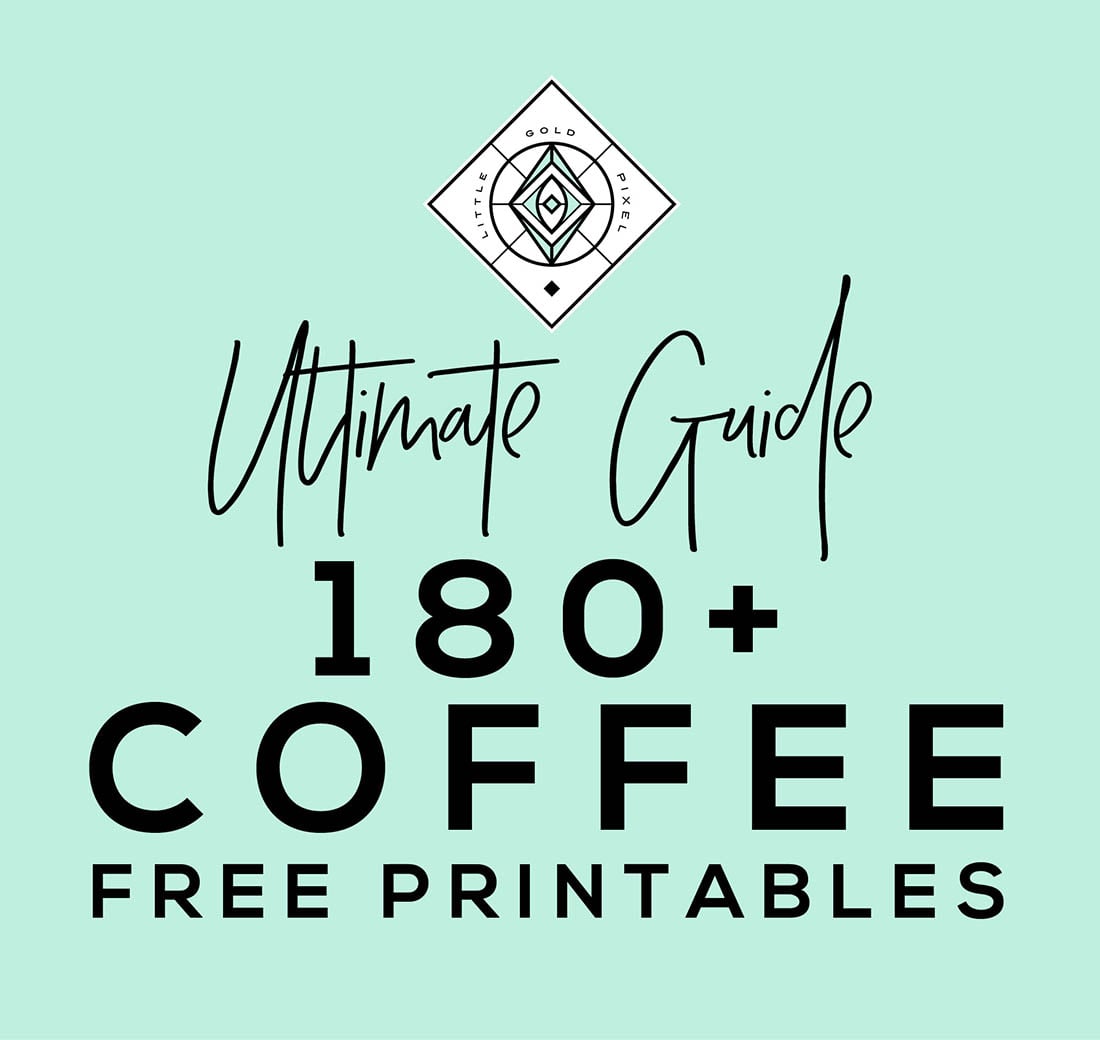 Whew. Hi there. Welcome to the motherlode of coffee free printables. A collection to make collectors gasp in awe. A curation like none other.
Where do I even start? This post has been a long time coming because I — like you — am a huge fan of the java. As such, I've been collecting links to coffee free printables for days months years. #noshame
I still remember the first time I ordered a coffee at a local coffee shop. My friends and I were out late, and this was an all-night dive.
I ordered my coffee black — no milk, no cream, no sugar — because in my mind that was hardcore and so was I (insert laughter here).
I'm sure that shop hated us because there we were: high schoolers with maybe $5 in our pockets, and we sat there all night drinking all the black coffee we could stomach for $1 and pontificating as though we were serious artistes.
My taste has developed over the years, same as my coffee order. Some may say it's finicky, but hey! We can blame that on the infinite possibilities of Starbucks, I think.
Currently, I'm: Iced Coconut Milk Macchiato. Yes, it's decadent, much like this post.
I'd love it if, after grabbing your printables, you scrolled down to the bottom and told me your coffee order!
Coffee Free Printables: Lost Bumblebee
So, I'm going to start by giving mad props to the No. 1 source for free coffee printables: Lost Bumblebee.
Missie's coffee designs run so deep that I'm highlighting 45 of my favorites here. Hey, 45 is a lot, you are thinking. BUT there are sooooo many more on her site. If you have an hour, you'll want to pour a cup of joe and just click around on there. She is the coffee queen, in my humble opinion.
Now onto the freebies. Find the corresponding numbers, click on the links and go to the original download pages to get the art for personal use only.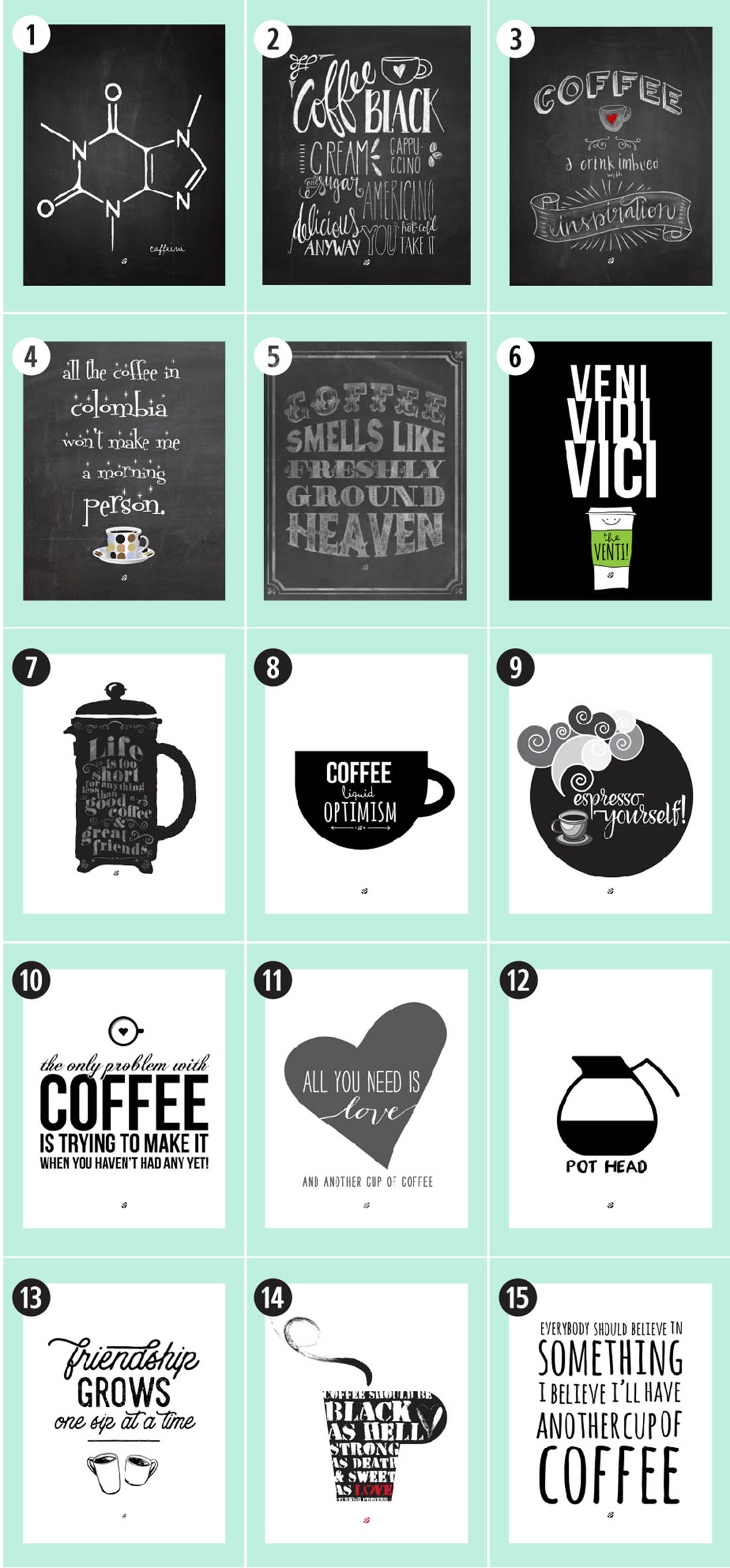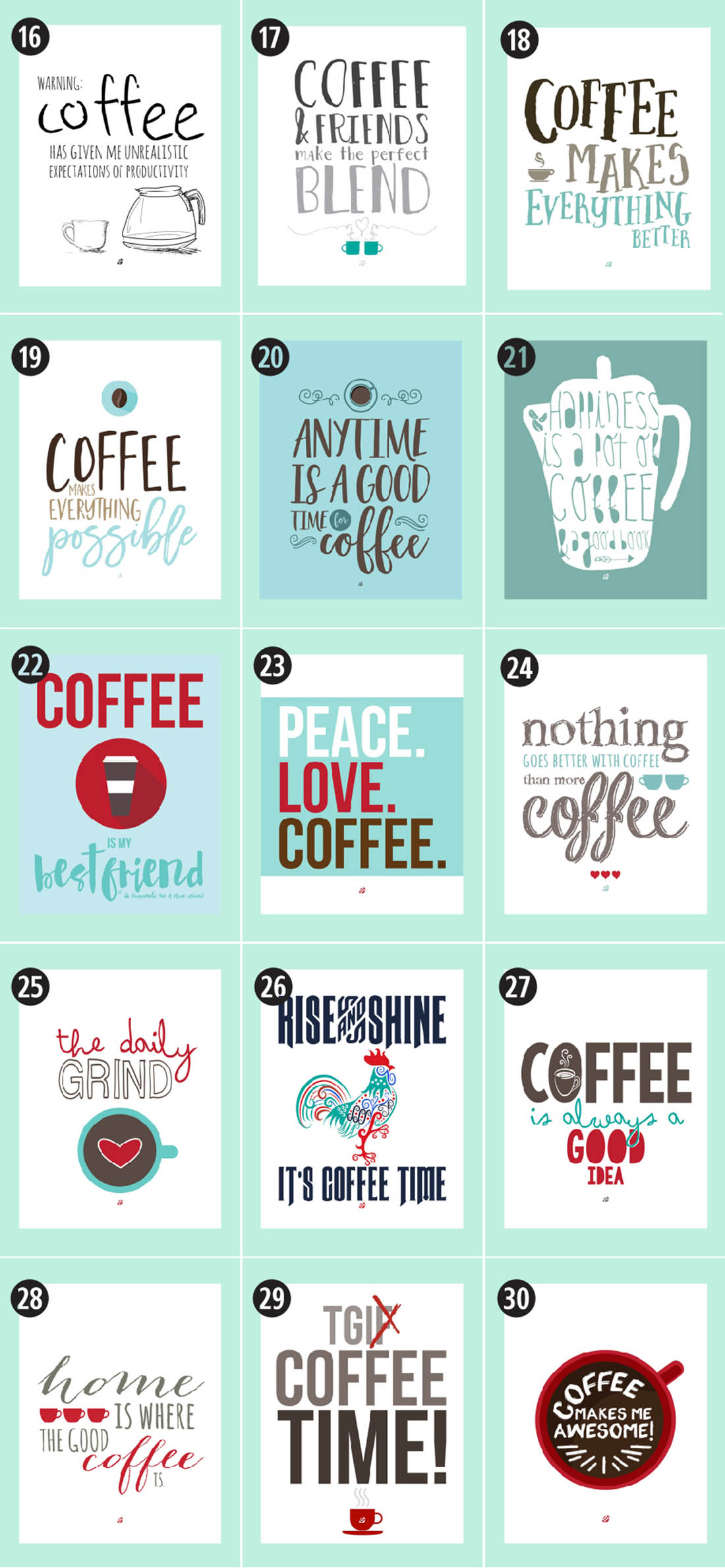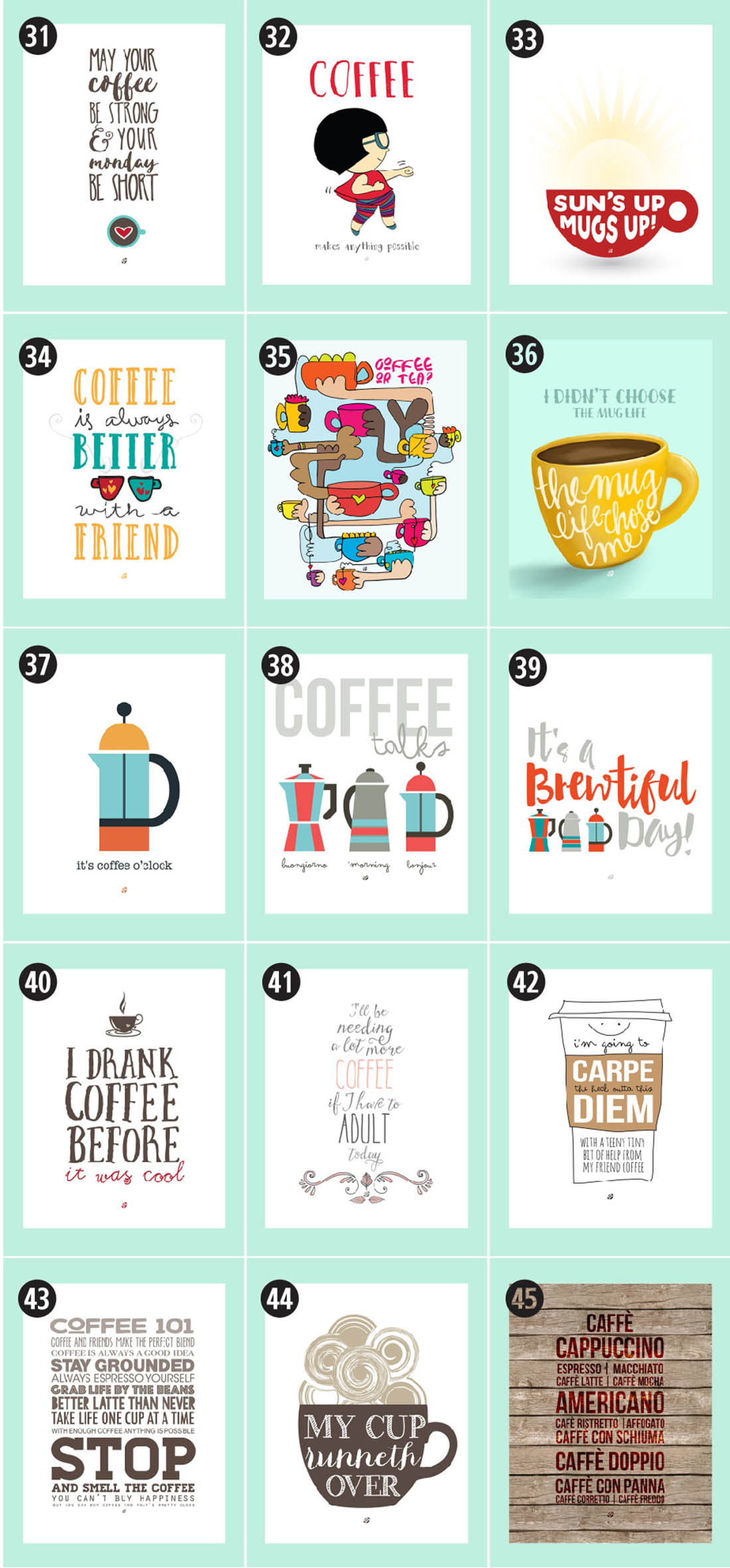 Coffee Free Printables: B&W Collection
Black & white looks so classic as part of a coffee cart, or hanging up in a kitchen.
One of my latest tricks is using a well-drawn adult coloring page as artwork. You can color it in, sure, but it still looks cool in black and white.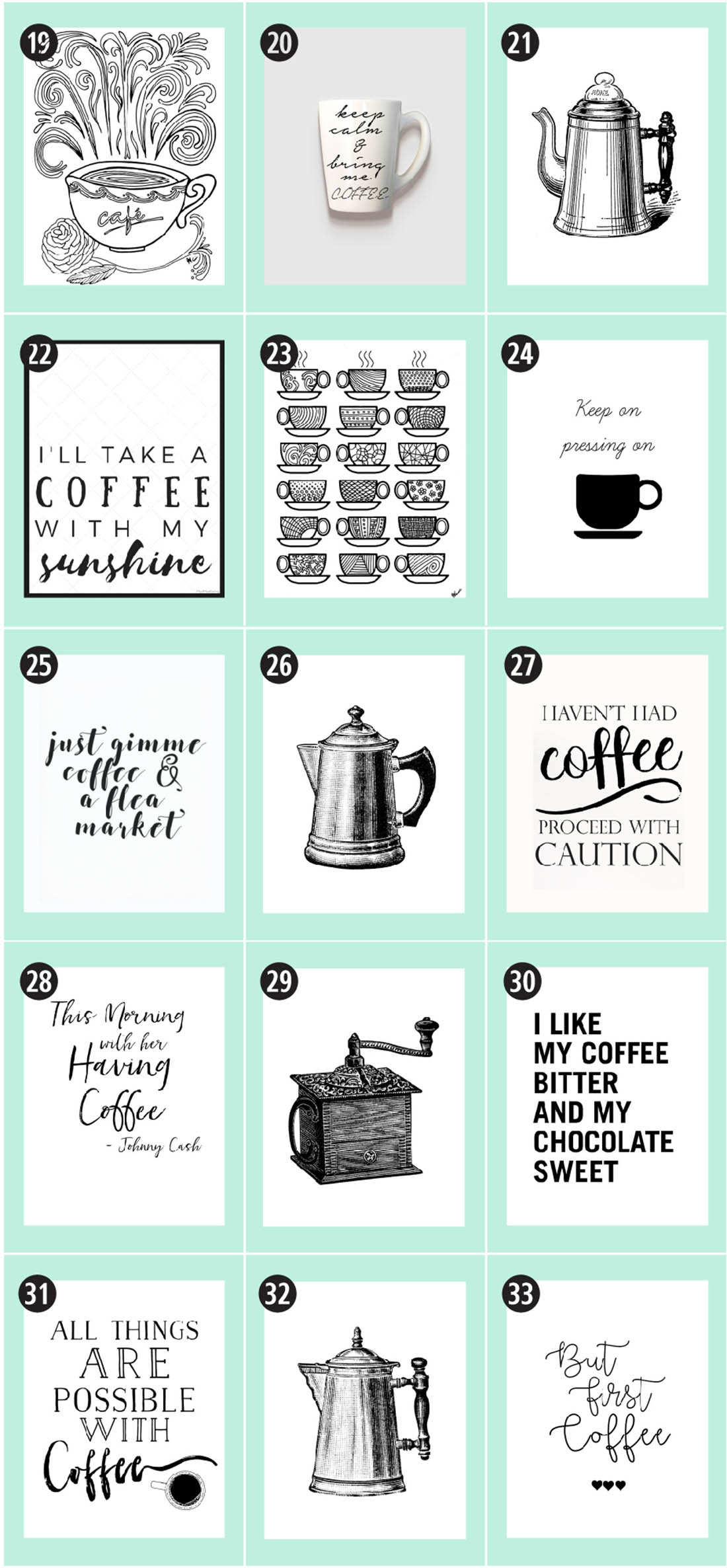 Coffee Free Printables: But First, Coffee
One of the first printables you have to design if you design printables is "But First, Coffee."
It's a prerequisite. And you might get kicked out of the club if you don't do it.

Coffee Free Printables: Dark Backgrounds
Prefer a darker background? Here you go. I'm always a sucker for a good chalkboard background, myself.

Coffee Free Printables: Earthy
What would a coffee post be without a roundup of earthy, brownish hues to invoke the heavenly scent of coffee brewing first thing in the morning?
Nothing, that's what.
Pro tip: Search the free stock image sites for interesting photographs you can download. There are so many artsy options that would look good printed for your kitchen. See some examples below.

Coffee Free Printables: Blues
But! My kitchen decor is blue/green!
I've got you covered.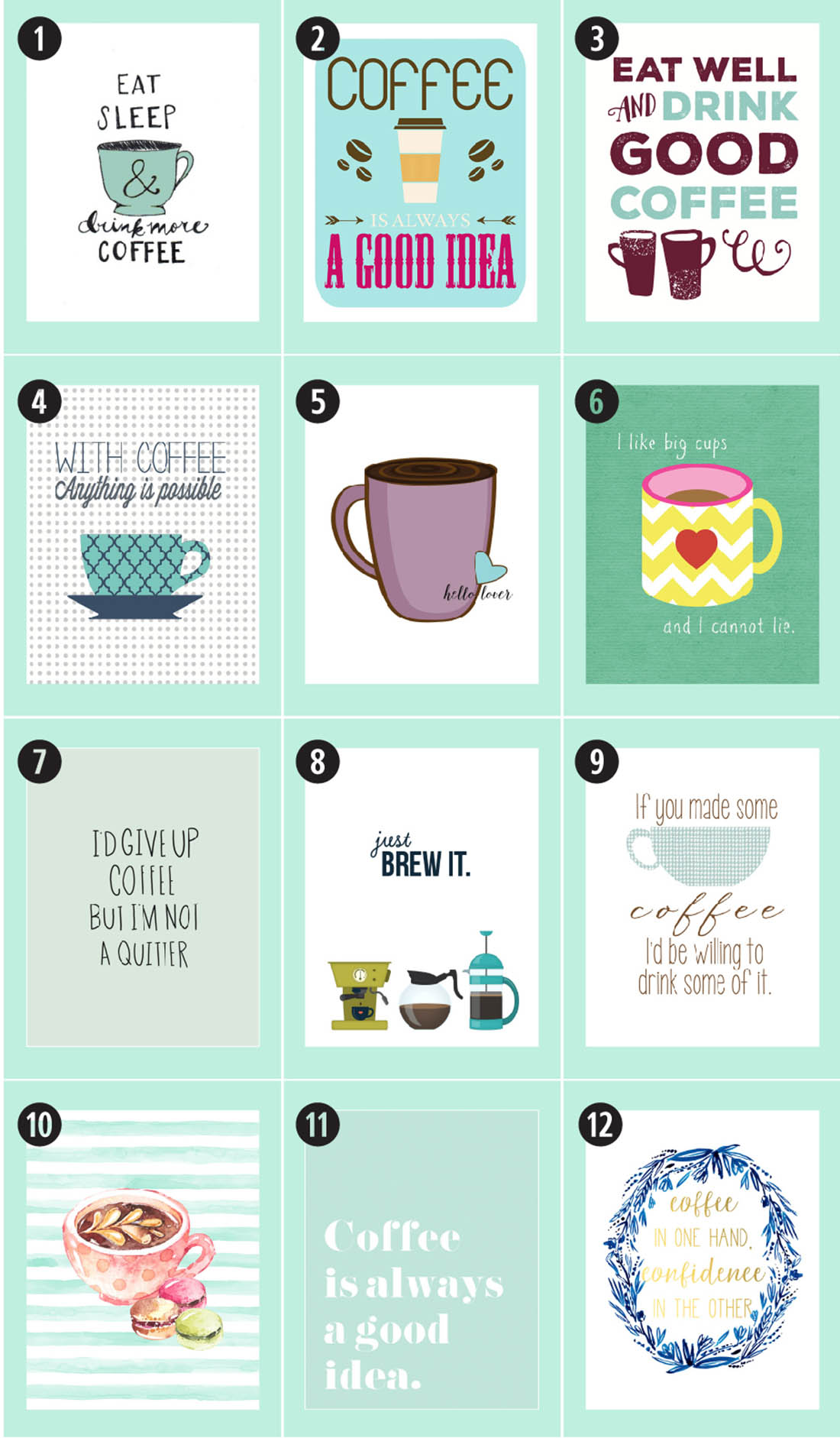 Coffee Free Printables: Pinks
But! My favorite color is pink!
I've got you covered, too.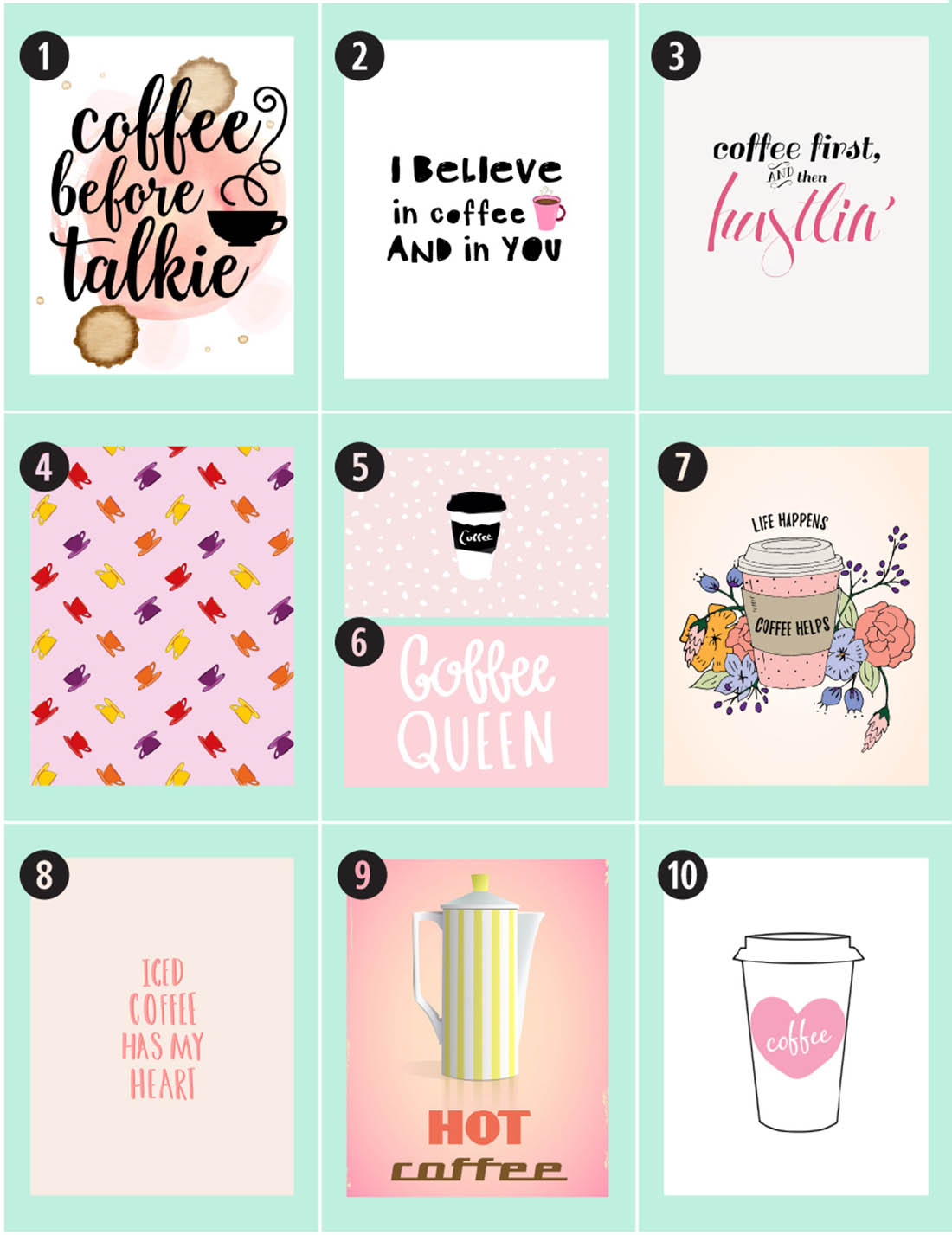 Coffee Free Printables: Hand Lettering
If Lost Bumblebee is the queen of coffee, By Dawn Nicole is the queen of lettering freebies.
A good portion of these are from her site, and you could easily spend an hour clicking around there, too. Also a great source for the wannabe letterer among us. Plenty of tutorials, etc.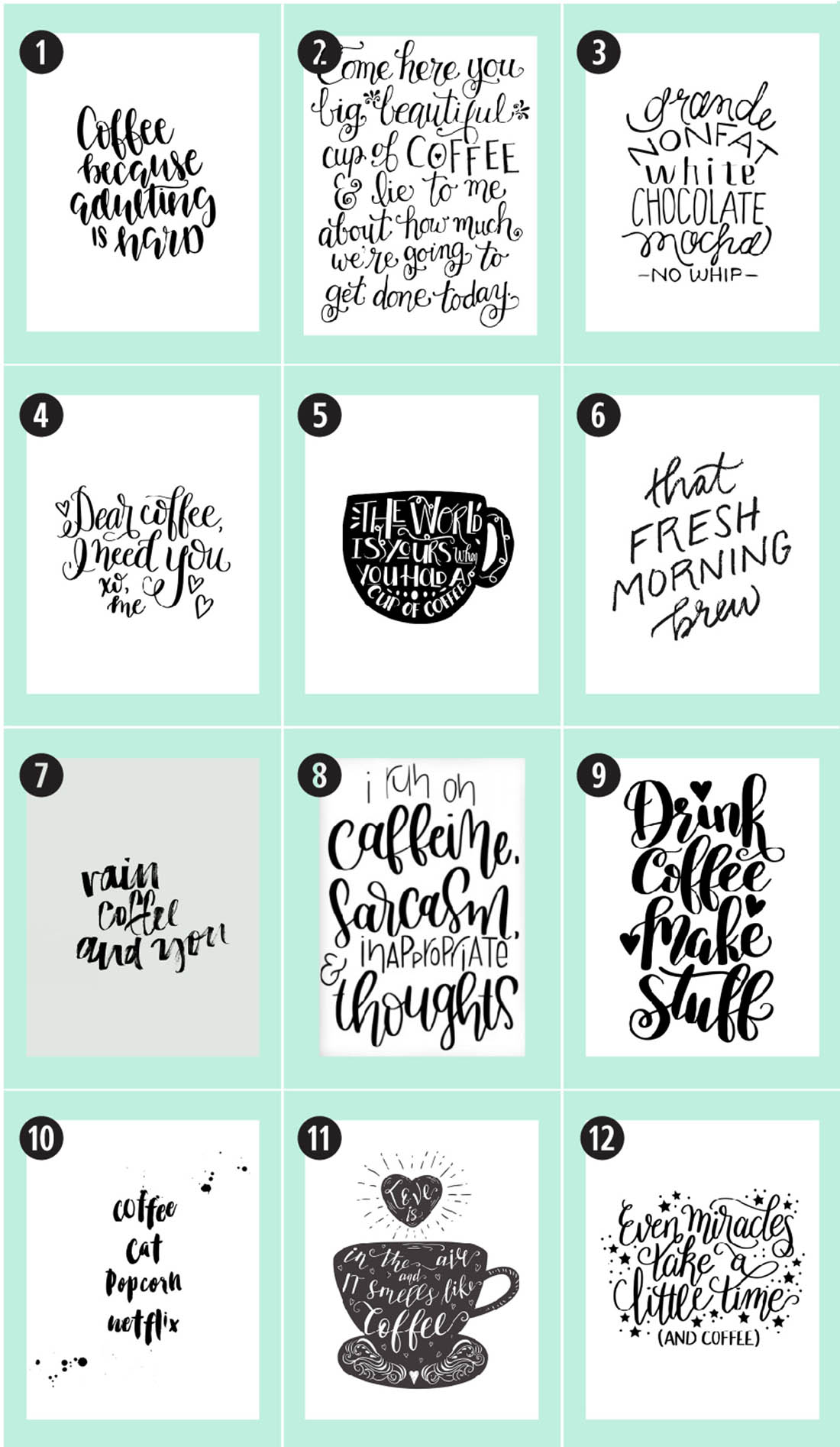 Coffee Free Printables: Pop Culture
Last but not least, I admit that I spent some time looking around for Gilmore Girl references. Because obviously.
I found several that will appease any fan (of the show and/or of coffee).
Also, a Stranger Things reference. And the Star Wars coffee printable makes me laugh.
I didn't find many Twin Peaks coffee freebies, but it wasn't from a lack of trying.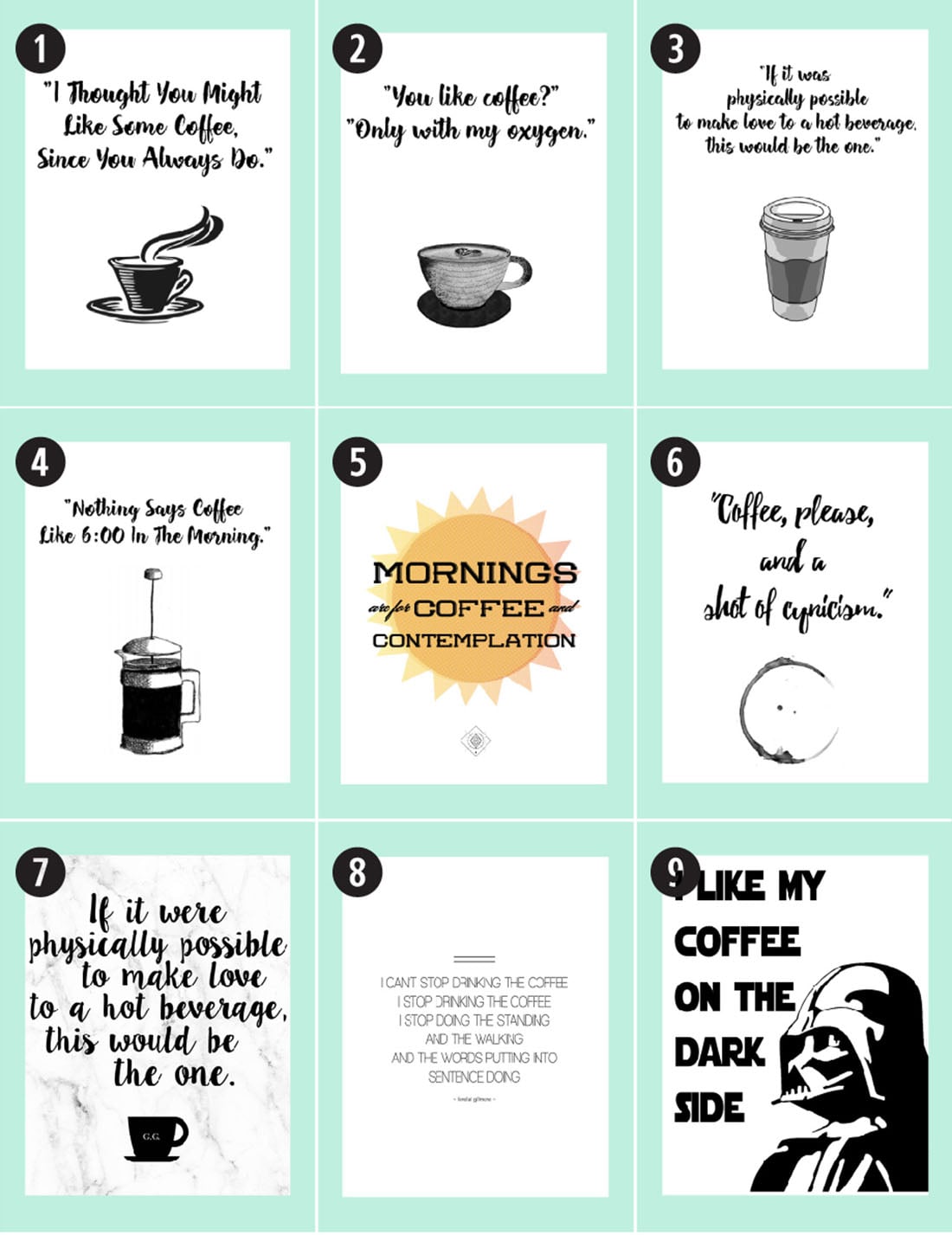 Psst, don't forget to tell me your drink order in the comments! Xo
Coffee Free Printables: Pin me for later
---
P.S. See all the free printables on Little Gold Pixel.
P.P.S. If you like coffee printables, you'll love these.
---