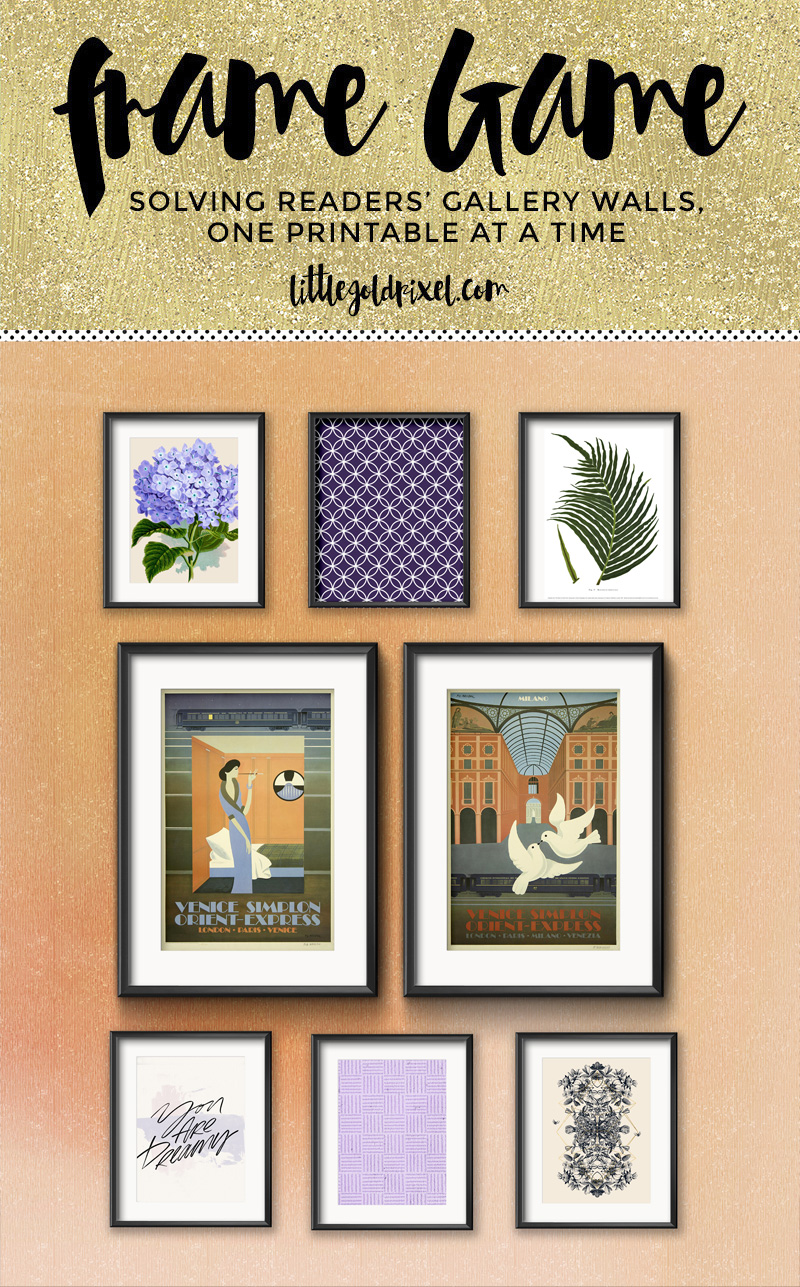 Frame Game is an occasional series in which I take readers' gallery wall requests and find art that fits their personalities. Click here to see past Frame Games.
Today's wall was inspired by Fatima, who is looking for ideas for her vacation home in Mexico.
In her own words:
"My name is Fatima. I am going to be decorating a room for myself, the house is in Mexico, and we go every year for about 2 to 3 weeks. This year I have made it my goal to finally decorate the walls of my bedroom. The room's colors are primarily purple and white. I have a "royal, chic, satin, soft fabrics" type of vibe in the room. But I don't know what I could put on the walls to help enhance the theme or make the room more me. I am pretty well traveled, I've been to Europe twice to England, France, Spain, Greece and Italy. And I'd like my room to reflect that part about my life. I'd also like for it to be relaxing as well, it is for vacations. Thank you!"
Sounds like a fun challenge. Let's go!
Mexican Getaway for a Royal Jetsetter
I decided to keep the color palette limited because this is a bedroom, and I want it to be a sanctuary for Fatima. So I stuck with purples and neutrals. I almost wanted the art to feel understated and spa-like.
It's amazing how often I can turn to the retro poster to anchor a gallery wall. It seems like I can always find a color story that fits with the themes. It's just a bonus that these are travel-related, including several places Fatima has been to.
You'll notice I used a lot of purple patterns in my walls this time. Patterns help break up the statement pieces, especially in a bedroom where you're going for a relaxed vibe. I love a good typography-heavy piece of art, but I think they're more effective in dynamic spaces like living rooms. Bedrooms pretty much call out for white noise, florals, repetition, simple color palettes.
To download these printables, click on the links below each roundup to go to the original download pages.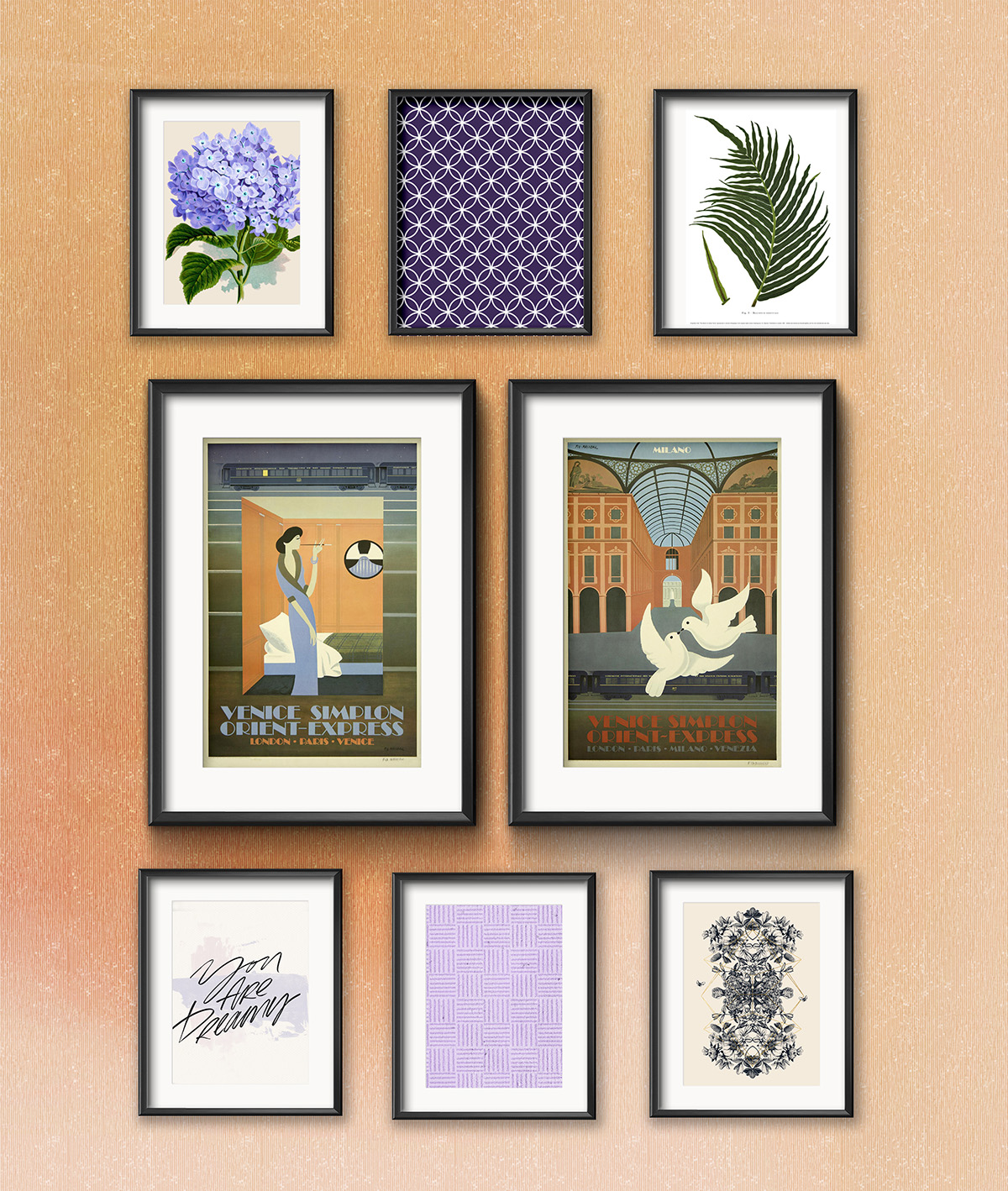 Purple hydrangea • Circle pattern • Plant print • Orient Express poster 1 • Orient Express poster 2 • You Are Dreamy • Purple lines pattern • Botanical Rorschach
Another good tip for bedrooms: I also like pieces that "color outside the lines." It could be watercolor that blends together, like the Hold That Thought printable, or the sketchy background for the feathers, or raw brushstrokes of the Ooh La La piece — a good "messy" vibe can add the chic softness Fatima is going for.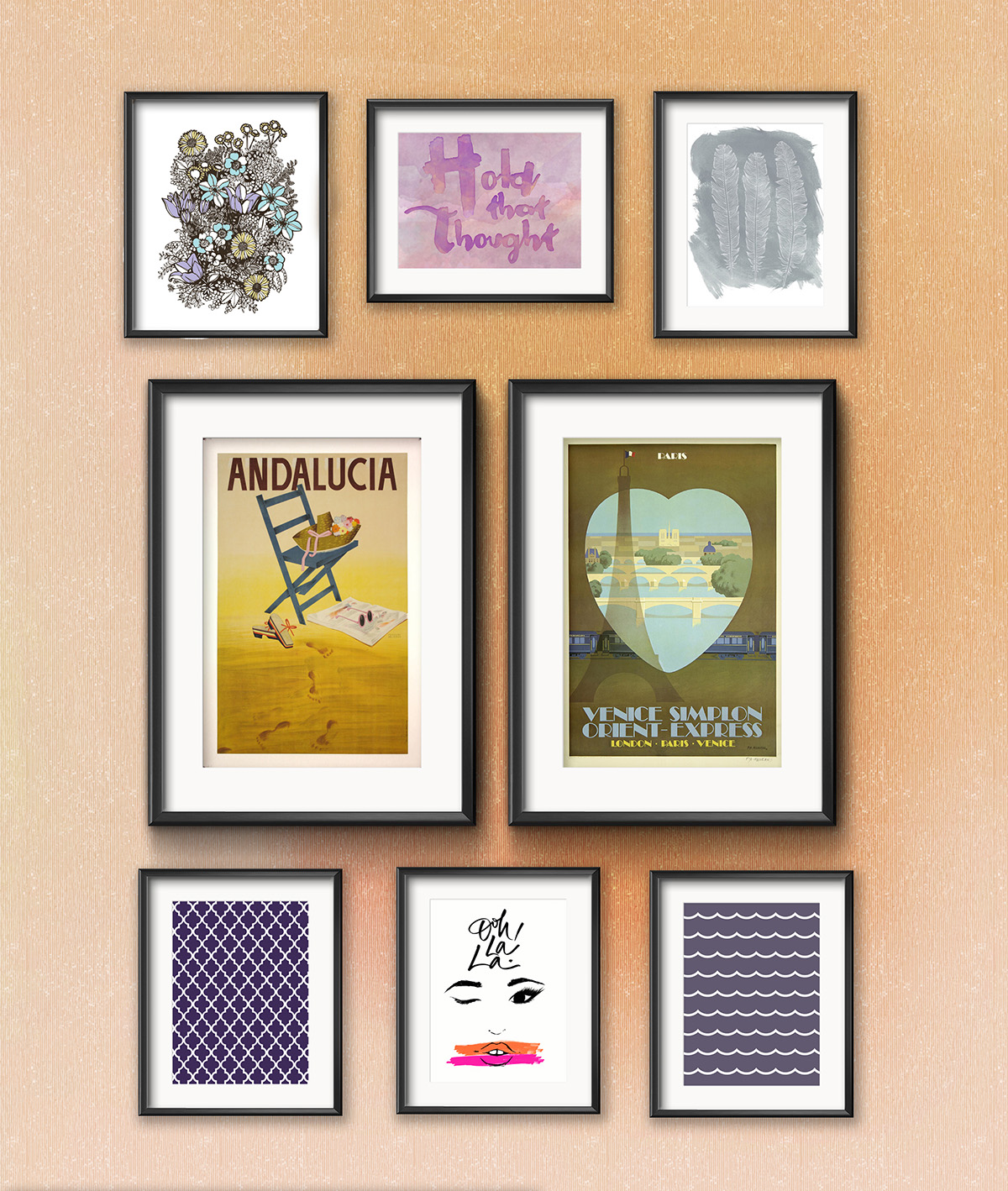 Floral drawing • Hold That Thought • Feathers • Andalucia poster • Paris poster • Moroccan tile pattern • Ooh La La • Waves pattern
This French map was one of the first things I saw when searching for this gallery. Isn't it perfect? Muted tones, incorporating some purple, and so pretty it looks like it was meant to be framed. There'd be no doubt this room belongs to someone with a traveling soul.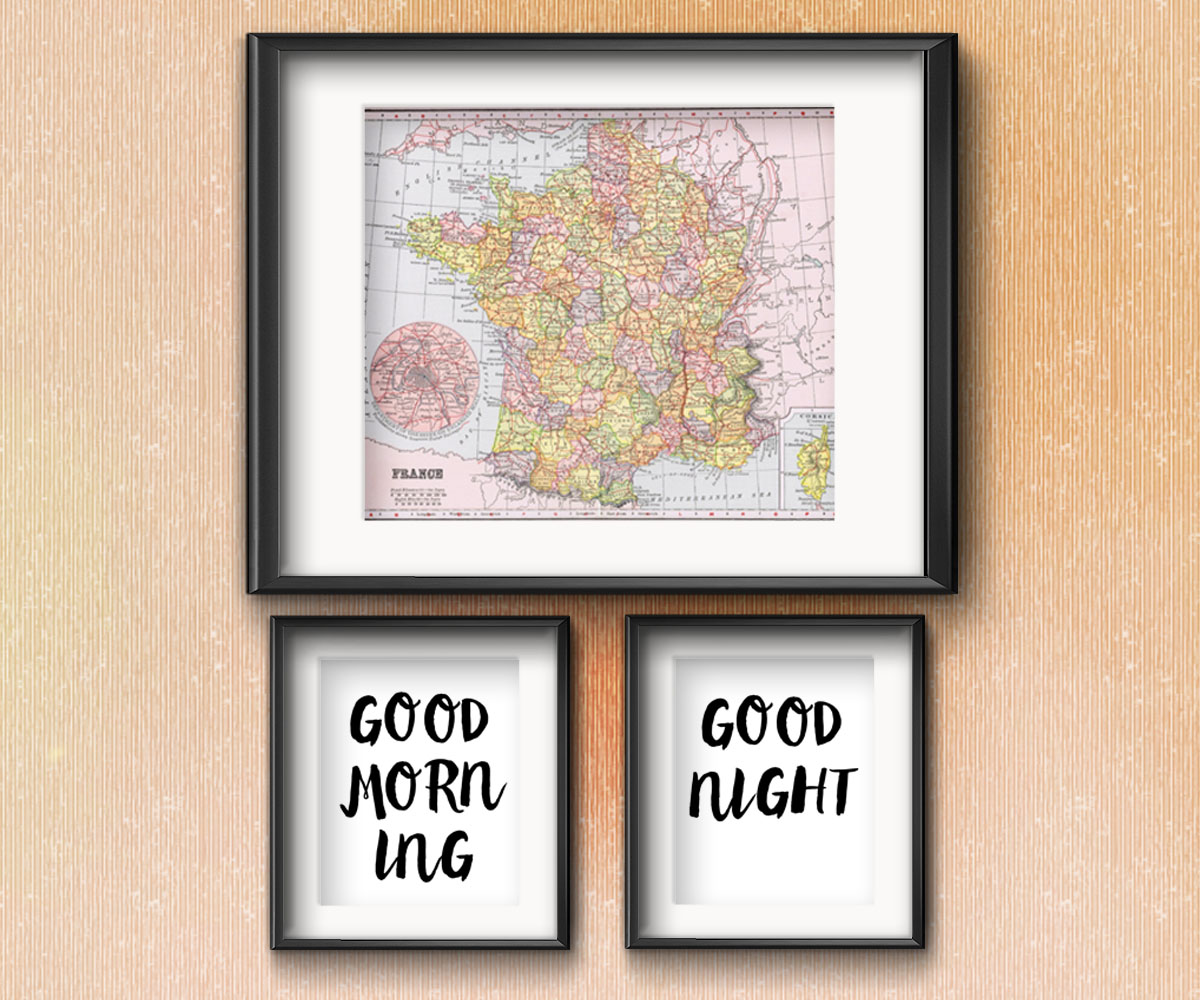 French map • Good Morning & Good Night
---
If You Wanna Splurge
Sometimes, no matter how long you search for the perfect free printable (hey, it might still be out there!), there comes a time in every curator's life when you simply must pay for good, quality art. Please do. I believe in supporting artists!
This is what I'd buy for Fatima. A large, 16×24 printable for $7 from Print Art Studio. You need to print out your own, but they do the heavy lifting with a highly customizable design (choose your own colors, including purple!).
For Fatima's room, I would choose to do the background pattern in "silver," with "Si" in "dark purple" and "lilac" shadowing. It would give off a completely different vibe in this palette, keeping with the quiet, royal and chic vibe of the rest of choices above.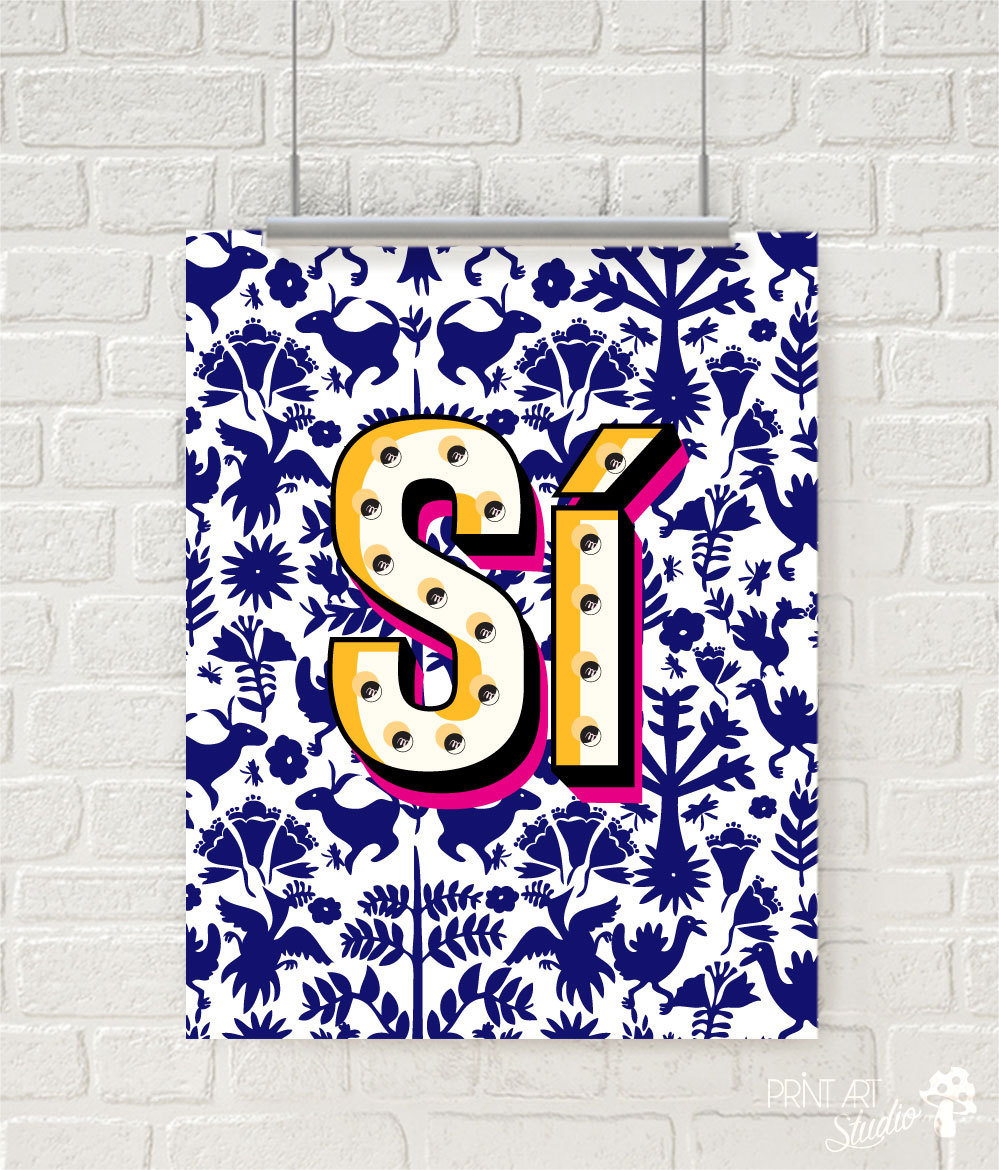 ---
Interested in being featured on the Frame Game?
The wait list for the Frame Game is so long that I'm no longer accepting submissions for free gallery walls.
Find out about my gallery wall consultation packages. They're similar to Frame Game but go waaaaay above and beyond, measuring down to the inch and giving you a solid plan for executing your very own, personalized gallery wall.
---