Don't you love it when you find a happy surprise on your computer? I painted these hearts who knows how long ago, scanned them and then completely forgot about them.
Then, as luck would have it, I came across them two weeks before Valentine's Day. Perfect timing, eh?
I couldn't resist adding "love love love" (as sung in the opening of "All You Need Is Love") and making a printable for you. Also, I created individual heart clip art for your various personal projects.
Speaking of The Beatles, aka my favorite band, I was overjoyed when Spotify added their catalog a few days before Christmas. Best. Present. Ever.
I have no fewer than 10 different hand-selected Beatles playlists, including one with their best love songs. Enjoy:
---
Free Watercolor Hearts Clip Art + Free Love Printable
The printable is a horizontal 8.5×11 high-res PDF. The clip art comes in high-res PNG files, compressed in a ZIP file. For personal use only. Contact me for commercial license.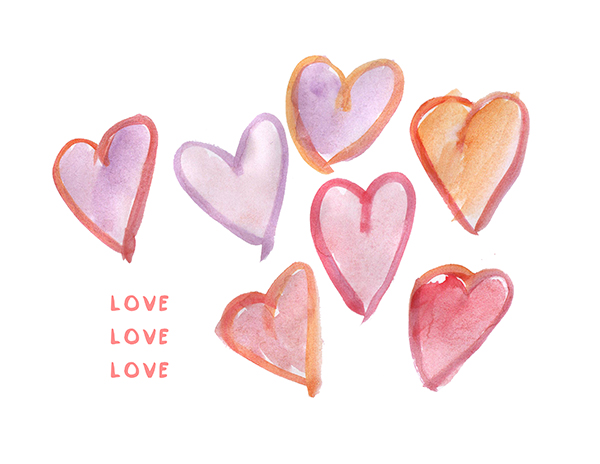 ---
P.S. More Valentine's art: I Tolerate You and I Love You cards
P.P.S. More Beatles freebies: All You Need Is Love, Watching the Wheels, John Lennon quote, She Loves You