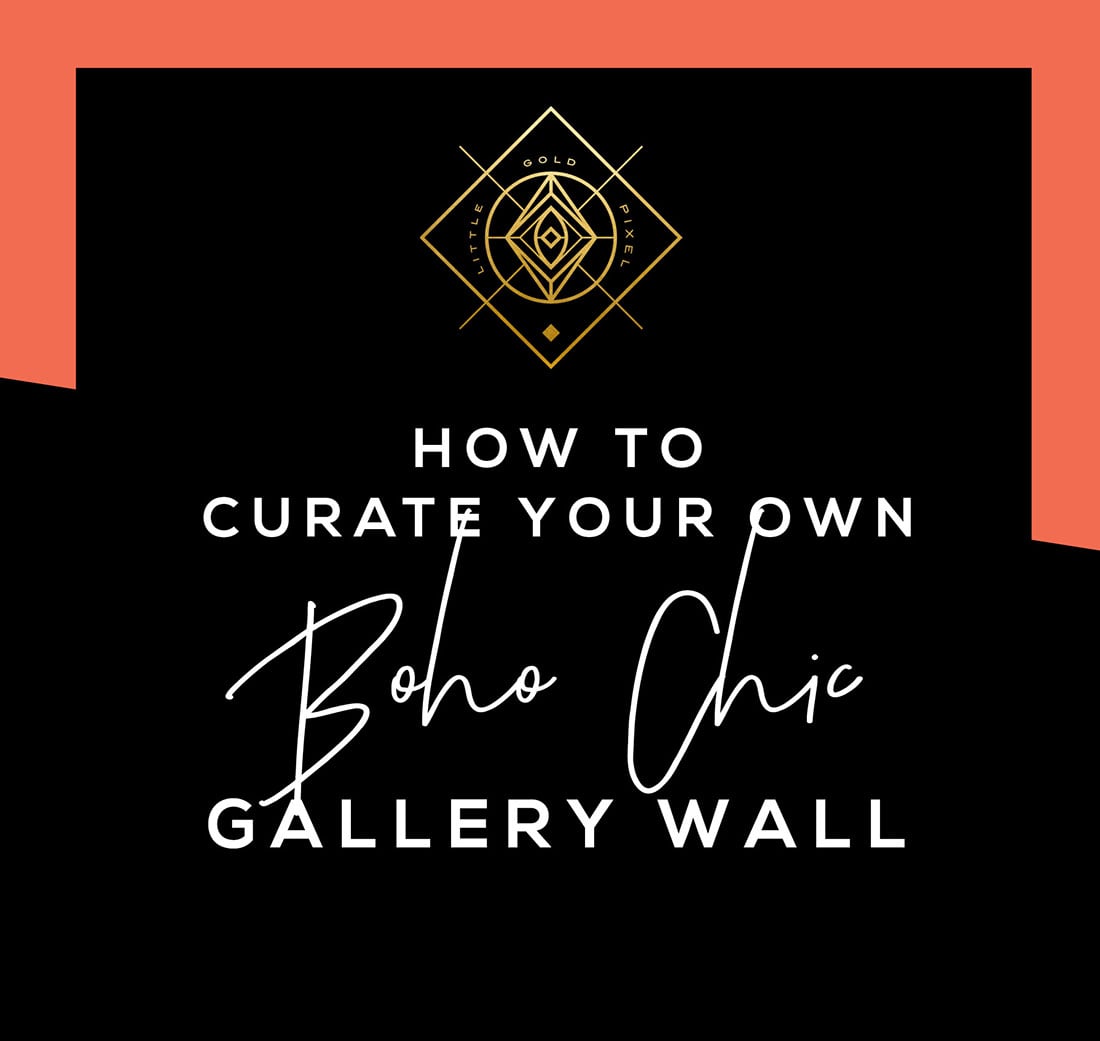 Hi! This boho gallery wall post is part of the Style Guide series of home decor posts that will help you identify your signature style. Is boho decor for you? See if you identify with these 7 signs!
Now that we've discussed what boho decor looks like, and how to achieve that look, let's get to the heart of the matter: What the heck should you put on your walls?
I got pretty detailed here, with three gallery wall examples, but keep in mind this is a starter kit. You may like some ideas and not others. Mix and match till you find your true style.
Let's get started!
Boho Gallery Wall
First, I'll briefly go over 10 key elements that drive a boho gallery wall, and why.
1. Botanicals on a dark background
Why this works: Bohemians are known for being unconventional, wild and one with nature. It makes sense to incorporate flowers and plants to bring the outdoors inside as much as possible. Placing these traditionally lighthearted items on a black background is unexpected, and plays as a bit mysterious, too.
Search for: Vintage illustrations and collage art.
2. Vintage impressionist paintings
Why this works: This is a nod to the beginnings of bohemians as a lifestyle in the 19th century and its ties to impressionist painters. Here's a little history lesson.
Search for: Vintage/antique paintings, or modern paintings done in the impressionist style. Floral still lifes are quite popular, but figure studies and city scenes are very poignant. Look at the thrift store or search Etsy for artists selling original paintings.
3. Wall baskets
Why this works: Boho gallery walls, just like boho decor, thrives on texture. Bringing in some vintage 1970s or modern handwoven rattan, wicker or raffia baskets adds dimension to your gallery wall.
Search for: Decorative wall baskets. Search vintage wall baskets on Etsy, often sellers will sell an entire collection. This site has a lovely selection of African baskets.
4. Fiber art of any kind
Why this works: Texture + warmth = yay in boho decor. Examples: crocheted curtains, macrame wall hangings, yarn art, woven art, embroidery, dream catchers, hanging quilts, tapestries, etc.
Search for: Fiber wall art on Etsy; tapestries on Society6 (if you're new to Society6, get $10 off your purchase using that link).
5. Plant holders
Why this works: Boho rooms need plants. Lots of 'em. Add a few to your gallery wall, why don't you?
Search for: Wall planters. I really like these ceramic ones and this geometric set. Lots of interesting, unique ones on Etsy.
6. Cactus/desert imagery
Why this works: Bohemians have a lot of love for the desert. Keep the image simple in contrast to the maximalism of boho decor. It's a nice juxtaposition.
Search for: Cactus print. My cactus prints. Anything on Wilder California.
7. Mystical vibes
Why this works: Mystery, spiritual exploration and mystical curiosities are all part of the bohemian lifestyle.
Search for: Sacred geometry, Hamsa, fortune telling, astrology
8. Vintage concert posters
Why this works: This art ties back to the hippie movement in the 1960s-1970s. Often colorful and fun, look for artists like Jimi Hendrix, Janis Joplin, and festivals that defined the era. You're looking for bright, acid colors!
Search for: Classicposters.com is a good place to start to see what's possible.
9. Art nouveau & art deco
Why this works: The crux of boho style as we know it today is found in the lettering and illustration from these movements.
Search for: Take a look around at vintage and new designs on Etsy: art nouveau, art deco
10. Butterflies
Why this works: FREE SPIRITS! And, they're colorful. Stay away from cartoonish butterflies, and hang out with the more scientifically or artistically rendered insects.
Search for: Vintage butterfly prints on Etsy; or look for more graphic, artsy representations on Society6, such as this one.
Next, let's put these into practice, shall we?
Boho Gallery Wall #1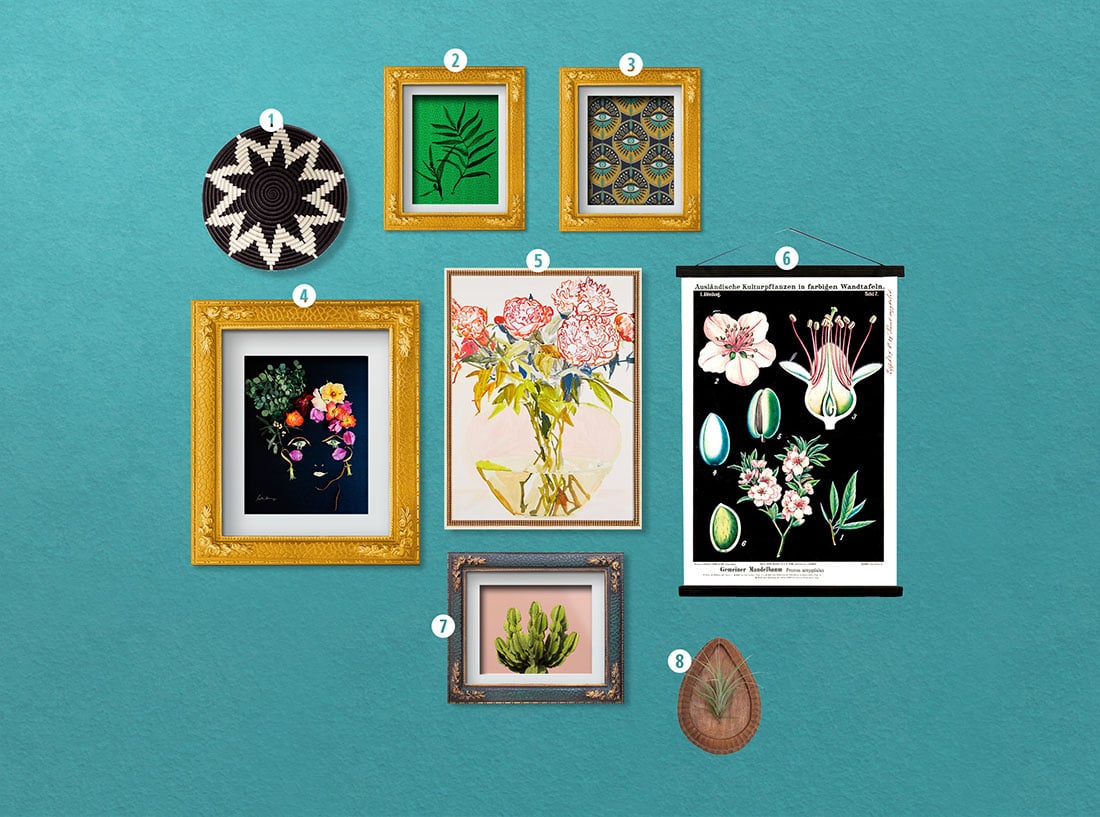 Boho Gallery Wall #2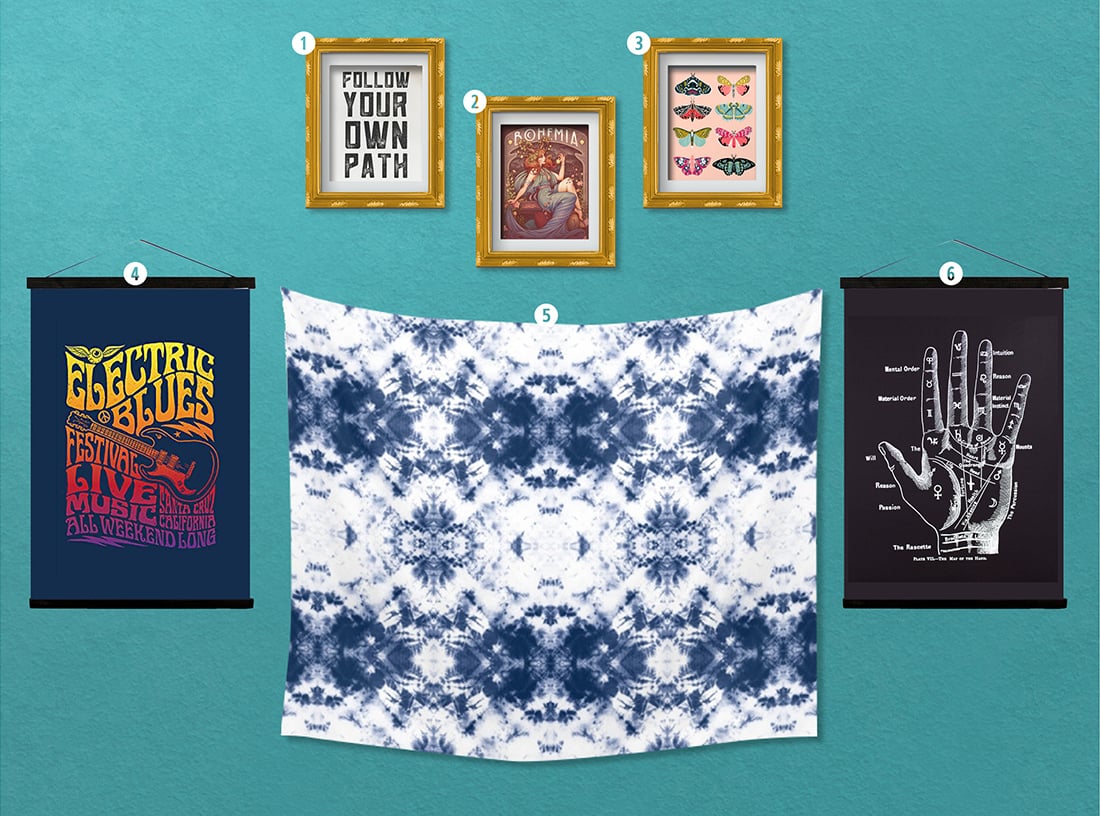 Boho Gallery Wall #3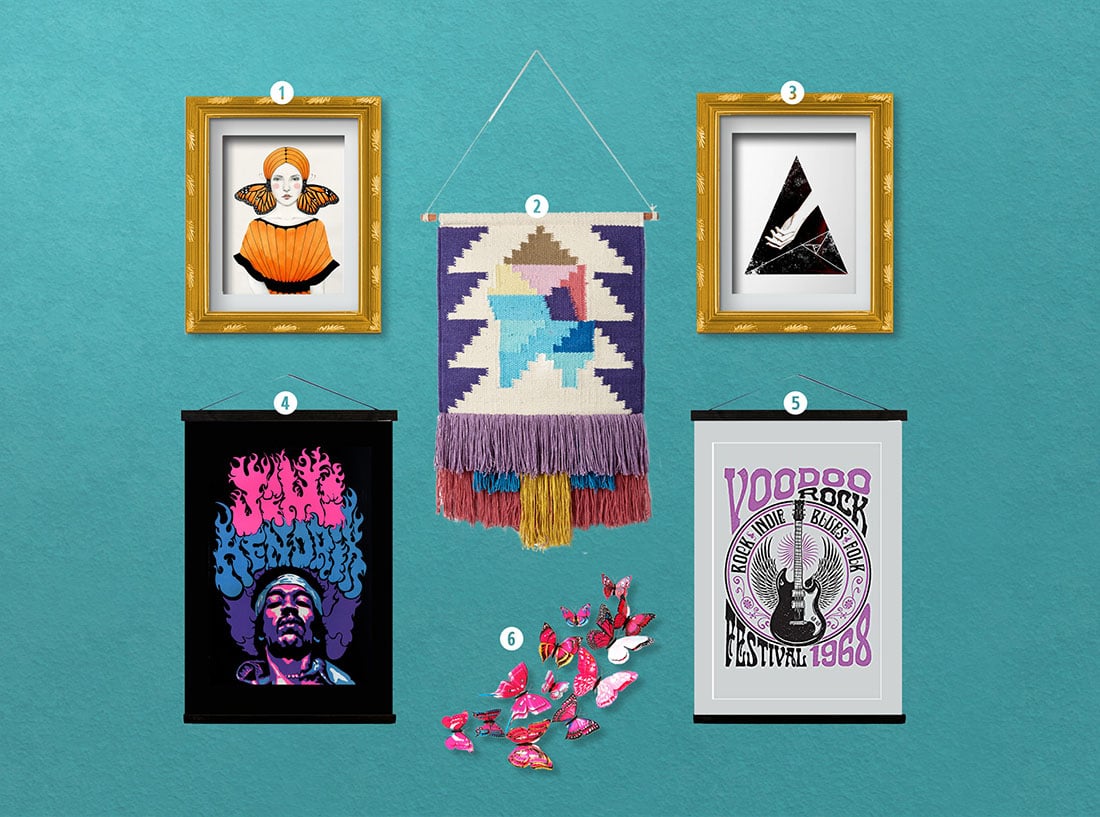 Boho Gallery Wall Frames
Finish off your boho gallery wall with gold frames. Why? Gold accents look amazing in boho rooms. The more ornate, the better. Also look in thrift stores to see what you can repurpose.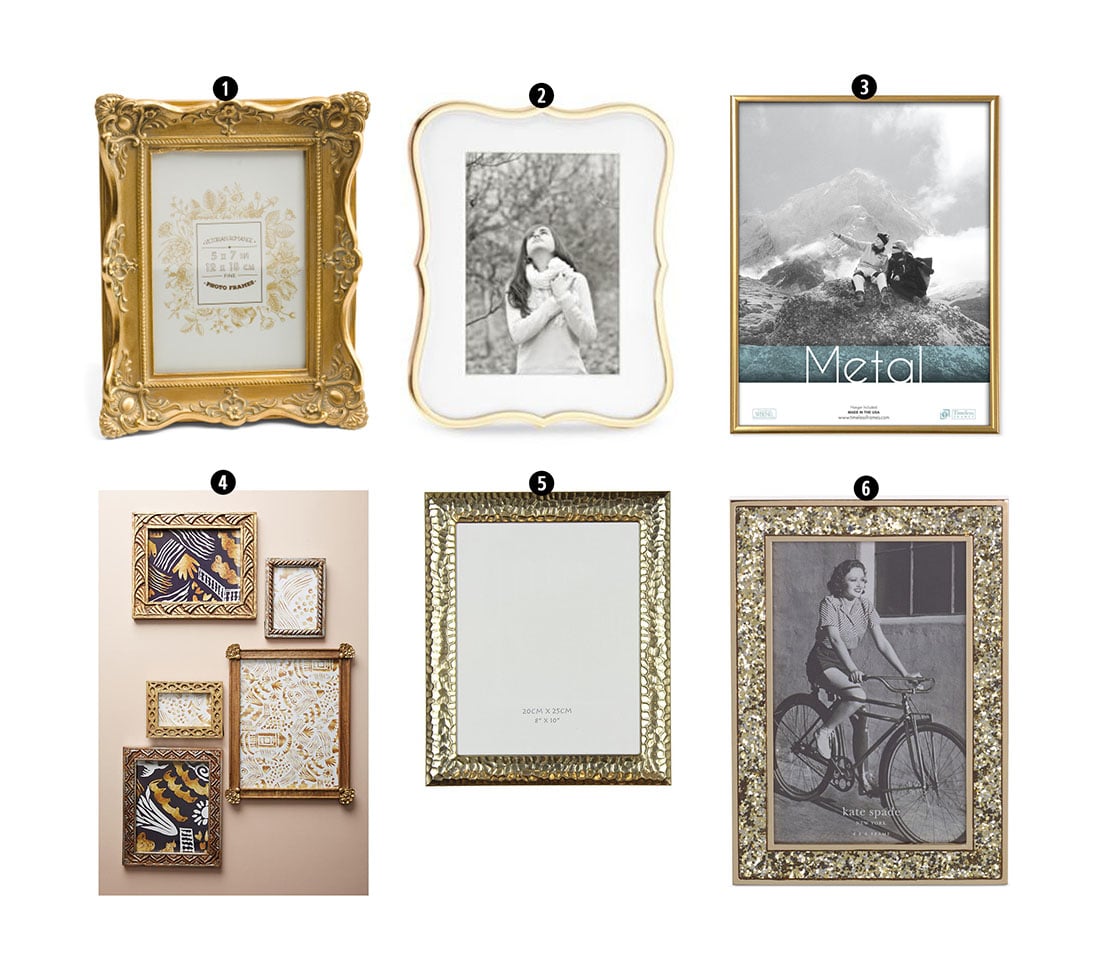 Boho Gallery Wall: Resources
Boho Gallery Wall: Pin Me for Later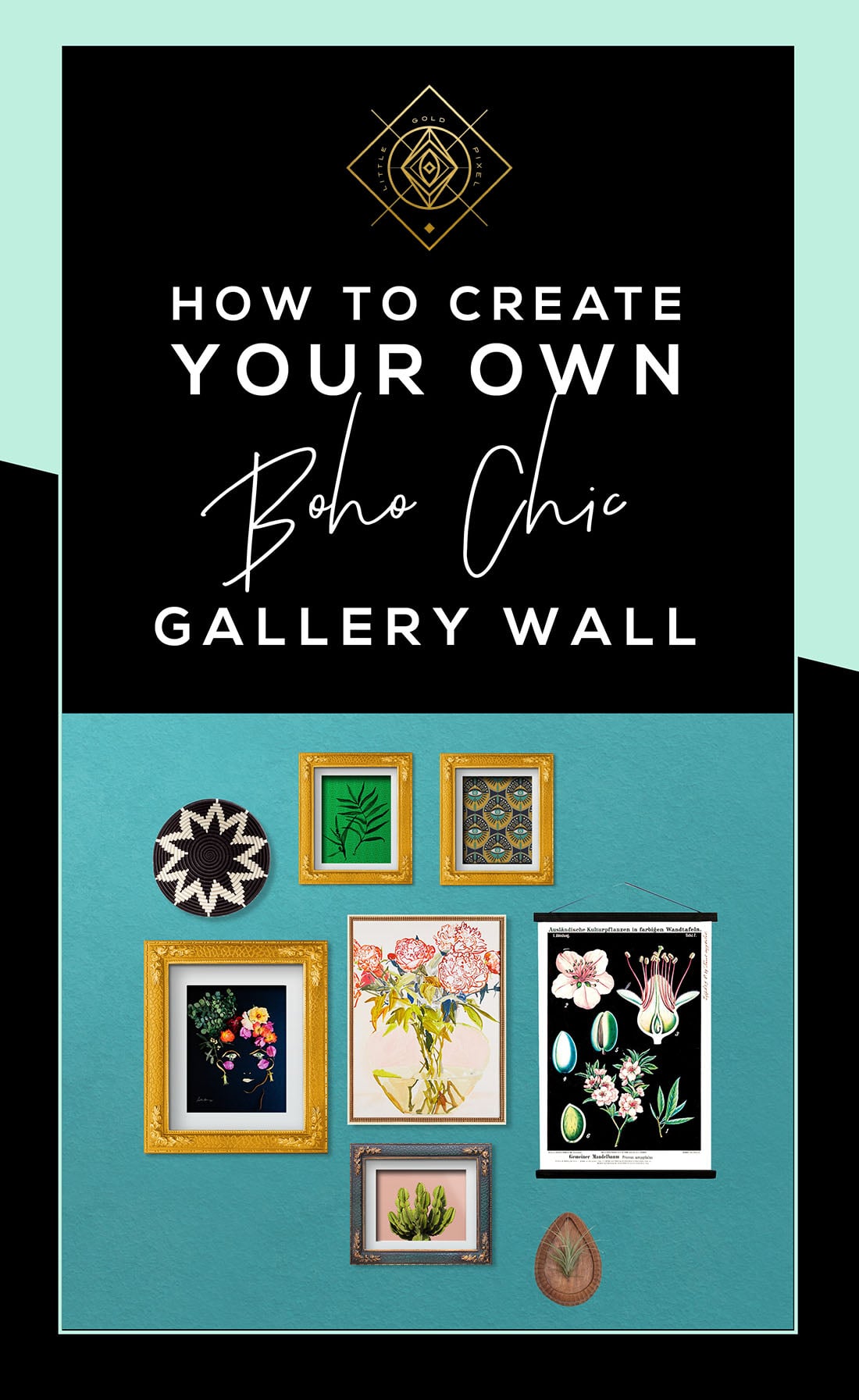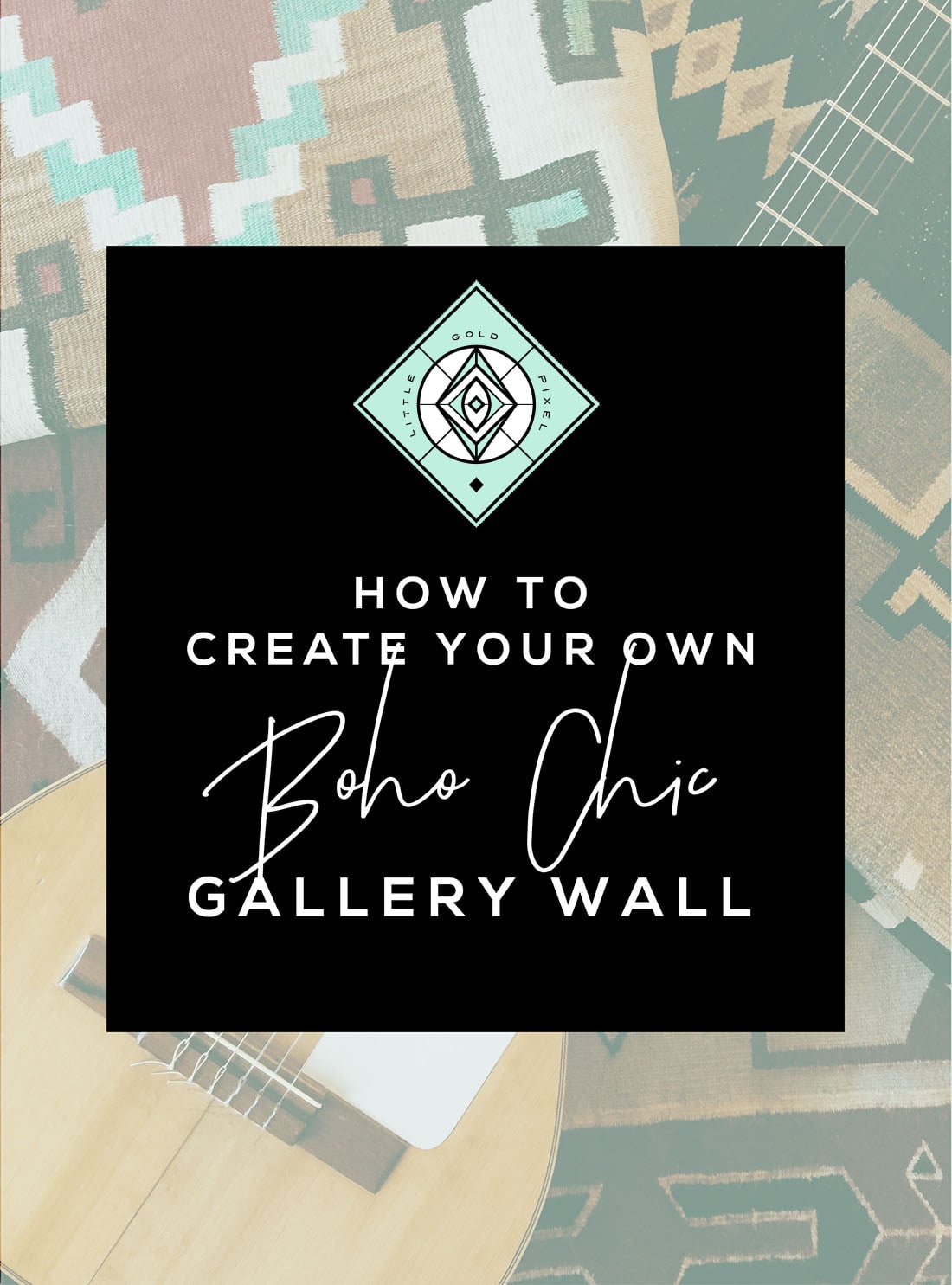 P.S. More gallery wall inspiration here.