Psst, a quick aside — Did you find this post via Pinterest? If so, nice to meet you, and thanks for stopping by! I hope you have a few minutes to click around so we can get to know each other better. A few good places to start: There is a
freebies page
I think you would like, as well as my
About page
and a roundup of my
Favorite Posts
. Looking for help planning your gallery wall? Book one of my
gallery wall consultations
. I sell my best printables on
Etsy
, and my best designs are on
Society6
.

Clap your hands if you like free art printables!
In my mind, I'm hearing a standing ovation because I happen to know for a fact that you LOVE free printables. You told me so after the first post and the second post and the kids post and the Christmas post and …
Wait a second.
Do you still have room on your walls for even more free art printables?
Of course you do!
As I'm typing this I'm sitting in a hotel room, temporarily displaced from my home because it's being fumigated. The walls are bare save a very random and very giant photo of chocolate-covered strawberries.
I'll never understand what possesses hotels to buy the art they do buy. I imagine they paid someone something for this photograph. That someone was probably laughing all the way to the bank!
There are so many good artists out there whose work makes me happier than these strawberries, including artists who share the free printables I've rounded up here today.
33 Free Art Printables for Your Gallery Walls (Vol. 3)
To download: Click on links. Links will take you to the original download page. Find button/link on that page, and download. Some free art printables are in PDF format, others in JPG format. Most are easy to print in an 8×10 size. Use your discretion if cropping for a different frame size. You can either print at home on photo paper (matte is my preference) or take a USB to your printer for a longer-lasting print on archival paper.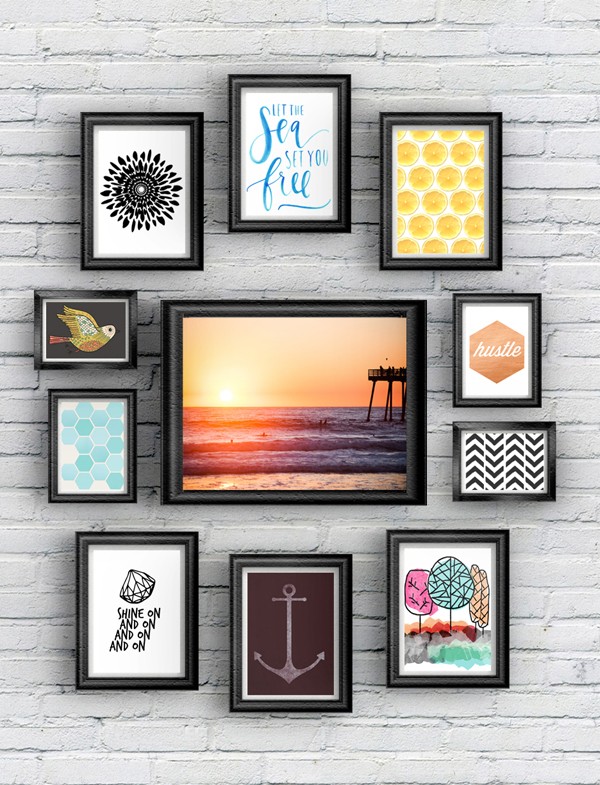 Mandala (+ 3 more!) • Let the Sea Set You Free • Lemons • Bird • Sunset • Hustle • Honeycomb • Chevrons • Shine On • Anchor • Retro Trees
I went for an eclectic vibe this go-round, mixing text and illustrations with photos. All the photos used here are from Snapwire Snaps, a stock image site I love. There are many others out there, but Snapwire fits my aesthetic perfectly. Plus I don't have to think too much about it because they send me a download link to the latest pics every week.
Speaking of which, have you signed up for the Little Gold Pixel newsletter? I send out a free printable with each one!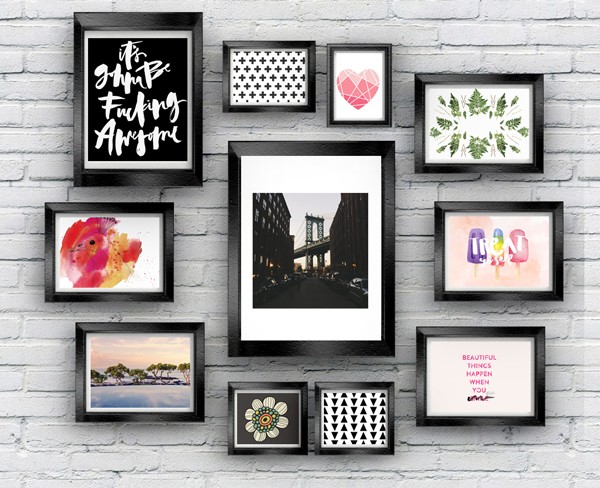 It's Gonna Be Fucking Awesome • Plus Signs • Ombre Heart • Ferns Pattern • Watercolor Bird • Bridge • Treat Yo'self • Water + Trees Landscape • Flower • Triangles • Beautiful Things Happen When You Think
Another fun thing I did with these gallery groupings was insert more patterns to break things up some. Can't go wrong with chevrons, triangles and plus signs. I like the mix of watercolor/bright colors with the stark black & white graphic elements.
Tip: Mix feminine with masculine to create an eclectic vibe.
Sometimes bloggers offer free wallpaper or wrapping paper patterns. These are good resources to print. A pretty pattern goes a long way toward making your gallery wall look intentional. It's also a good way to inject some funky personality.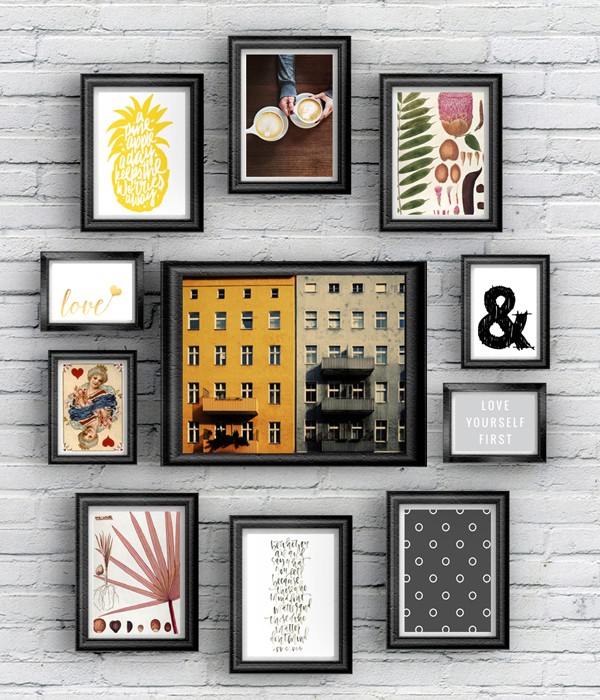 A Pineapple a Day • Coffee Date • Vintage Flora #1 (+ more) • Love • Windows • Ampersand • Queen of Hearts • Love Yourself First • Vintage Flora #2 • Seuss Quote • Circles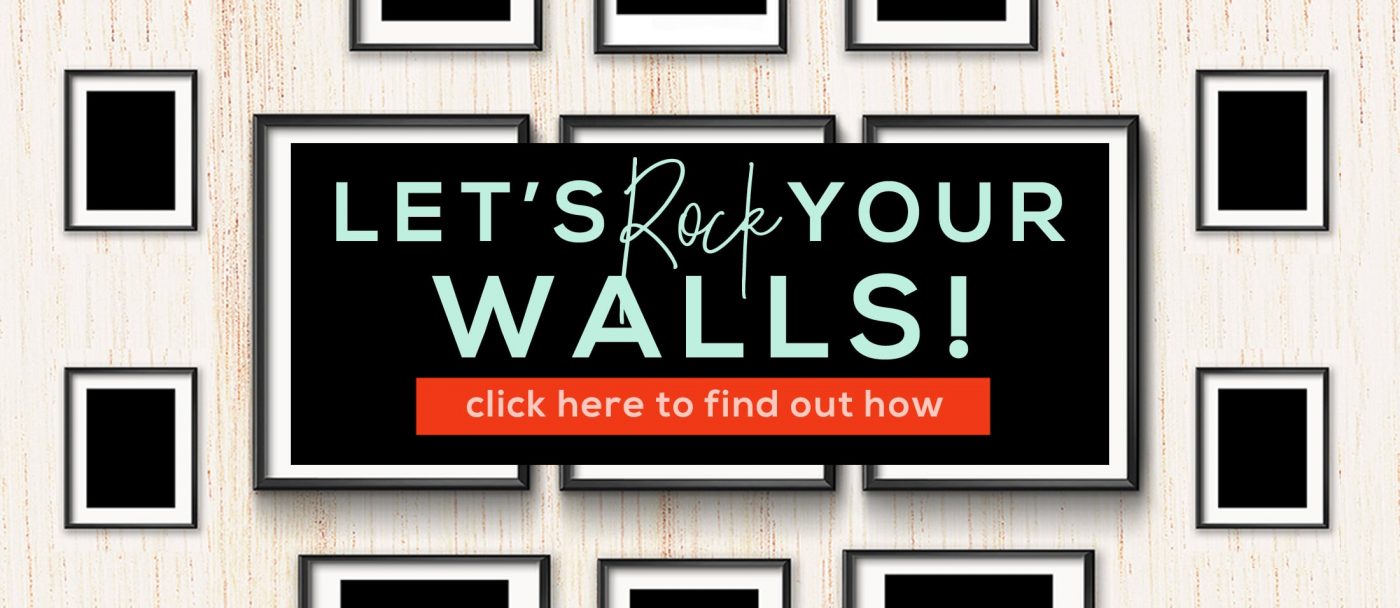 Last but not least — I enjoy rounding up my fave free art printables almost as much as you like reading these posts. I'll aim to give you an update periodically, probably every other month or so. In the meantime, if you spy a free art printable you think I'd enjoy, drop me a line with the link, and maybe I'll include it in the next roundup (along with a finder's shout-out!). I'm on Twitter, Instagram and Facebook. You can tag me on Pinterest. Or use this email form if you'd like. Hashtag: #goforgoldpixel
P.S. Past Little Gold Pixel freebies!
---

---